Fresh Check Day at Worcester State University
Fresh Check Day is scheduled for Wednesday, October 26, 2022 from 9:30am-1pm in the Student Center.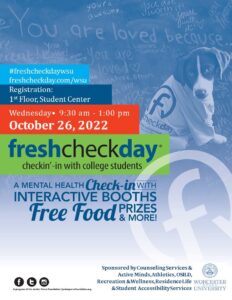 Fresh Check Day is an uplifting event that focuses on college mental health and suicide prevention and is returning to campus for the eighth year. This interactive fair includes student run booths, peer-to-peer messaging, free food, entertainment, and exciting prizes and giveaways. In addition to being fun, this event is effective with 87% of students saying they were more likely to seek help if experiencing emotional distress after attending.
Fresh Check Day is truly a community event. Last year we had over 400 students and more than 20 student groups and WSU departments participating. Fresh Check Day is sponsored by Counseling Services, Active Minds, Athletics, OSILD, Recreation and Wellness, Residence Life, and Student Accessibility Services.
Learn more about last year's Fresh Check Day here. You can also read about the impact Fresh Check Day has had on our campus here.
Fresh Check Day is the signature event from the Jordan Porco Foundation. It is held on college campuses throughout the country.