Spring 2023 Extreme Artery
---
An end-of-school-year blast of visual and performing arts presentations
IN THIS SECTION
Contact Visual & Performing Arts
Learning Resource Center
Suite LRC-325
Initiative kicked off April 24 with flurry of live performance, exhibition, and online presentation happening daily through May 2!
Stay tuned here for daily Extreme Artery coverage of VPA student and faculty work. For more information on our events and programs, reach out to us. Contact info is just to your left (or below if viewing on your mobile device)!
Monday, April 24, 2023: VPA Presents Masks by "Creating Cultural Forms" Students
Professor is Susan Fisher. Click on Bottom Left of Each Image for Artists' Names.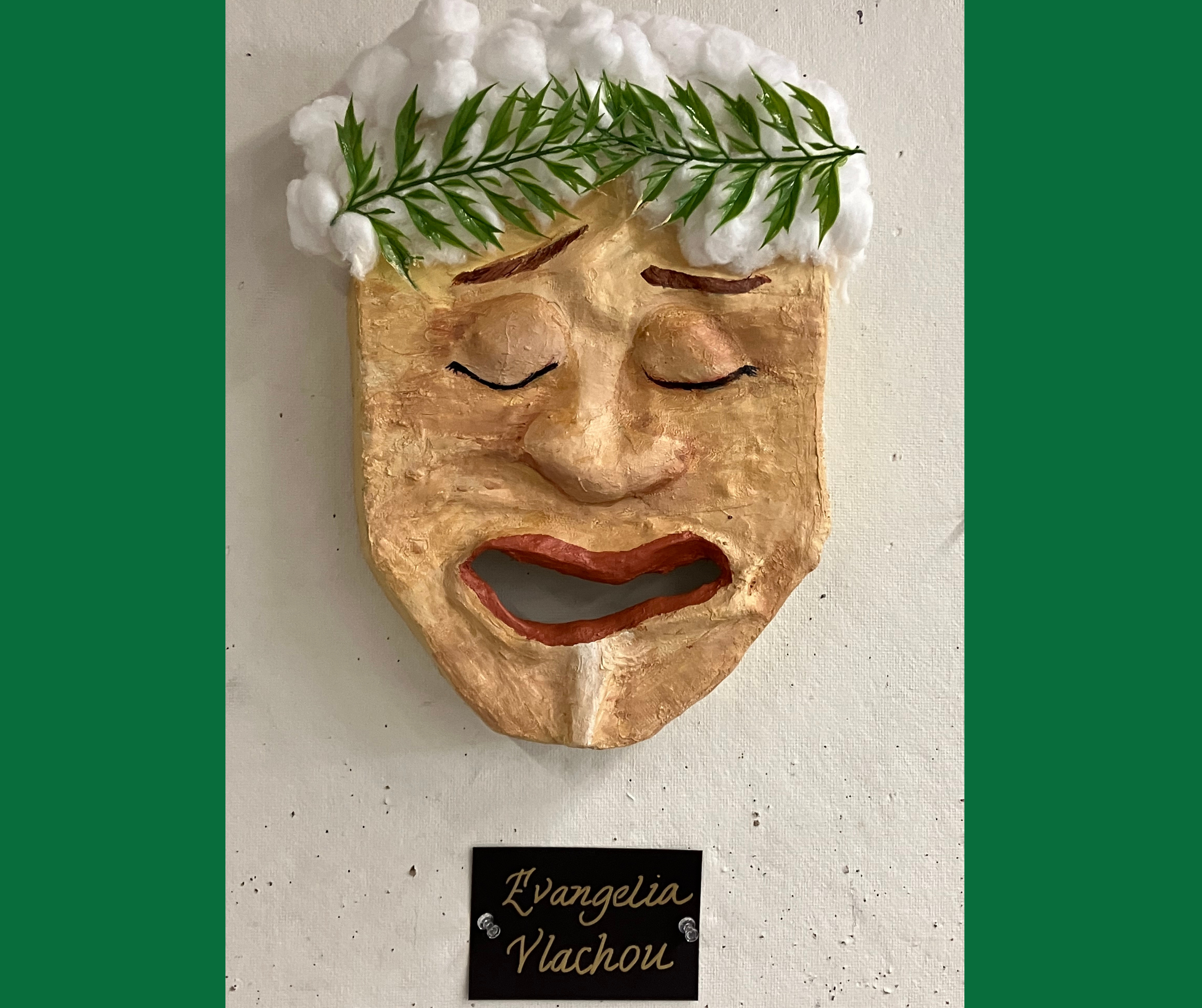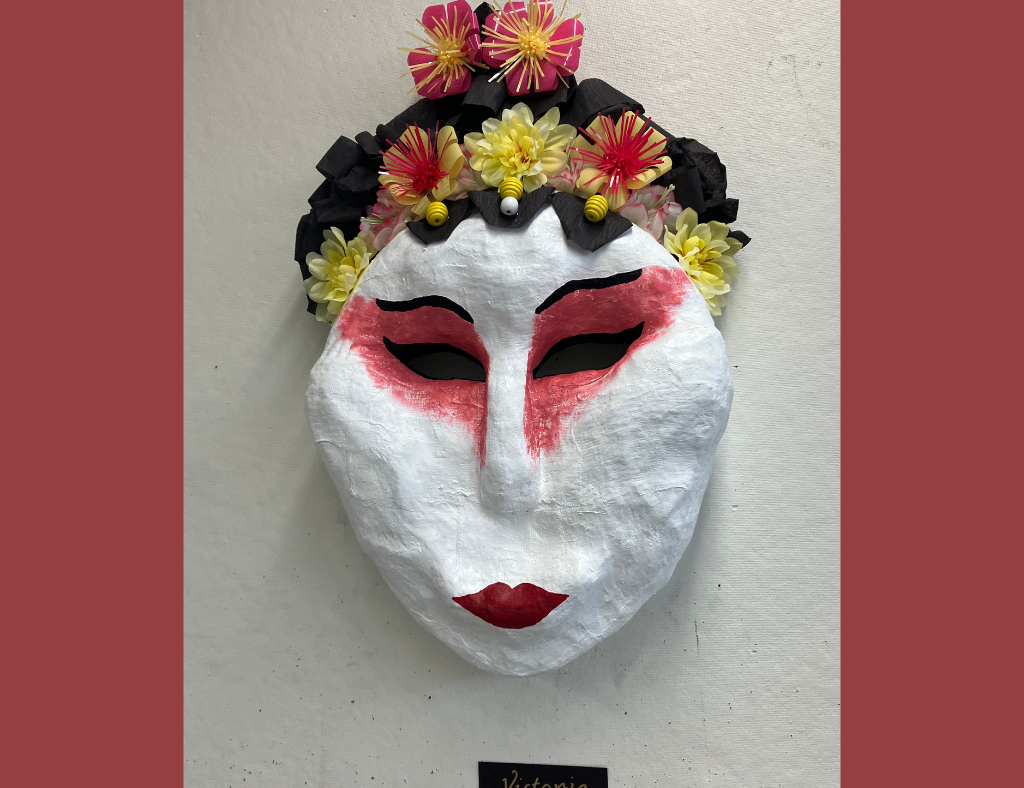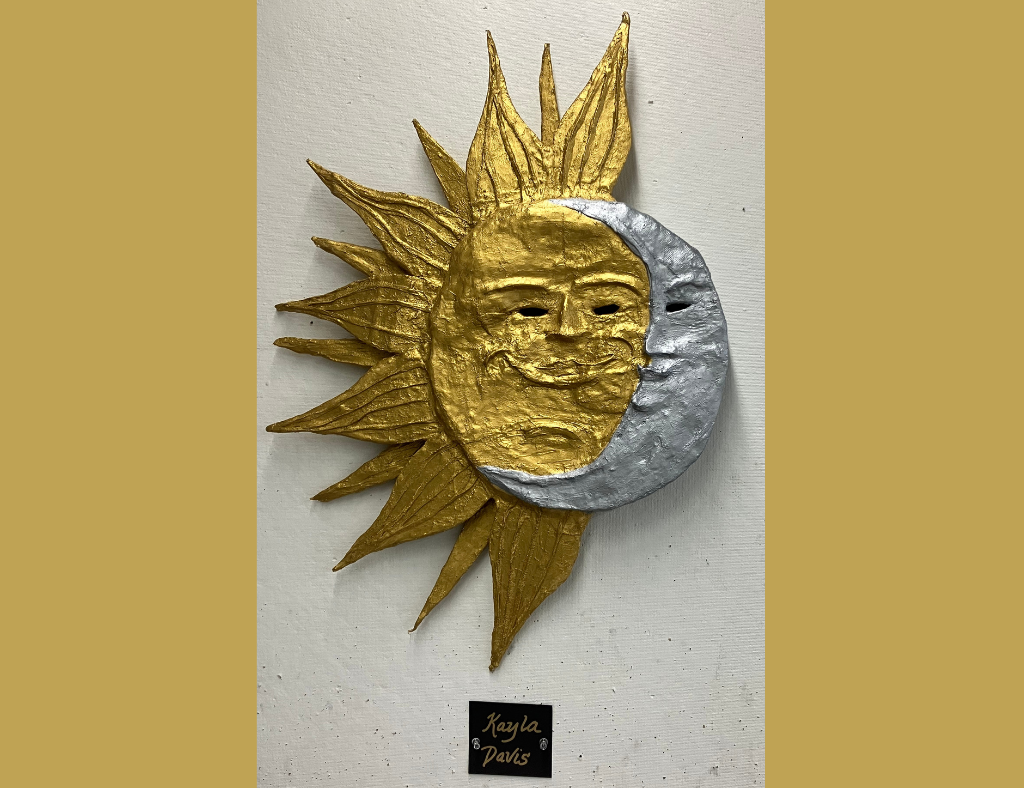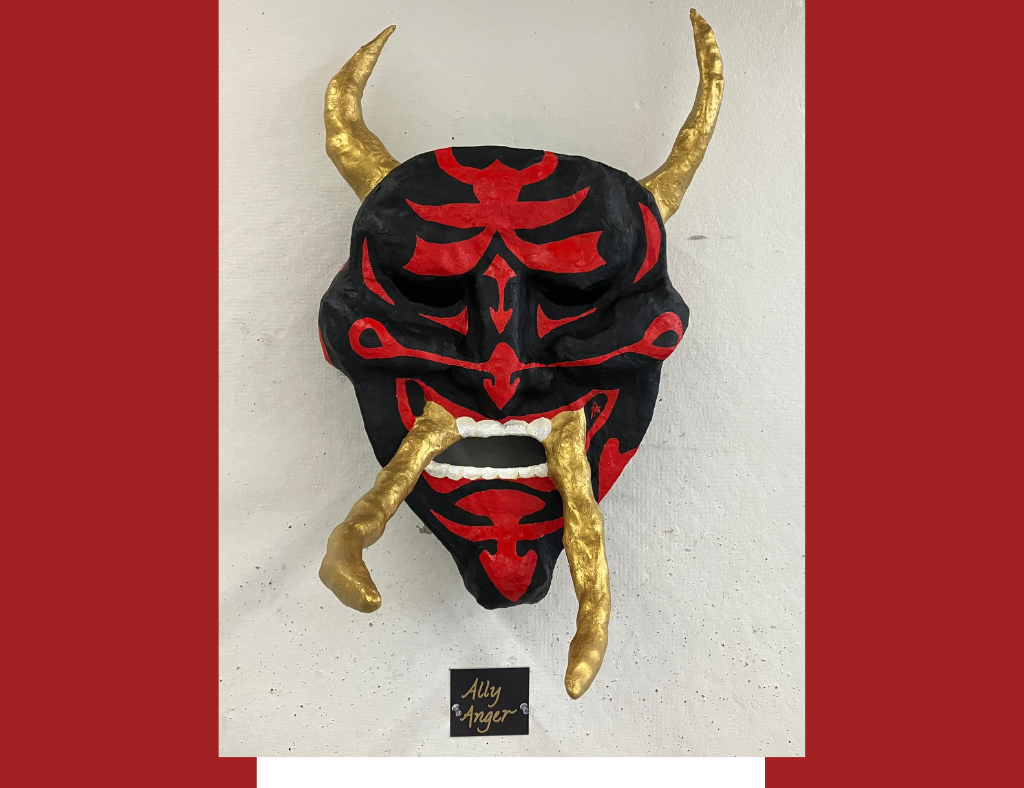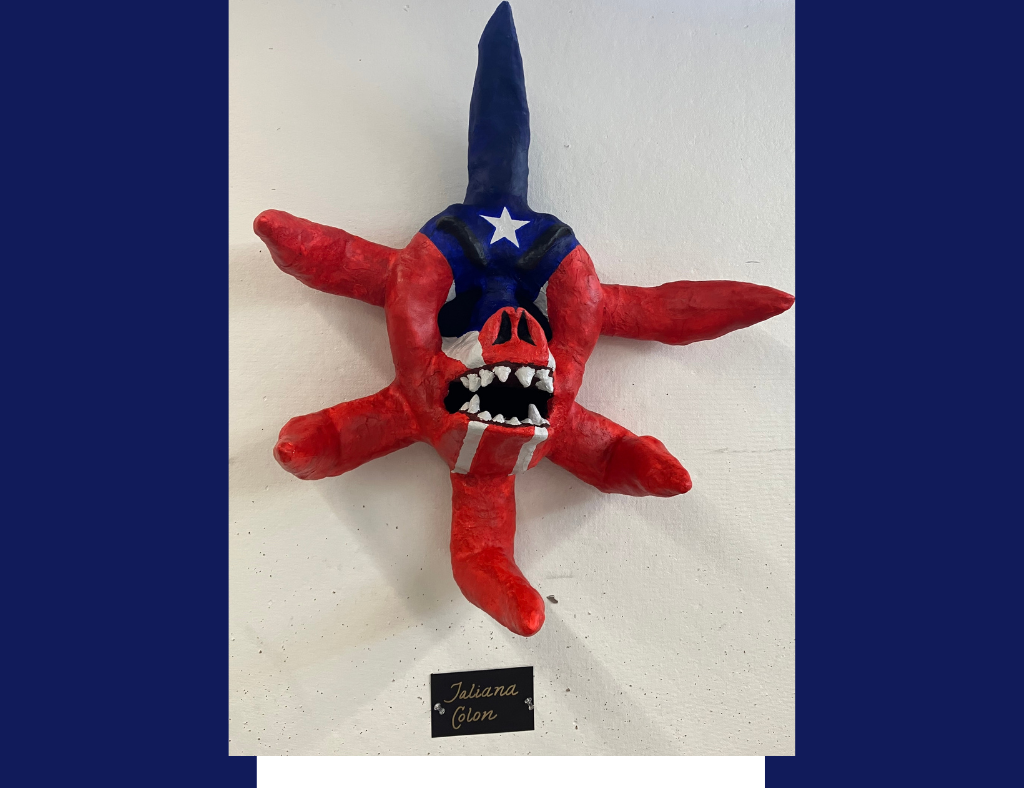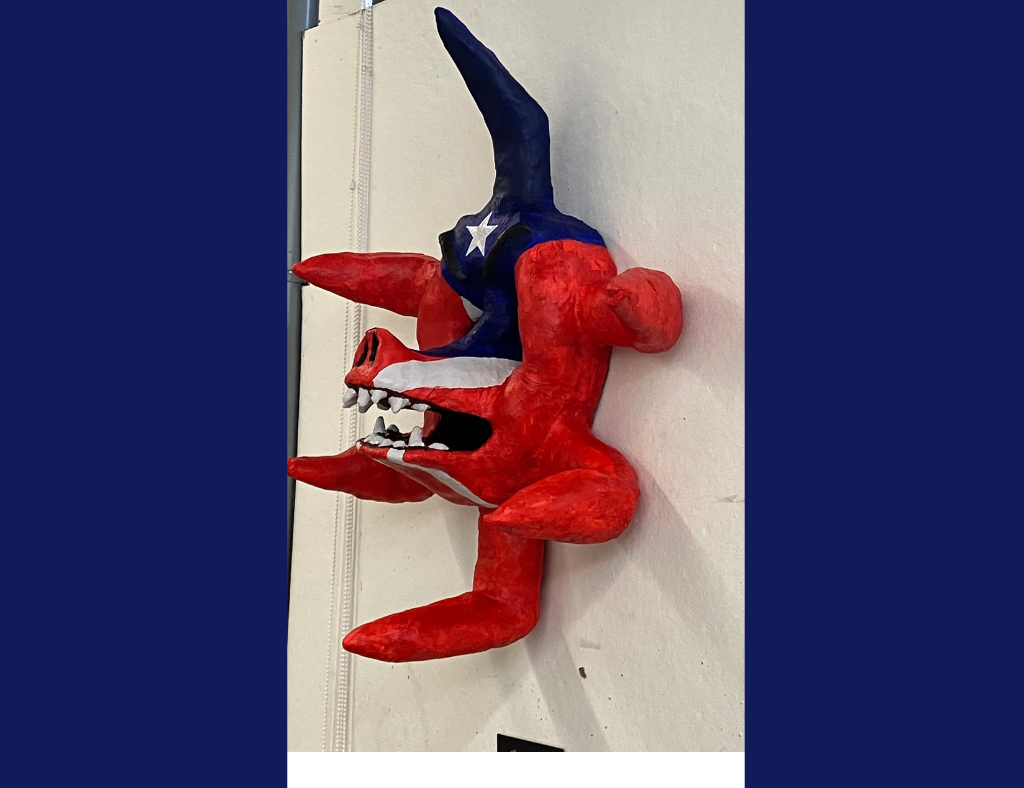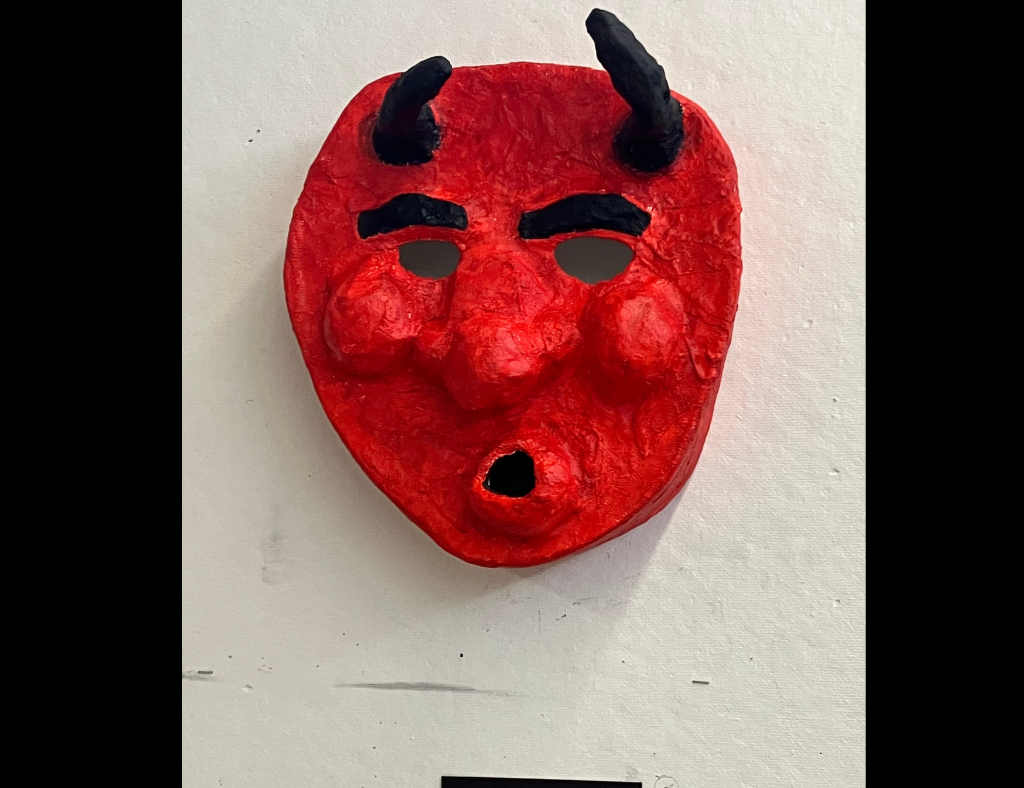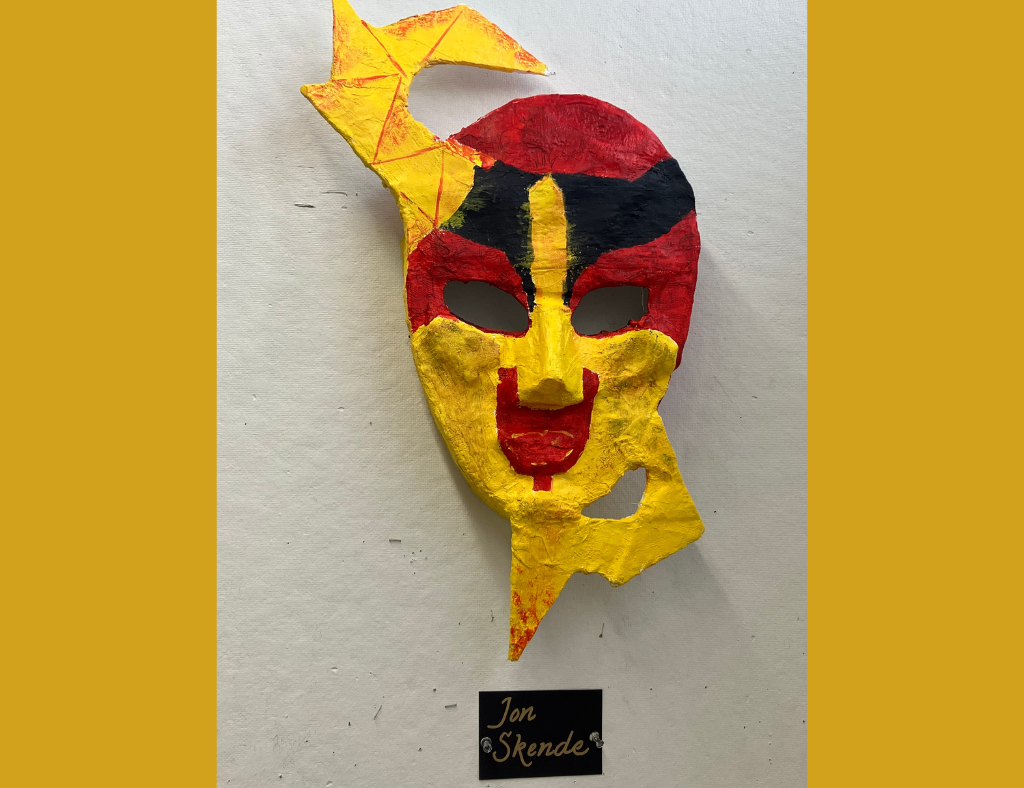 Drag to navigate
Tuesday, April 25, 2023: Música! Performs Brazilian Jazz Music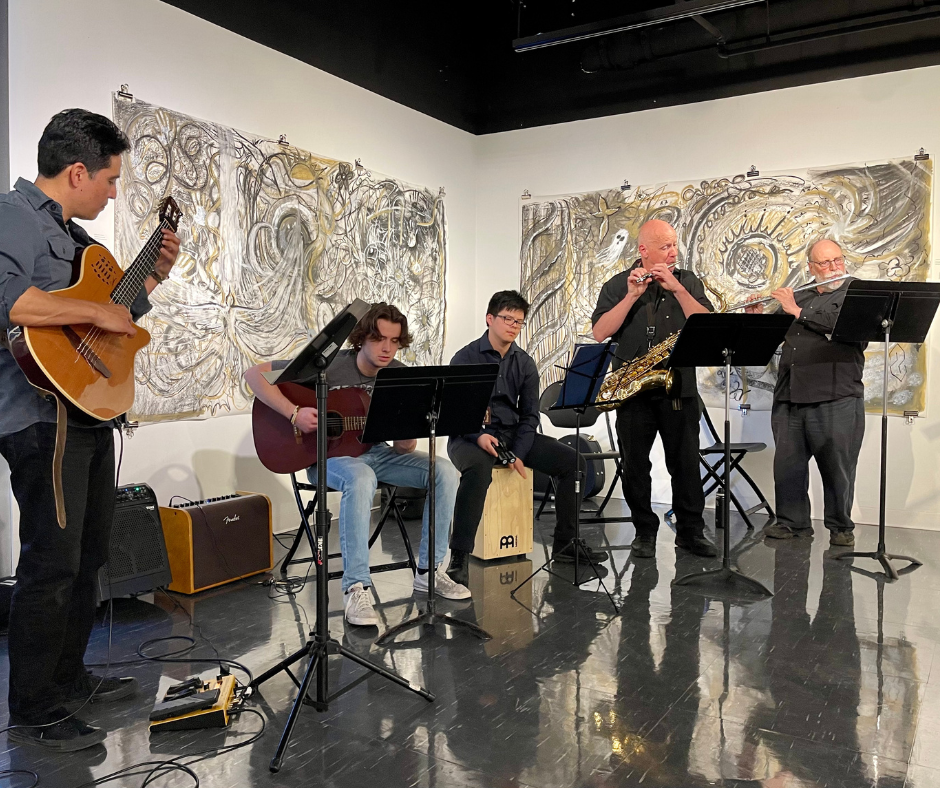 Decompress with an hour of Brazilian Live Jazz Music
Música! performed Noon to 1 p.m. in Student Center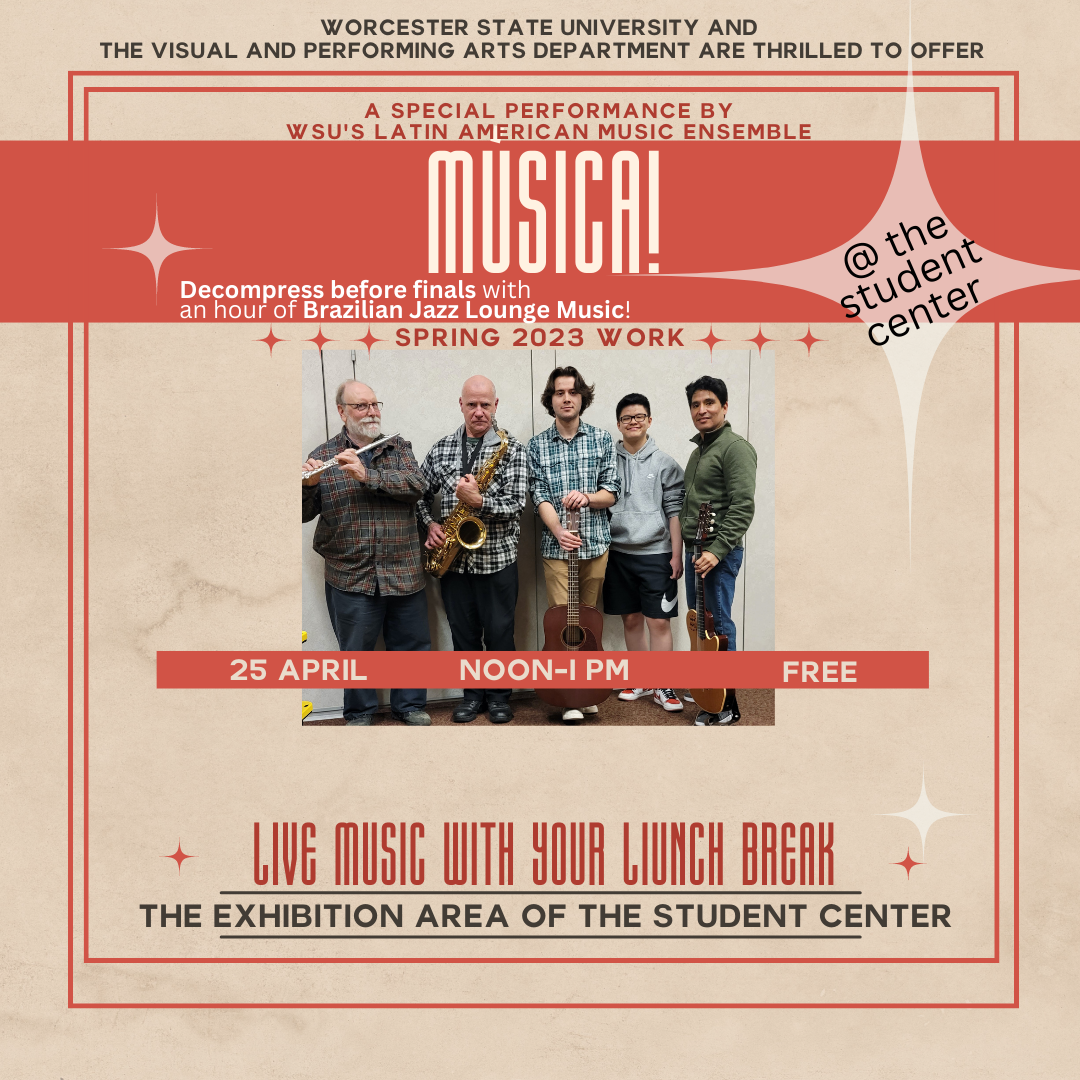 A Fabulous Live Performance!
Directed by celebrated guitarist Professor Carlos Odria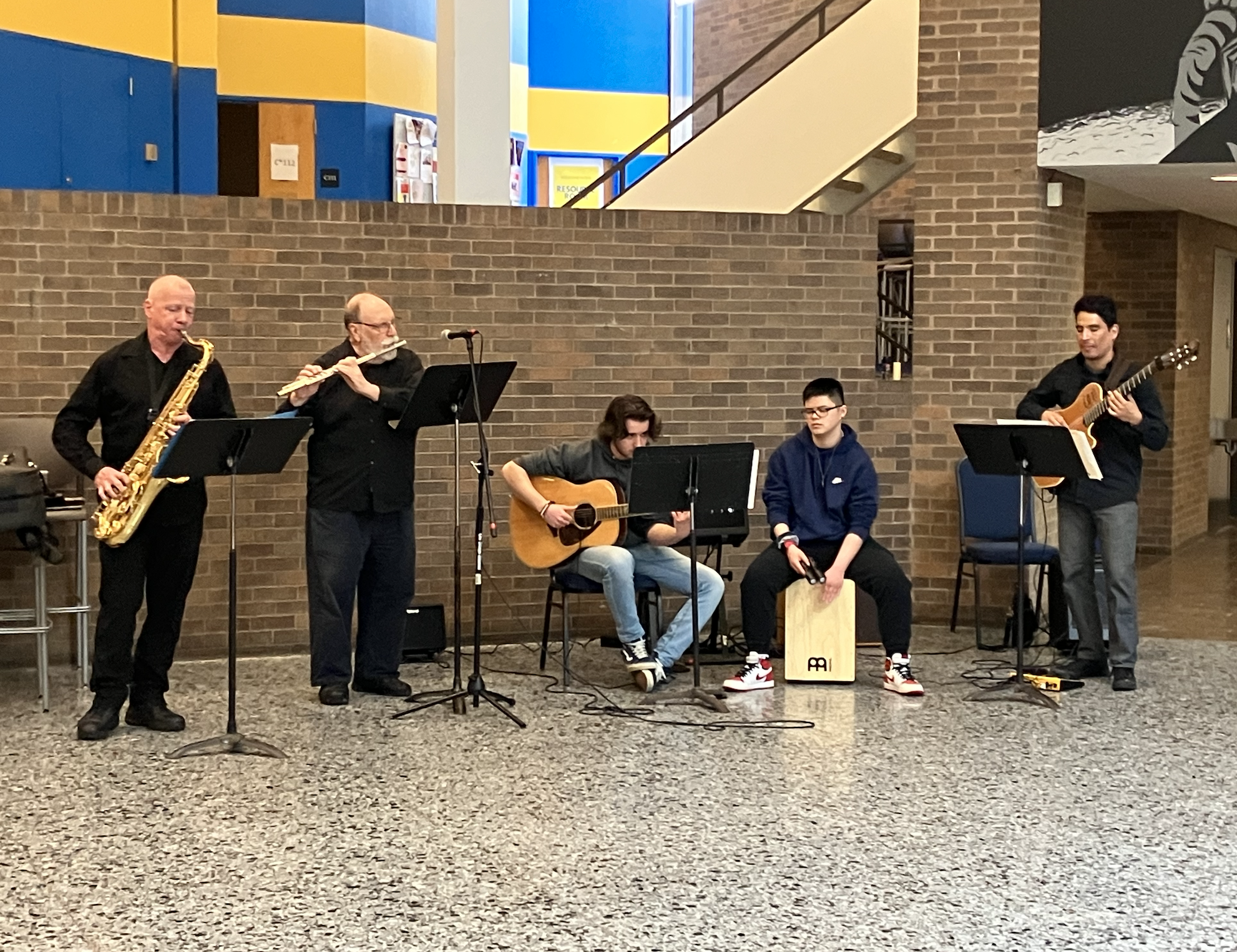 RECAP: Check out Video clips from the 4/25 concert
CLICK here for highlights of Summer Samba by Marcos Valle
Wednesday, April 26, 2023: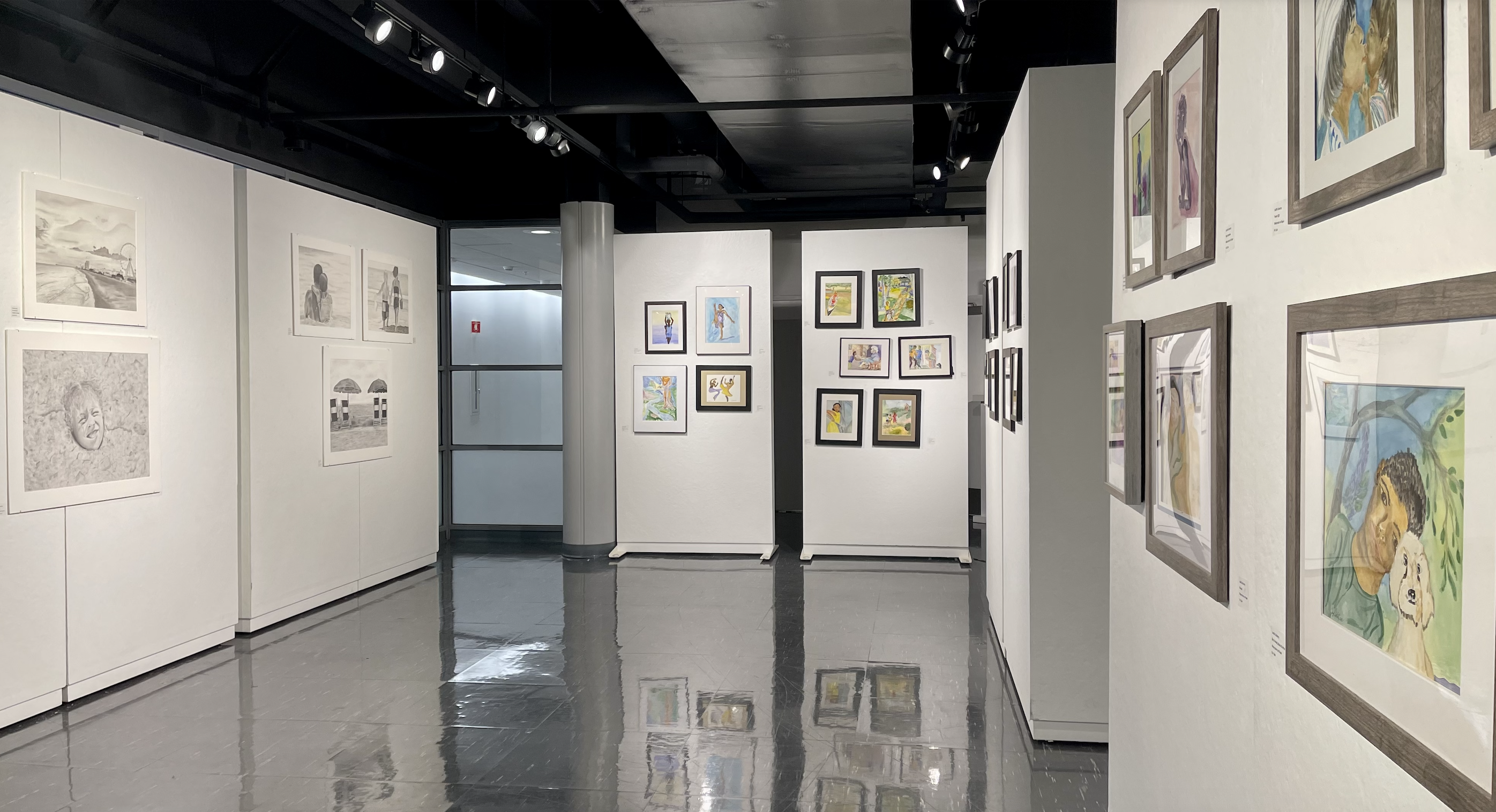 Mary Cosgrove Dolphin Gallery presents moving Thesis Art Exhibit and dynamic Student Art Show
Stop in the VPA Gallery, Enjoy Two Shows At Once
Through May 13, enjoy capstone work by graduating seniors Caroline Ford and Judith Doherty on one side of the gallery, and at the same time, experience The Student Art Show on the other side, with a variety of work by 28 visual art students of a range of majors. The Gallery, located in the Ghosh Science and Tech Center, is open Wednesdays through Fridays from 11 a.m. - 5 p.m. and Saturdays from 1 p.m. to 5 p.m.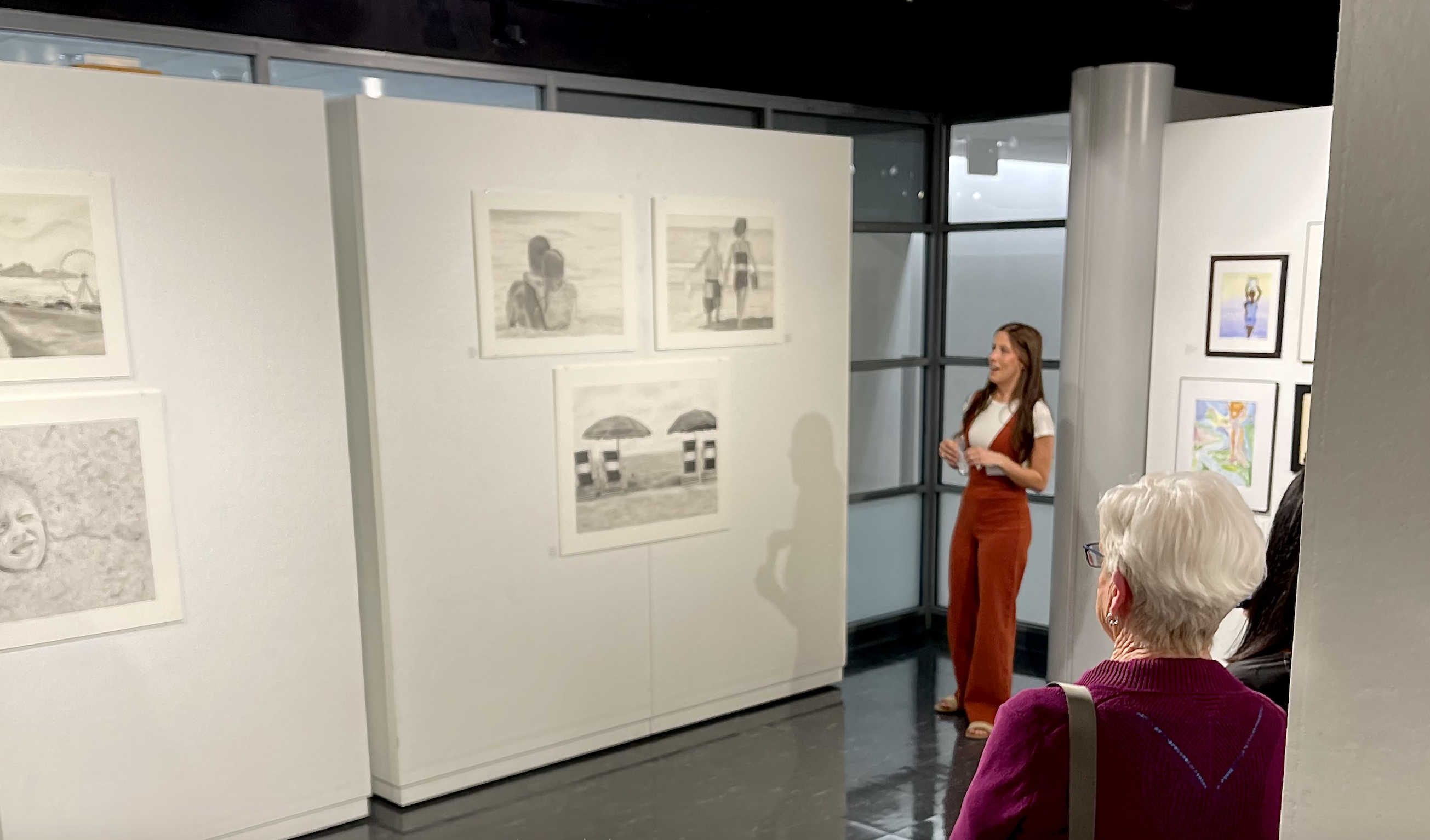 The work of Caroline Ford
Caroline and Judith are the first students to graduate with VPA's new Art Major. Caroline's thesis work features a collection of graphite drawings from family members' memorable times together at the ocean. "Everyone has a comfort place or somewhere they consider a second home where they like to relax and escape reality," Caroline wrote in her artist statement. "For me, my comfort place is Myrtle Beach, South Carolina."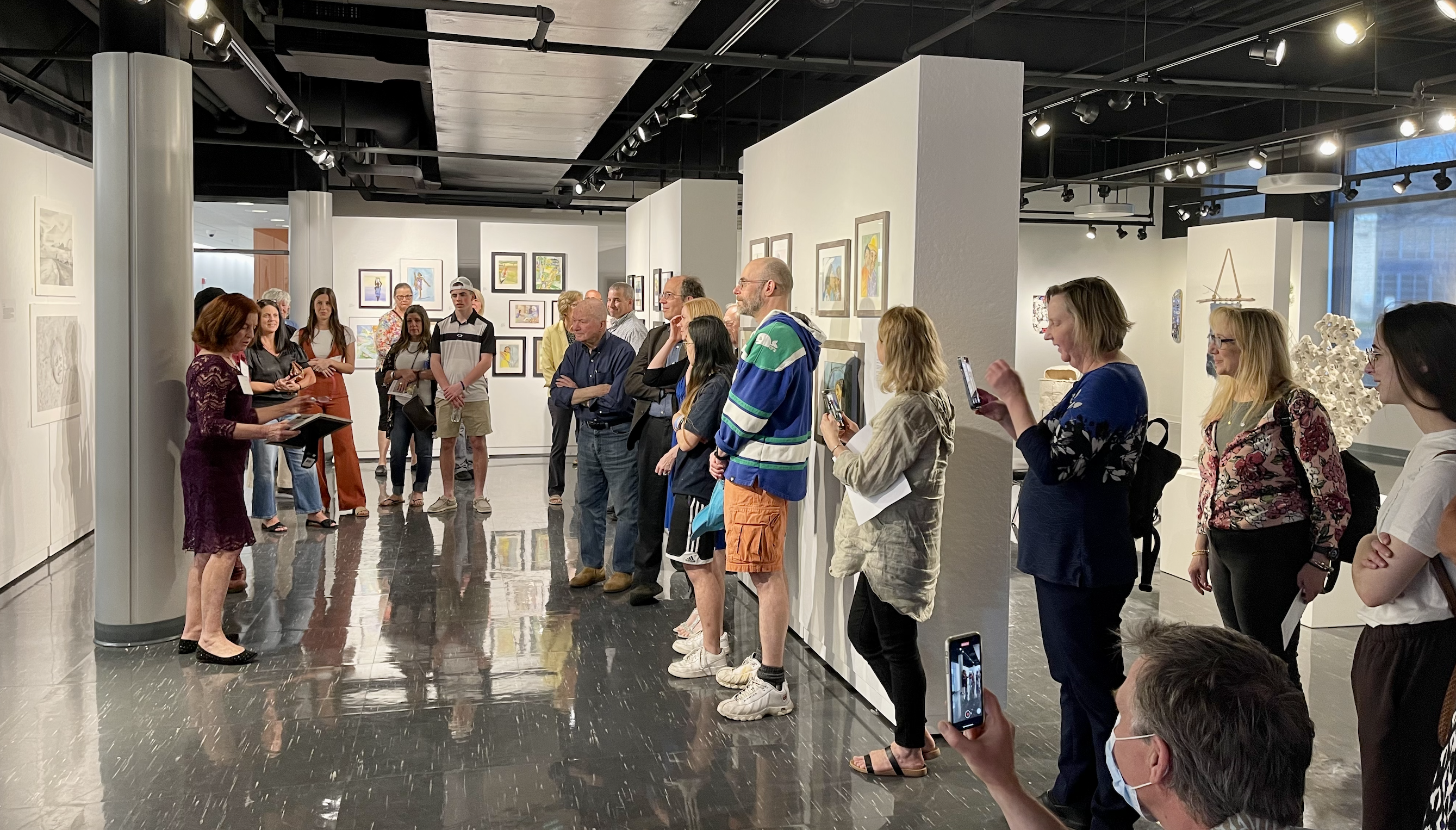 The work of Judith Doherty
Judith's capstone work tilted "Our Common Humanity" includes a series of paintings that honor her mother "who greeted strangers by saying, 'We have a lot in common: our humanity.'" Judith wrote in an artist statement: "These faces remind us to look into the eyes of another to encounter our humanity. I want to break down barriers. For me, art involves slowing down to see. I dwell with characters when I take time to paint. Relationships tell stories of immigration, resistance, caring, and joy; our interconnectedness."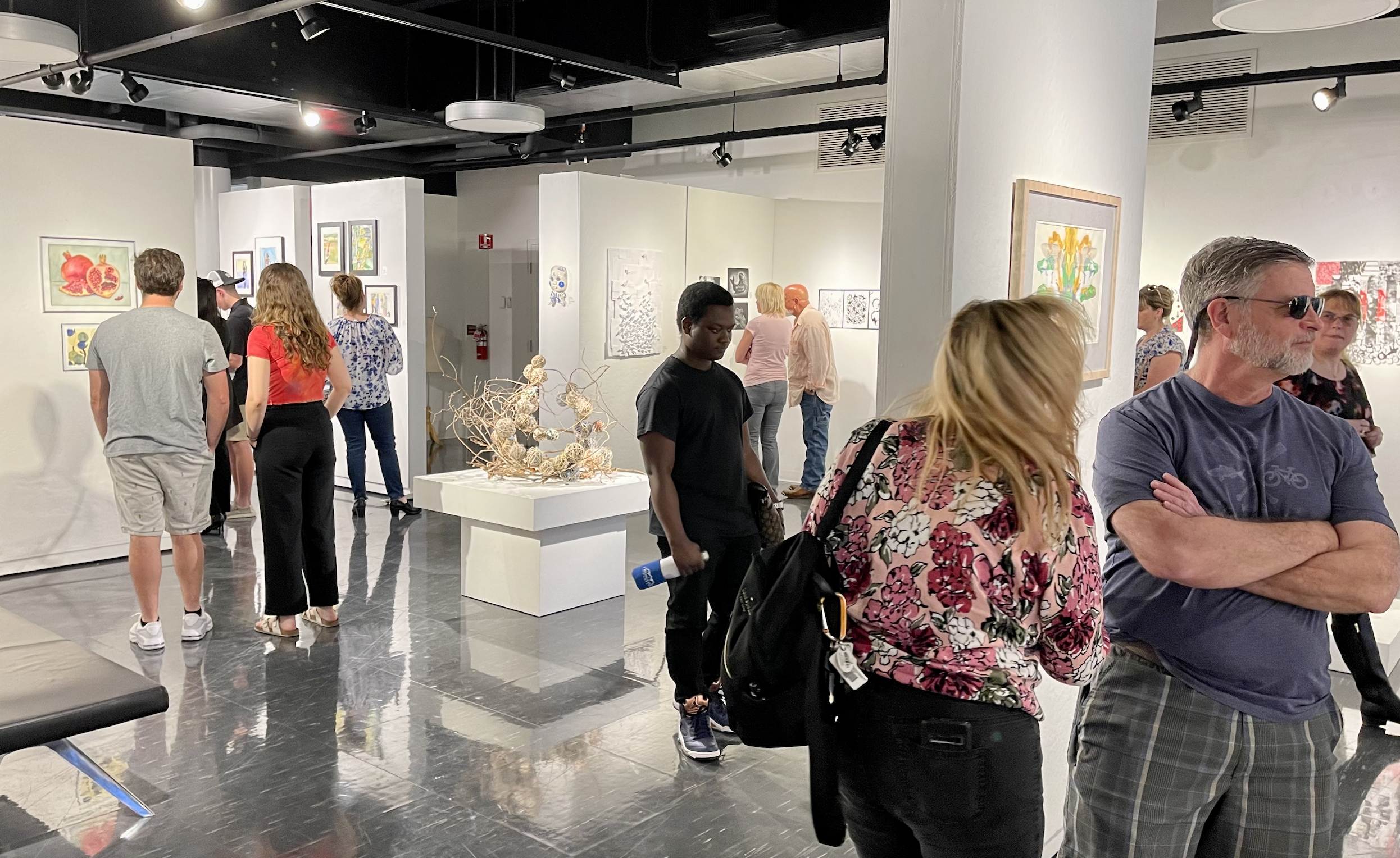 The work of the 2023 Student Art Show Artists
On the other side of the Thesis Exhibition Art walls, community members have the opportunity to view a powerful variety of work by 28 Student Art Show participants. Art ranges from Fiona Wilson's "Sandcrawler" sculpture of egg crates from a special topics course titled Art and Science, and Ave Butkiewicus's "White Maned Mare" scratchboard work from a Cross Media Course to Veronica Parretti's "Cardboard Baby" made from recycled cardboard in a 3D Sculpture Studio course, and so much more.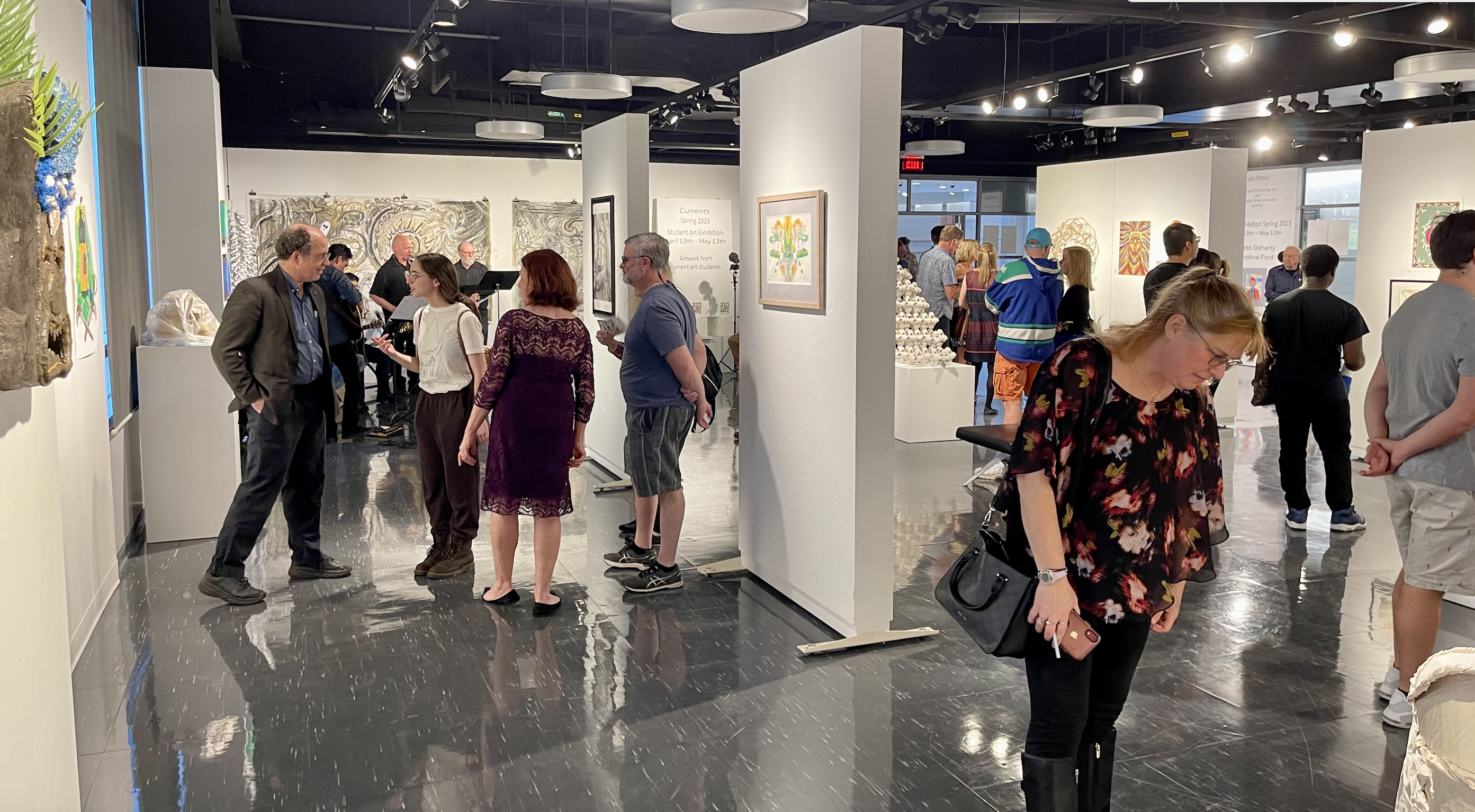 Experiential Learning, Interdisciplinary Moments
Both exhibits opened with a reception on April 13 as student artists showed their work to family, friends, faculty, and community members as musicians of Musica!, Worcester State's Latin American Music Ensemble, delivered a live performance. All gallery events are free and open to the community. For more information, contact the gallery at 508-929-8651 or Gallery@worcester.edu. The Gallery Director is VPA Professor Stacey Parker. The Gallery Assistant is Brad Chapman Bleau.
For more information, visit the gallery website
Thursday, April 27, 2023: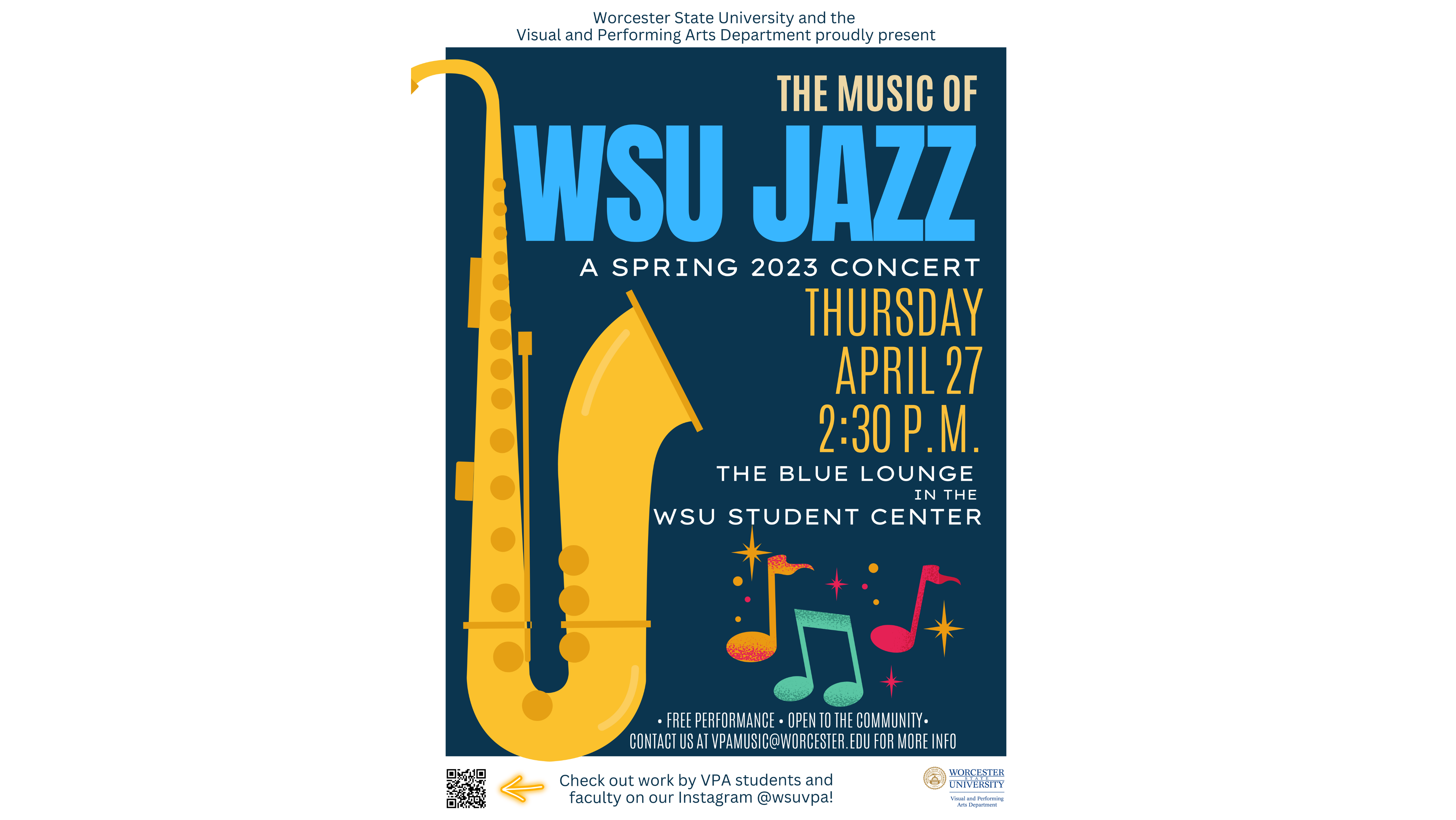 VPA Music is Thrilled to Present a Spring 2023
WSU Jazz Performance
Experience the versatility of jazz at 2:30 p.m. in the Blue Lounge as WSU Jazz performs its semiannual concert featuring a talented ensemble of 21 students, faculty, and community members. The event is free and open to the community.
WSU Jazz Video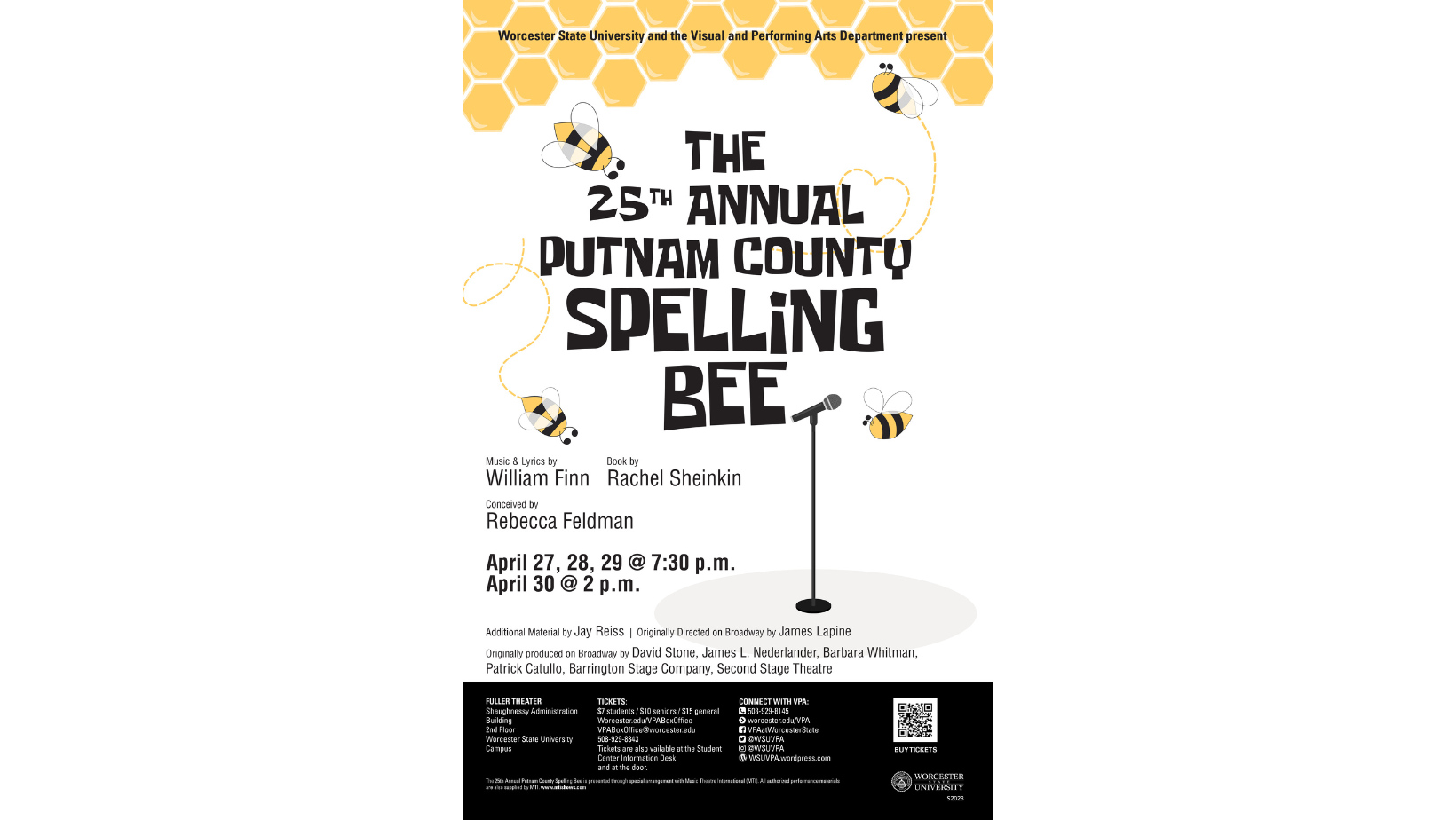 WSU Theatre Opens Delightfully Funny
THE 25TH ANNUAL PUTNAM COUNTY SPELLING BEE, a Musical
Don't miss this charming, Tony Award winning comedy - complete with audience participation - with book by Rachel Sheinkin, music and lyrics by William Finn. The show opens at 7:30 p.m. on 4/27, with 7:30 p.m. shows on 4/28 and 4/29, and a 2 p.m. matinee on 4/30.
Box Office Site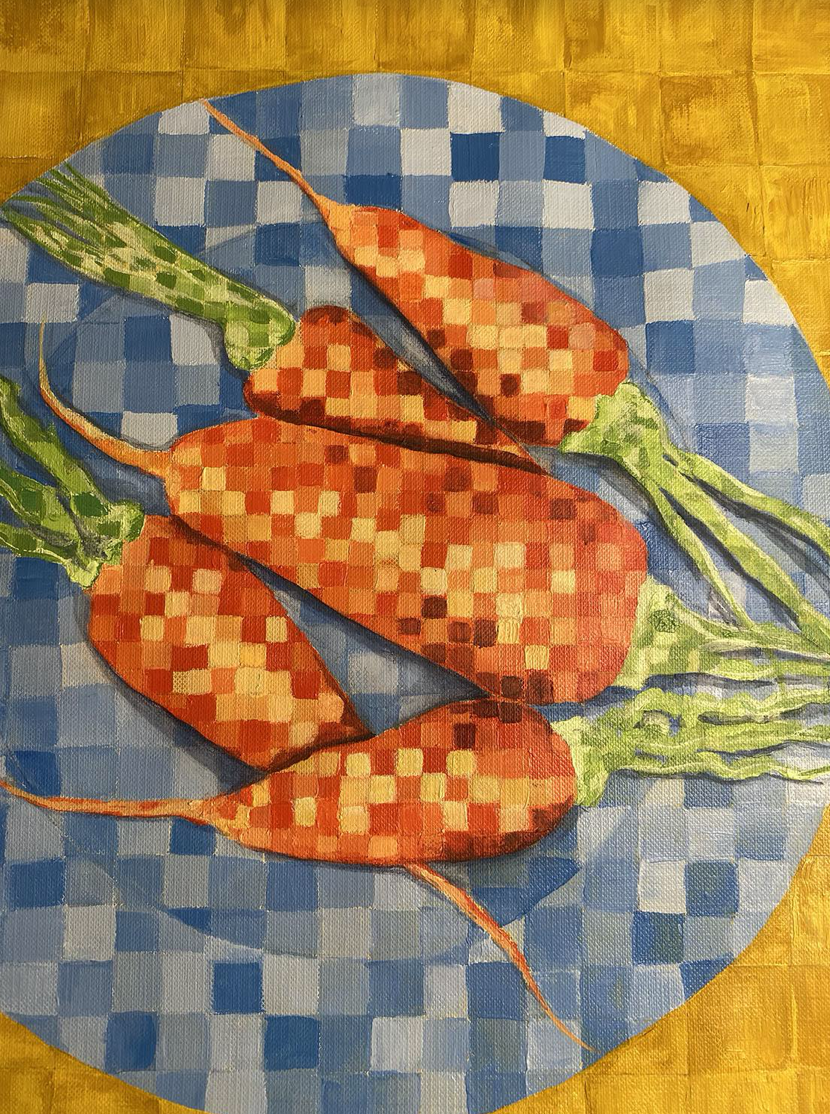 Spring 2023 Work by Students of Painting and Drawing Studio
with Professor Amaryllis Siniossoglou
Saturday, April 29, 2023: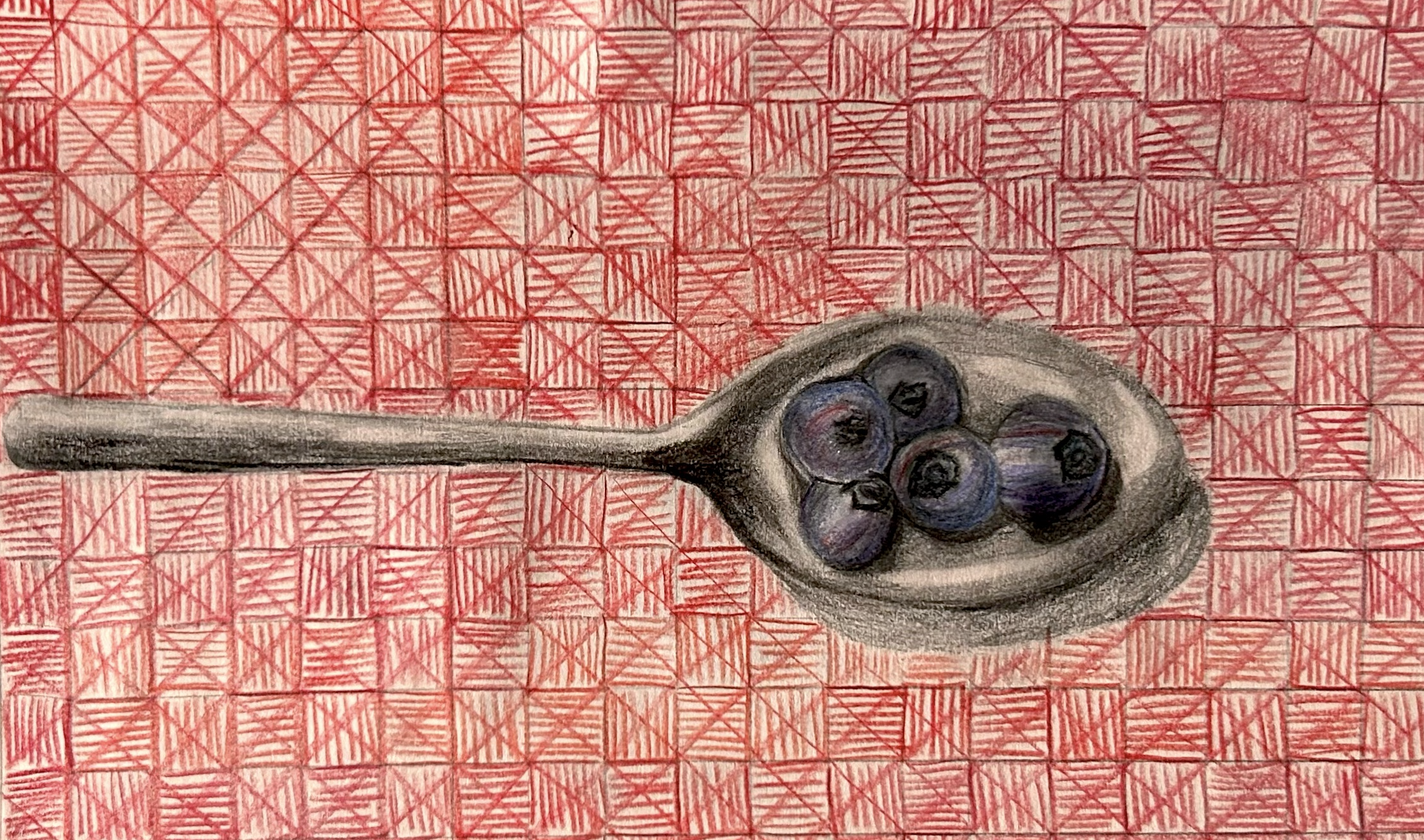 (Part 2) Work By Students of Three Studio Courses
with Professor Amaryllis Siniossoglou
Sunday, April 30, 2023: Catch the final show of THE 25TH ANNUAL PUTNAM COUNTY SPELLING BEE musical!
2 p.m. in Fuller Theater! Photography by Matt Wright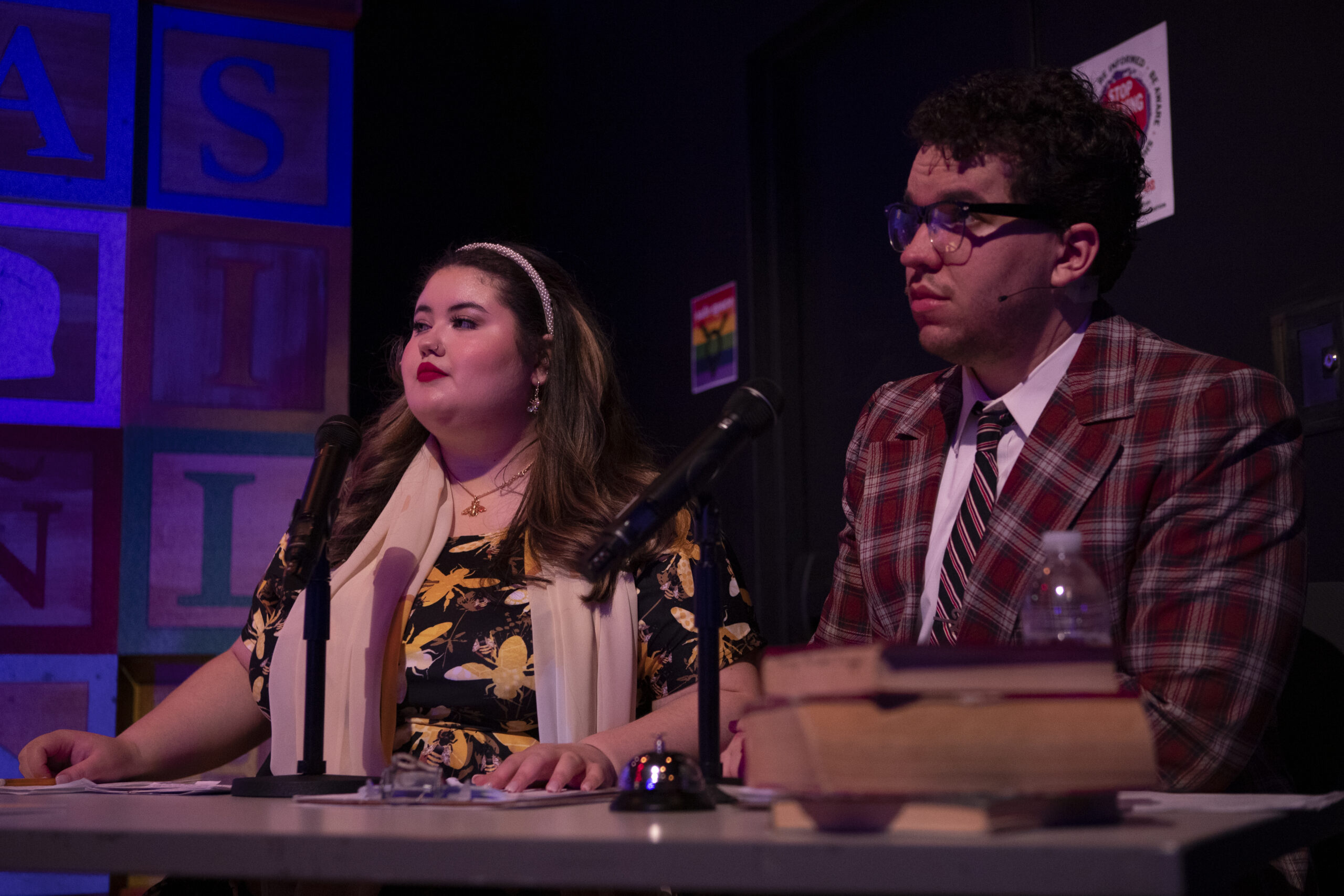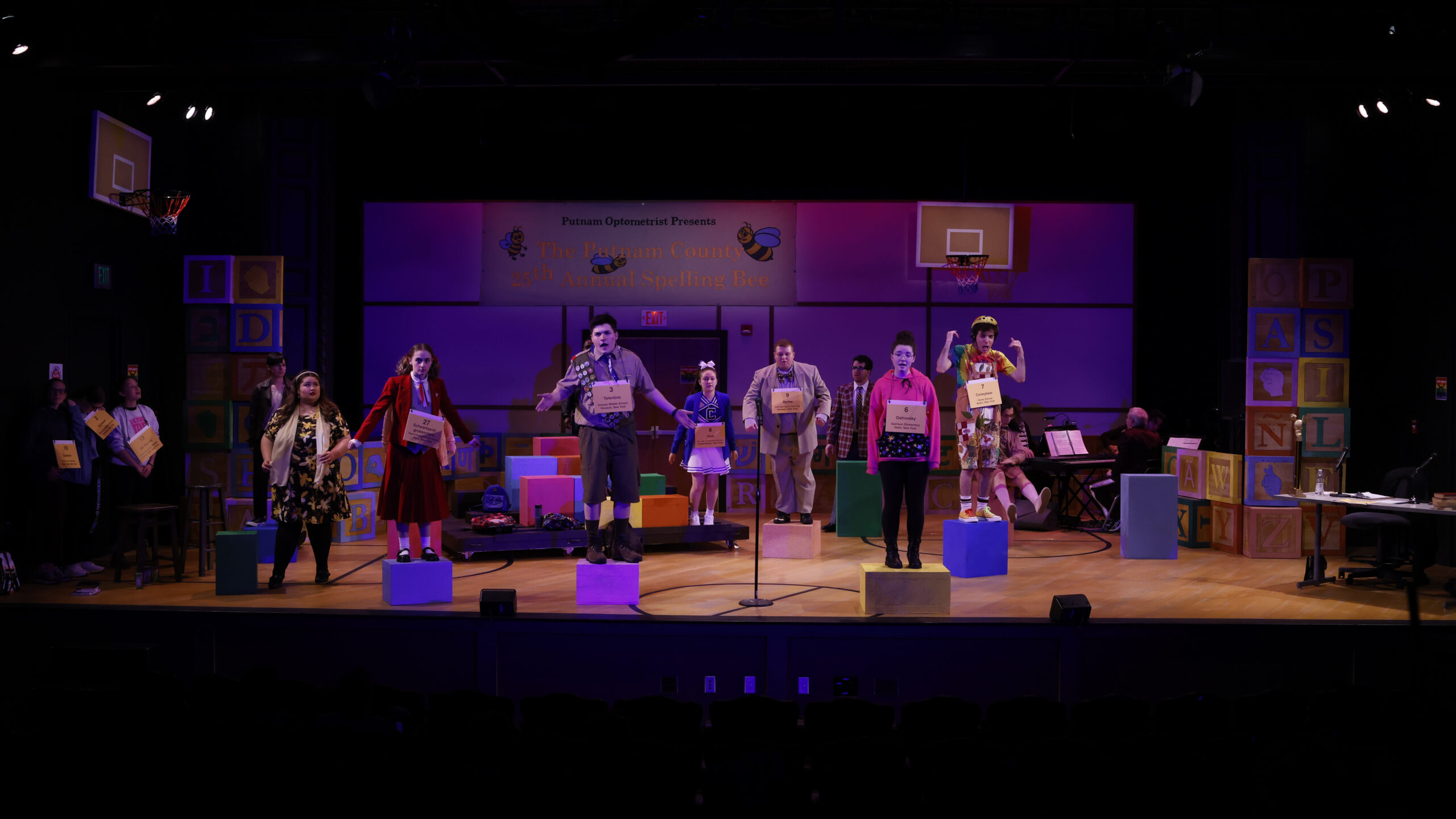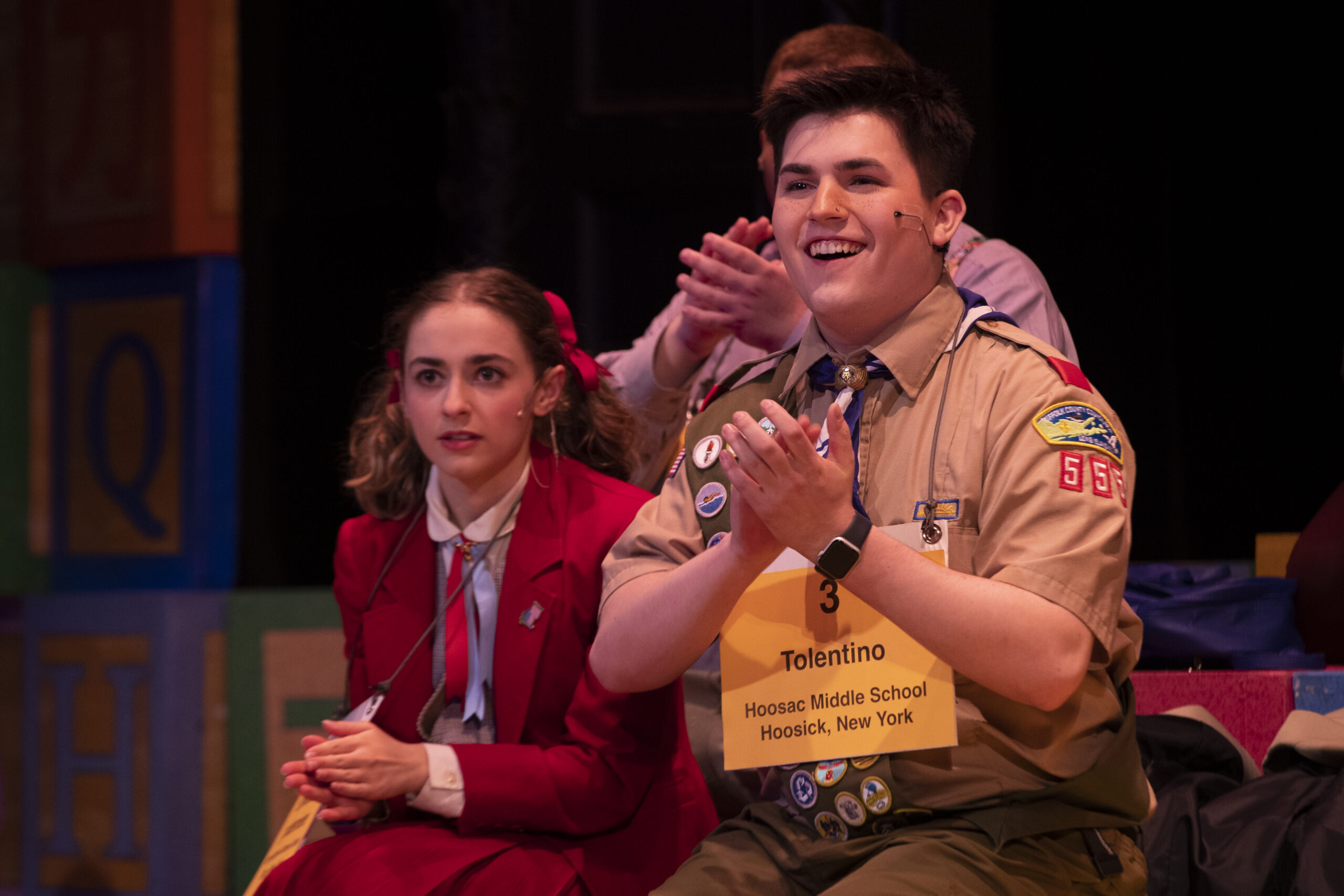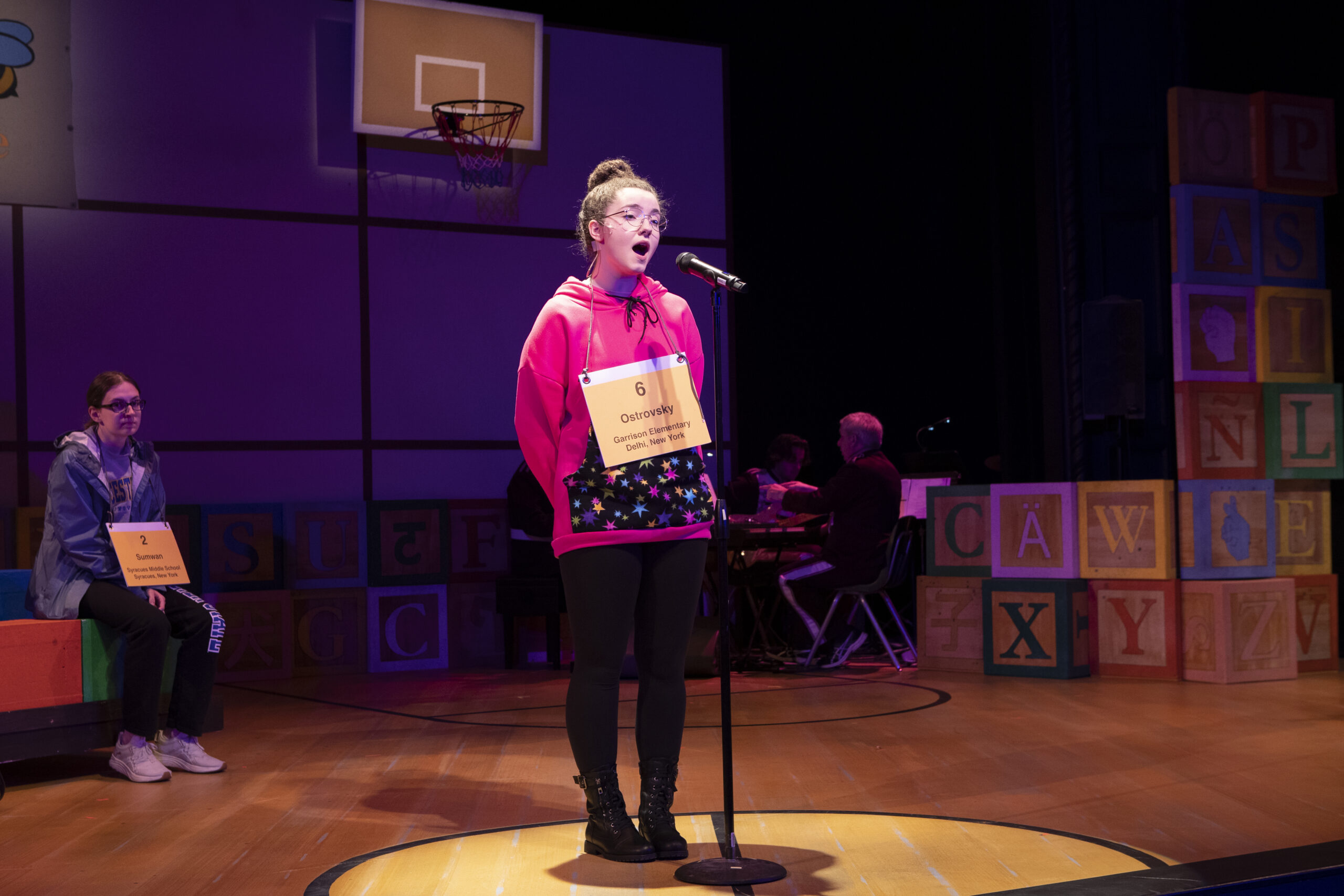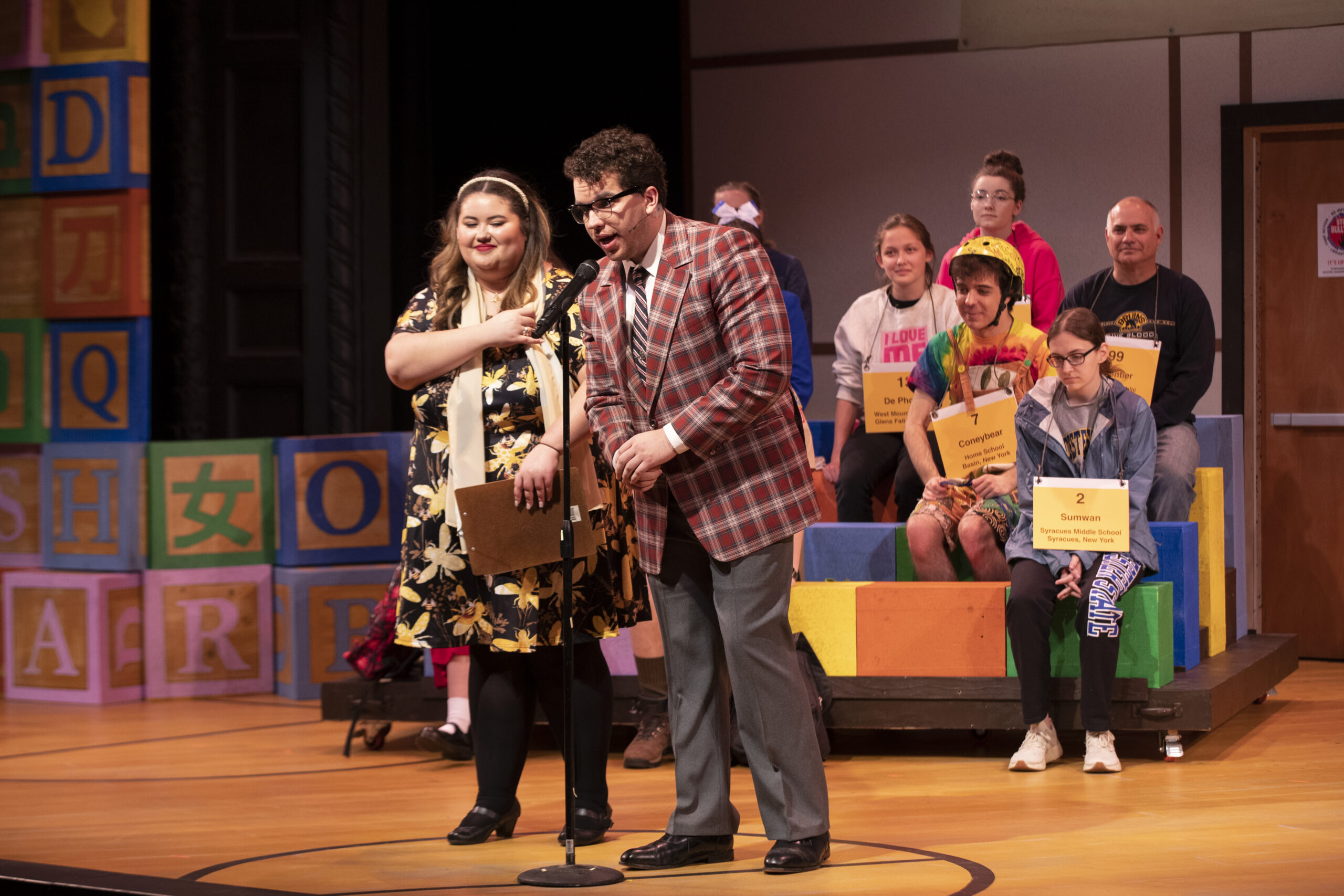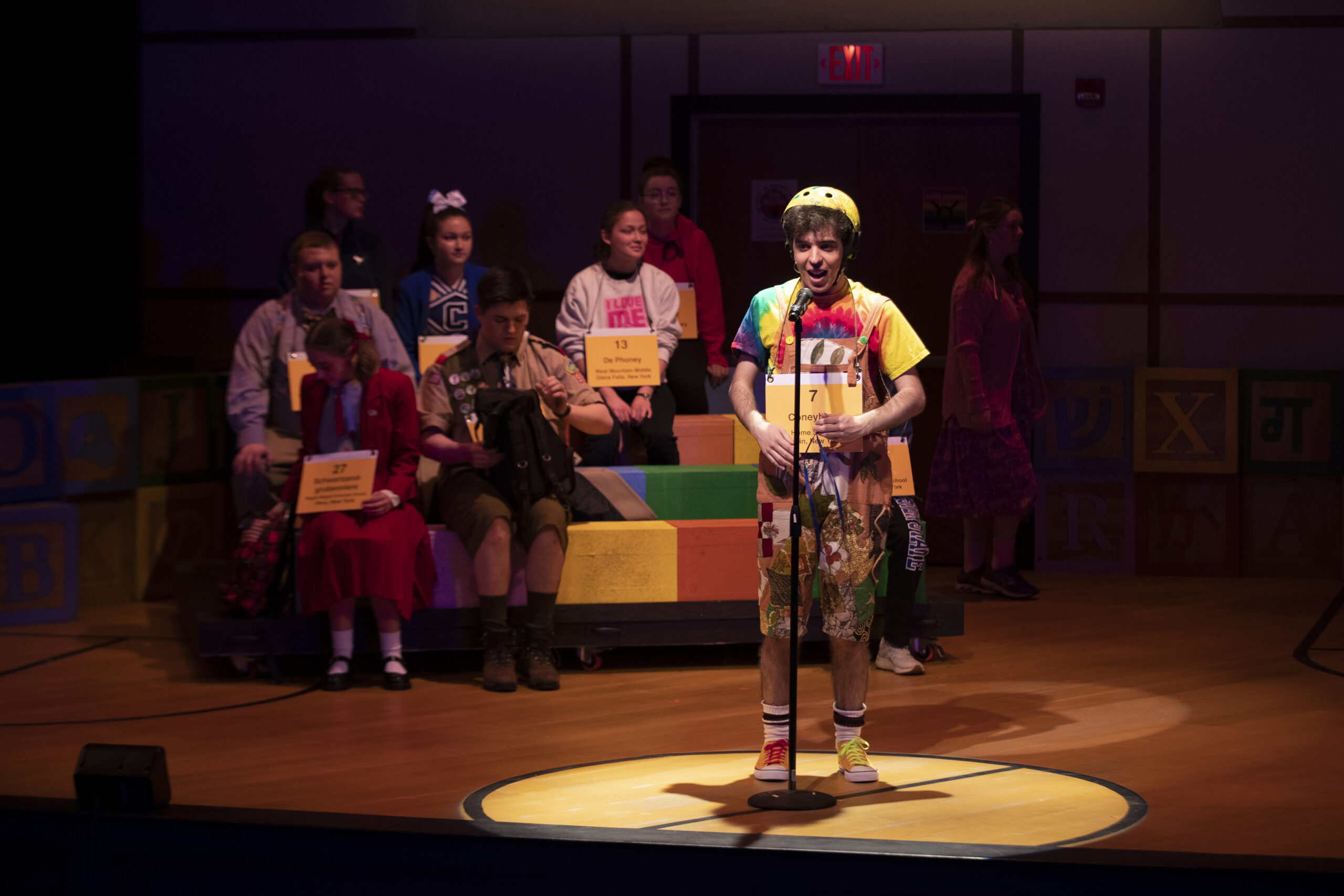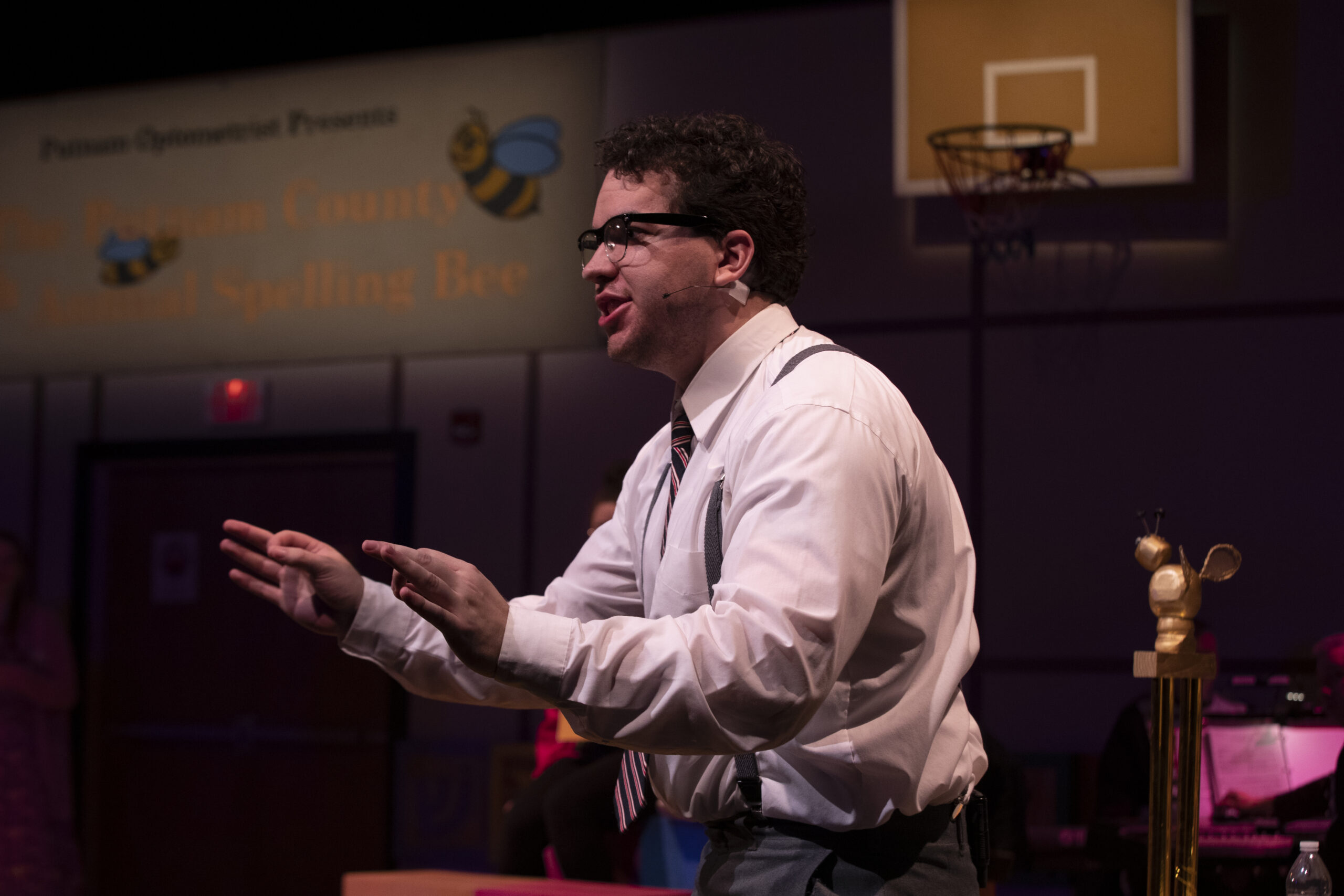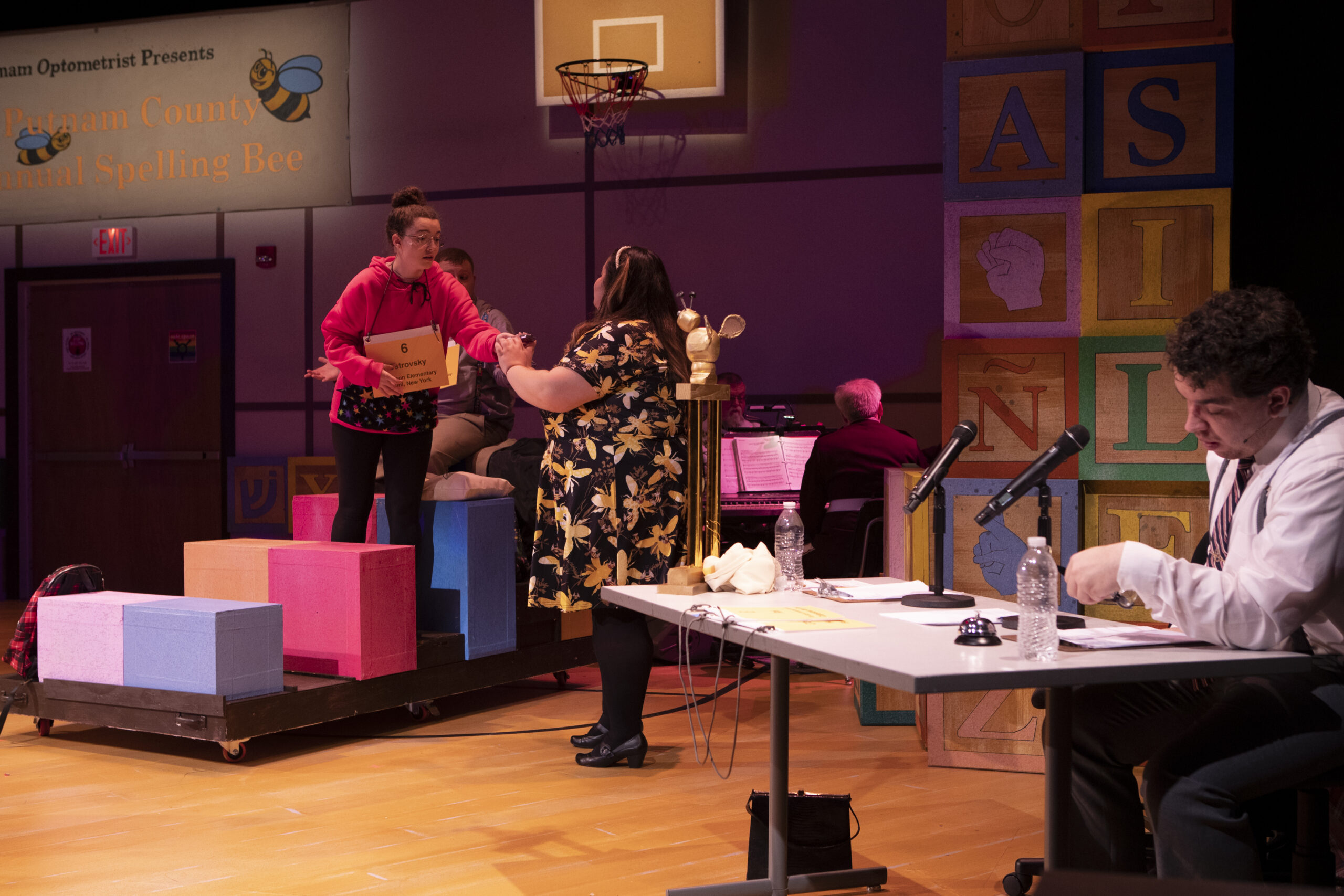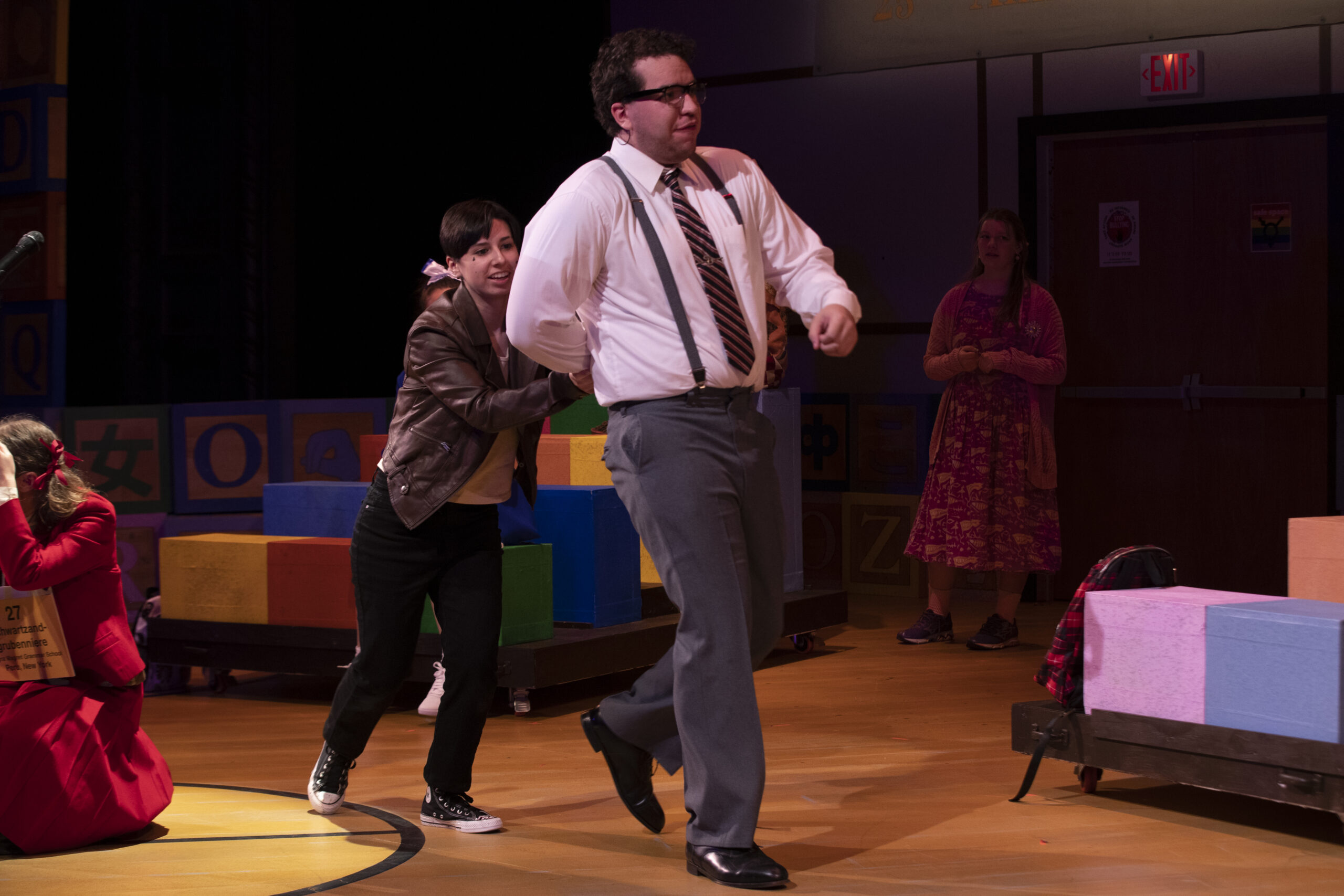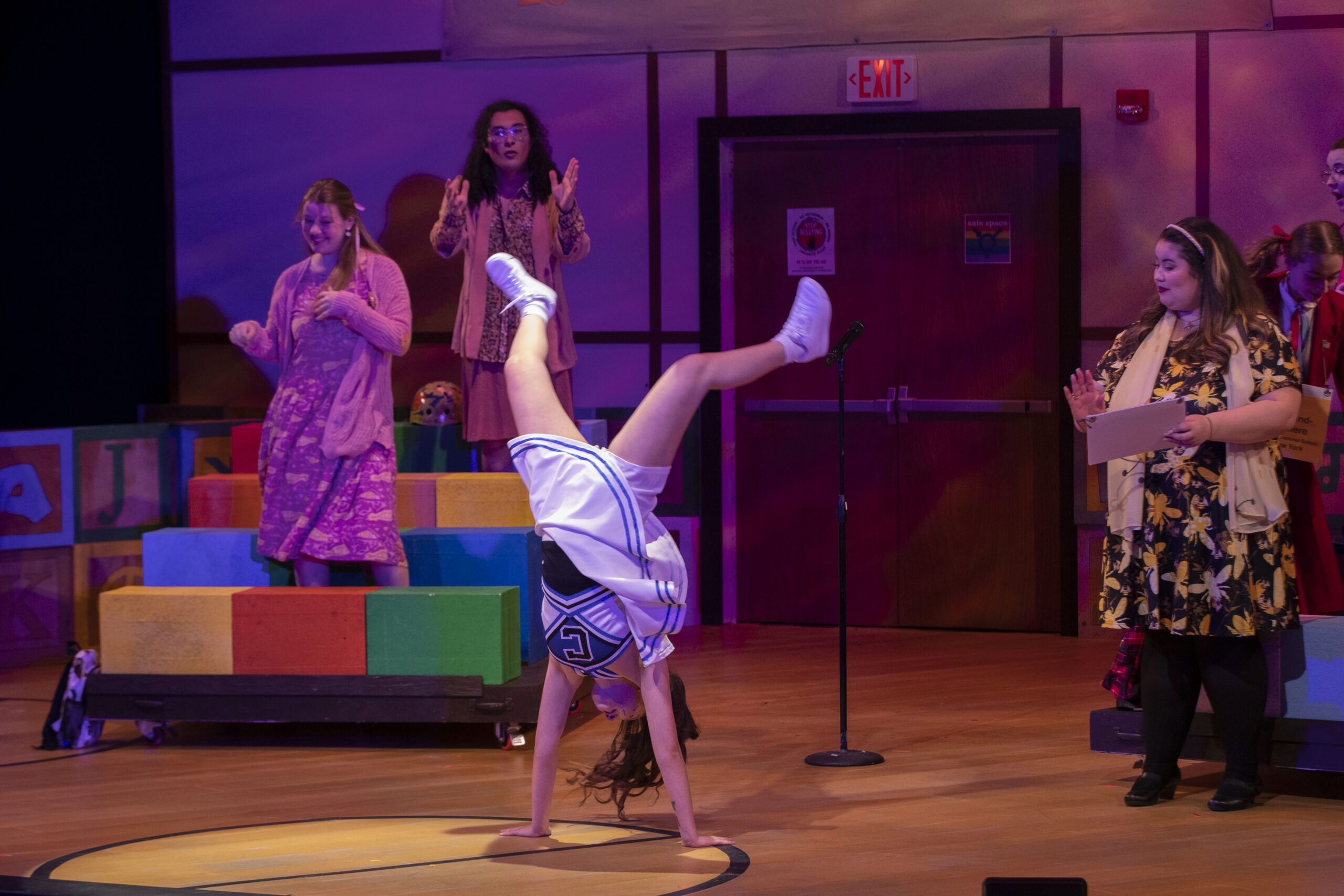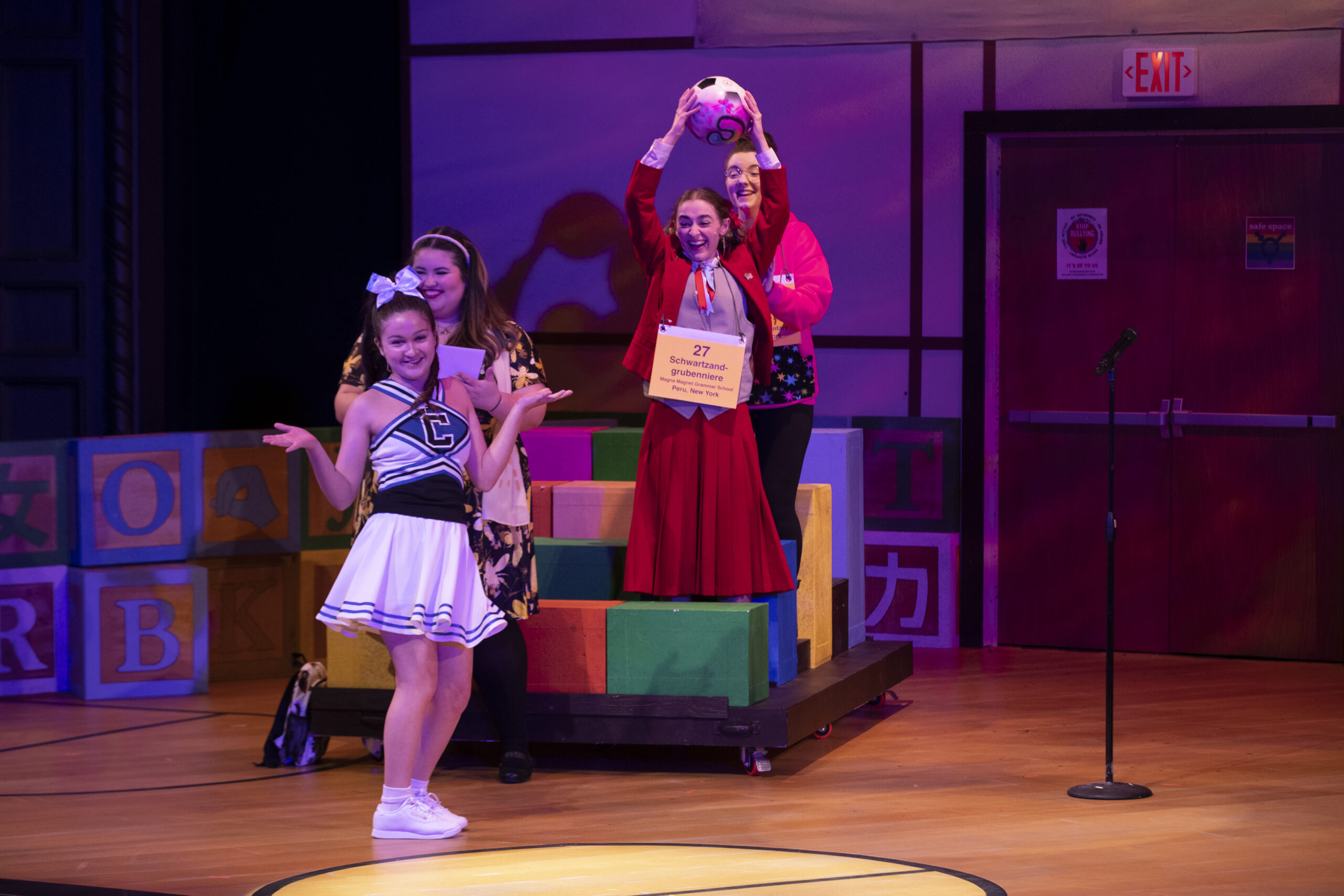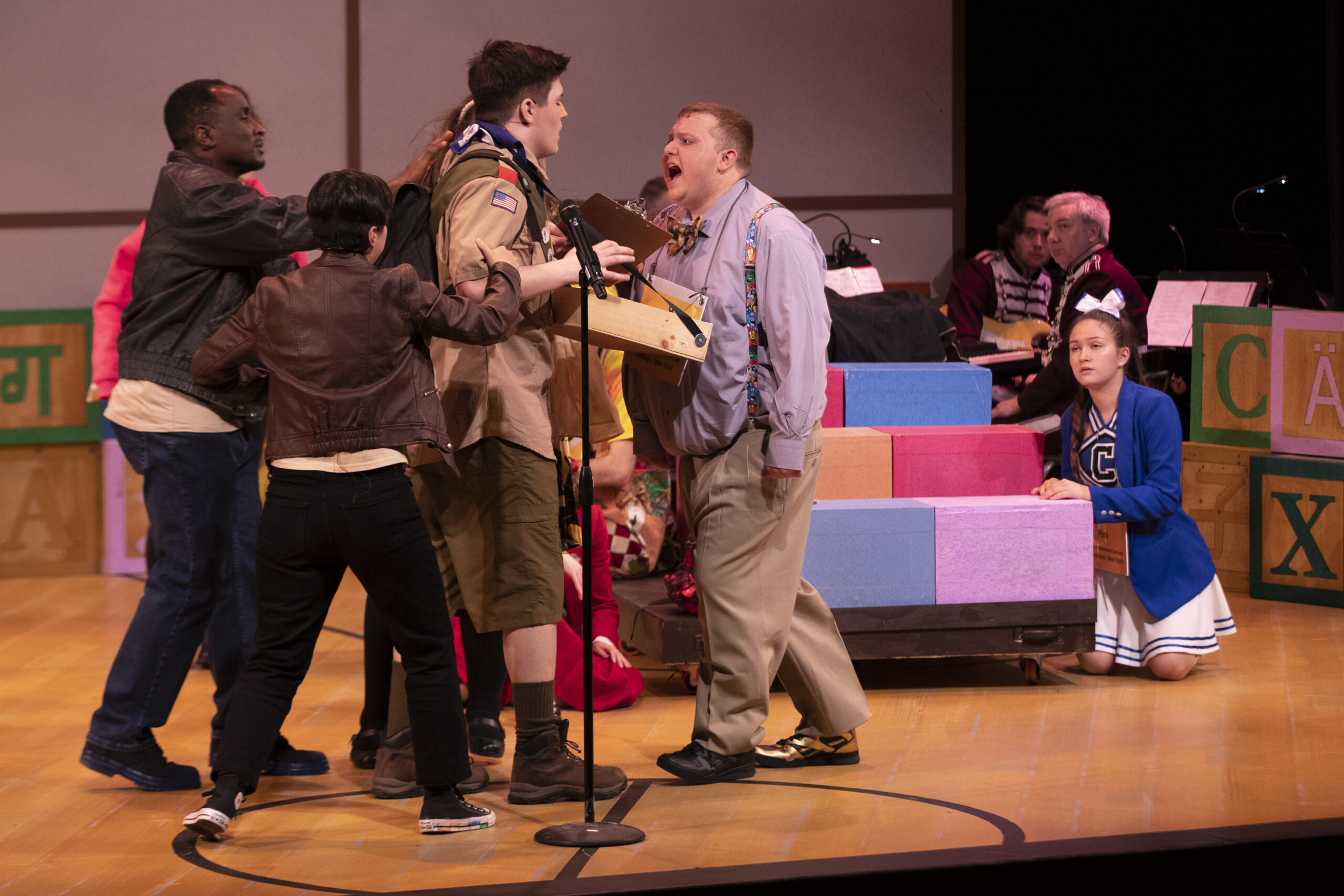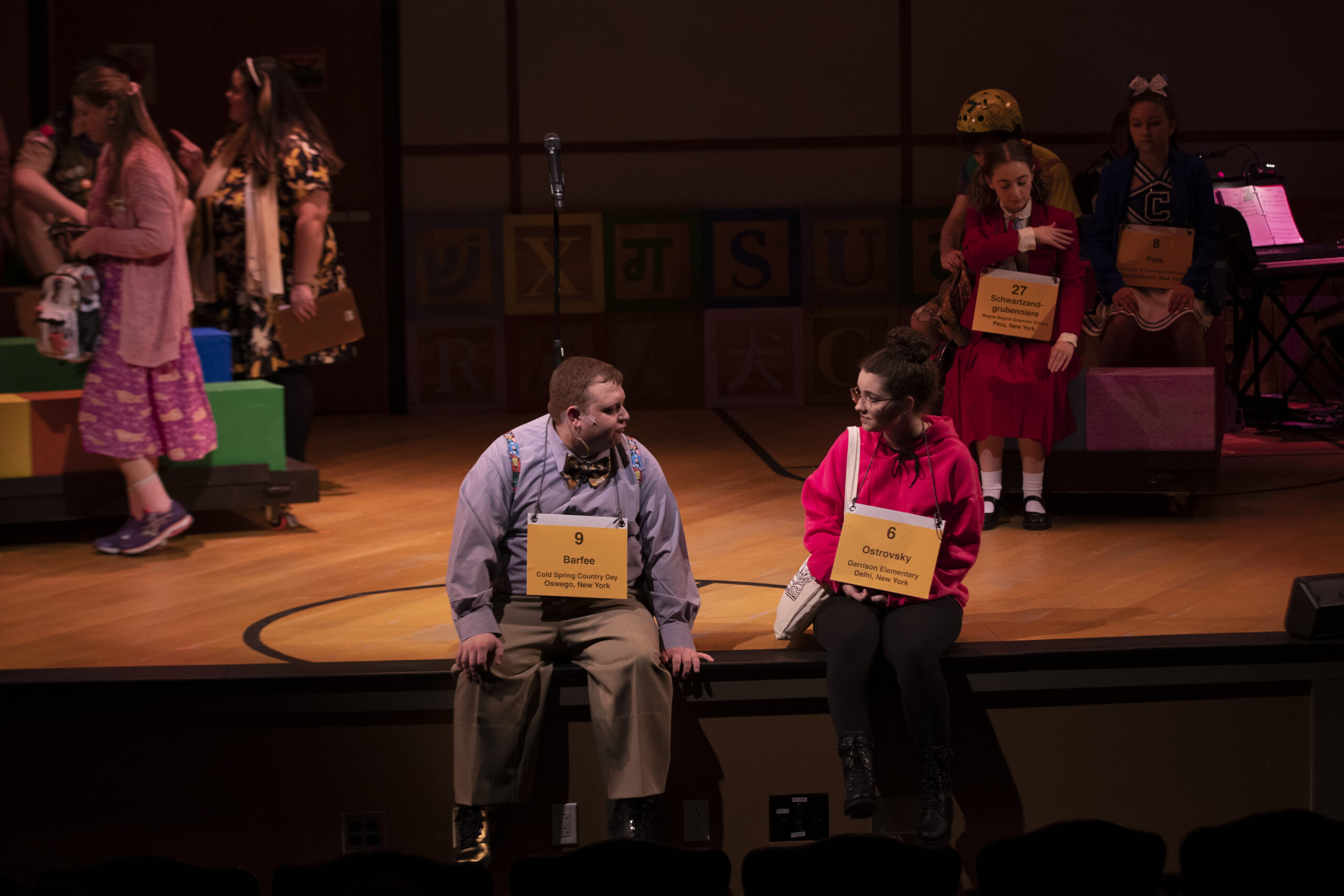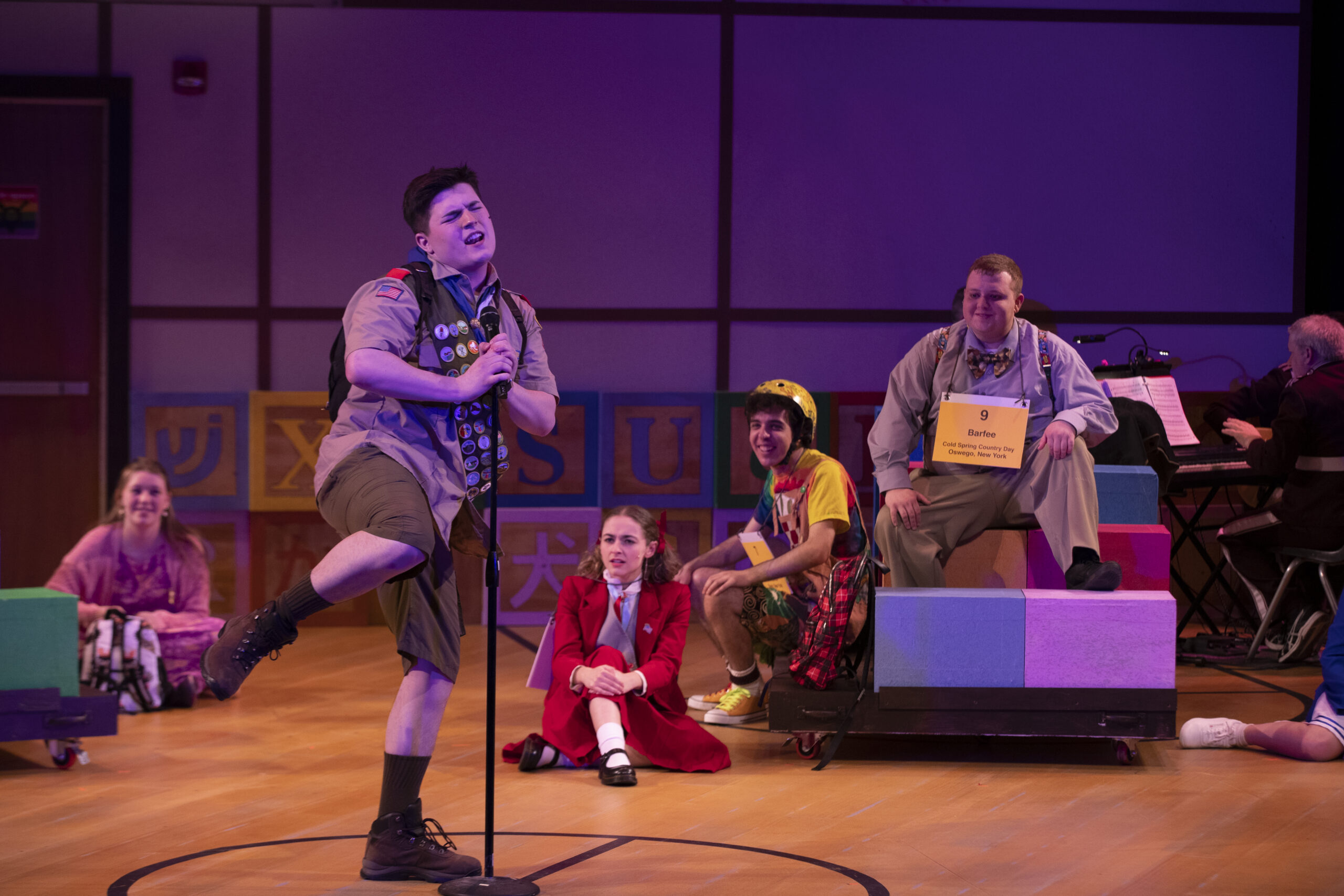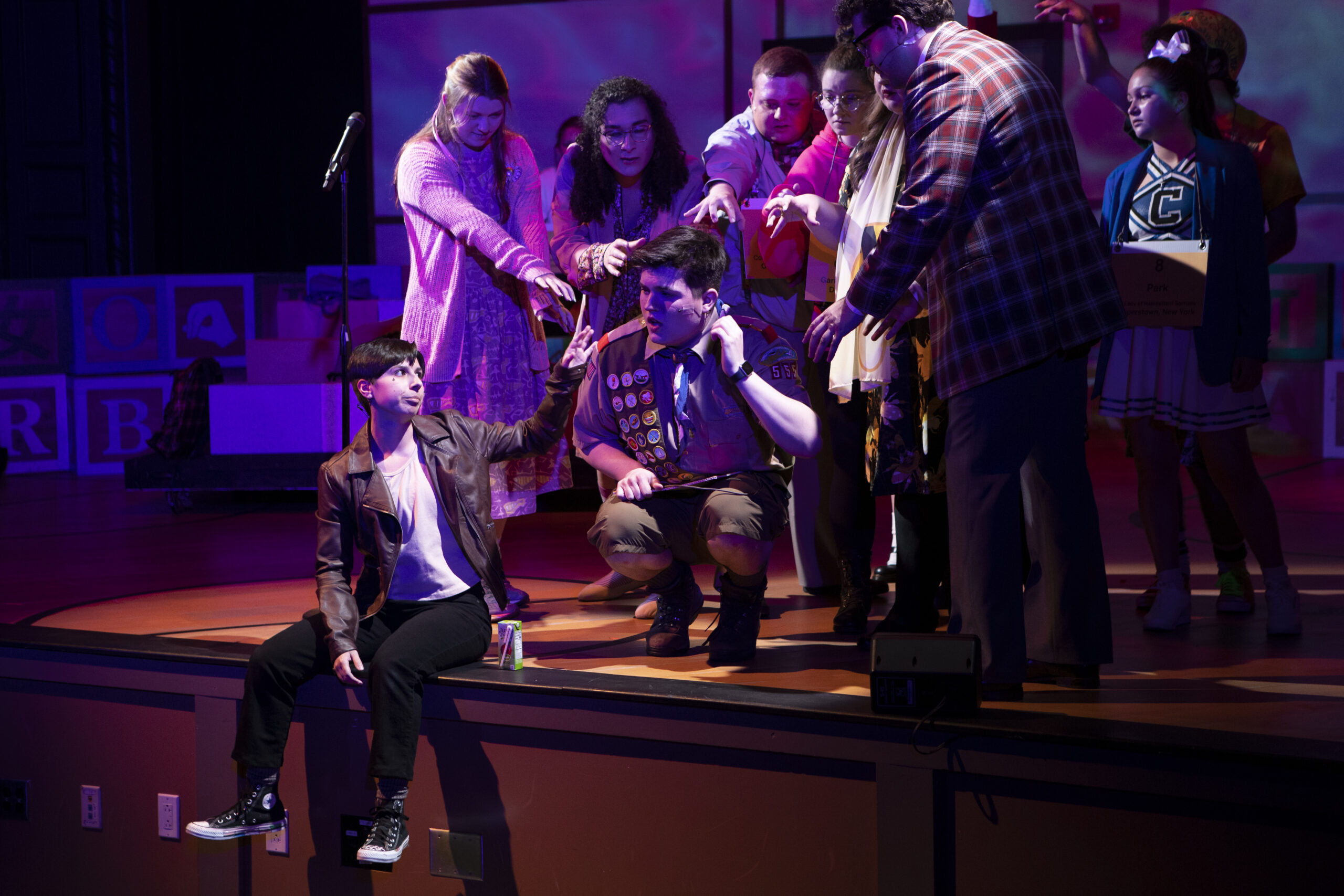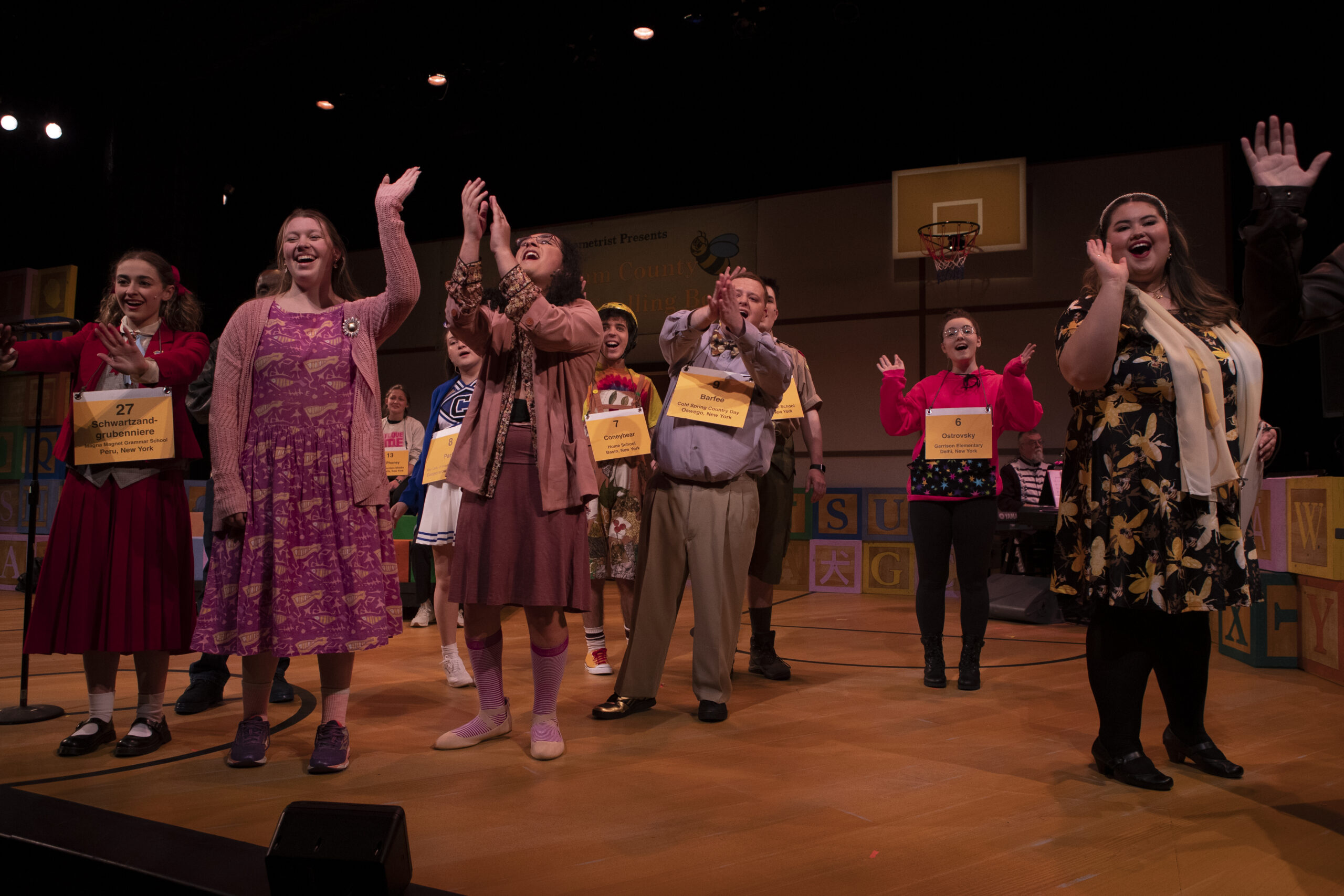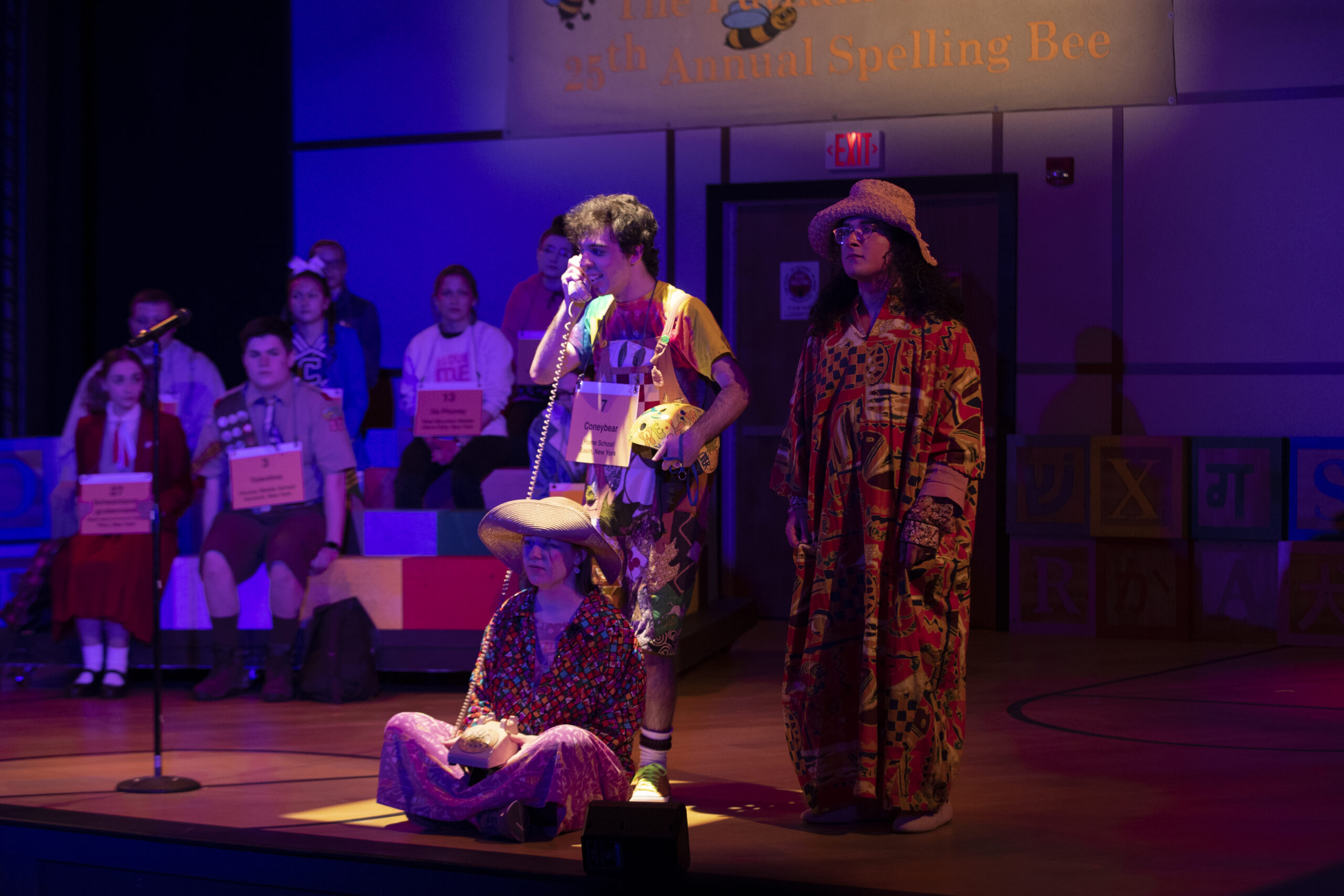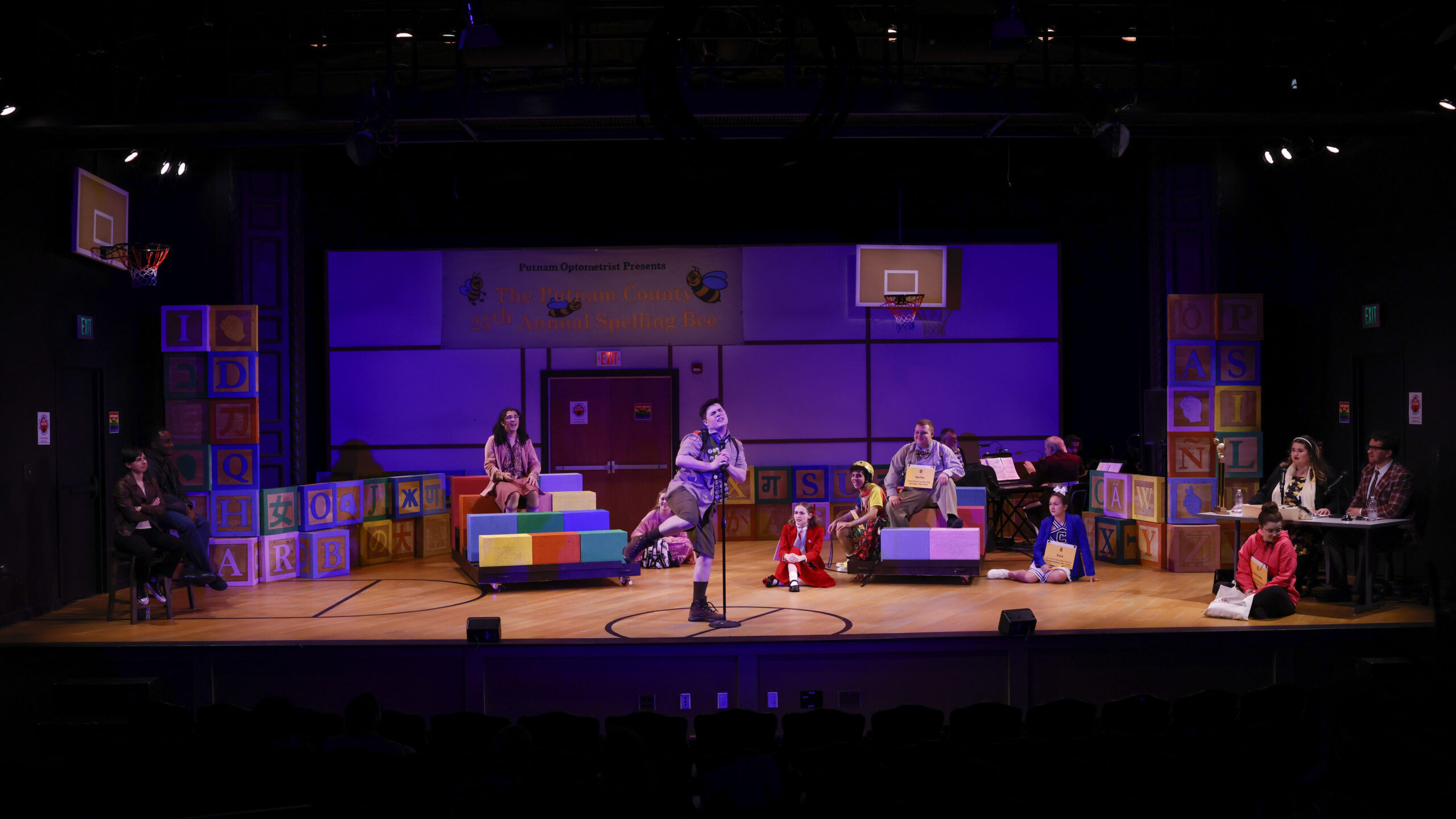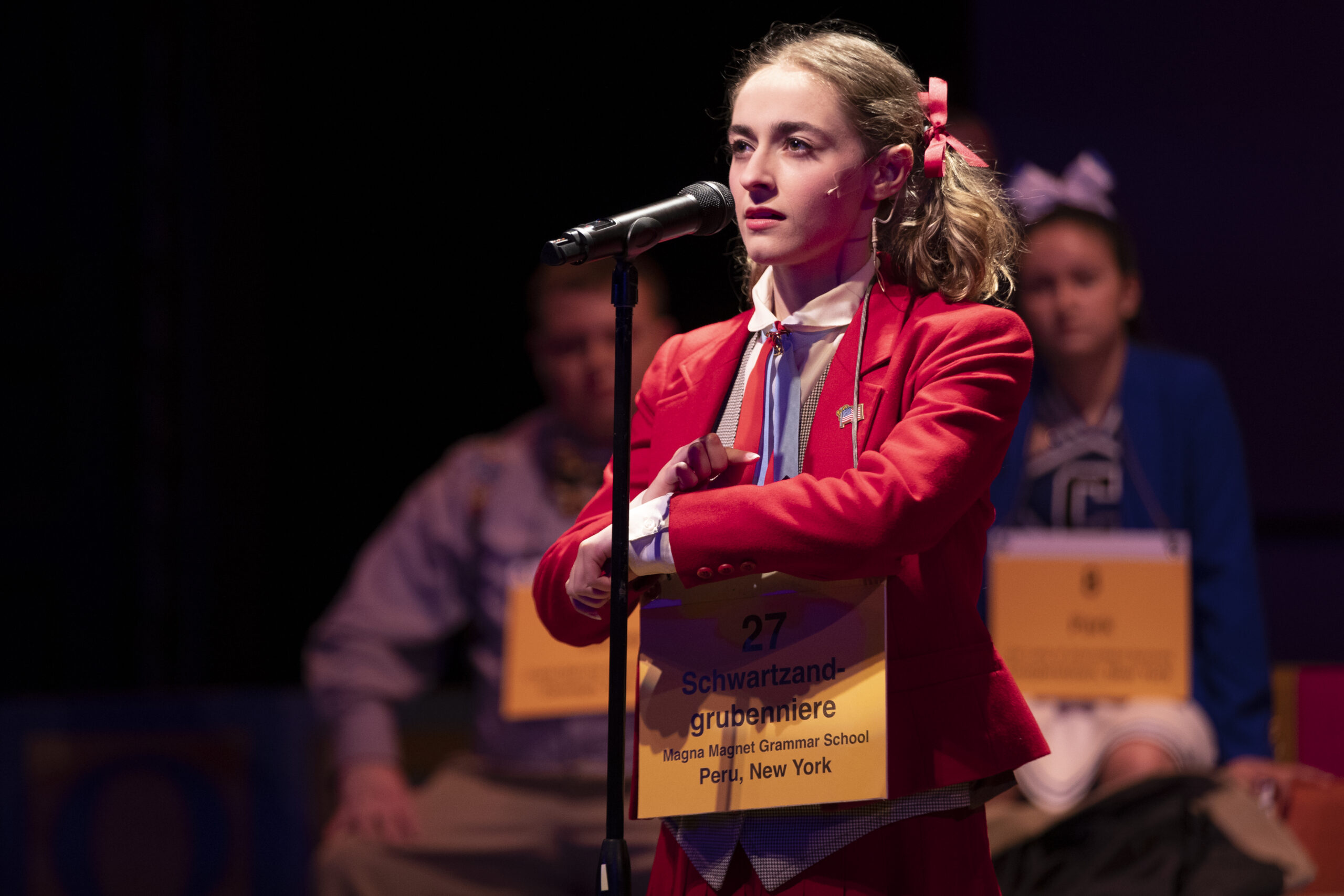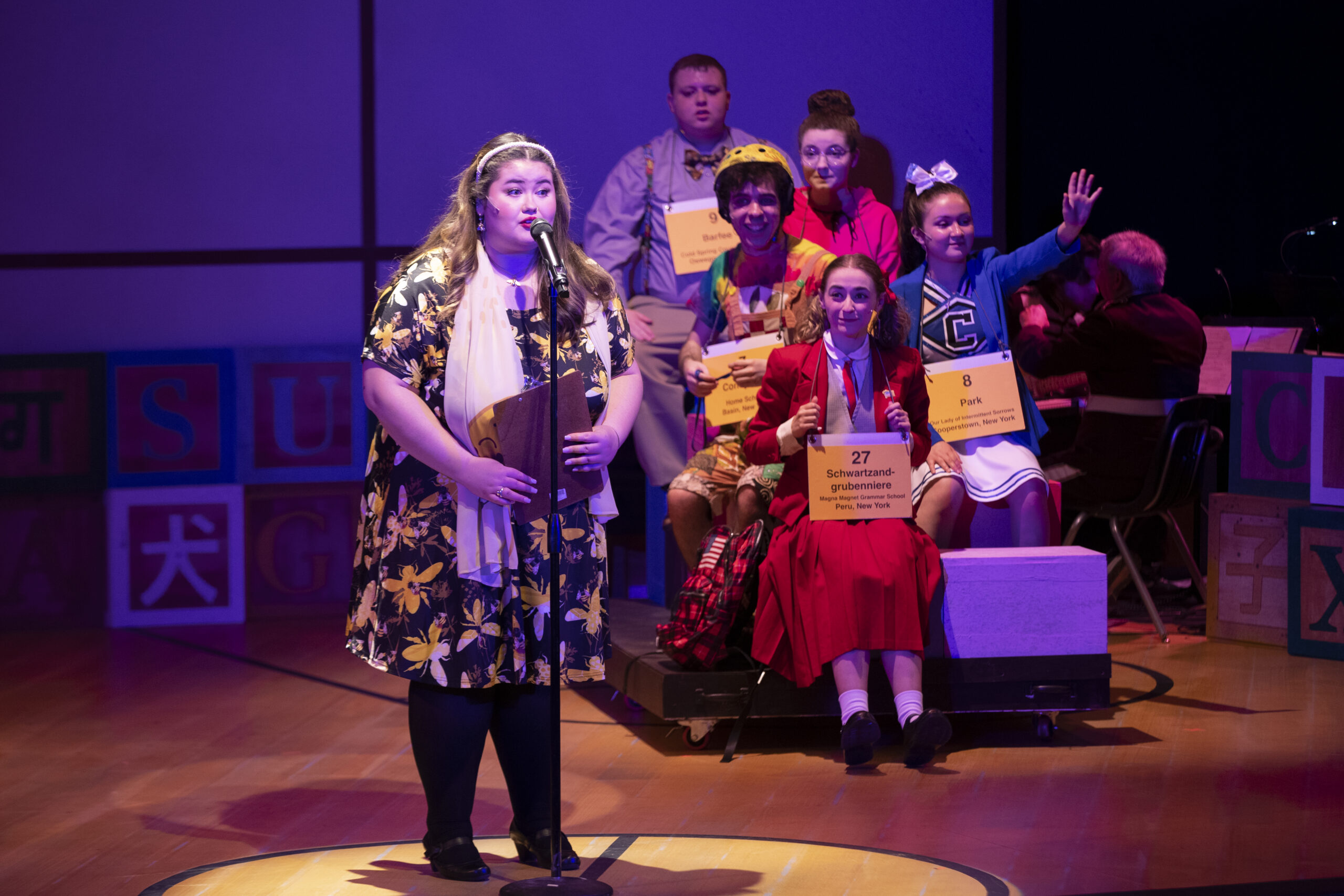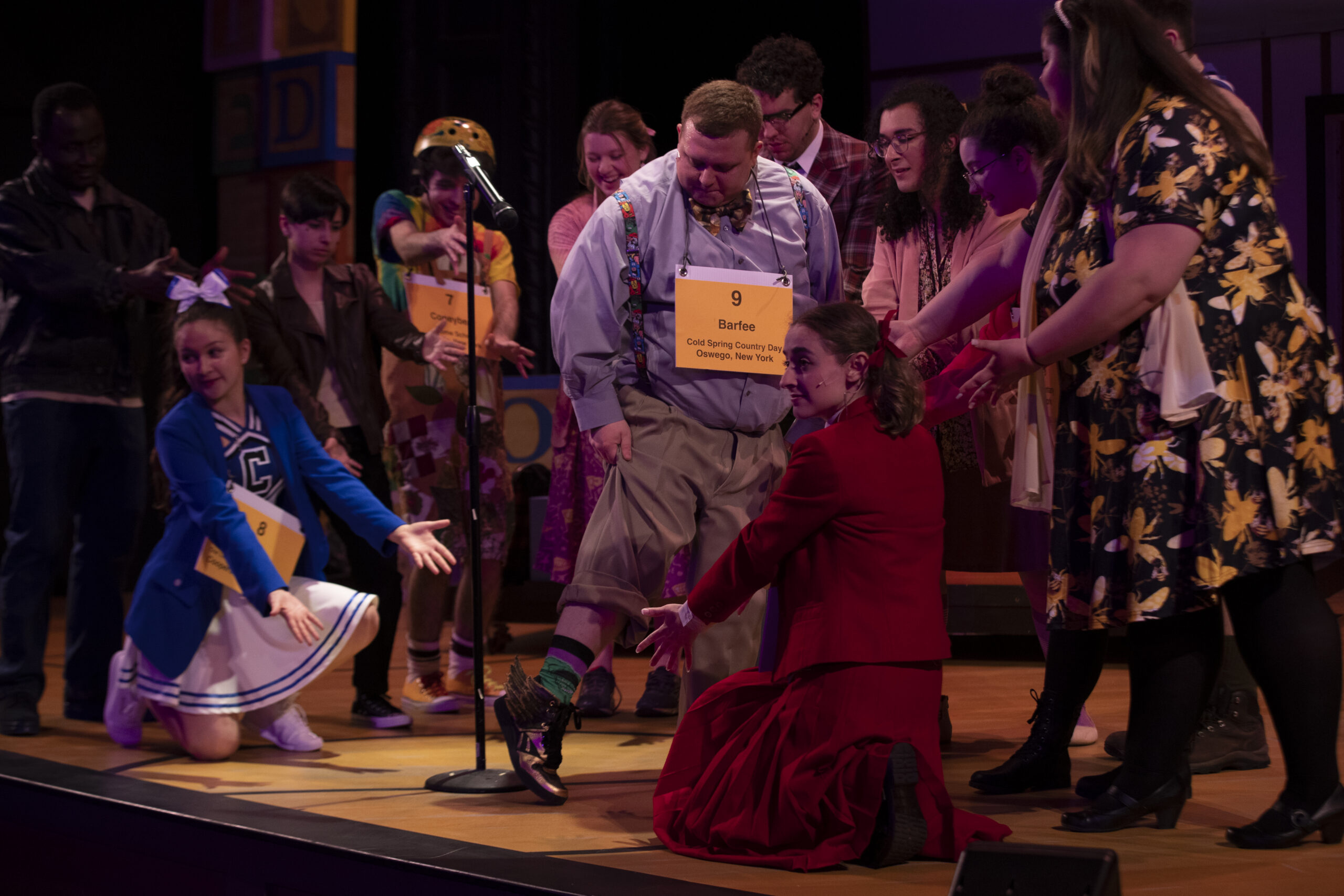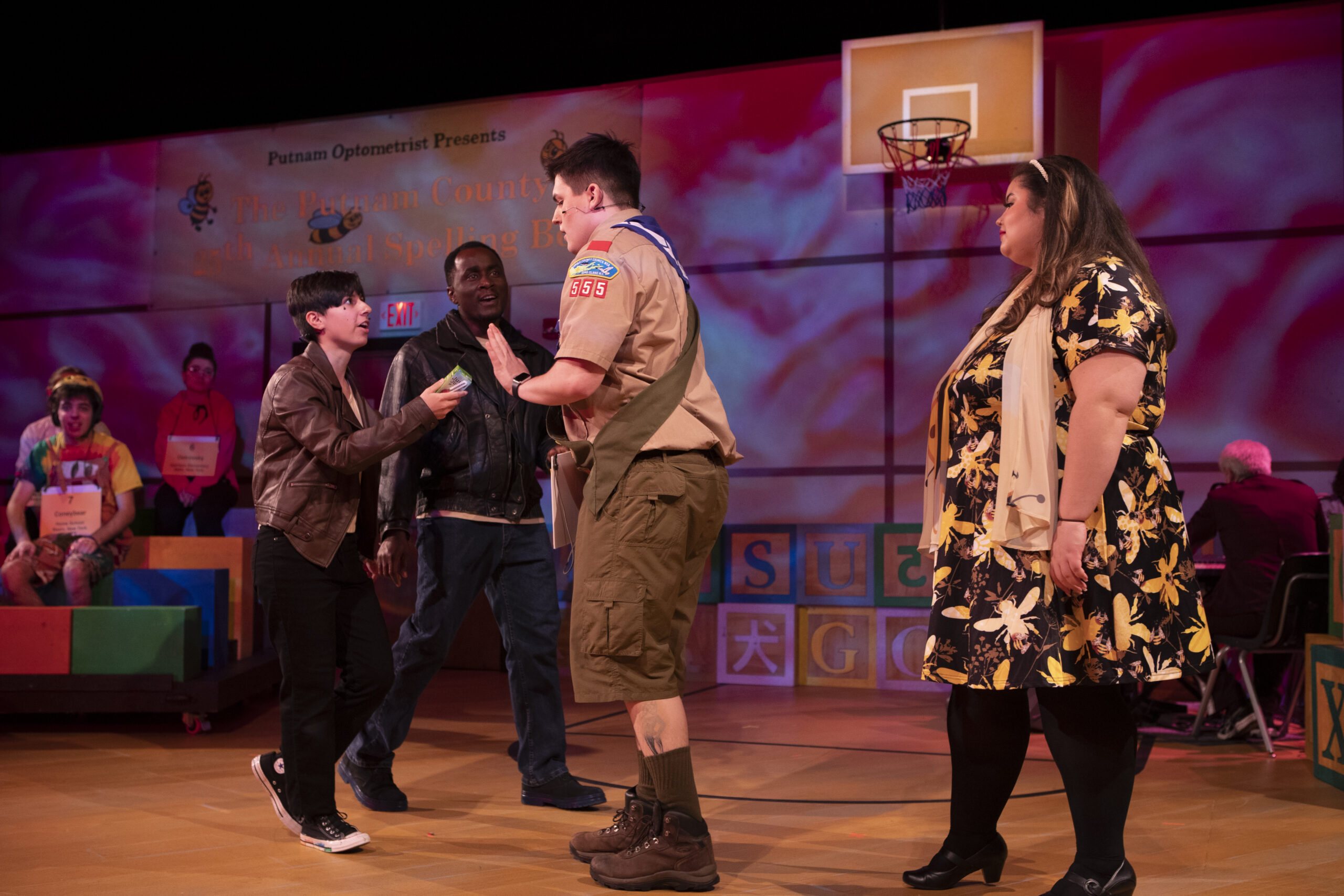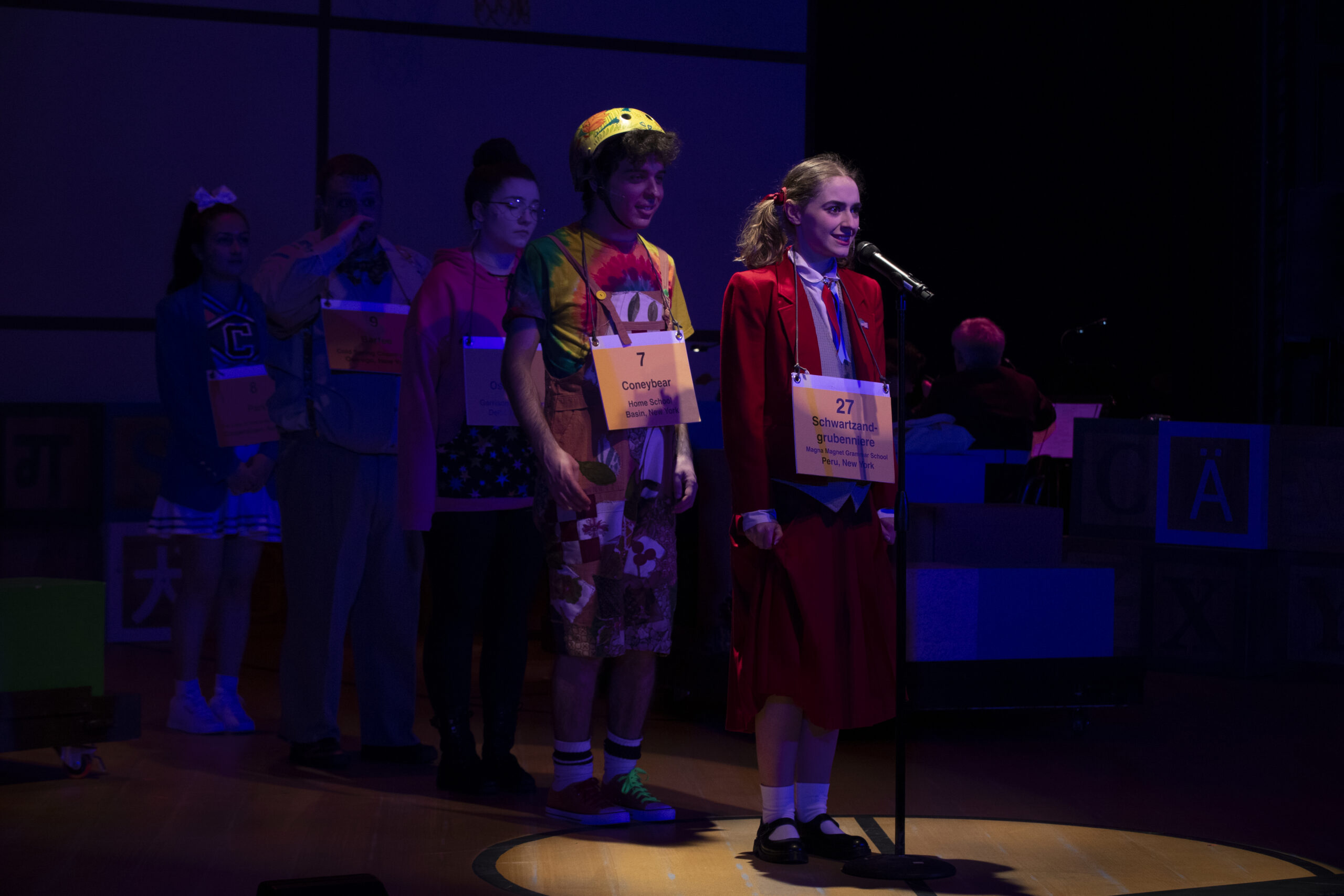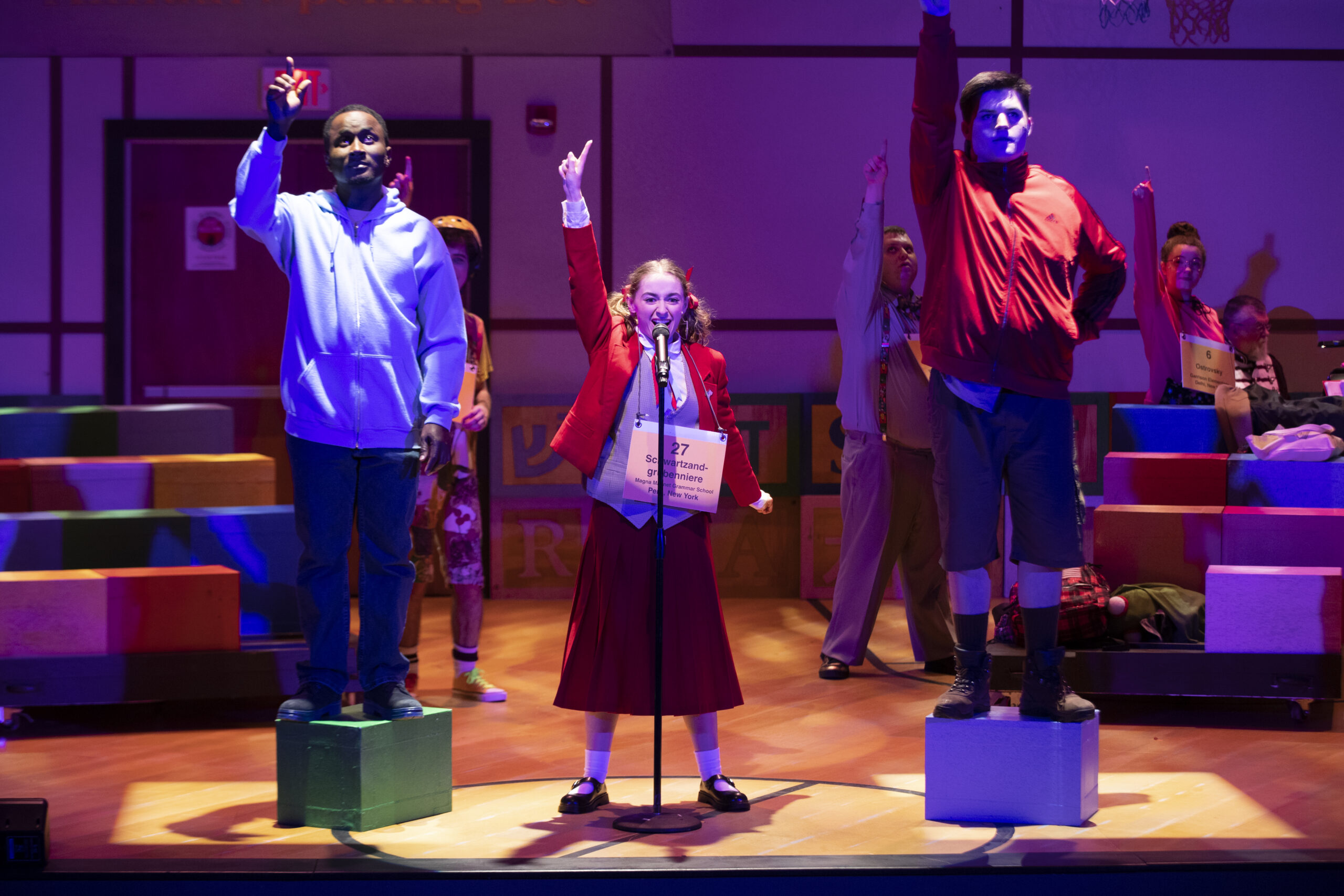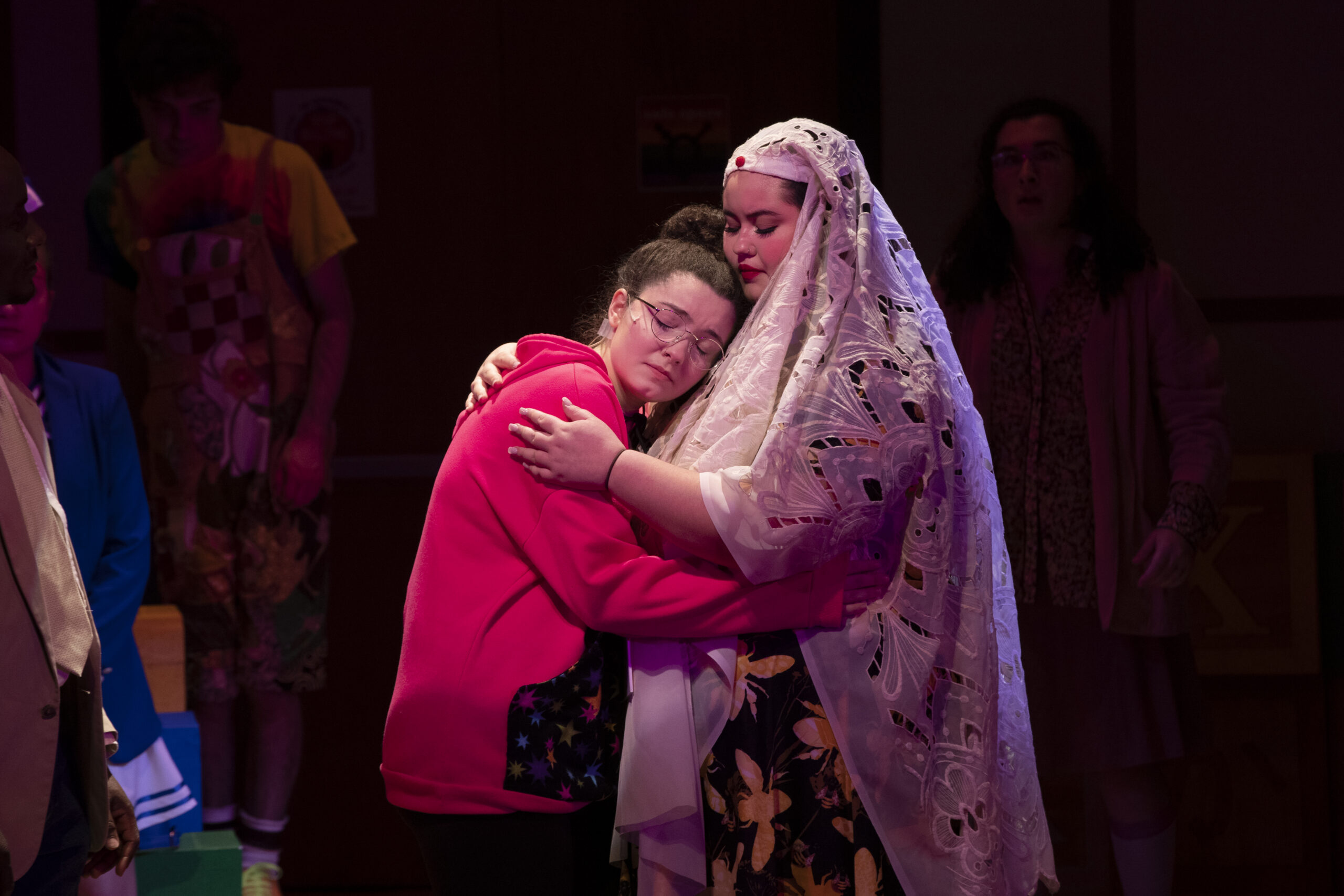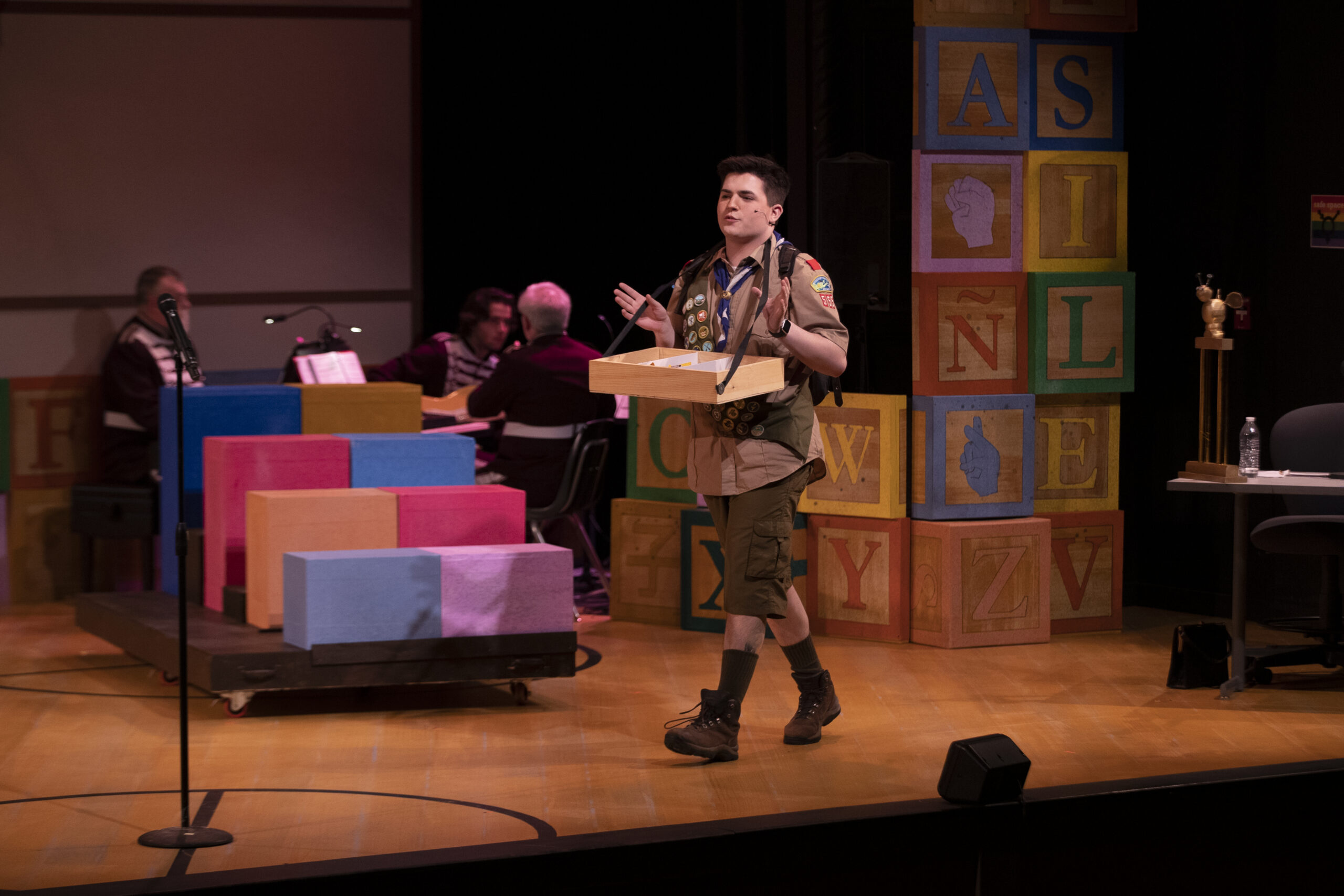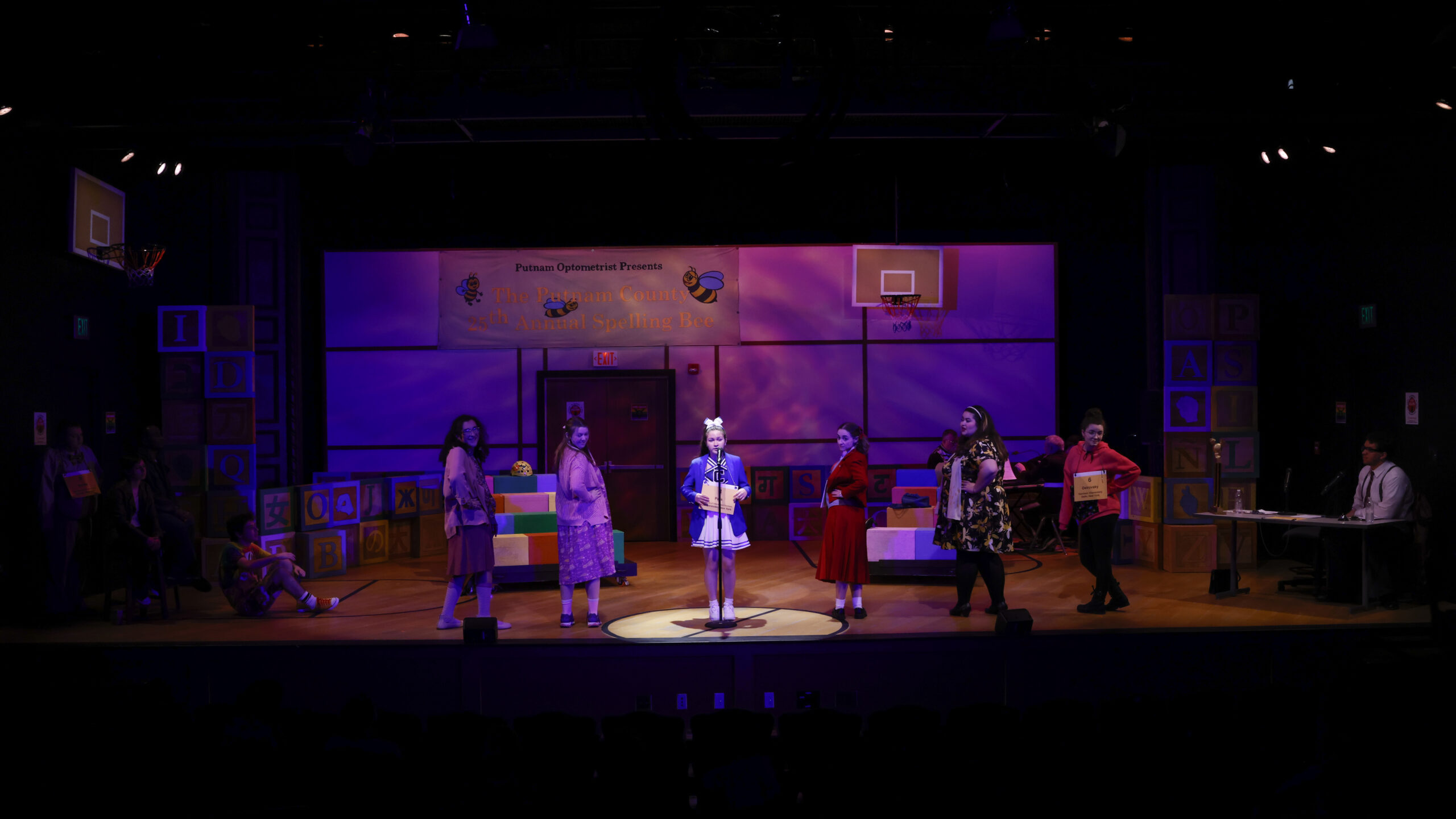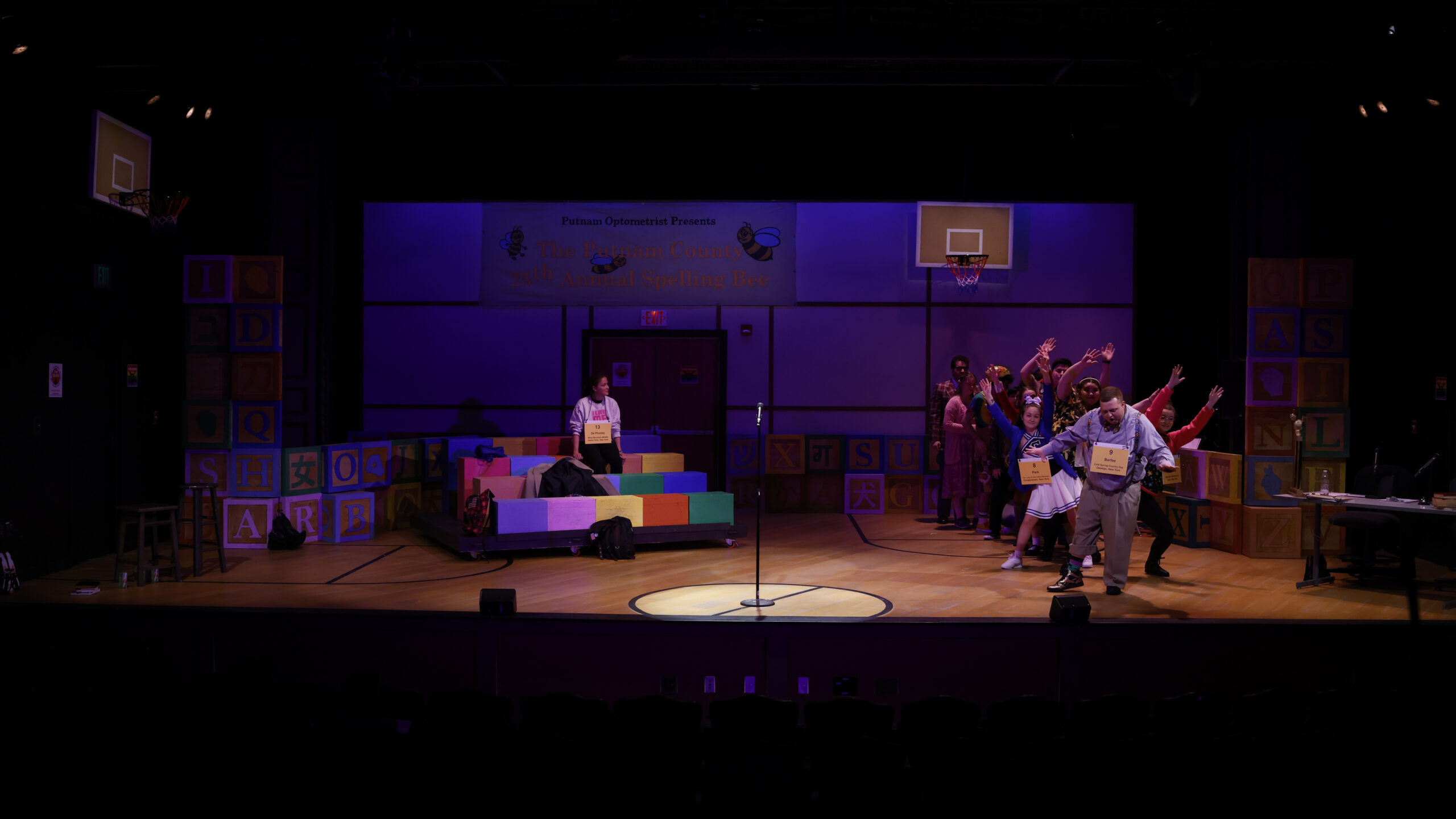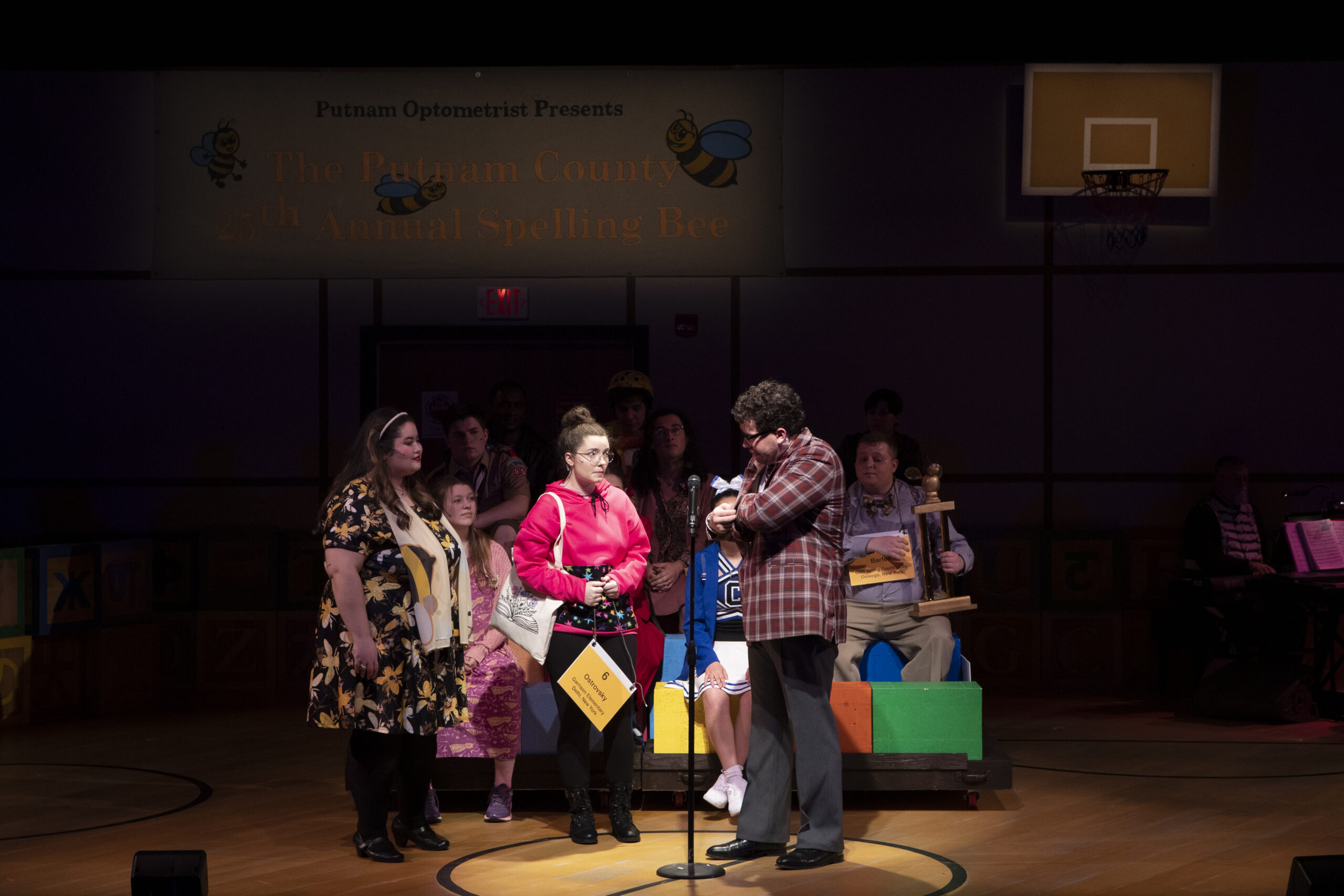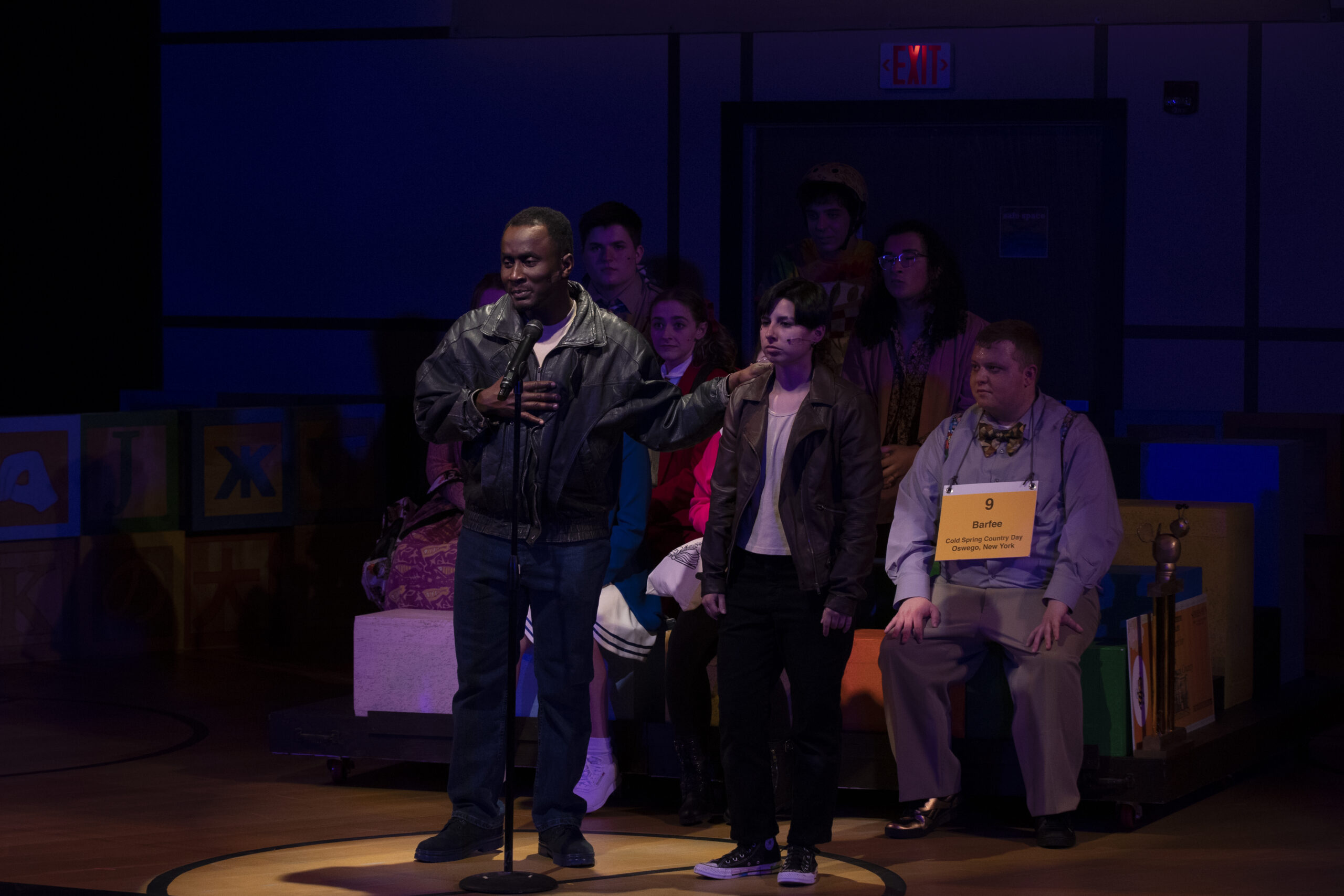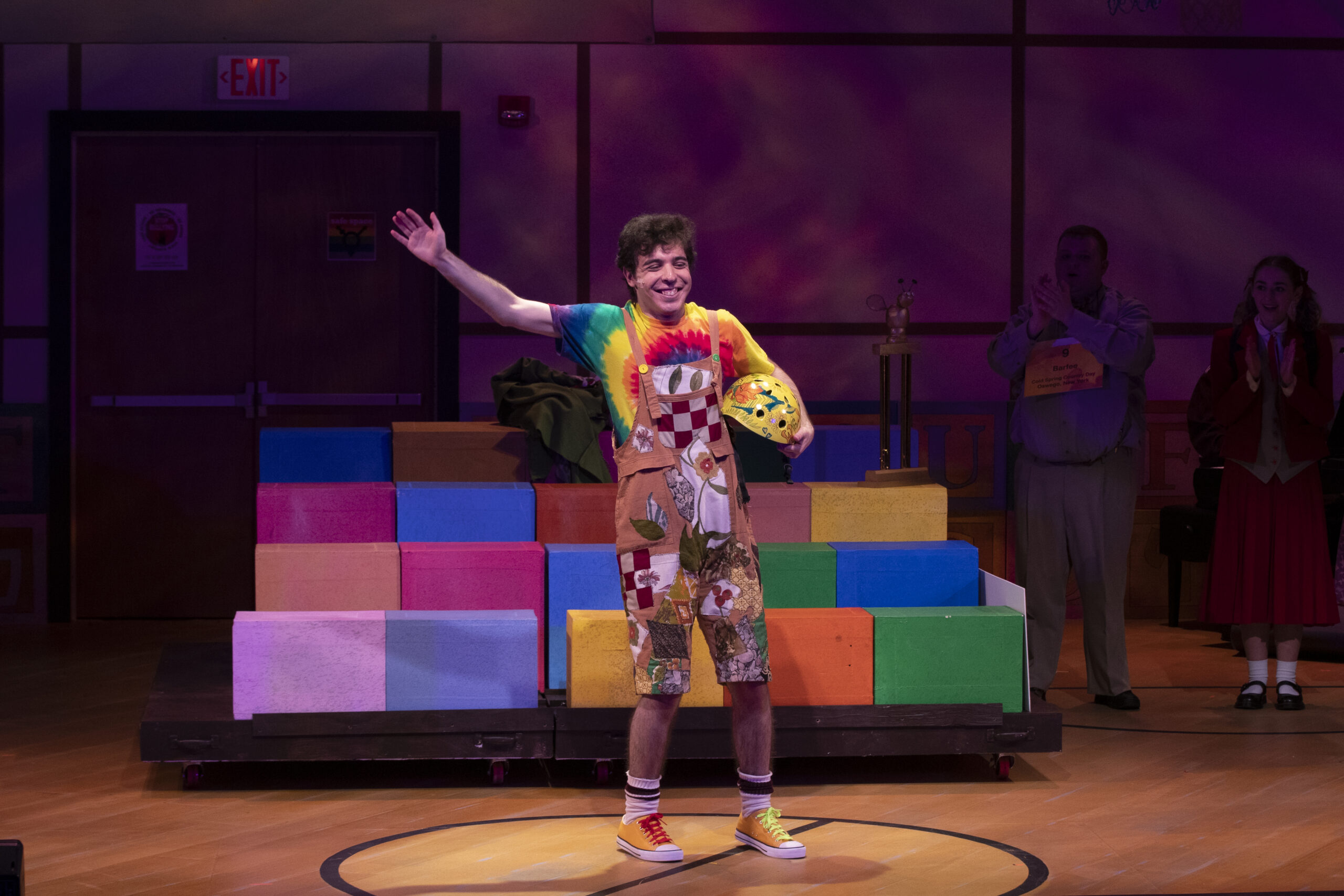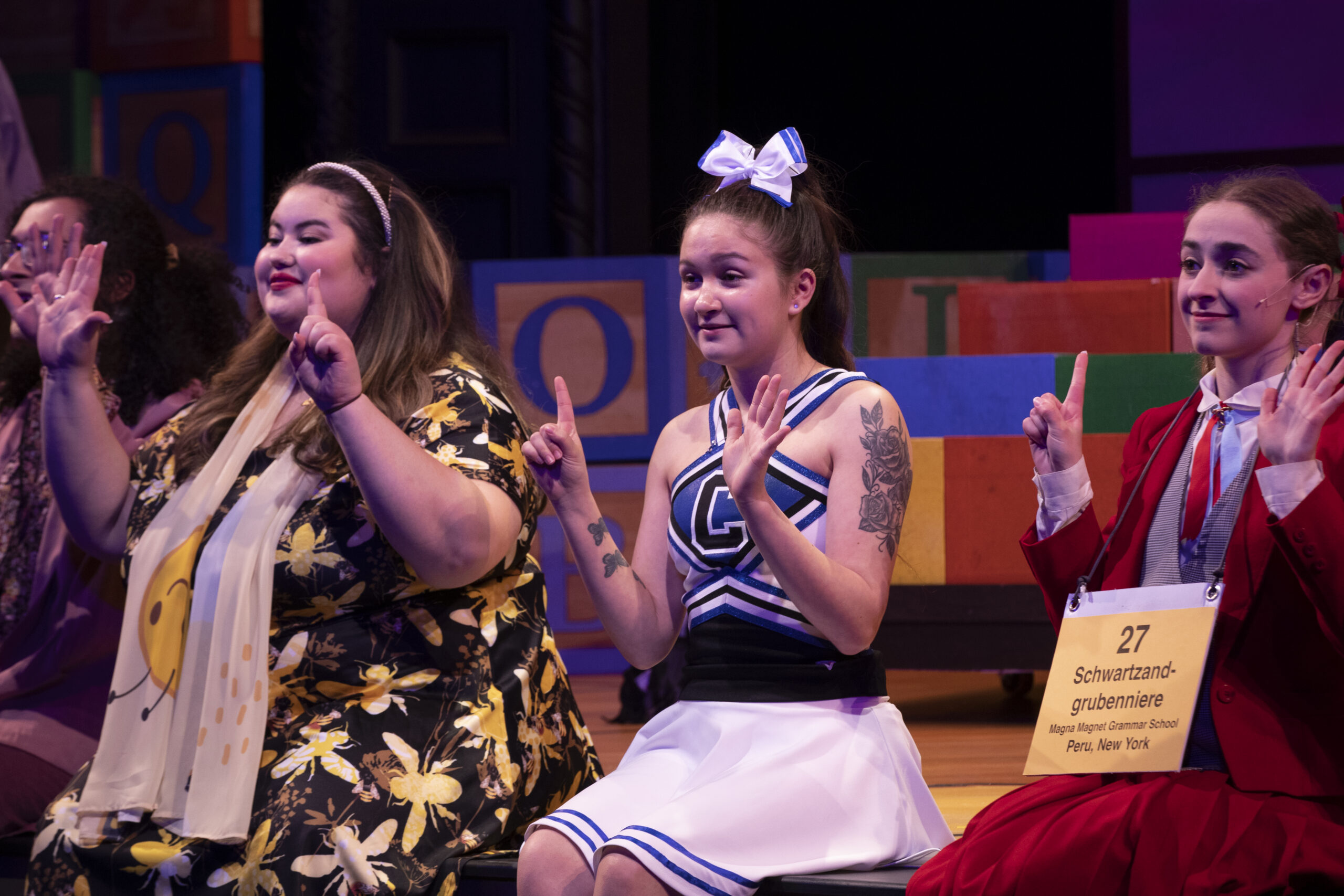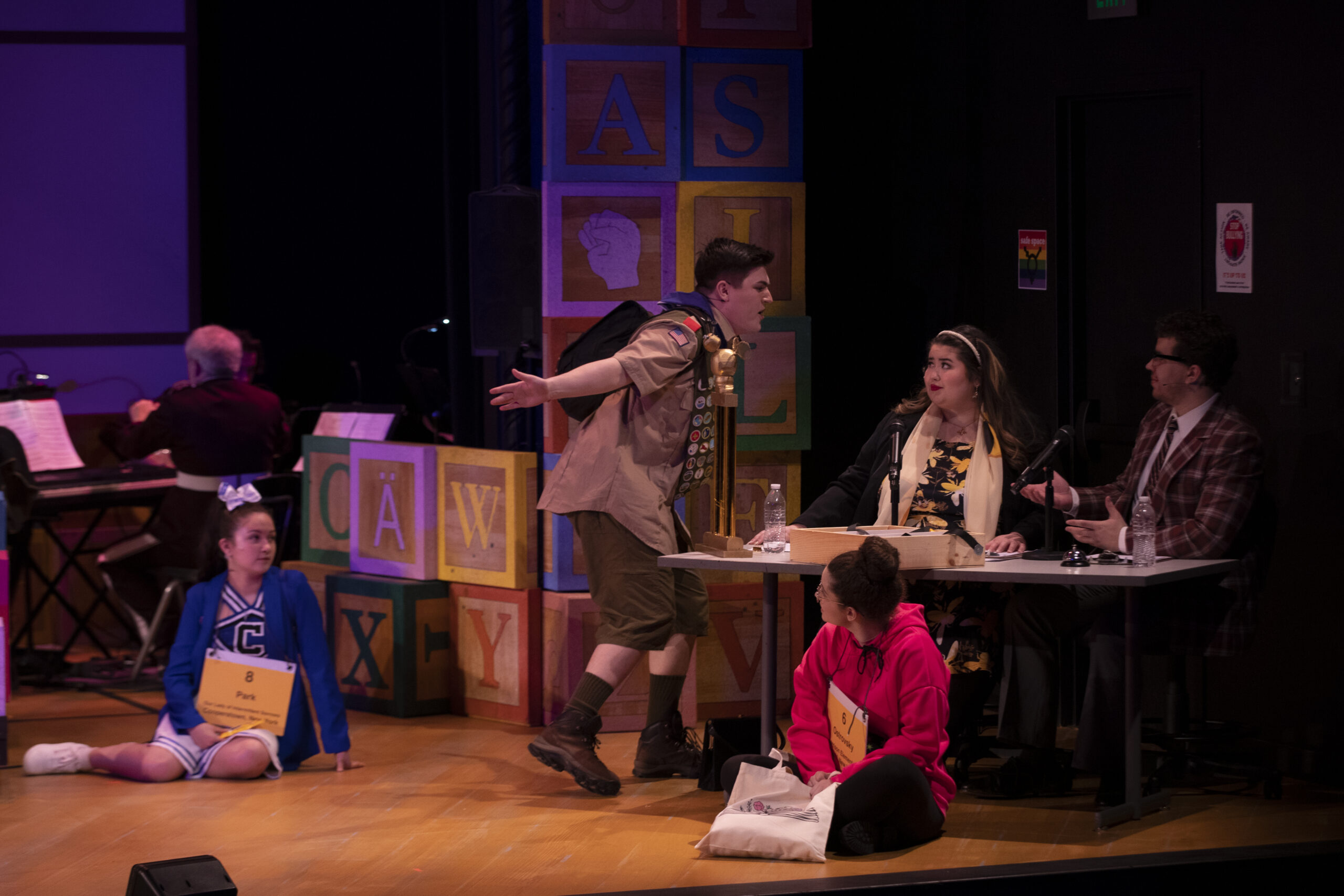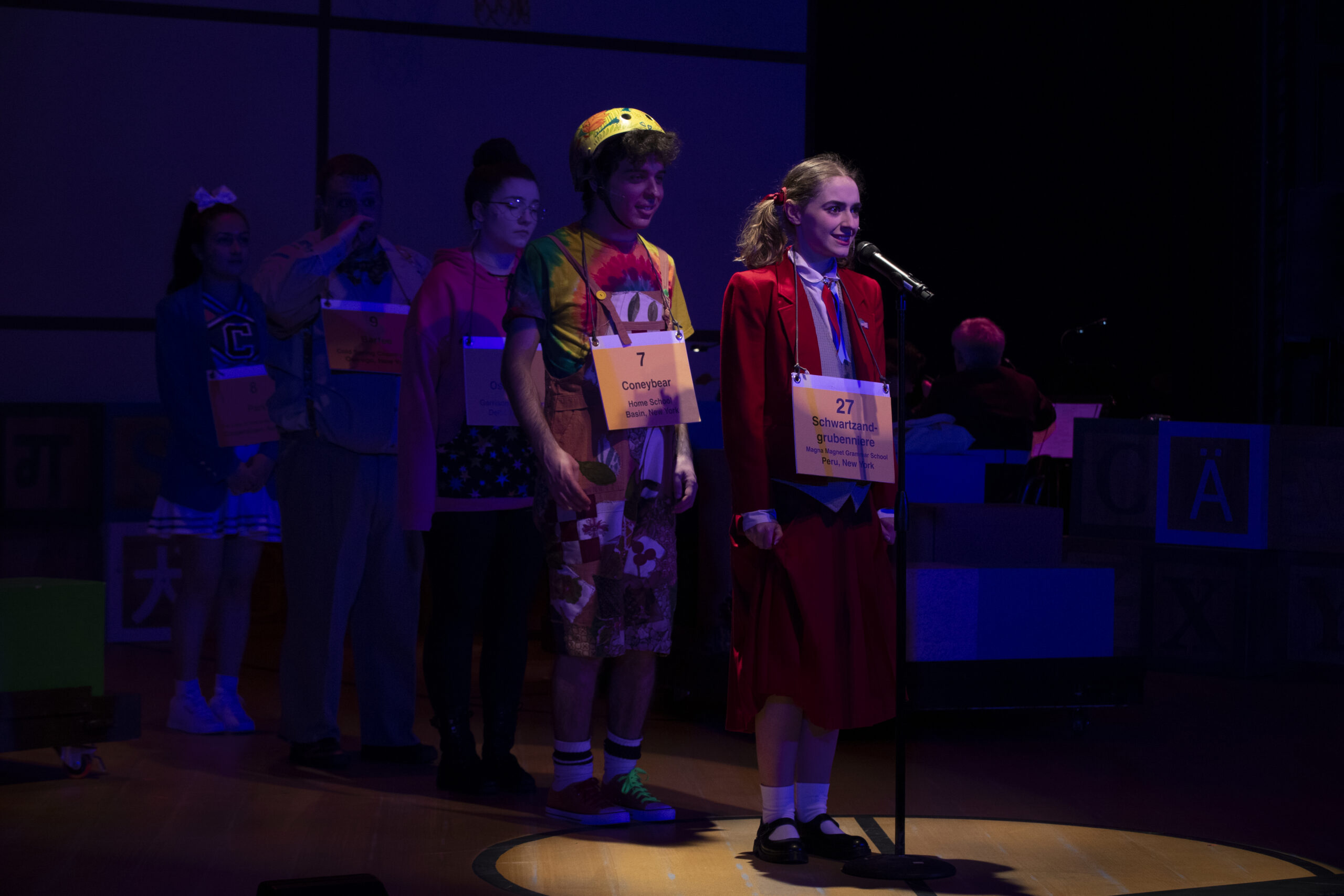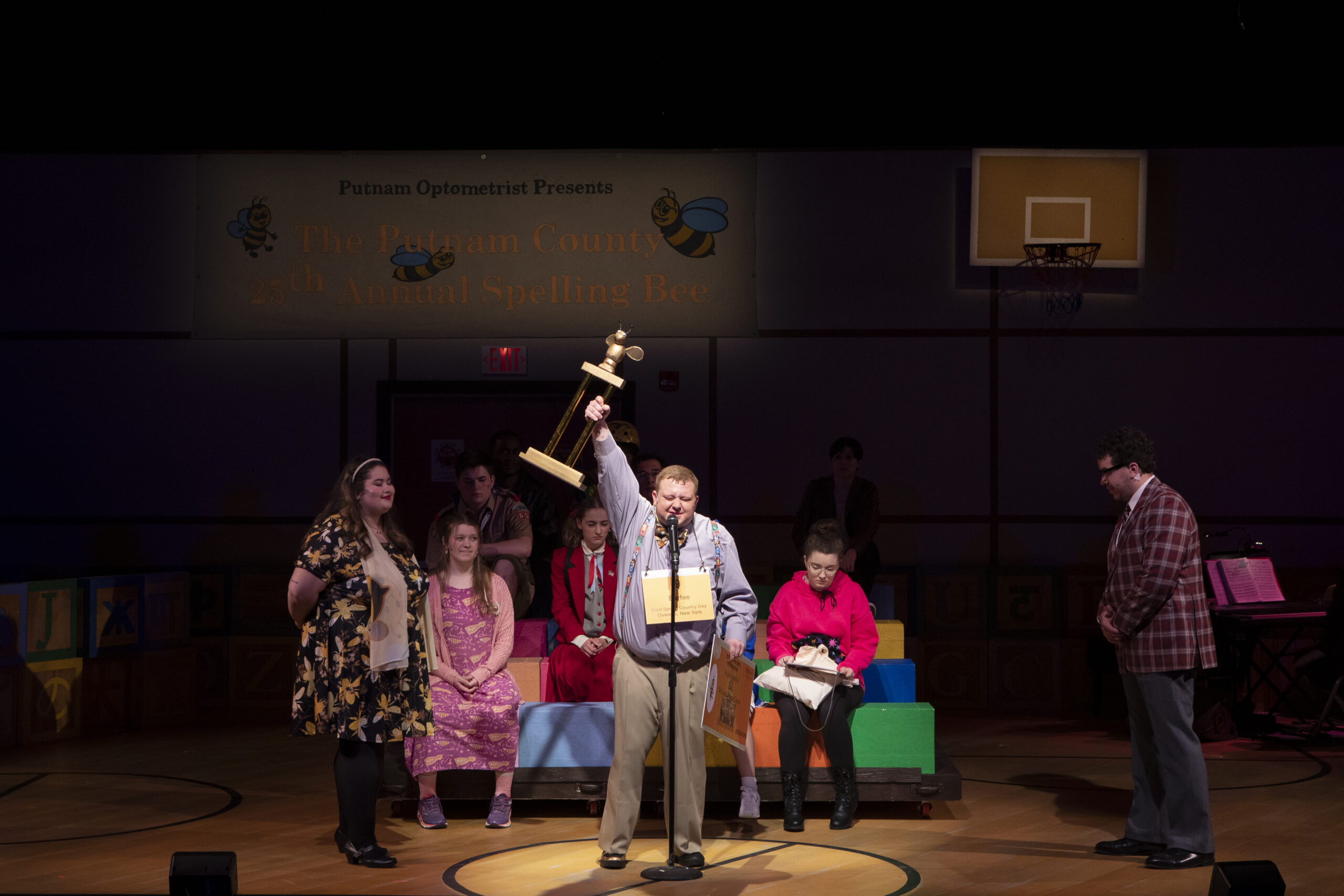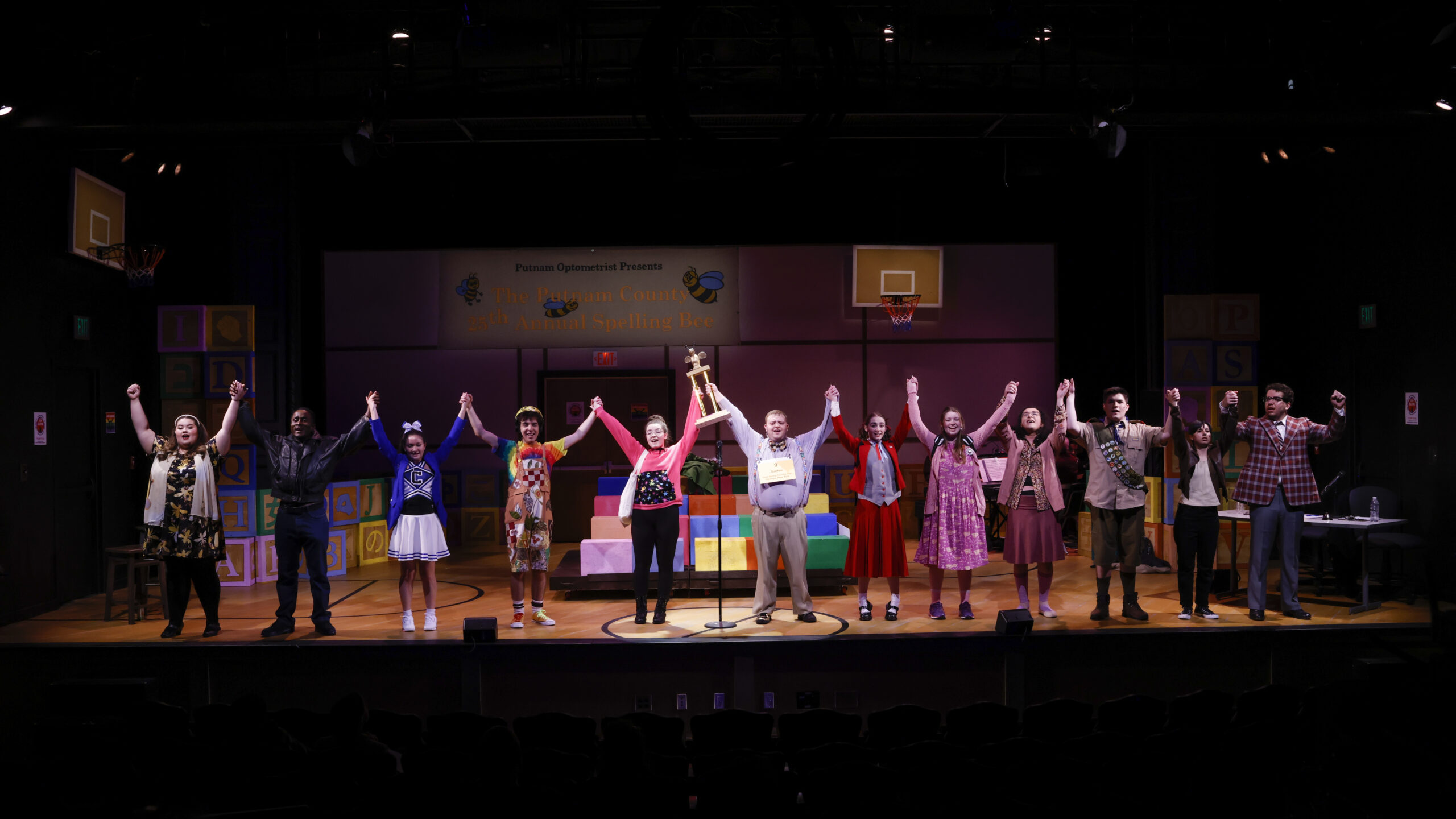 Drag to navigate
Monday, May 1, 2023: Senior Spotlight on VPA Major Evan Couture '23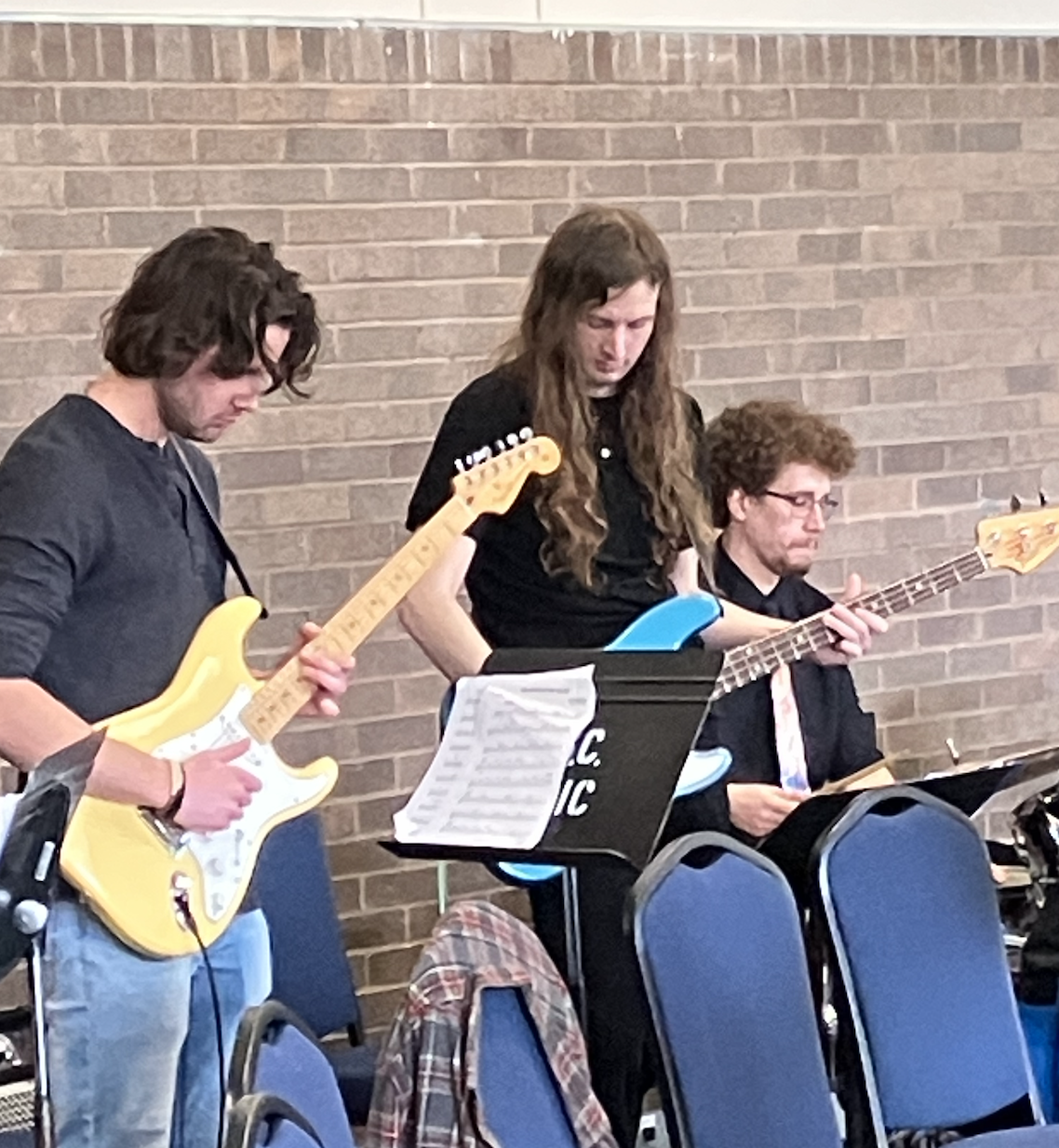 Senior Capstone Highlights
Enjoy highlights of Evan's Senior Capstone project performed during the Spring 2023 WSU Jazz Concert! Click to watch clips of "Riviera Paradise" by Stevie Ray Vaughan. And at the 2-min. mark here, view Evan's performance of "Stormy Monday" by T-Bone Walker with Simon Abdal-Khabir on Drums, Julian Wagner on Bass, and Barry O'Toole on Piano. Videography by Kyle Martin and Aidan Joyce, respectively.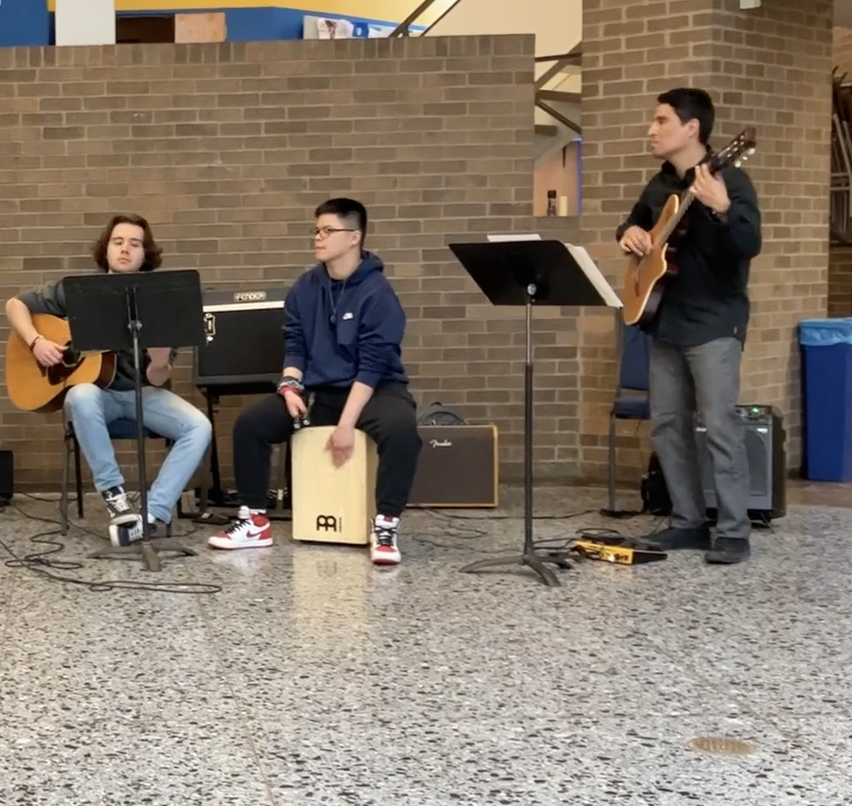 Guitar solo during Música! performance
Evan also performed on guitar for Música's Spring 2023 live presentation of Brazilian Jazz Lounge Music in the Worcester State Student Center! Here's a clip of the Worcester State Latin American Music ensemble's performance of "Summer Samba" by Marcos Valle featuring Evan's guitar solo.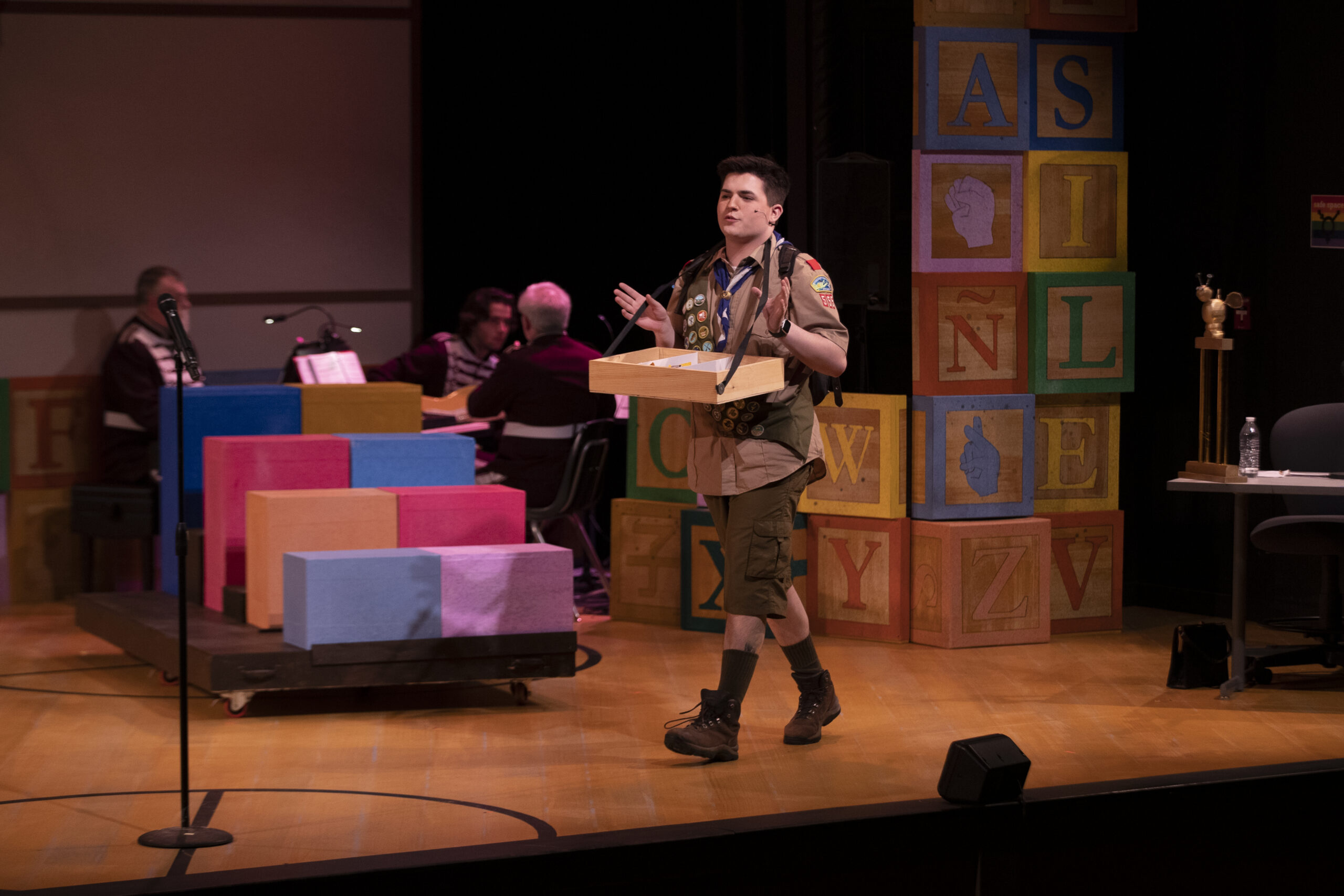 In the 'Pit'!
The Orchestra Pit of Worcester State Theatre's Spring 2023 production of "The 25th Annual Putnam County Spelling Bee" musical with book by Rachel Sheinkin, Music and Lyrics by William Finn (falsettos) featured Evan Couture on guitar! This photo featuring the 'pit' with cast member Aiden Joyce is by Worcester State Alum Matt Wright.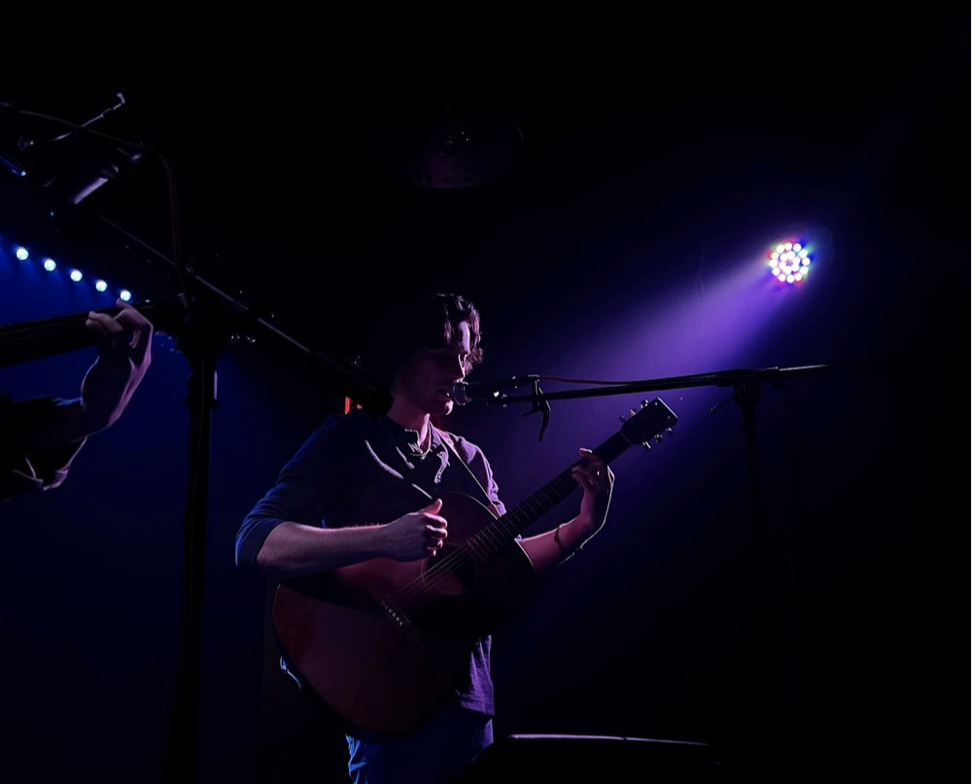 Follow the Guitarist's Next Chapter Online
Congratulations to Evan on all of his achievements in the Spring and throughout his time at Worcester State! We can follow the VPA Major's work and next chapter via his website. Click here to check it out!
The Website of Evan Couture
Tuesday, May 2, 2023: Mosaic of Music show at 7 p.m. in Fuller Theater
The finale performance of the Spring 2023 Extreme Artery initiative!
And that's a wrap! Good luck with finals, students, and have a wonderful summer, everyone!
Contact Visual & Performing Arts
Learning Resource Center
Suite LRC-325