5 Questions for Seth Pitts '10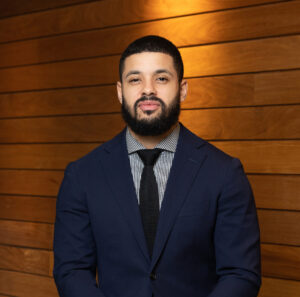 This past fall, alumnus Seth A. Pitts '10 drew huge applause from students, faculty and staff after delivering an uplifting and encouraging Convocation keynote address full of wisdom from his own experiences as a young man finding his way through college. (You can read his full speech at bit.ly/sethpitts.) After college, Pitts went on to spend over a decade with the U.S. government in financial services, earned a master's degree in finance from UMass Boston and is a certified fraud examiner. He now serves as executive vice president and chief financial officer of Bay State Savings Bank and serves on the Worcester State Foundation Board of Directors.
Your convocation keynote address was a huge hit. What did it mean to you to be up there sharing your story with more than 400 new Worcester State students?
Pitts: It meant a great deal to me. The overwhelming positive response proved one of the same messages that I had hoped to deliver without sounding cliché: "Anything is possible." Prior to that day, I had never written a formal speech or delivered it in front of such a large crowd. I enjoyed the creative process, and it was a joy to come back to the university to help others. It was a true honor to share that time and space with so many people. I've always looked forward to sharing the energy, insights, and experiences that have shaped me with those that may strongly connect with, and benefit most from, my story. I'd like to continue to help younger generations recognize that the options in front of them outnumber the setbacks behind them. I hope to continue to grow into an example of great possibilities derived from humble beginnings and hard work.
The theme of your talk was "making the most of it," and you encouraged students to do that by changing how they look at things, choosing progress over perfection and worrying less. Have you continued following that?
Pitts: Absolutely. I learned these simple points the hard way and they continue to add value to my life. The harmony of simplicity and effectiveness within those guiding principles has allowed me to stick with them throughout my journey. They help me reduce personal stress and pursue my goals without getting overwhelmed or burning out.
What's your favorite part of your job?
Pitts: I love that I can give back to the same community where I grew up. My role plays a part to help a local bank serve local businesses and employ local people, which helps communities thrive. We all know that communities extend beyond simple geographies or borders. I feel that community banks help build stronger communities whether or not you define your community as your location, friends, or families. I enjoy leveraging my skills to play a small part in improving the lives of others. My slight knack for numbers helps get the job done, but I most enjoy the people side of community banking. The better we do as an organization means the more people we can help, which means the bigger the impact we can make in every community, especially right here in Worcester, Mass.
Can you share some banking trends on the horizon?
Pitts: The banking industry has evolved significantly over the last decade and continues to rapidly change. Much of this change remains increasingly aligned with technology and "anytime/anywhere" access to services. I also see growing segments of the population that still want personalized services to remain core to community banking. I think we will continue to see a competitive banking environment that seeks to strike the optimum balance between technology and personalized experiences. This creates opportunities for people to choose the banking industry as a career and help us make the next generation of innovative products, services, and experiences. You may not end up on the cover of a magazine, but you will be able to help many people and businesses achieve financial success.
What are your long-term aspirations?
Pitts: I want to be a great dad to my two kids. Besides that, my long-term aspirations boil down to hopefully leaving people better off and more positive for having known me. I'd like to be an example of how ordinary can become extraordinary. It's not that hard, it just takes a lot of hard work.