Alumni family finds sweet success one doughnut at a time
Rocco's Doughnut Company, founded by Joe Astrella '91, has an apt company motto: "Just a family bringing people together, one doughnut at a time." The variety of doughnut flavors and the company's social media following have grown quickly with the help of Rocco's children, who have all been key to his success: his son, Vincenzo Astrella '14; his daughter, Lia (Astrella) Scenna '18; and Domenic Astrella, who has taken classes at Worcester State.
The confection company, which started with a shop in Millbury in 2018, now has three locations. The menu rotates, with 15 to 18 flavors at a time, and Rocco's has nearly 300,000 followers on TikTok who offer enthusiastic comments on the company's colorful and upbeat doughnut-making videos, like, "These look AMAZING!" and "I wish I could order from Cali!"
Among menu favorites are Fruity Pebbles, a colorful confection that evokes a favorite childhood breakfast cereal; an oversized gorgeously gooey chocolate frosted doughnut; a maple bacon delight; and perennial pleaser, cookies and cream.
These menu mainstays share the shelves with a rotating cast of innovative delicacies that recently included the "cannoli," a yeast-risen shell with house-made cannoli ricotta and vanilla-dip icing, topped with crush cannoli shells, and "caramel s'mores," a raised doughnut dipped in chocolate icing, with a graham cracker cookie rim, topped with a perfectly toasted marshmallow. Flavors change monthly and seasonally, with pumpkin cheesecake being a recent runaway fall favorite.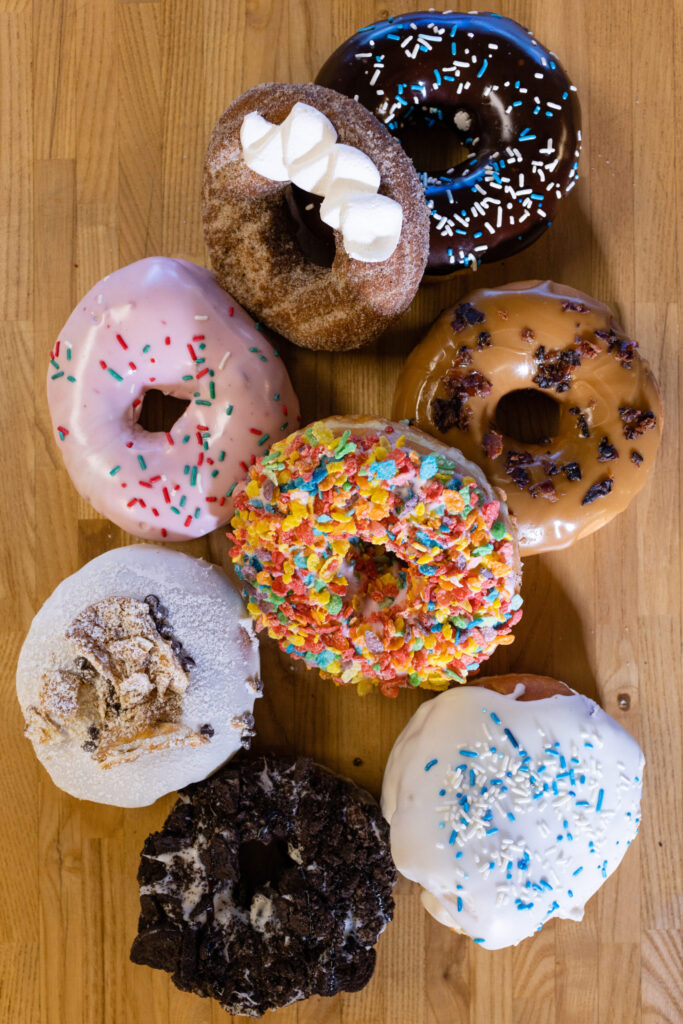 Inspiration for doughnut flavors comes from many sources, including bakeries and doughnut shops around the world. "Creating flavors is probably one of the hardest things with this business," Lia said. "It's something that we're definitely working on right now. We are in the process of creating an in-house team of people just designated to flavor creating."
After working in the corporate world for more than 25 years, Joe Astrella, who majored in business at Worcester State, says he'd had enough. Earning a living at his own business is the best way to make dough. "I love it," he said. "There are some days that are stressful, but I could never see myself going back to a nine-to-five job in a corporate office cubicle again. I would lose my mind. I am more excited now doing this than I ever have been."
Rocco's is named in honor of Joe's late father, who owned a Dunkin' Donuts shop in the 1950s and later managed one in Worcester. The idea of continuing the doughnut tradition came from Joe's daughter Kerri, who graduated from Worcester State in 2018 with a nursing degree.
"I was looking for something new, and one day Kerri said, 'Have you seen all these gourmet doughnut shops popping up?' Maybe you could do something like that,'" Joe recalls.
Though it would be revisiting his father's Dunkin' Donuts roots, Joe had actually never learned how to make a doughnut. On the plus side, however, he and Vincenzo had run a side business for several years making T-shirts and helping companies with branding efforts, and so those business skills were at their disposal.
"I said, 'Let me research it because I need a change in my life,'" Joe said. Encouragement from Vincenzo helped seal the deal for Joe's new direction. "After Kerri suggested that he should do something with food, I knew he could take it and run with it," Vincenzo said. "Because, even to this day, if there's a church event or a family gathering, he does the food on a restaurant scale. So, I thought the idea of 'let's create a restaurant and have the family included in it' would work. When he gets an idea and has people supporting him, there's no stopping him."
To get started, Joe scanned Craigslist and found equipment for sale from a bakery in Vermont that had gone out of business. Vincenzo and longtime friend Todd Businskas, who's been their head of production since the beginning, rented a box truck and headed north to pick it up. "We were still so new to this industry that we didn't even know to bring some better equipment to move all this stuff," Vincenzo said. "Me and Todd just manhandled the heaviest of industrial equipment onto the truck, and we finally got it home."
Meanwhile, Lia and Vincenzo began publicizing the doughnut shop on social media, complete with tantalizing images of the kinds of fancy flavors they planned to offer. "We were hyping this whole thing up, but we were also getting into the busy holiday season," Vincenzo said. "Then in January we were like, 'All right, now we've got to figure out how to make doughnuts.'"
Luckily, a friend connected them with someone who had owned a bakery for years. The baker agreed to teach Vincenzo, Domenic, and Todd how to make doughnuts.
"He was this old Italian guy named Joe who was about to retire," Vincenzo said. "So, he comes in and he says, 'All right, boys. What do you know about baking?' We're like, 'Zero,' and he loved that. He said, 'That's great, because you guys are teachable.'"
After the doughnut-making lessons were completed, finally, an opening date was set and announced on social media. Then . . . panic set in. Joe felt something wasn't quite right with the dough.
So, they called the baker and asked him to come back so they could get it perfect.
When the store opened in March 2018, the doughnuts were undeniably amazing, and the Astrellas' months-long social media campaign had cultivated a large number of potential customers anxious to sample Rocco's treats.
"We had a huge social media following before we even knew how to make doughnuts," Vincenzo said. "We opened with a bang."
A big bang.
"It was crazy," Joe said of opening day in Millbury. "We had a line going down the street and around the corner. Policemen were coming and telling us, 'What are you guys doing? You can't park on the street.' We sold out in two hours. We didn't have enough doughnuts for everybody, and people were like, 'What do you mean you don't have any?' But how to make the right number of doughnuts was one of those things we had to figure out over time."
Now, five years in and with a payroll of about 30 people, family members are still hands-on in production and simultaneously focused on building a company structure that will support future growth. That's where Lia's role comes in. After her daughter was born, she left her job as an account executive at a major cosmetics company to join the family business. "I started off part-time just doing catering sales and booking," she said. "Then I slowly took over scheduling of all the stores and then doing the payroll and then events, which we want to do more of."
Those events regularly include doing pop-ups with Tree House Brewing Company, and recently, Tuscan Village in Salem, N.H. "We started in the reverse from where people usually start," Joe said. "Most people begin with pop-ups then go to brick and mortar. We started with brick and mortar and are finding out we want to do more popups."
Now, Joe says, the family's main goal has moved from just making the best doughnut around to growing one of the best organizations around. "A friend of mine who's very successful in business told me a long time ago that you need to get to a point where you spend more time working on your business and not in it. So, I'm at that point now finally. It took me five years to get things right and get comfortable enough, but now I can focus on where we go from here."
Photos by Matt Wright '10
Rocco's Do's and Do-nuts: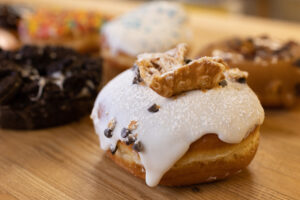 How many servings per doughnut?
Lia: It's actually a good question because when people say, "How many calories in a doughnut," I'm like, "Well, you should say calories per serving because our doughnuts are definitely more than one serving."
Joe: I would say two servings each because they're double the size of other doughnuts.
Vincenzo: I just eat the whole doughnut. Plenty of people do.
Fork and knife, or no?
Joe: The only doughnut you might need a fork for is the strawberries and cream because that's like a sandwich. It's cream and strawberries in the middle, and I would use a fork and knife for that, otherwise you get it all over your face. For some, though, the messier, the better, so it's all good.
What's the perfect drink to have with a Rocco's doughnut?
Joe: Rocco's coffee. Our coffee comes from a local roaster in Worcester, so we're able to source our coffee or right from the same city that I grew up in. I love our iced coffee. It's the best around, but I have to admit I don't drink hot coffee. I have to put a shot of chocolate flavor or something in it, but Vinny drinks it straight—no sugar, nothing.
What should you do if you can't decide which doughnut you want?
Joe: That's easy. Buy 'em all.
Top image: Joe Astrella, second from left, and his children Vicenzo, Domenic, and Lia are all part of the success of Rocco's Doughnuts.