The Remarkable Legacy of Class of 1894's Sarah Ella Wilson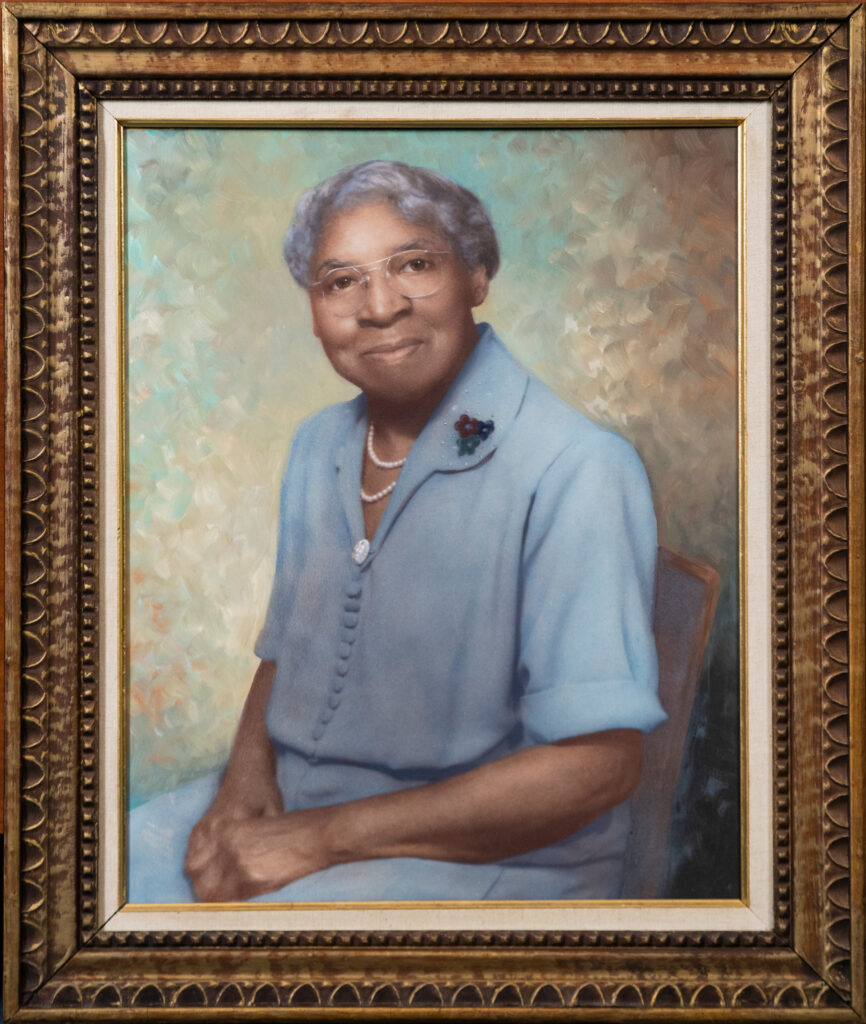 When a long forgotten portrait of the longtime Worcester educator and community leader was discovered at Belmont Community School, Worcester's education and arts community came together to restore the artwork and honor her life's work.
By Rebecca Cross
Photos by Matt Wright '10
A few years ago, Assistant Principal Tiana Phillips '06 was rooting around in a closet during a recent renovation of the Belmont Street Community School when she found a bag stashed in the back. Inside, was a large, framed, painted portrait of a smiling Black woman with gray hair and glasses, pearls, and a blue dress. Phillips was captivated by the strength, warmth, and kindness she exuded. She wondered, "Who is this woman? Why is her picture in the closet?"
Phillips showed the portrait to her colleagues. Kathy Kenyon, the school's psychologist, was also drawn to it. "When Tiana showed it to me the first time, I didn't know what it was, but boy, it really spoke to me," she said. "I looked at her face, and I could see, here's a lady who was no nonsense but had a kind heart. You could just see that in her face."
The subject of the long forgotten painting was Worcester Normal School graduate Sarah Ella Wilson, who graduated in 1894 and went on to be one of the first Black school teachers in Worcester Public Schools. She taught at Belmont for 49 years, until she retired in 1943. Phillips was familiar with the name, as the school's library is named after Wilson, but she was unfamiliar with Wilson's life or her legacy. So, she set out to find everything she could.
She found a slim autobiography of Wilson, Go Onward and Upward, written in 1974 by local author and literary figure the late Corrine Bostic. (Corrine's son, Steve Bostic '77, MEd '86 is a past member of the Worcester State Foundation Board and Board of Trustees and has established a scholarship in his mother's name for Worcester State students.) From Corinne's book, Phillips learned of Wilson's legacy as an educator and community leader. Corrine wrote that Wilson forged "onward and upward" throughout her life despite facing challenges such as racism and sexism. Wilson "clung to her positive life experiences meeting love where it came from," and made a significant difference in the lives of those she met and her community.
"I became really inspired by her story," Phillips said. "Especially me being native to Worcester, me being one of the only minority teachers here at the school. So it was kind of a sense of pride and honor. I just felt a connection to her."
Read Tiana Philips June 1 tribute to Sarah Ella Wilson
* * *
Sarah Ella Wilson was born in Worcester on April 7, 1873, to George and Elizabeth Wilson, who had been enslaved in Virginia until only 10 years prior to Sarah's birth. They moved to Worcester shortly before Sarah's birth with abolitionist Sarah Chase, whom they had befriended in Virginia. They named Sarah—their first child—after this friend.
As a child, Sarah Wilson attended Belmont Street School, where she would later spend her teaching career. After graduating from Classical High School, she attended Worcester Normal School (now Worcester State University), earning her teaching degree in 1894.
The October following her graduation, Wilson started as an assistant teacher at a salary of $450 per year and became a full teacher at the Belmont Street School the following May, with a salary of $500. She was the fourth Black teacher in Worcester, following three other Black graduates of Worcester Normal School: Jennie Cora Clough, Class of 1878; Estella Virginia Rolston, Class of 1883; and Edith Marietta Rolston, Class of 1884.
She was not the first Black woman to teach in Worcester, but she certainly taught the longest—49 years, and in all that time missed only one day of work, according to her biography. She devoted her life to teaching children, never marrying, as that would have meant giving up teaching because married women were not allowed to continue working then. "I am married to my school," she would say when asked if she would ever marry.
Wilson was active in a number of Worcester organizations, including the Negro Woman's Club YWCA, the Phyllis Wheatley Club YWCA, a French club, and a teachers' club. She was the founder and chairperson of the Scholarship Committee for the National Association of Colored Women, and she was active in her church.
"The scheme of operation of all Colored Women's Clubs is directed always for the benefit of the race …" Wilson said in an article published in the Sunday Telegram on October 8, 1933. "Colored women of education band together to fill the particular community need of others of their racial group."
Wilson was frugal and saved her modest salary. In 1910, she bought a house in an area of Worcester where no Black people had lived before, despite meeting resistance from the white residents. She bought a car in 1928 and traveled often. She met Frederick Douglass, Mary McLeod Bethune, and Elizabeth Carter Brooks, according to her nephew Clarence Wilson.
"She devoted her life not only to the school but to the community," Kenyon said. "She was a forerunner in championing Black women's rights. It's just so impressive."
While she was particularly concerned with bettering the situation of Black women, she looked out for all her students. At the turn of the century, immigrants flooded into Worcester, looking for a better life. Through self-study and extension courses, Wilson learned several languages so she would be better able to communicate with students who spoke other languages. In Bostic's book, one of these students, John Anderson, recalled how Wilson, his first-grade teacher, spoke a little of his native Swedish and partnered him with a classmate who spoke both English and Swedish to tutor him daily. "It was because of her ability to understand my needs that I got started right," he said.
Wilson's dedication to her profession and her love for her students made her the beloved teacher of many. Her biography contains an entire chapter of former students' and colleagues' fond reminiscences of Wilson, many of them shared at the 1972 dedication of the Sarah Ella Wilson Library at Belmont School. A photograph taken at the dedication and published in the biography shows attendees posing with the portrait of Wilson.
* * *
No one knows how the portrait wound up in the closet or how long it had been there, but Phillips had been at Belmont for six years at that point and had never seen it. During its time stored away, the portrait and its frame had sustained some damage. Kenyon suggested reaching out to the Worcester Art Museum to see if they could help. That's how Birgit Straehle, at that time the associate paintings conservator at Worcester Art Museum, got involved.
Straehle visited the school to evaluate the condition of the art and felt Wilson's pull. "I looked into her eyes," she said, "and thought, 'She needs the care of a conservator.'"
Conservation of an artwork is a delicate and time-consuming process. Straehle took advantage of a museum policy that allowed employees to complete eight paid hours on a community project to be able to work on the painting in the museum's Fuller Conservation Lab. Straehle, who has made her home in Worcester since coming from Germany in 2006, was thrilled to do something for a community school with such a rich history in the city.
At the lab, Straehle examined the painting carefully and found some peeling surface material, tenting paint flakes, scratches, and dirt. "Considering that it had spent at least a decade in a closet, it looked pretty good," she said. In fact, it may actually have been a blessing that it was stored away from the sun.
The portrait appears to be a hybrid of photography and painting, with a layer of paint applied in certain areas of the photograph—a technique dating back to the invention of photography in the 19th century. The technique became increasingly popular in the second half of the 20th century to make family portraits appear almost like oil paintings. Straehle consulted with the museum's paper conservator about the photograph's delicate paper before proceeding.  
Ultimately, the treatment of the painting was relatively straightforward—flaking paint was secured, dust and debris were removed, losses and scratches were fixed with conservation grade color, and the frame ornamentation was restored. Eventually the painting and frame were reunited using a custom-made backing board system. All told, Straehle had the portrait in her studio from June 2021 to August 2022, often working on the painting and frame in her free time. "I really took my time to make sure the painting got its dignity back," she said.
At the same time, Straehle embarked upon an investigation into the portrait's origins. The blacklight had revealed a watermark with the name of the photography studio that had made the portrait. Straehle followed this clue and a line in Bostic's 1974 book, which listed the artist as "Mrs. Carleton H. LaPorte." She found an obituary online for John A. LaPorte, son of Carleton H. LaPorte, Sr., "a nationally renowned portrait photographer," and Irene M. (McNamara) LaPorte, "a well known Worcester artist."
Several mysteries still remain: Did the studio take the photograph of Sarah or paint over an existing photo? Was the painting a collaboration between photographer John A. LaPorte and his wife Irene? Also unknown is when exactly the portrait was created. Bostic described the portrait hanging on the wall of Belmont School during the 1972 dedication of the library. Perhaps the artwork was created for that occasion?
Those mysteries may never be solved; however, the significance of the portrait—and the woman in it—have inspired a renewed interest in celebrating Wilson's life nearly 70 years after her death.
* * *
Wilson died 68 years ago, but there are still people around who knew her. Like so many of her former students, Saul Feingold remembers Wilson with fondness and admiration. When the 89-year-old was a kindergartener, Wilson recognized his ability and moved him up to first grade. "I truly believe that decision changed my life," Feingold said. "It allowed me to graduate earlier, and because of that my life has been very full."
Feingold wanted to honor his beloved teacher. Though he is not a Worcester State alumnus, he established a scholarship in Wilson's name at the institution where Wilson received her degree. The endowed Sarah Ella Wilson Memorial Scholarship supports African American students either majoring in elementary education or minoring in secondary education who plan to teach after graduation.
It's likely that recipients of this scholarship have ended up teaching at Belmont School—more than two dozen of the current faculty are graduates of Worcester State. Student teachers from Worcester State often do their field work there. "We love the student teachers because the university prepares the students so well," Phillips said. "So, lots of times what will happen is, we'll have someone do their practicum here, and we'll say, 'Hey, we can see the potential in this person, we can see that they're a natural-born teacher, a hard worker,' and we'll ask them to stay."
Phillips herself is an alumna of Worcester State, where she earned a degree in education and psychology. "I really liked Worcester State. I knew that it was a really good school for what I wanted to do. It was competitive, too. They weren't letting everyone in. They were selective with the students. That was part of why I chose it, too."
* * *
On June 1, 2023, Belmont Street Community School, in partnership with Worcester State University, held a celebration and portrait unveiling honoring Wilson's decades of educational excellence and community leadership in Worcester.
"We wanted to give her the celebration we feel she deserves," Phillips said. Following the reception, the portrait was hung in the school's main stairwell so, Phillips said, "everyone who comes to the school can meet her. The school has a high minority population, so we really want to make this story known for our students."
"Our students make the school special," Phillips said. "They come from a variety of backgrounds and experiences. They are very resilient. We come from an area where a lot of our students are in poverty. Some have lives outside of school that are tough, but they come to school ready to learn. They show up, and they never let us down. They make the school. They're everything."
It's a sentiment that would no doubt make Wilson proud.