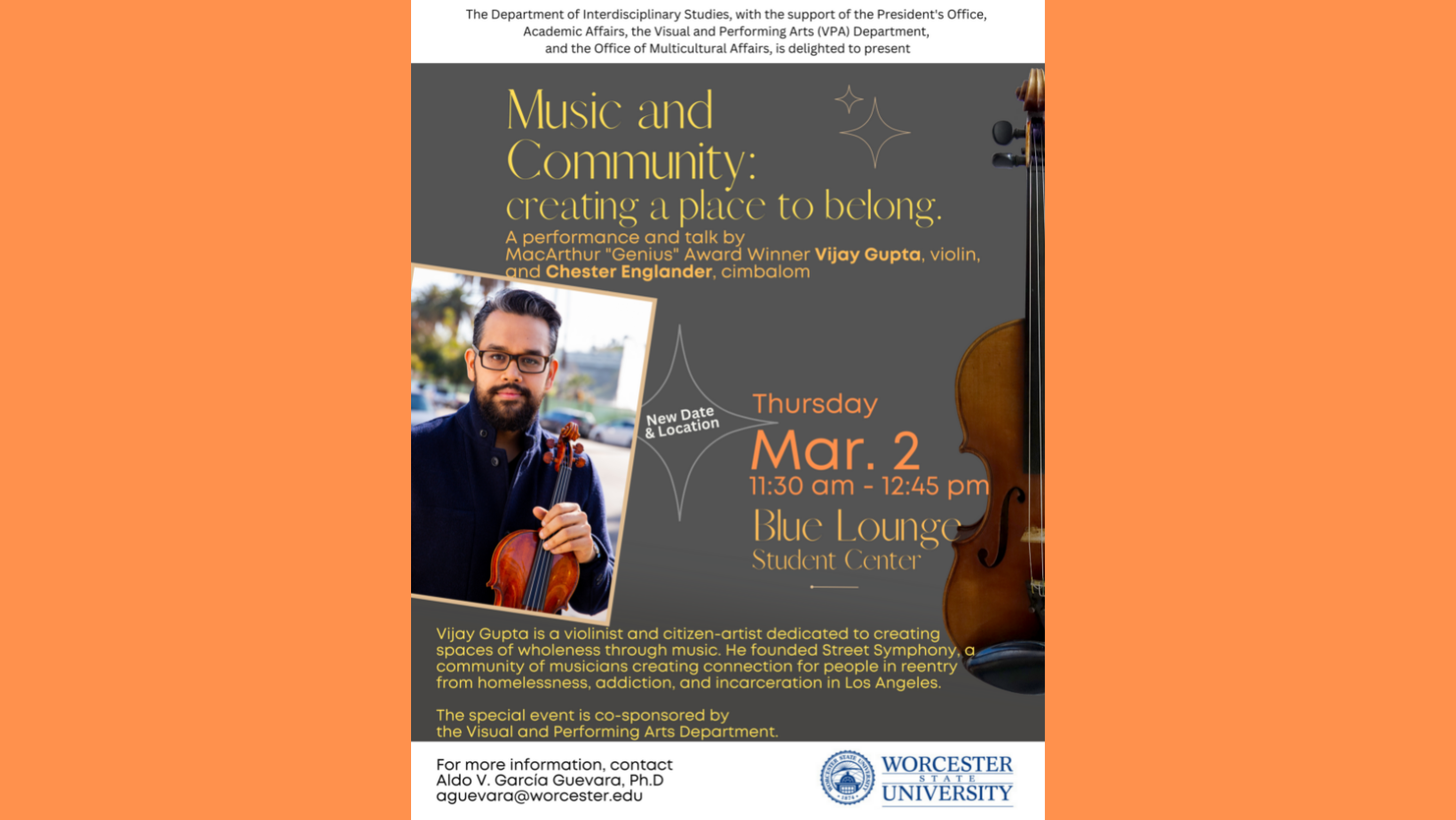 Thursday, March 2
Music and Community: Creating a Place to Belong
The Department of Interdisciplinary Studies is scheduled to host MacArthur "Genius" Award Winner Vijay Gupta with Chester Englander, cimbalom for a special performance and talk. Gupta is a founder of Street Symphony, a community of musicians creating connections for people in reentry from homelessness, addiction, and incarceration in Los Angeles. The inspiring event will take place from 11:30 a.m. to 12:45 p.m. in the Student Center's Blue Lounge on Thursday, March 2. For more info, contact aguevara@worcester.edu.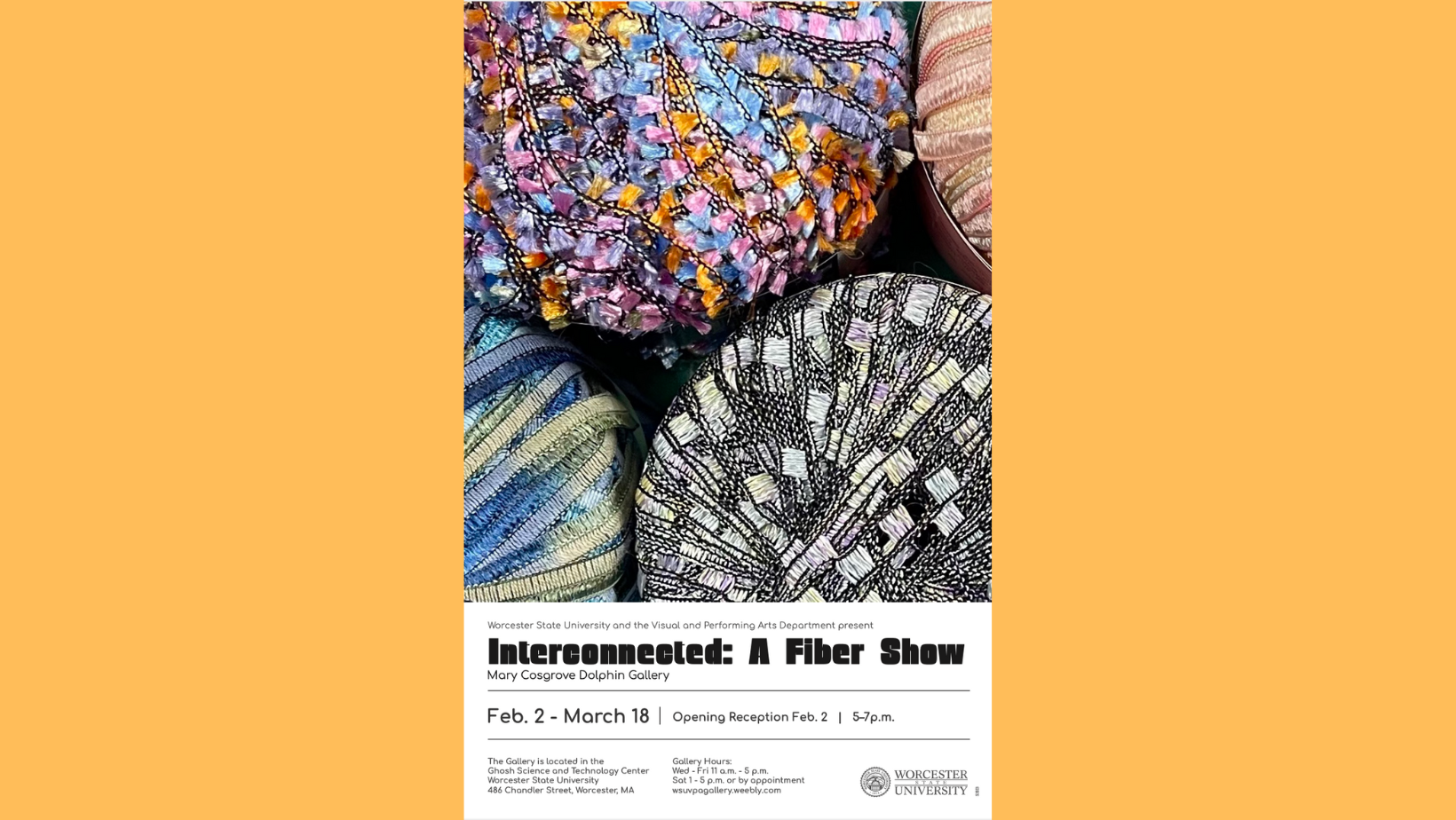 Feb. 2 - March 18
"Interconnected: A Fiber Show"
Please join us as the Mary Cosgrove Dolphin Gallery and the Visual and Performing Arts Department present this stunning juried exhibition featuring work by 68 local artists as they explore the possibilities of fiber through diverse media and styles, redefine it, and put their own spin on it. The show opens with a free community reception from 5- 7 p.m. on Feb. 2 and runs through March 18.
https://wsuvpagallery.weebly.com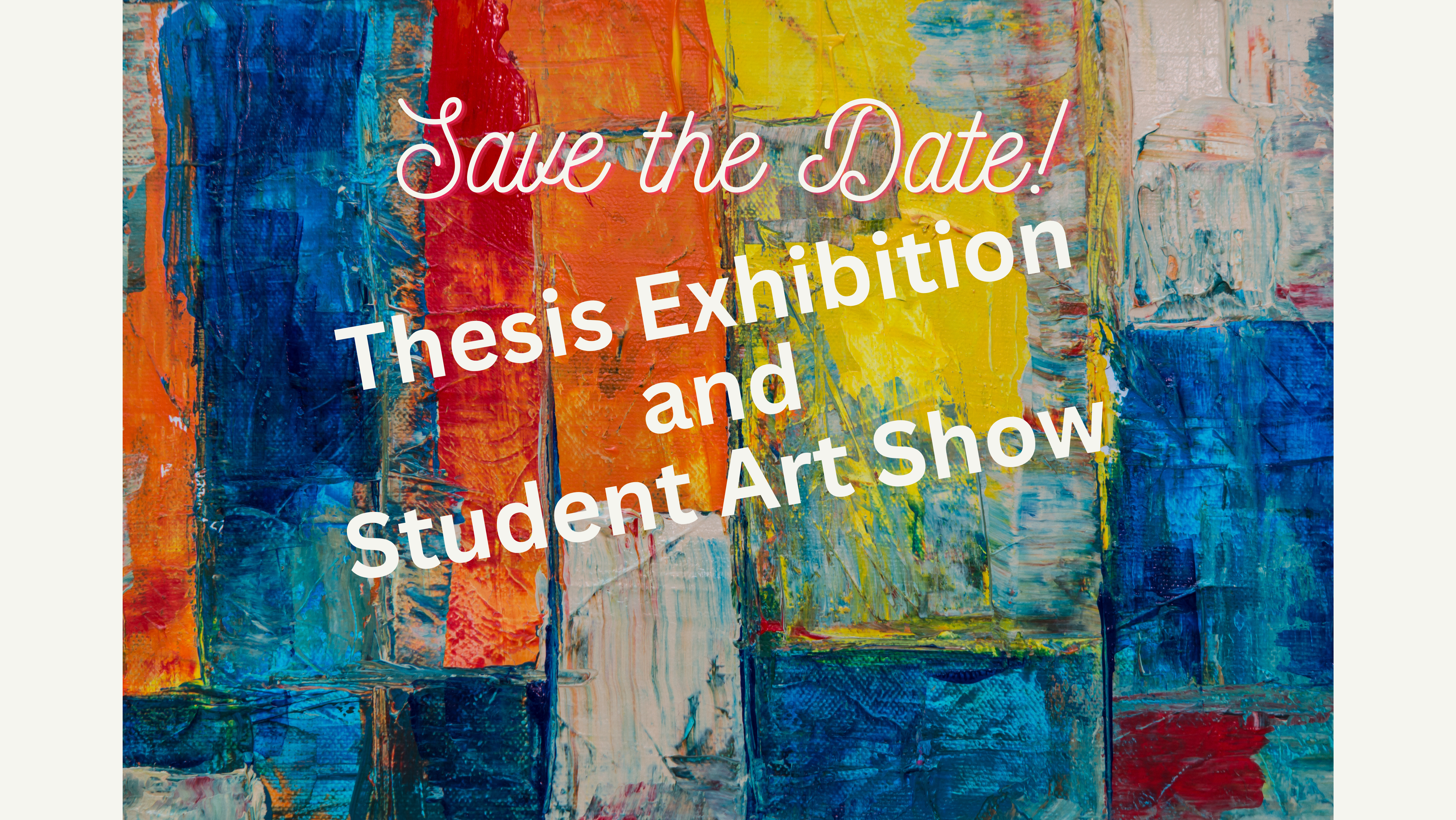 April 13 - May 13
The Student Thesis Art Exhibit AND The Annual Student Art Show
Catch two shows at once in the Gallery! Enjoy inspiring capstone work of graduating Art Majors Caroline Ford and Judith Doherty as part of their thesis exhibit, and at the same time, view VPA's annual Student Art Show, an exhibit that showcases an extensive variety of work by VPA students of a full range of majors! The shows run during Gallery hours from April 13 to May 13. Contact Gallery@worcester.edu for more info.
https://wsuvpagallery.weebly.com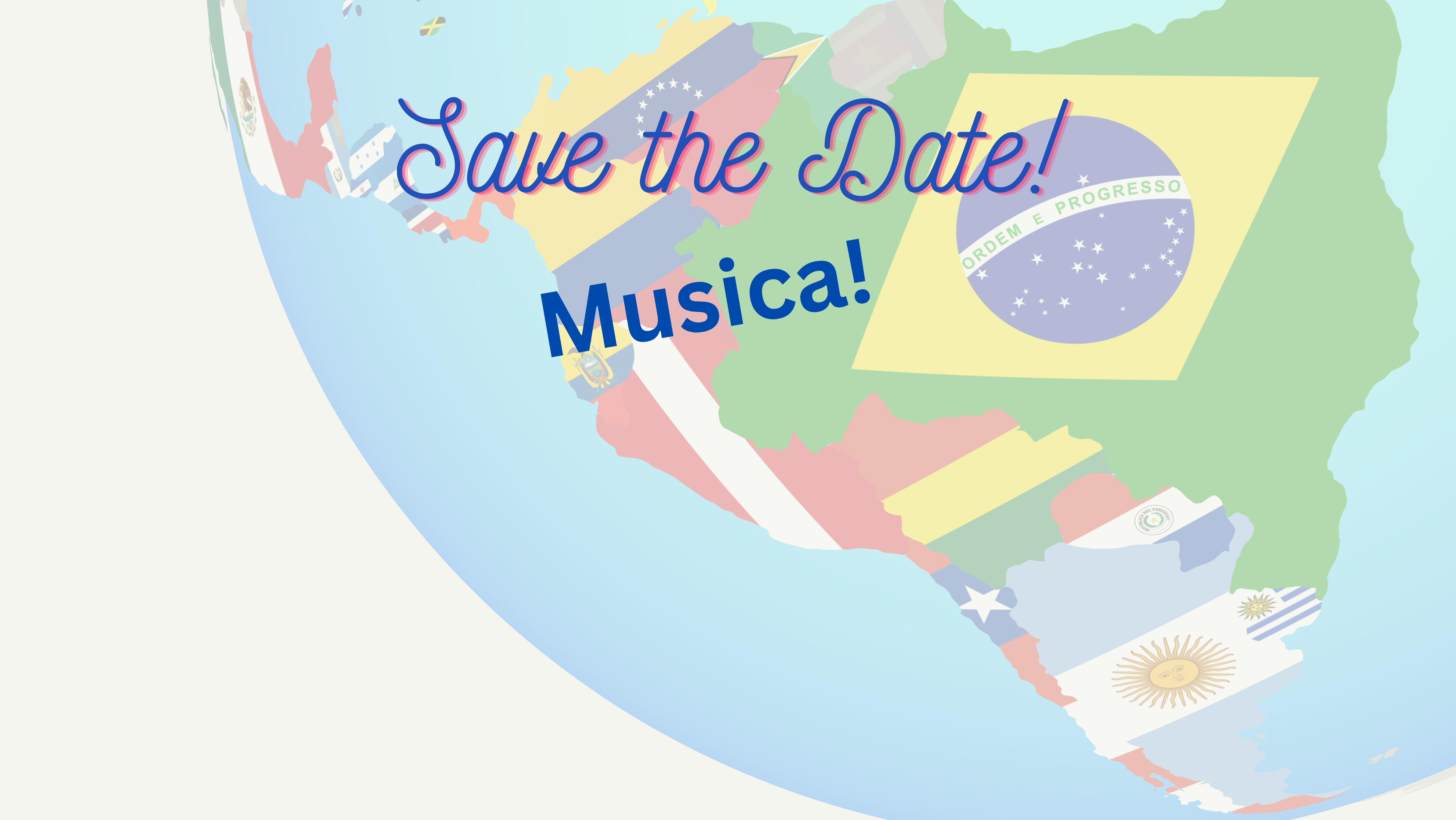 April 25
A Performance by Musica!
Enjoy a performance of Spring 2023 work by Musica!, Worcester State's talented Latin American Music Ensemble led by VPA Music Professor and Guitarist Carlos Odria. The performance is from Noon to 1:45 p.m. in the Exhibition Area of the Student Center. For more information regarding the performance or how to join the wonderful ensemble, contact codria@worcester.edu.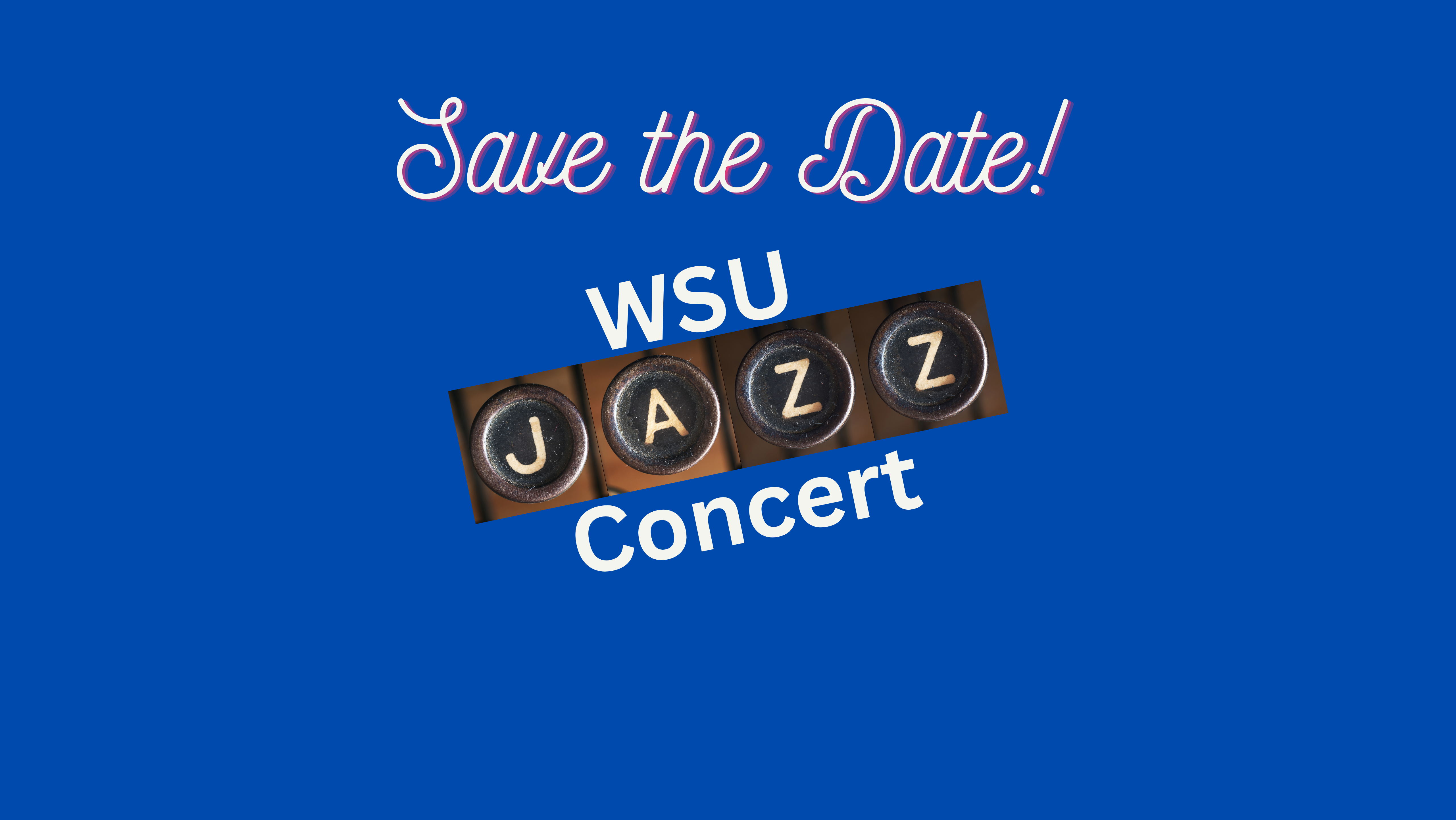 April 27
Worcester State Jazz Concert
Worcester State Jazz's talented musicians showcase the versatility of jazz with this semiannual concert. Join us in the Student Center's Blue Lounge at 3 p.m. The show is free and open to the community. For more info, contact VPAMusic@worcester.edu.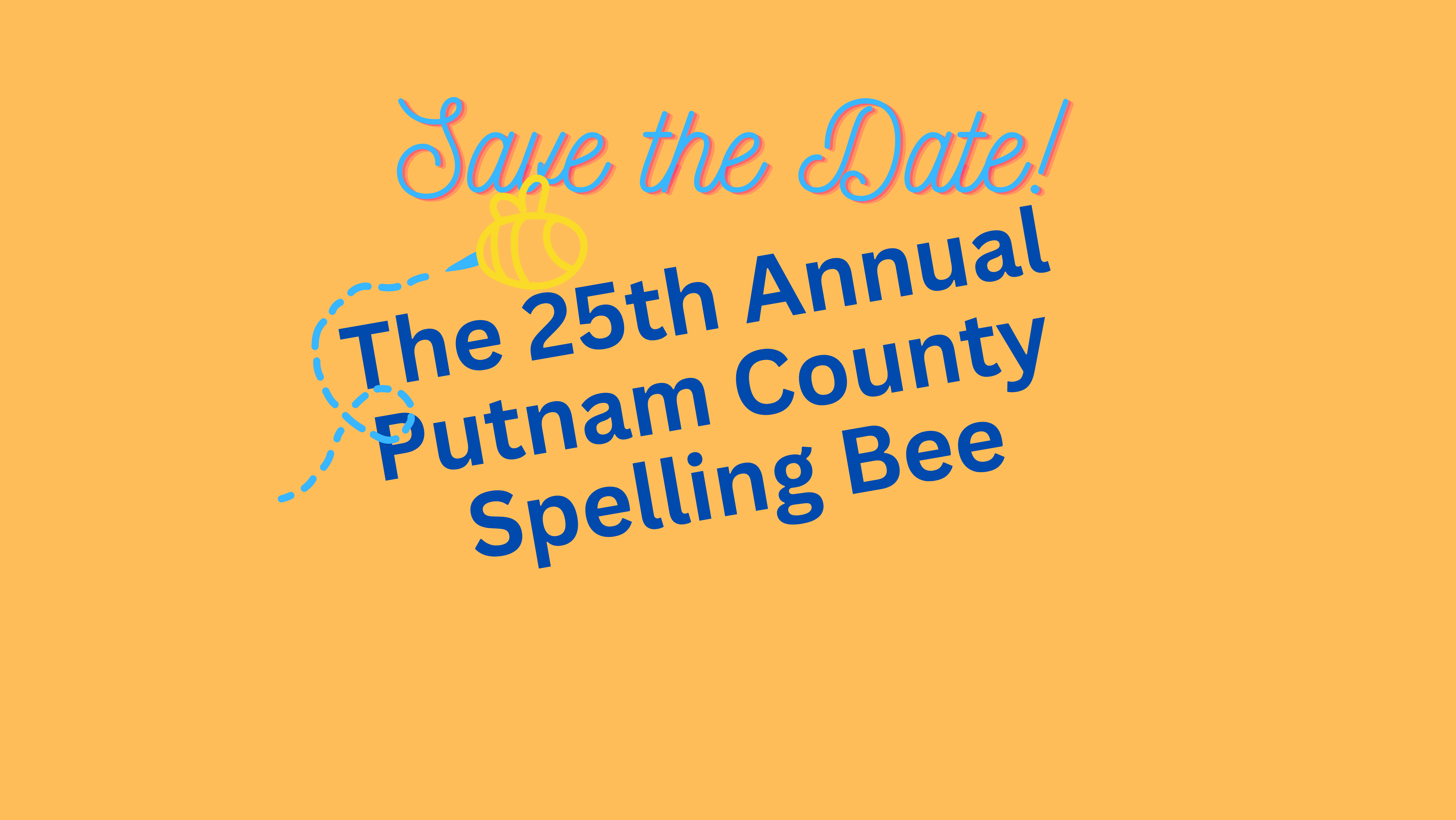 April 27 - 30
The 25th Annual Putnam County Spelling Bee
You won't want to miss this delightfully funny, Tony-award winning musical with book by Rachel Sheinkin, music and lyrics by William Finn (Falsettos). The charming comedy - complete with audience participation - tells the story of an eclectic crew of Middle School spellers searching to find themselves. Conceived by Rebecca Feldman through special arrangement with MTI. Originally directed on Broadway by James Lapine with additional material by Jay Reiss. Tickets are $7 for students, $10 for seniors, and $15 general admission. Contact the Box Office: 508-929-8843. Thurs through Sat shows are at 7:30 p.m. and Sun matinee is at 2 p.m. - all in Fuller Theater.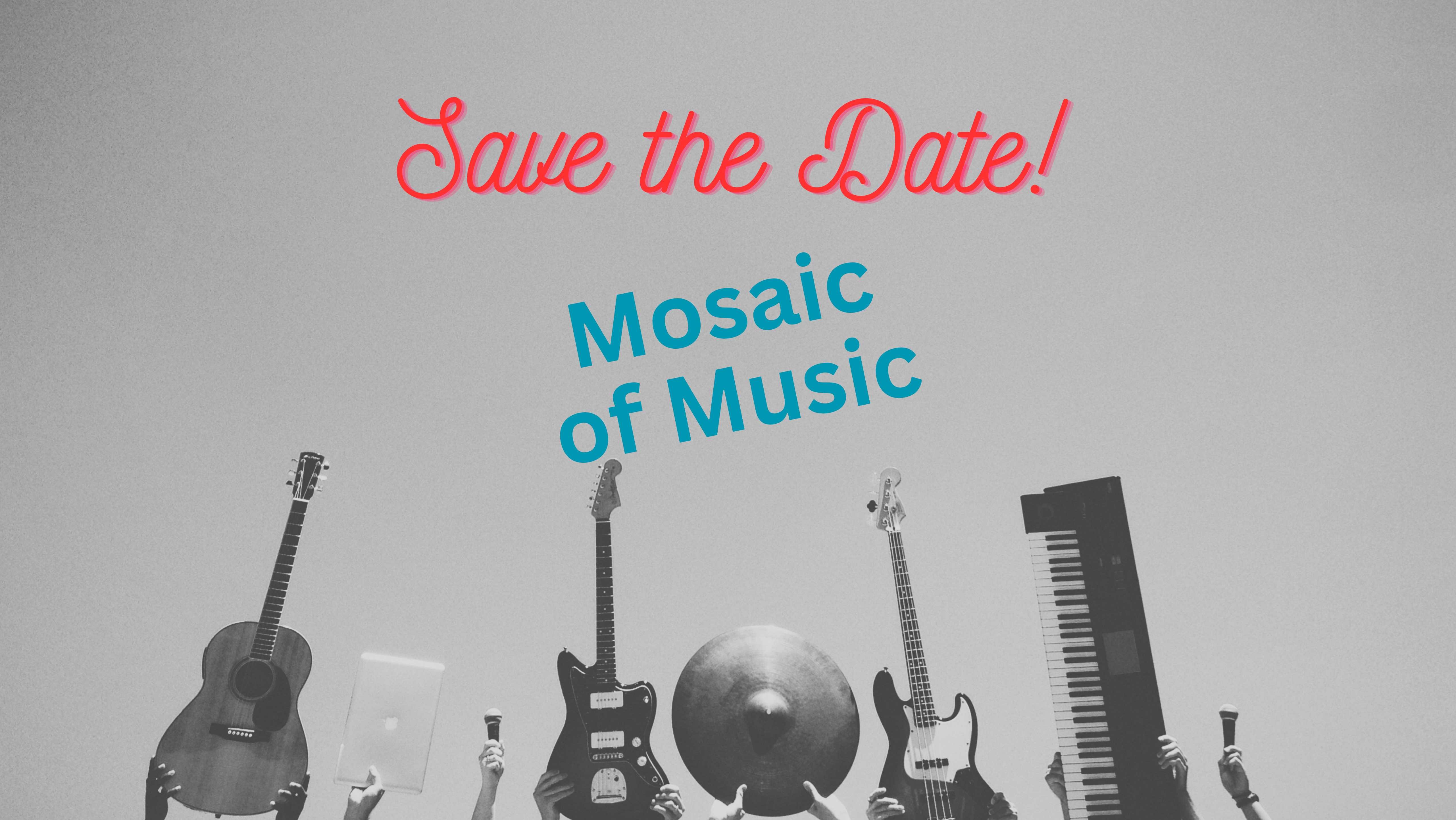 May 2
Mosaic of Music
Join us for a fabulous live event as Worcester State Music students perform an eclectic variety of Spring 2023 instrumental and vocal work! The show is free and open to the community at 7 p.m. in Fuller Theater. Contact VPAMusic@worcester.edu for more info.