Counseling Services
---
Enhance your personal growth and mental health
IN THIS SECTION
Contact Us
Counseling Services
Student Center
Suite 325

Hours
Mon - Fri
9am - 5pm
counseling_wsu@worcester.edu
Fostering Mental Health Needs Together
The years of college can be among the most exciting and gratifying of a person's life. However, being a college student can include significant amounts of stress, confusion, and uncertainty. Some students need additional support and encouragement. During these times, the Counseling Center provides the assistance and therapeutic guidance students need to achieve personal and academic growth.
We are here to help you through these challenges, supporting you while you resolve a psychosocial issue, enhance your personal growth, and strengthen your academic skills and performance. We also are actively involved in the campus-wide commitment to prevent and respond to sexual assaults. And we are energetically expanding the university community's understanding of the mental health issues faced by college students. We provide the following services at no charge to you:
Individual counseling
Group counseling
Anonymous online mental health screenings
Sexual assault prevention and response
Consultation
Outreach services
Counseling services are available to matriculated undergraduate & graduate students via two avenues of approach — on-campus clinicians (available during regular business hours and on-call after hours), and "Resilient U" (services accessible anywhere, anytime).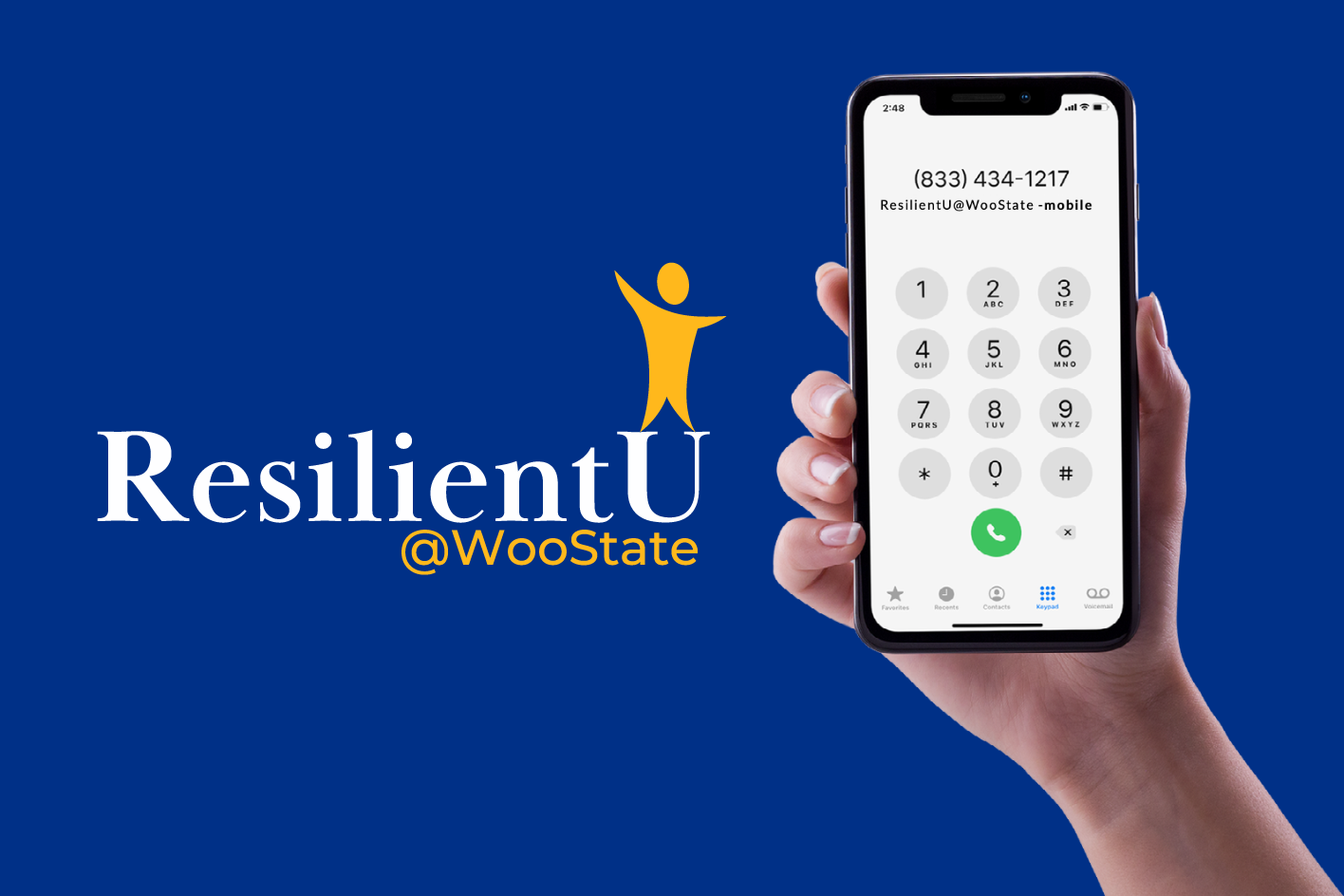 Introducing...
Resilient U
An extension of the Counseling Center, "Resilient U" is an all-encompassing wellness platform that consists of a 24/7/365 support line, the "Headspace" app, and CampusWell. Resilient U is free to all matriculated undergraduate & graduate students.
Access Resilient U Resources
On-Campus Counseling Center
Worcester State's on-campus clinicians provide in-person support during regular business hours, with appointments and walk-in hours offered on a regular schedule, as well as on-call services after hours.
How to Make an Appointment
Students can make appointments in person at Counseling Services located on the third floor of the Student Center, Suite 325. Appointments may also be made via phone (508-929-8072) or email (counseling_wsu@worcester.edu).
Triage/Walk-in
For students needing same-day support, walk-in/triage appointments are available on a daily basis between 10am-12pm and 2pm-4pm.
Students in Crisis
During normal business hours (Monday-Friday 9am-5pm), come to the Counseling Center immediately or contact us via telephone (508-929-8072). If you need immediate medical assistance contact University Police at 508-929-8911.
After hours and during holidays:
Resident students: contact Residence Life staff (RA, RD, etc.) or University Police (508-929-8911) and ask to speak to a counselor on call.
Commuter students: contact University Police (508-929-8911) and ask to speak to a counselor on call.
If you need medical assistance, call University Police immediately or off-campus dial 911 for local emergency assistance.
Additional Resources
Suicide Prevention Hotline
Call 988
Available 24 Hours, 7 Days a week
English/Spanish speaking
suicidepreventionlifeline.org
Other Resources
Why Students May Seek Counseling
Your college years can be among the most exciting and gratifying of your life. At times, however, you may feel significant amounts of stress, confusion, and uncertainty. The staff of Worcester State University's Counseling Center understands the emotional pressure that many of our students experience. Concerns that may lead to counseling include:
Adjustment to college life
Diversity and inclusion
Depression and anxiety
Substance abuse
Eating disorders
Gender and sexual identity
Personal and family crisis
Relationships
Relational violence
Loss and grief
Academic concerns
Loneliness
Sexual assault – What to do in the event of sexual assault
Self-Help Apps
We have compiled a list of apps that may be helpful to you in managing anxiety, mood and other stressors. These apps can be used in addition to meeting with a counselor, but can also be helpful to those who feel they may not need immediate counseling.
Other Resources
Going to College with a Mental Health Condition: a JED Foundation Resource
Set to Go: Leaving high school and moving out on your own is a big transition that is so much easier and enjoyable when you have support. Set to Go has easy-to-use resources for students, families, and educators to help students think about, plan for, and step into the future they want.
Contact Us
Counseling Services
Student Center
Suite 325

Hours
Mon - Fri
9am - 5pm
counseling_wsu@worcester.edu