IN THIS SECTION
Contact Binienda Center for Civic Engagement
Student Center
Office SC-322
wsu_biniendacenter@worcester.edu
Join Worcester State's Center for Civic Engagement.
At The Honorable John J. Binienda Center for Civic Engagement at Worcester State University, you will connect with volunteer and other experiential learning opportunities offered by an assortment of community partners. These are win-win-win programs—providing valuable services to recipients, expanding the capabilities of the University's partners, and helping you to build a strong foundation in civic participation while honing your skills.
The center is dedicated to...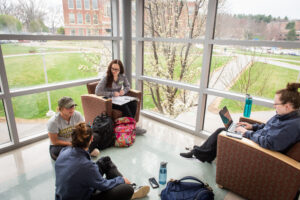 Collaboration
Facilitating joined efforts and activities among faculty, local organizations, and businesses to develop student projects and internships.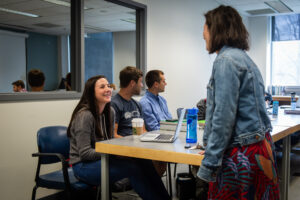 Academic support
Placing students from a variety of majors and minors in volunteer and paid positions that fulfill degree requirements, test career interests, and develop leadership and teamwork skills.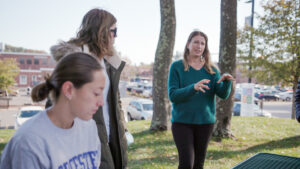 Guidance
Preparing students for effective democratic and economic participation that promotes healthy communities, global economic vitality, and social and political well-being.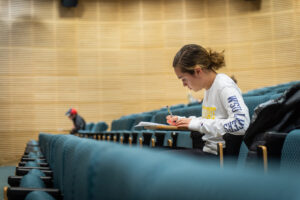 Student-centered projects
Working with other departments on campus-based initiatives like the Community and Leadership Experience at Worcester State (CLEWS) living-learning community for eligible first-year students.
Through these activities, The Honorable John J. Binienda Center for Civic Engagement helps Worcester State meet the challenge established by the Massachusetts Board of Higher Education to provide meaningful civic education and engagement to students. Their commitment enabled Worcester State to earn the Community Engagement Classification by the Carnegie Foundation for Advancement of Teaching in 2015 and be named a member of NASPA's Lead Initiative on Civic Learning and Democratic Engagement.
Worcester State's Community Impact
NSLVE is a signature initiative of the Institute for Democracy and Higher Education (IDHE) at Tufts University's Jonathan M. Tisch College of Civic Life. IDHE is an applied research center focused on college and university student political learning and participation in democracy.

IDHE researchers study:

Voting
Campus conditions for political learning and discussion
Closing equity gaps in participation
Increasing student agency and participation

Since NSLVE's launch in 2013, more than 1,000 colleges and universities have signed up to receive their voting rates for the 2012, 2014, 2016 and 2018 federal elections.

Community Partners
1800 Radiator
Greater Worcester Land Trust
Riverside Community Care
Abby's House
Habitat for Humanity
Saint Anna's School
Ad Care Hospital of Worcester
Harrington Hospital
Saint Anne's Hospital
Advisory Resource Group
HealthAlliance Home Health & Hospice
St. Francis Rehabilitation and Nursing Center
AIDS Project Worcester
HealthAlliance Hospital
St. Vincent Hospital
American Cancer Society
HealthSouth of Western MA
Salmon VNA & Hospice
American Heart Association
Herencia y Cultura Hispanicas
SALT Fitness Cafe
American Red Cross
Heywood Hospital and Rehabilitation Center
Seven Hills Foundation
Ameriprise Financial
Holy Cross Sports Medicine
Shepard Hill Regional High School
Ascentria
Holyoke Medical Center
Sherry's House
Assabet Valley Collaborative
Horizons for Homeless Children
Software Development
Assabet Valley RVTHS
Houghton Elementary School
South County Physical Therapy
Auburn High School
Hudson Health Department
South Worcester Neighborhood Center
Auburn Visiting Nurses Association
Immigration & Customs Enforcement
Southern New England Practice Transformation Network
Autism Allies
Infinecn Technologies
Speech and Language Resources
Autism Awareness 5K and Walk
International Chemistry Testing
Stand Up for Kids
Autism Behavioral Services
Inventory Solutions Inc.
Stowe Farm
Barnstable Board of Health
ITW-EFC
Sudbury Board of Health
Baystate Medical Center
Jewish Health Care Center
Sudbury Crime Lab
Beaumont Rehabilitation and Skilled Nursing Center
Jumpstart
Sutton Middle School
Behavioral Concepts Inc.
Junior Achievements
ten24 Digital Solutions
Bercume Associates, Inc.
Knollwood Nursing Center
The Bridge of Central Mass
Best Buddies International
Knox Trail Middle School
The Micheli Center
Bet Shalom and other elders in the community
L.U.K. Inc.
The Moody Street Group, LLC
Boston Medical Center
Latin American Health Alliance
The Training Associates
Boys and Girls Club of East Providence
Latino Education Institute at Worcester State University
Tufts Medical Center
Bridge of Central MA, School House
Lawrence Sasso Ins. and Financial Services Inc.
Uber
Bright Care Inc.
Leicester Primary School
Union Hill Elementary School
Burgess Elementary School, Sturbridge
LIfe Care Center of Nashoba Valley
UMass Medical School
Camp Sunshine
Life Care Center of West Bridgewater
UMass Memorial Medical Center
Cape Cod Nursing and Rehabilitation Center
Life Care Center of the South Shore
United States District Court
Carl P. Sherr & Co., LLC
Loomis House
Vantage Sports and Rehab
CCM Business Solutions
M. Love & Associates, LLC
Veterans Inc
Center Autistic Related Disorders
Maloney Properties
VITA Tax Program
Center for Living/Working
Manna Project International
Wachusett Mountain
Central One Federal Credit Union
Marlborough Board of Health Office
Wachusett Regional High School
Champagne Bookkeeping & Tax
Marlborough Hospital
Walden Behavioral Care
Charter TV3
Mary Ann Morse Health Care
Walgreens Pharmacy
Cheryl Cooney & Associates
Mary Rowlandson Elementary School
Wawecus Road School
Children of the Border (NGO), Dominican Republic
Massachusetts Humanities Foundation
Wayland Public Health
Children's Hospital Boston
Mass Bay Community College
WDPH/CMPPHA
City of Worcester
Massachusetts Department of Environmental Protection
Webster-Dudley Food Share
City of Worcester- Dept of Public Health
Massachusetts Department of Probation
West Boylston Department of Public Health
Park and Recreation of Worcester
Massachusetts Commission Against Discrimination
Westford Academy
Clinton Senior Center
Massachusetts State Legislature
Westford House
Columbus Park Neighborhood Association
McCarthy-Towne School
White House Black Market
Community Health Connections
Medway High School
Williams Restaurant
Crestwood Center
Mendon Upton Regional School District
Willow Manor
Crohn's & Colitis Foundation
Metrowest Oral Surgical Associates
Wingate at Worcester
CrossFit Rail Trail
Milbury Street Head Start
WMCT-TV
Dailybreak CP LLC
Milford Regional Medical Center
Woodland Academy
Dana Farber Cancer Institute
Millbury Public Schools
Worcester Art Museum PR Strategy
Davis Farmland
Mission in Motion / YMCA
Worcester County Sherriff's Office
Day Kimball Hospital
Mission of San Tome & Principe to the UN
Worcester District Attorney
DCF Worcester West
Moore Agencies of New England
Worcester Division of Public Health
DCU
Morton Hospital & Medical Center
Worcester Family and Probate Court
Dedham Middle School
Multicultural Wellness Center
Worcester Housing Authority
Department of Health and Human Services
My Pet List, Inc.
Worcester Interfaith
Department of Children and Families
Narragansett Regional High School
Worcester JCC
Division of Public Health
New England Center for Children
Worcester Magazine
East Quabbin Land Trust Office
Newton Wellesley Hospital
Worcester Public Schools
Edward M. Kennedy Community Health Center
Nipmuc Regional High School
Worcester Recovery Center & Hospital
Eisenberg Assisted Living
Northbridge Accounting Office
Worcester Senior Center
Elder Services of Worcester
Northeast Rehabilitation Hospital
Worcester Superior Court
Elm Park
Notre Dame Long Term Care
Worcester Telegram and Gazette
Elmwood Street School
Office of State Treasurer
Worcester Tree Initiative
Emerson Hospital
Olympus
Working for Worcester / Jacob Hiatt School
Expose Yourself PR Agency
Overlook Masonic Health System
Worcester State Foundation
Express Embroidery, Inc.
Pagano Media
Worcester State University Athletic Department
Fairlawn Rehabilitation Hospital
Pakachong School
Worcester State University Office of Communications & Marketing
Fairway Independent Mortage Corp.
Paresky Flitt & Company, LLP
Worcester State University, Mary Cosgrove Dolphin Gallery
Family Health Center Worcester
People of El Salvador
Worcester State University Human Resources Department
Family Resource Center
Porro's Custom Interiors
Worcester State University Marketing Office
Forest Grove Middle School/Doherty High School
Quad/Graphics Inc.
Worcester State University Health Promotion Office
Friendly House, Inc.
Quinsigamond School
Worcester State University Residence Life and Housing
Friends of Newton Hill
Raytheon Company
Worcester State University Sustainability Office
Friends of Van Cortlandt Park
RCAP Solutions
Worcester State University Millitary Affairs and Veteran Student Services Office
Girls Inc.
Regional Environmental Council
Worcester State University Visual and Performing Arts Dept
Goddard School
Reliant Medical Group
Yes We Care Workshops
Grafton High School
REMAX
YOU Inc.
Greater Lowell Technical High School/The Paul Center for Education and Recreation
RFK Children's Action Corps
YWCA
Contact Binienda Center for Civic Engagement
Student Center
Office SC-322
wsu_biniendacenter@worcester.edu