Academic Achievement Awards
---
IN THIS SECTION
Contact Us
Provost's Office
Shaughnessy Administration Building
3rd floor
Suite A-361
Celebrating academic excellence.
Worcester State University champions academic excellence. Every year, with the support of the Worcester State Foundation and through the generosity of donors, we take time to celebrate the most accomplished students on our campus—and the faculty who played a part in their success—at the Academic Achievement Awards.  Chosen by faculty, recipients display characteristics of leadership, scholarship, integrity, diversity, and community engagement.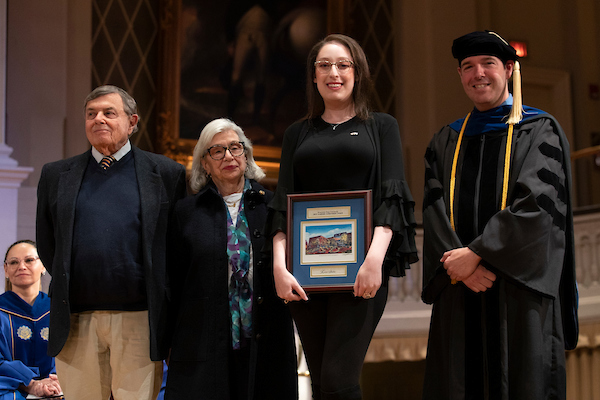 2023 Academic Achievement Awards
For information on this year's ceremony, awards, and recipients, download the 2023 Academic Ceremonies Award program.
Download
President's Remarks
Each year, faculty, staff, and donors come together to honor Worcester State's most accomplished students in what is known as the Academic Achievement Awards. Those who have been selected to receive awards, this year and every year, can be described as hard-working, motivated, and intelligent. To that list, I would add: rock star!

Students often tell us a faculty member – or several – was the most important factor in their success. Faculty at Worcester State are skilled at tapping into talents that students themselves do not necessarily see, bringing out their very best. Every one of our faculty members recognized by an academic achievement awardee represents many more who have done the same thing for other students. A special thanks to our outstanding and dedicated faculty.

Many awards carry a donor's name. We know that just one scholarship can make the difference between a student persisting toward graduation in four years or not. I deeply appreciate our alumni and friends who commit financial resources to our students. To the students, faculty, and donors we celebrate today: you are the ones who make Worcester State great. And to our honorees: congratulations!

Sincerely,

Barry M. Maloney,
President
Contact Us
Provost's Office
Shaughnessy Administration Building
3rd floor
Suite A-361