Academic Convocation
---
Welcoming New Undergraduate Students to Worcester State University.
IN THIS SECTION
What is Convocation?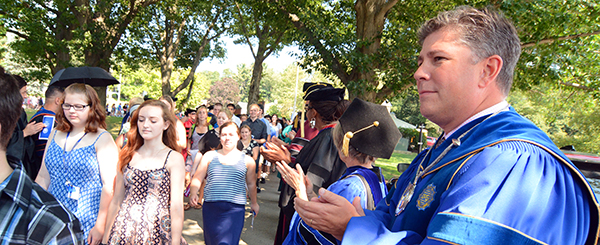 Worcester State University's Academic Convocation officially welcomes new undergraduate students into Worcester State's academic community and fosters a sense of belonging. Convocation is literally a "calling together" of all new students. It is a formal academic ceremony that, together with Commencement, will serve as bookends to your time here at Worcester State. Convocation serves to officially welcome you to the academic core of your university experience. Everyone at Worcester State hopes that this event will serve as an opportunity to gain an appreciation for the University's values and traditions.
Convocation is also designed to inspire your commitment to excellence within an academic community of students, faculty, and staff. At this event, you will be introduced to some of the many individuals here to support your learning and intellectual development.
2023 Academic Convocation Ceremony
This year's Academic Convocation will take place in the Wellness Center's Competition Gym at 9:00 a.m. on Tuesday, September 5, 2023. The ceremony last approximately 45 minutes and will be immediately followed by New Student Fall Welcome activities.
In addition to new students, all returning students, faculty, and staff are welcome and encouraged to attend this special event.
Students should gather in the Multipurpose Gym on the 2nd floor of the Wellness Center 30 minutes beforehand, at 8:20 a.m.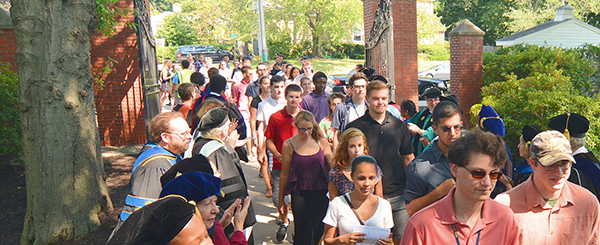 2021 Academic Convocation
Recap 2021's ceremony.
To get a sense of what Academic Convocation is like, take a look at 2021's ceremony which took place in the competition gym in the Wellness Center.