About
Institutional Assessment & Pla...
Institutional Assessment & Planning
---
IN THIS SECTION
Contact Us
Assessment & Planning
Shaughnessy Administration Building
3rd Floor
Suite A-352
Promoting data-informed decision-making to support Student Success
Institutional Assessment and Planning facilitates data-driven decision-making for all levels of the University. We support the University through institutional and program assessment, planning initiatives, survey research, data gathering, data analysis, and data reporting.

Accuracy: We strive for accuracy and consistency in the reporting of data. Where consistency is not possible – because of factors such as differing definitions used among external agencies – we strive for clarity in explanation of data variables, definitions, and parameters for use.

Confidentiality: We secure confidential information to uphold the trust of our stakeholders

Integrity: We recognize that data represent people, and our work has real consequences.

Objectivity: We recognize the bias we inherently bring to our work and proactively consider its effect on our results.

Responsibility: We use and manage information responsibly and make every effort to prevent its misunderstanding and misuse

Transparency: We ensure our work is accessible to stakeholders who need to make decisions.

Assessment

Consulting with faculty on planning, creating, applying, and evaluating assessments of student learning.
Assisting administrators and staff with the assessment of departmental and division services and operations.
Generating, maintaining, and communicating institutional-level assessment results.

Institutional Research

Reporting data for federal and state compliance reports.
Supplying data for regional and program accreditation reports.
Publishing the University Factbook annually.
Completing ranking surveys such as the Princeton Review and U.S. News.
Responding to public records data requests.
Preparing annual data reports for department chairs.
Providing data for academic program review.
Fulfilling ad-hoc internal data requests.
Coordinating the Data Quality committee to ensure data quality control.
Collaborating with other offices (ITS, Registrar, Financial Aid, etc.) to ensure data quality and accuracy.

Planning

Coordinating the development of the university strategic plan.
Developing metrics and assessments to evaluate the effectiveness of the university strategic plan.
Managing the yearly assessment of the university strategic plan.
Providing resources, data, and consultations for departments and seeking to develop and assess plans.

Surveys and Course Evaluations

Designing, deploying, and analyzing surveys sent to students, faculty, staff, and alumni.
Supporting students, faculty, and staff in creating, disseminating, and analyzing survey research.
Coordinating national surveys such as the National Survey for Student Engagement and the Healthy Minds Study.
Training faculty, staff, and students in the use of survey and form creation software.
Administering DGCE course evaluations and supplying course and roster information for day course evaluations.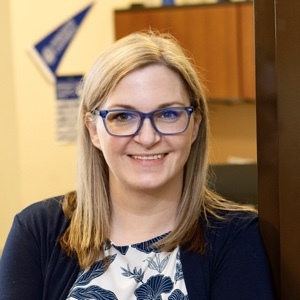 Dr. Sarah Strout is the Assistant Vice President for Assessment and Planning. Dr. Strout received her B.A. in Psychology from Assumption College and her M.A. and Ph.D. in Social Psychology from Clark University. She began her career in higher education in 2006 as an Assistant Professor of Psychology and Director of the Faculty Center for Innovation and Creativity in Teaching at Southern New Hampshire University. At Dominican College of Blauvelt, Dr. Strout was an Associate Professor and Chair of Psychology, Director of the Center for Teaching and Learning, and Chair of the Assessment Committee. Dr. Strout moved into administrative work as the Associate Director of Assessment at Radford University in Virginia before joining Worcester State University in 2017.
Maria Urbina
Staff Assistant, Data Analyst
Department: Office of Assessment and Planning
Maria Isabel (Maribel) Urbina is the Data Analyst for Assessment and Planning with twenty plus years of experience in Information Technologies. She received a B.S. in Chemistry from Andrews University and a M.S. in Computer Information Systems from Boston University. Her higher education career started in 1990 as the assistant to the director of Data Processing at Atlantic Union College. She became the director of that department in 1993. Maribel is highly analytical, a critical thinker with in-depth knowledge of database types; research methodologies; big data capture, manipulation and visualization, with high attention to detail and patterns. She is naturally curious and proficient in identifying efficiencies and problem areas within the data components. She is constantly learning to improve and make her and other's job more productive. Her goal is to help the university make better decisions through timely data-driven insights. She joined WSU in 2019.
Contact Us
Assessment & Planning
Shaughnessy Administration Building
3rd Floor
Suite A-352