IN THIS SECTION
Quick Tips
Always name your Featured People components based on the content it contains–that way, you'll be able to easily identify it from the backend.
Always check what the component will look like live on all devices using the Preview feature before publishing the update.
This component is available on both Full-Width content sections and Two-Thirds Width content sections.
This component is Dynamic, meaning that the content in the component is automatically populated from an outside source, in this case, the Faculty Profiles.
The Purpose of This Component
This component was designed to showcase members of the Worcester State University faculty and staff in an engaging way on the website. Students who consider a program to take can familiarize themselves with the faces they could see on a day-to-day basis. It encourages familiarity while offering an avenue for engagement.
This is An Example of the Featured People Component
How to Use This Component
When a content manager selects a Featured People component from the component dropdown list, they will see four tabs within the component's settings. The first tab reads Component, and this is where content managers will name their components internally on the backend. This setting is for organizational purposes, and this information will never be public to users on the front end.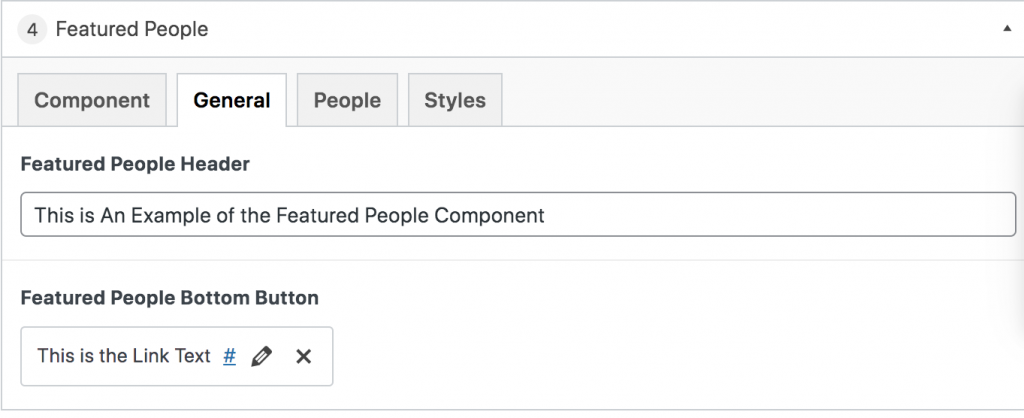 The tab to the right of the Component tab is the General tab, where the content manager can specify the heading for the Featured People component and the link that will be featured in the button at the bottom of this component. Once these settings have been specified, content managers will click on the next tab that reads People. This is where the featured people that will be listed within this component will be identified. Clicking on their name will automatically pull their faculty profile data into this component to display on the front end.