Lab-based Experiential Learning
---
IN THIS SECTION
Contact Visual & Performing Arts
Learning Resource Center
Suite LRC-325
Visual & Performing Arts Creativity Opportunities at Worcester State
As a Visual and Performing Arts major, your arts education takes place within the classroom and expands beyond its walls. You'll take the knowledge and techniques you learn in class and apply them to a unique array of exhibits, concerts, and productions on campus and beyond. Check out what our students have done on VPA's Instagram Page and YouTube channel.
Art
VPA's art classes take place at Worcester State's Sagamore Studios (transportation provided by a shuttle service), where we offer courses in drawing, painting, sculpture, and printmaking as well as topics like the history of American art, modern art, and museum studies. Plus, special topics courses convey a unique insight into a specific art form.
Exhibit opportunities include:
Open Art Calls – Professors keep on top of open art calls and encourage students to enter.
Mary Cosgrove Dolphin Gallery – The on-campus gallery exhibits the work of students, faculty, and renowned artists.
Open Studios – Students exhibit work during open studio events at Sagamore Studios.
Music
VPA offers opportunities to study music through applied instrumental and vocal lessons and through coursework in composition, theory and history. Students compose music in Sagamore Studios, perform on and off campus, and prepare for lessons and performances in practice rooms.
For information about instrumental and voice lessons and ensemble opportunities, contact Music Professor Kyle Martin at VPAMusic@worcester.edu. For information on VPA's new a cappella ensemble, The Good Time Vocal Band, contact Music Professor Steve Gagliastro at sgagliastro@worcester.edu. For details about the opportunity to take a Modern Guitar Workshop with Music Professor Carlos Odria, contact codria@worcester.edu.
Performance opportunities include:
Private music lessons (applied music) in all instruments and voice. Students perform at fall and spring mosaics and other opportunities as they arise. Contact VPAMusic@worcester.edu.
WSU offers ensembles in jazz, winds, guitar, brass, voice, strings, and African drumming. Students perform at fall and spring mosaics and other opportunities as they arise.
Theatre
VPA offers a wide variety of theatre courses including acting, stage and costume design, stagecraft, directing, stage combat, lighting and sound design, history and more. VPA's Worcester State Theatre produces three fully-realized productions each academic year and offers students opportunities in front of and behind the curtain. Selected students also attend the Kennedy Center American College Theatre Festival Region 1 each year for a week of workshops, discussions, and performances.
Performance opportunities include:
Productions – Students audition for productions. Students participate in costume, set design, light and sound tech, and more.
Almost Off Book – This student club offers opportunities to write, create, and act, and serve the WSU community.
Visual & Performing Arts Creativity Presentations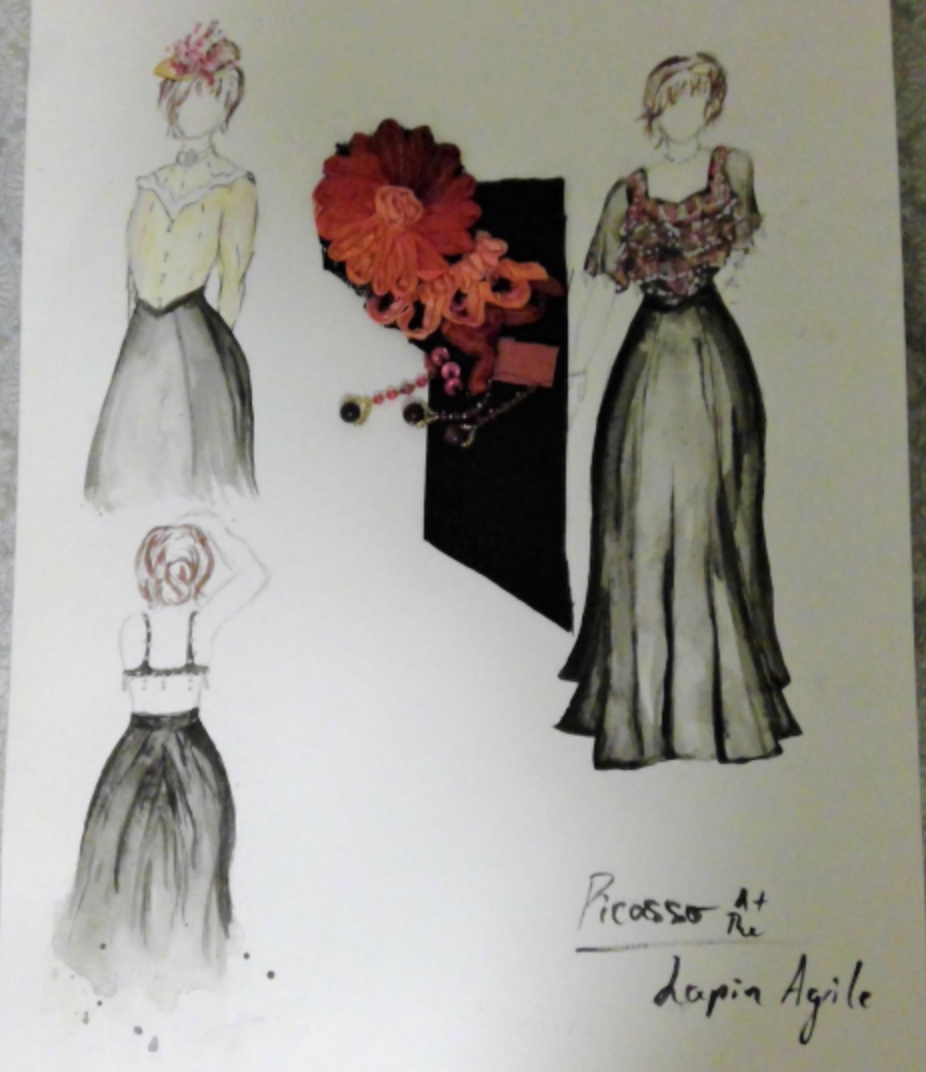 What would Picasso and Albert Einstein be wearing if they had a chance meeting in a Parisian café in 1904?
Bellalorraine Carey-Hicks, who graduated in December '21 with a double major in theatre and English, had to come up with an answer for that question as the costume designer for the play Picasso at the Lapin Agile, which was produced by VPA last fall. In a recent interview, she said her goal was to accurately portray the historical era in a way that also resonated with modern audiences. She worked on the costume project, which was her senior capstone project, under the guidance of VPA Chair Sam O'Connell through the Student Undergraduate Research Grant (SURG) program. READ THE FULL STORY by Nancy Sheehan.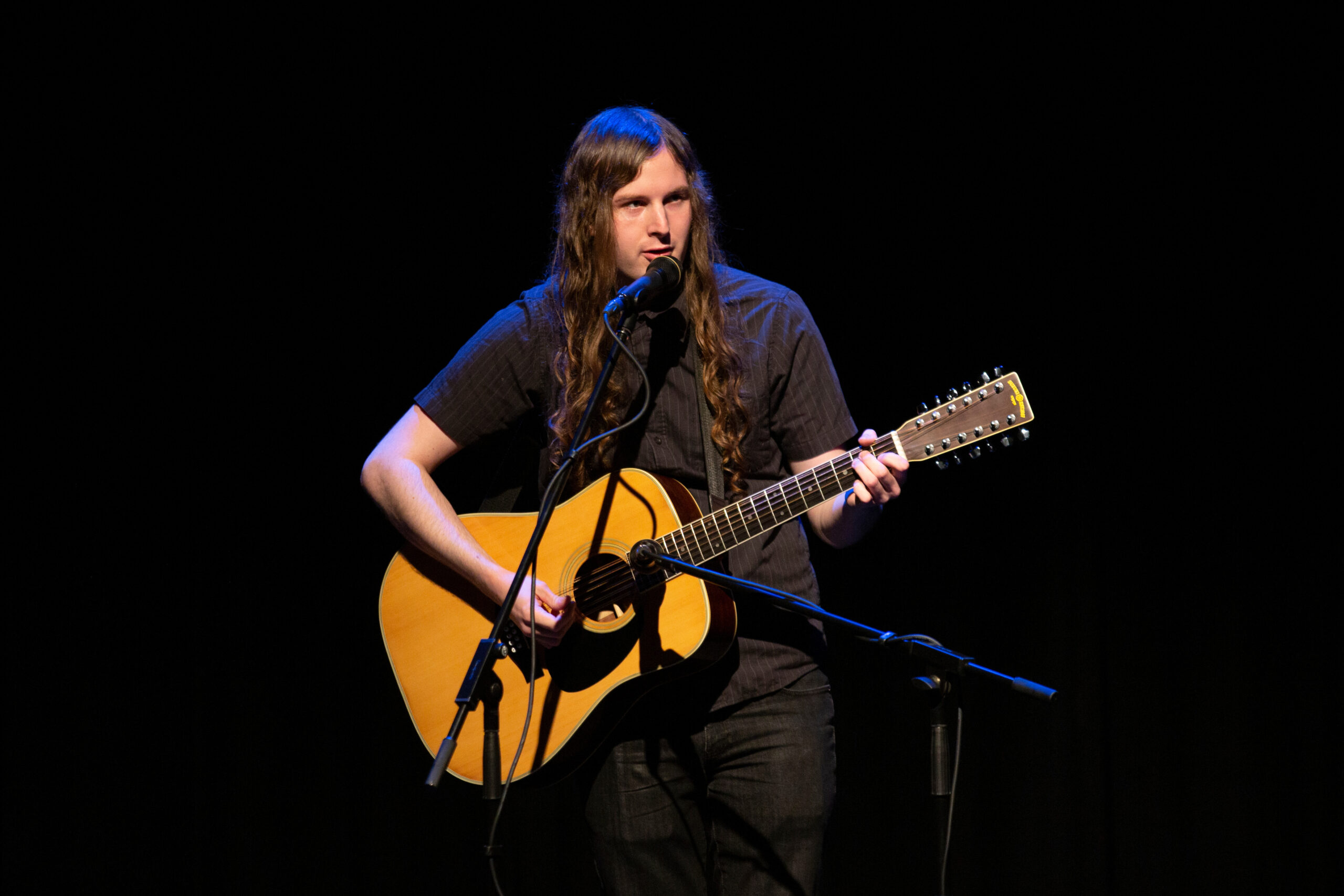 Music Senior Spotlight
Check out an impressive variety of work achieved by VPA Major and Music Composition and Technology Minor Julian Wagner '22 during his four years at Worcester State - from composing music for the Spring 2022 theatre production of Rosencrantz and Guildenstern Are Dead to performing a gig on bass at Worcester's Birch Tree Bread Company, and so much more!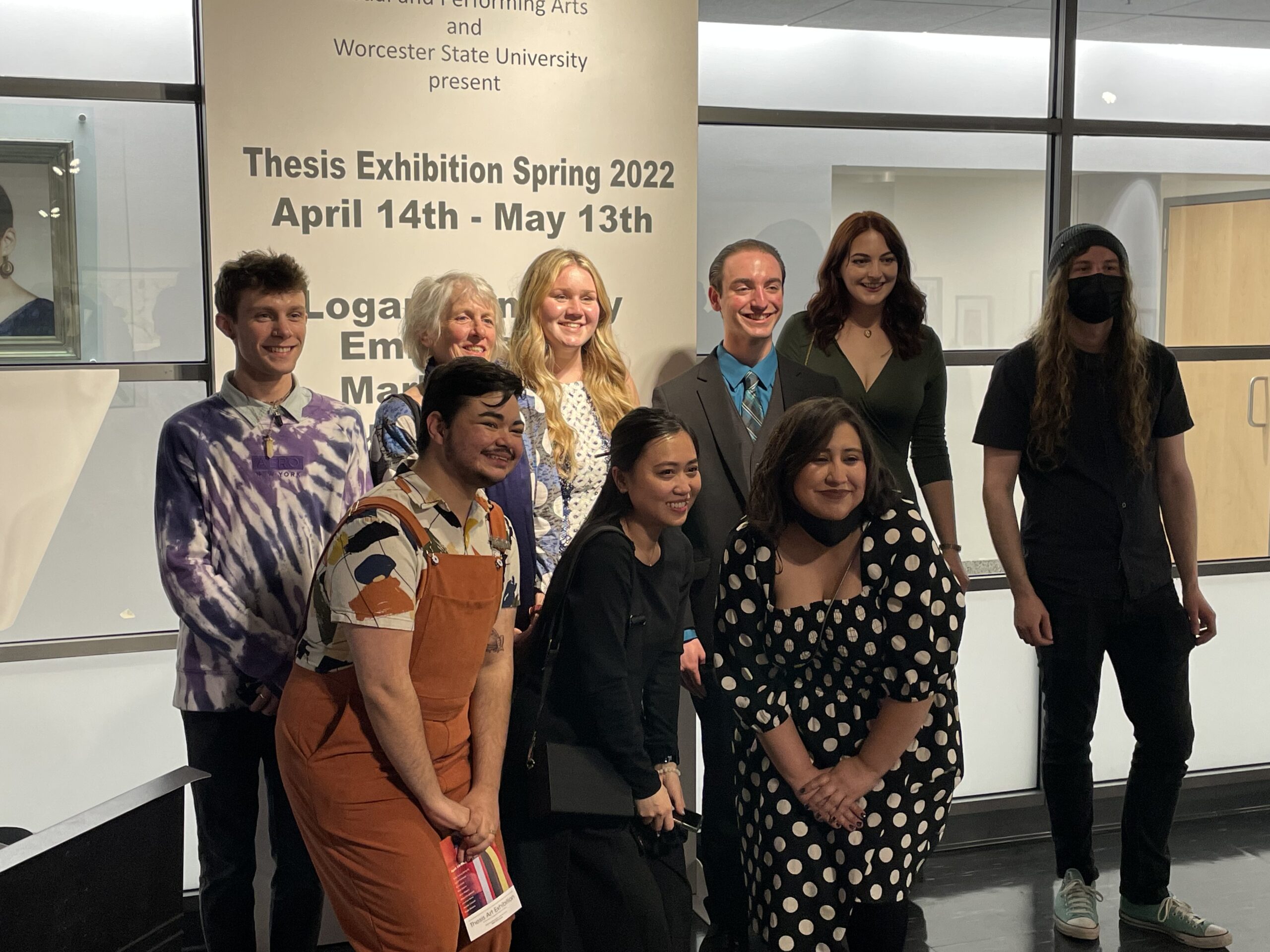 Nine VPA Students Present Thesis Work in Gallery Exhibition
Worcester State seniors Trang Duong (Serena), Logan Hampsey, Emily Parish, Mark Parella, Julian Wagner, Abigail Snopkowski, Jonathan Paine, Jennifer Caswell, and Angie Morales presented an impressive variety of capstone work - from music composition and animation to sculpture and paintings - at the Mary Cosgrove Dolphin Gallery in Spring 2022. Check out their diverse inspirations and exciting work here!
Contact Visual & Performing Arts
Learning Resource Center
Suite LRC-325