Unity Day
---
A celebration of our diverse identities and experiences
IN THIS SECTION
Contact Diversity, Inclusion, Affirmative Action, & Equal Opportunity
Shaughnessy Administration Building
3rd Floor
Office 335
About Unity Day
The campus-wide celebration began in 2021 as a Unity Walk and has expanded to a full day of activities designed to celebrate our diverse identities, connect with one another, and reflect on the progress we are making as a campus community toward greater social justice, equity and inclusion. Now in its second year, Unity Day is one of the signature events that brings together the entire campus at the start of the academic school year. 
Community Impact and Goals
On Unity Day, each member of the campus community is invited to embark on a journey of discovery, reflection and connection around diversity, equity, inclusion and social justice (DEIJ). Programming throughout the day will provide opportunities for both self-reflection and engagement with others who may be different from you. The aim is to foster dialogue, promote greater understanding and respect for one another, and strengthen our campus commitment to DEIJ.
Ultimately, what each person brings to Unity Day and takes away from the experience will be unique. We invite participants to consider the following Unity Day goals and engage around those that matter most to you:
Discover new knowledge about yourself, others, and your university community.

Feel recognized, appreciated, and validated.




Participate in conversations about new perspectives, ideas, or historical or current narratives in a way that requires courage and vulnerability and encourages personal growth.

Extend yourself to others in ways that contribute to building a collective sense of belonging for people of all identities on campus. 




Strengthen your ability and willingness to collaborate with others.

Demonstrate an increased understanding of the meaning, value and benefits of diversity, equity, inclusion and justice at Worcester State University.




Find common ground with individuals who have identities that are different from yours.

Develop increased awareness, appreciation and adherence to university policies and practices that have been created to ensure safety, respect, and equity for everyone at Worcester State.




Increase support for resilience for historically underserved and marginalized individuals.




Develop increased ability to identify and constructively address bias within yourself or in others.
Save the Date: Tuesday, September 26, 2023
2023 Unity Day Schedule
To request an accommodation for this event, please contact accessibility@worcester.edu  or call Student Accessibility Services at 508-929-8733.
*8:30am – 7:30pm*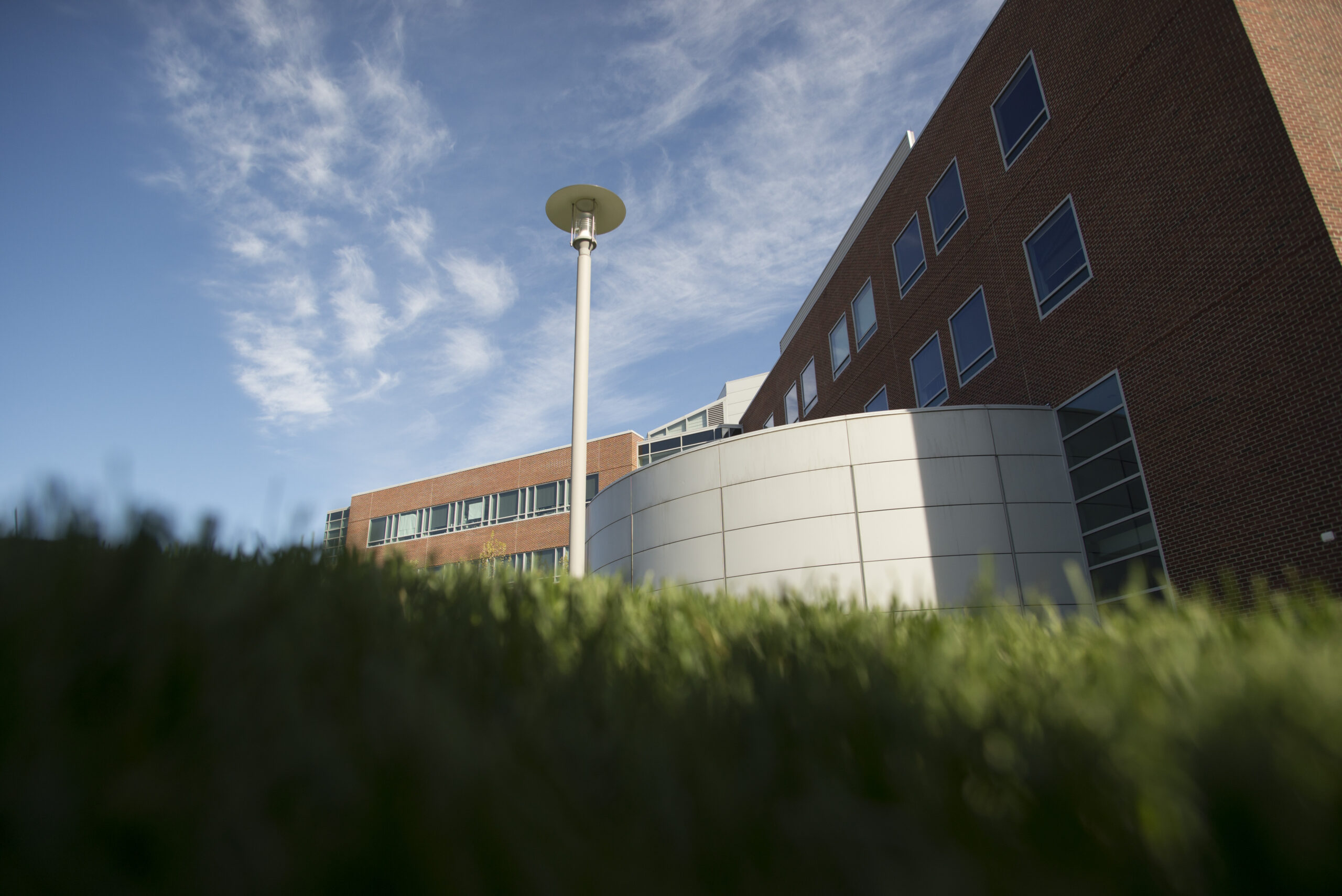 9:00am - 4:00pm
Hands-on Arts Event: Mural & Unity Tree
This hands-on creative experience invites students, faculty and staff to participate in the creation of a Unity Day charcoal mural inside of the Mary Cosgrove Dolphin Gallery and the creation of a Unity Tree outside on the lawn. Art supplies will be provided - just bring your creative spirit, sense of play and your unique identity.

Location: Mural — Mary Cosgrove Dolphin Gallery
Unity Tree — Outside Ghosh Building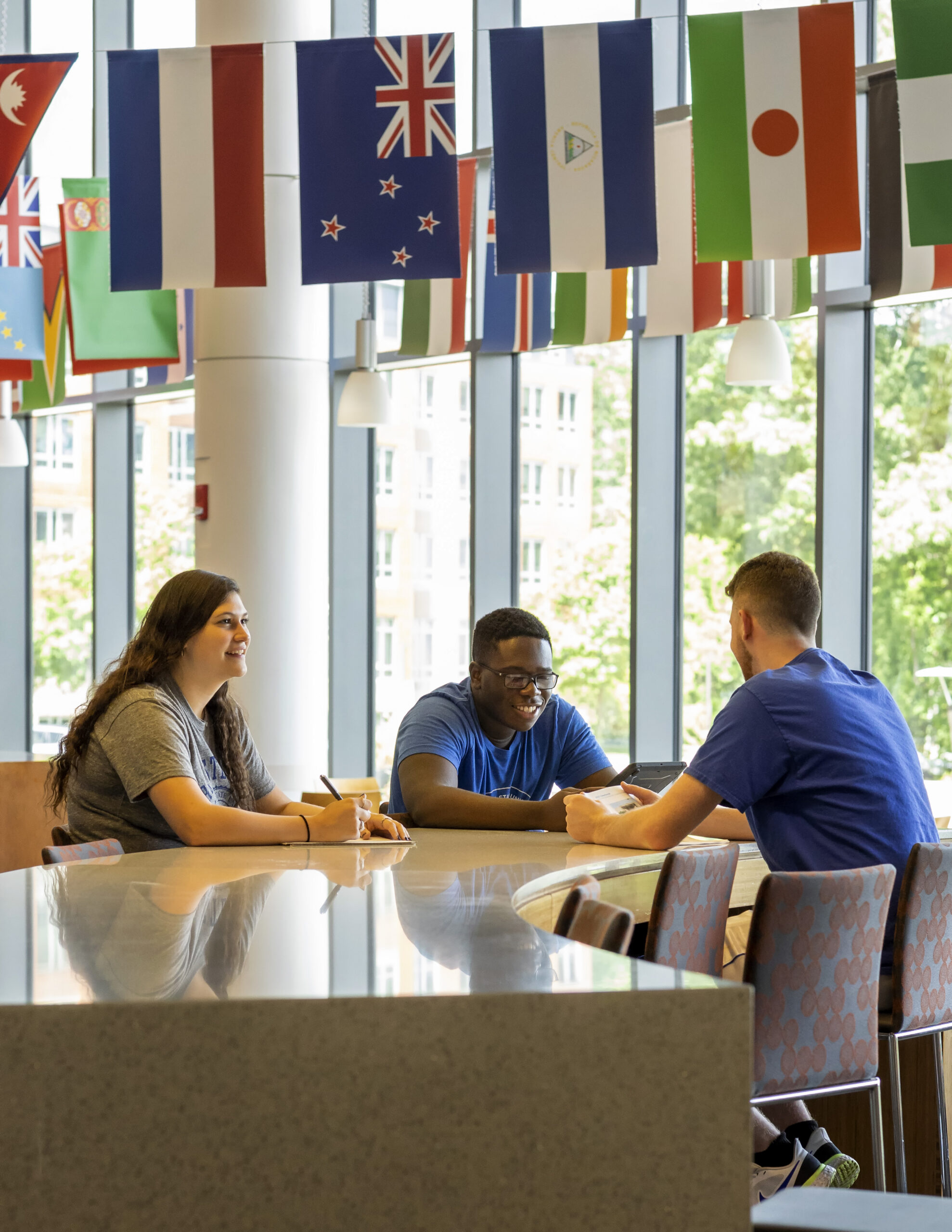 8:30am - 9:45am
We Speak UP
"Bystander Intervention as a mechanism to interrupt discrimination on campus."
WSU's bystander empowerment program designed to provide bystander education and essential intervention skills training, with a focus on opportunities to take action, best practices for difficult conversations.

Location: Foster Room, third floor Student Center
10:00am - 11:15am
Spiritual/ Religious Life Panel
Worcester State students and community faith and spiritual leaders from Jewish, Christian, Muslim and non-religious backgrounds will have candid discussions on how their faith and spirituality build strength, resilience and community. All are welcome.

Location: Blue Lounge, first floor Student Center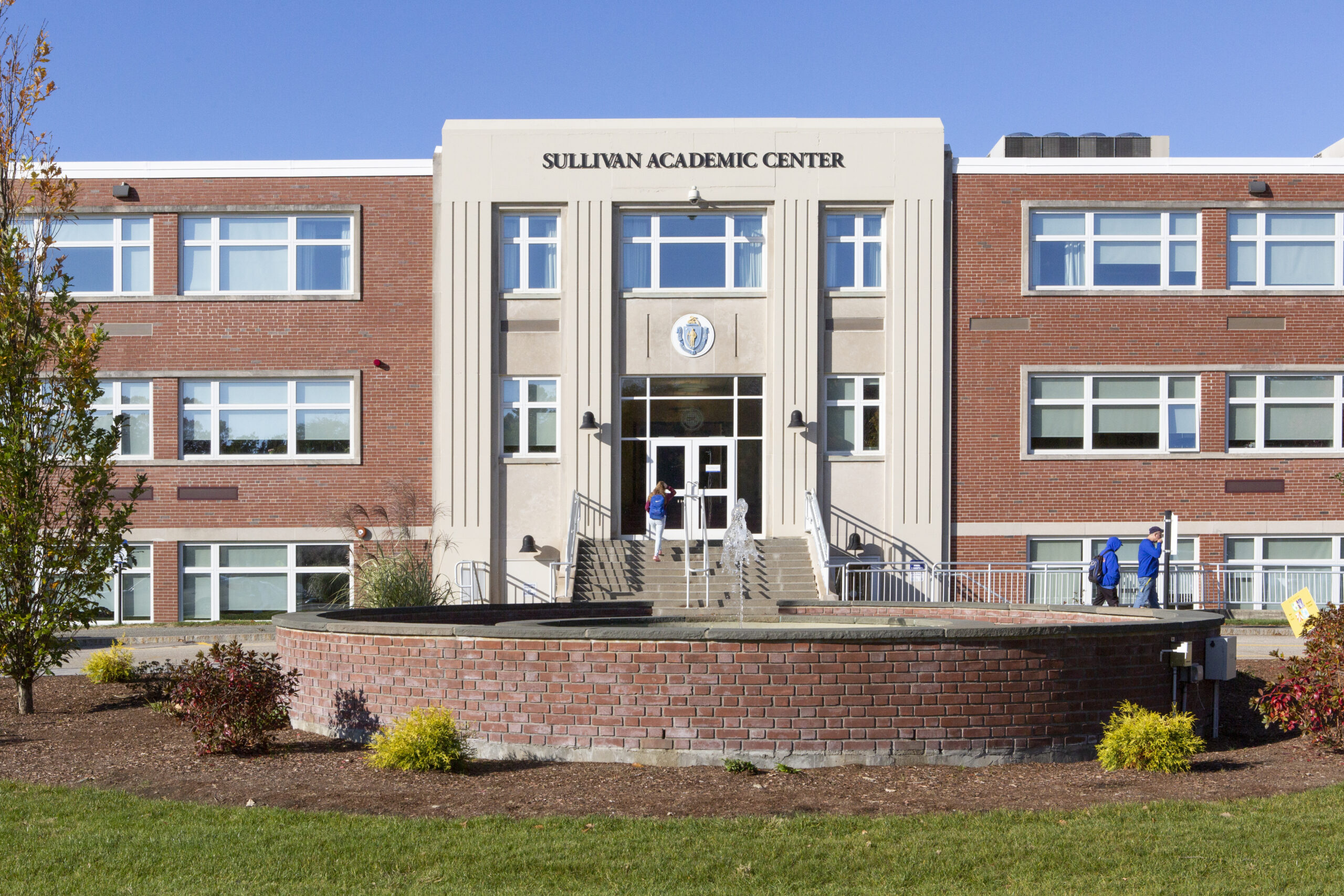 11:15am - 11:30am
Gather for Unity Walk
The entire Worcester State community is invited to gather for the Unity Walk!

Location: Outside Sullivan Auditorium near Fountain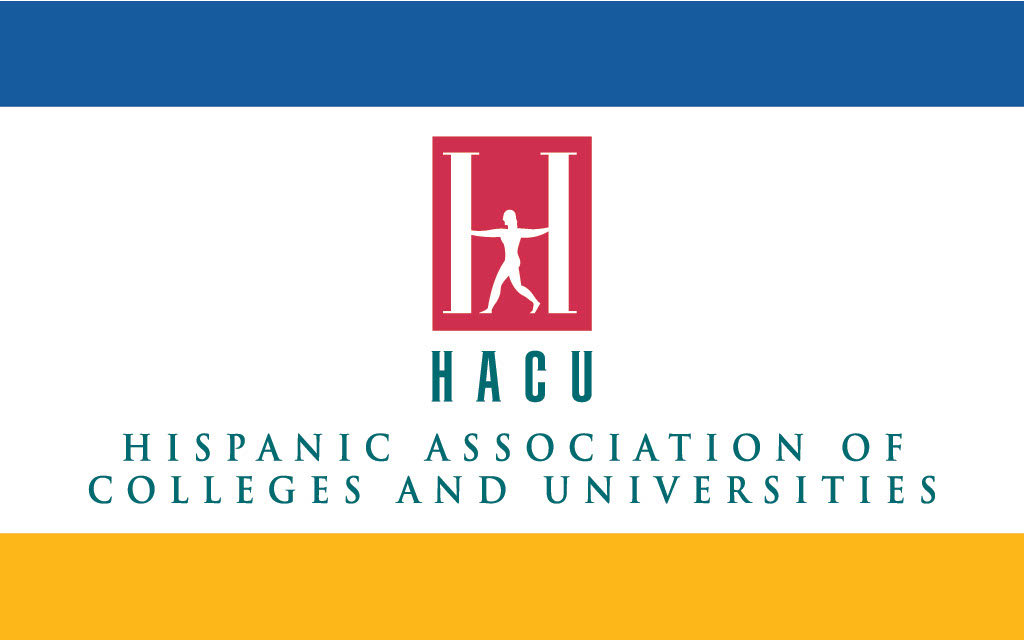 11:30am - 12:45pm
Unity Walk to Common Ground + HACU Flag Raising
Unity Walk to Common Ground + Hispanic Association of Colleges and Universities Flag Raising

*National Anthem sung by Caitlyn Costello

Location: Common Ground
View HACU details here!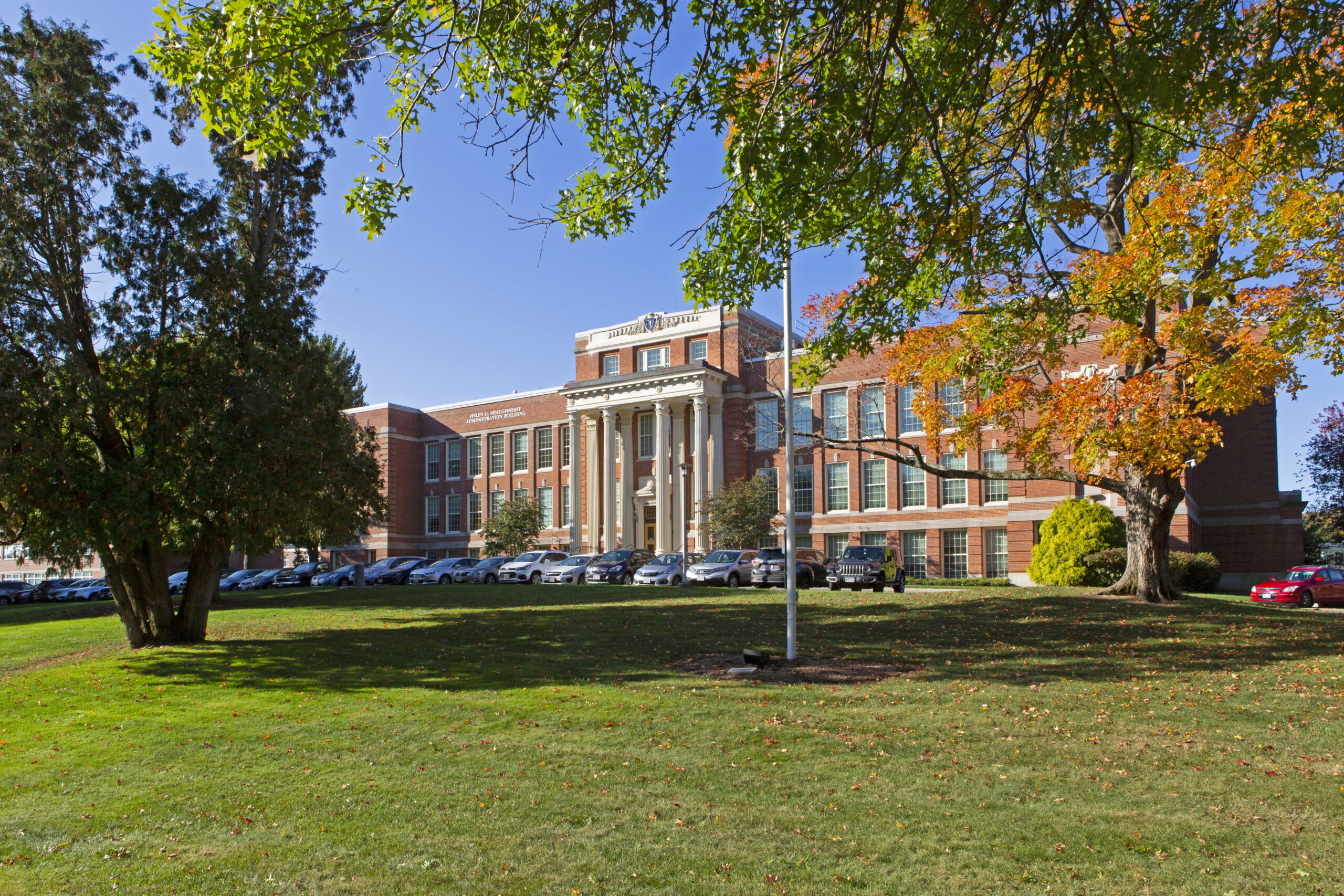 12:30pm - 2:15pm
In Our Shoes, led by Student Accessibility Services
A student-led panel discussion. The diverse voices and lived experiences of disabled students within our campus community will raise awareness about ableism, describe how to provide access and reduce barriers, and promote disability pride. Please join us!

Location: Sheehan Multipurpose Room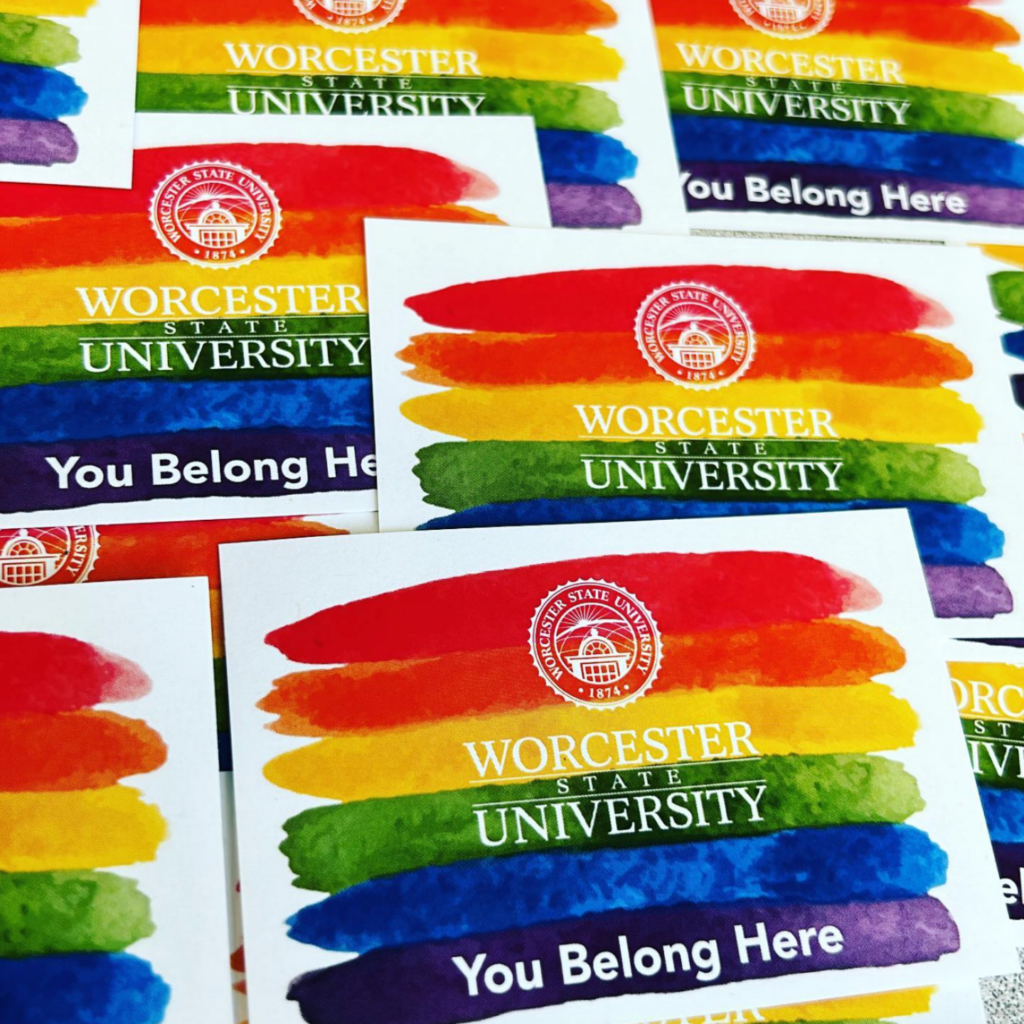 2:30pm - 3:45pm
Uplifting LGBTQ+ Voices
This session will focus on fostering LGBTQ+ community and culture at WSU. It will include a showcase of diverse student work, a discussion of relevant resources, and a Q&A portion with audience engagement.

Location: Blue Lounge, first floor Student Center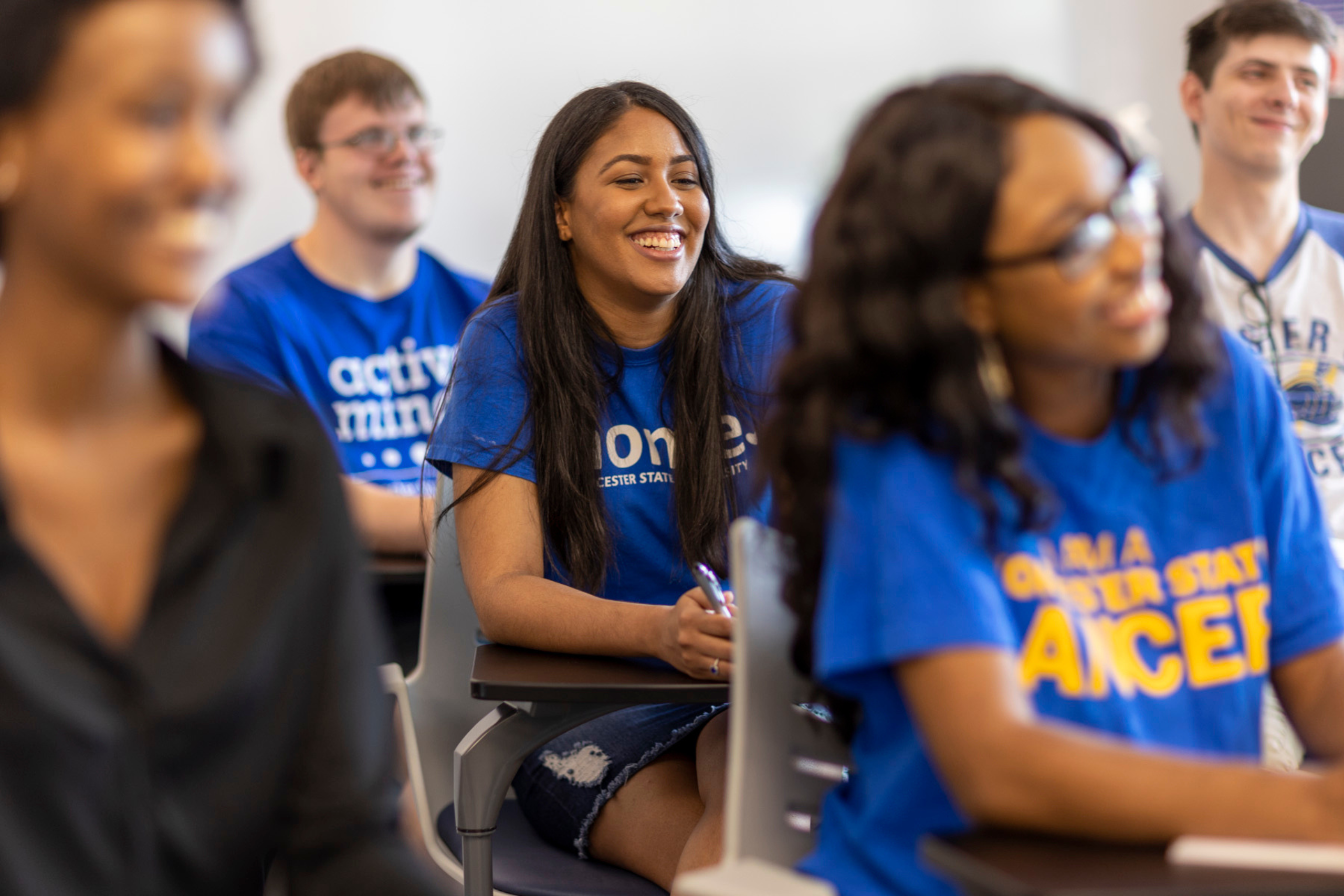 2:30pm - 3:20pm
Integrating DEIJ
This session will discuss our efforts to increase equity in our classes. We will celebrate our successes and share our lessons learned. We will develop plans to come together in the academic year to work on diversity, equity, inclusion and belonging in our classes and with our faculty colleagues.

Location: Fallon Room, 3rd floor of Student Center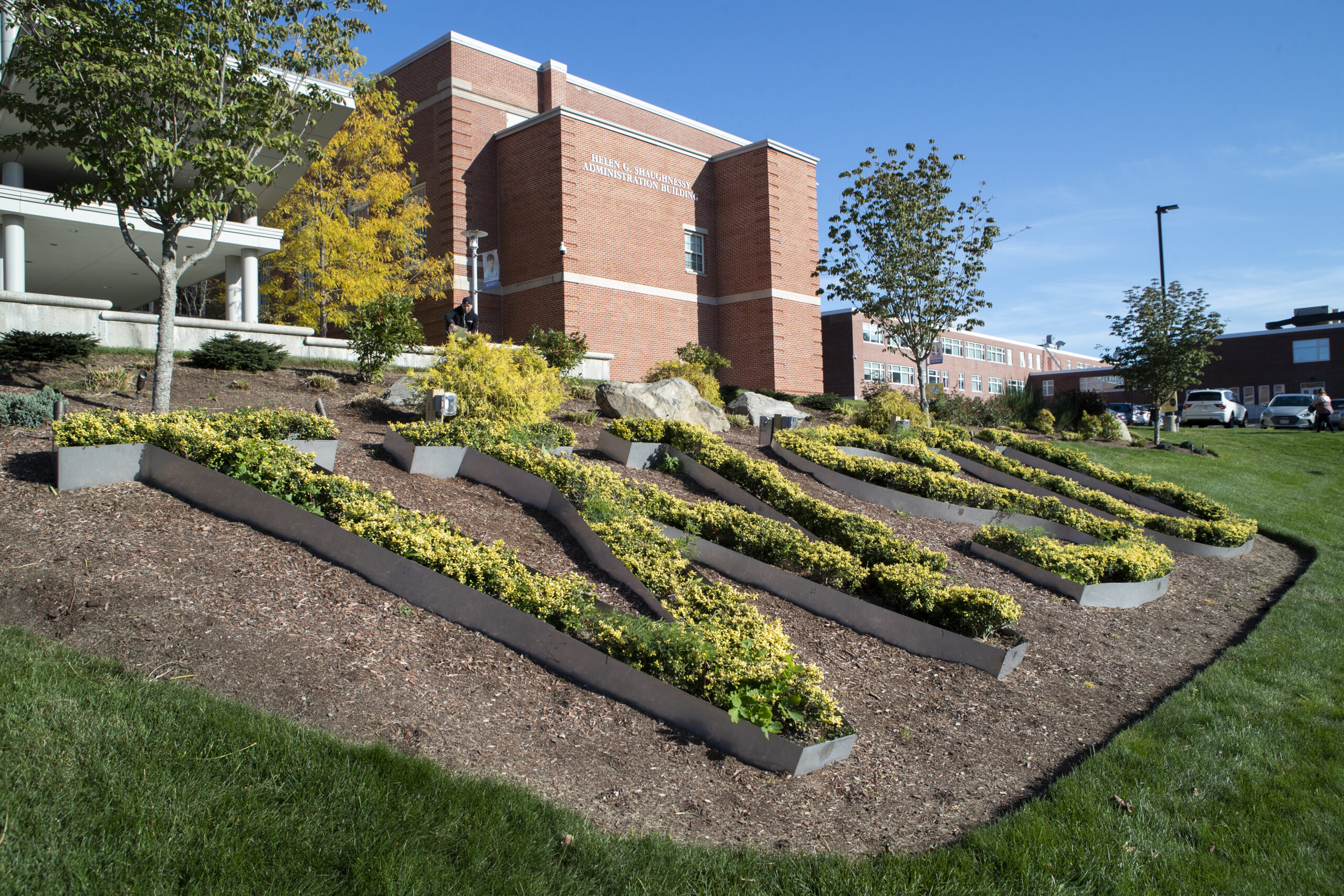 4:15pm - 4:45pm
DEIJ Strategy Update
Join WSU trustees, for an update on how Worcester State is advancing Diversity, Equity, Inclusion and Justice.

Location: Wellness Center, Wellness Room 204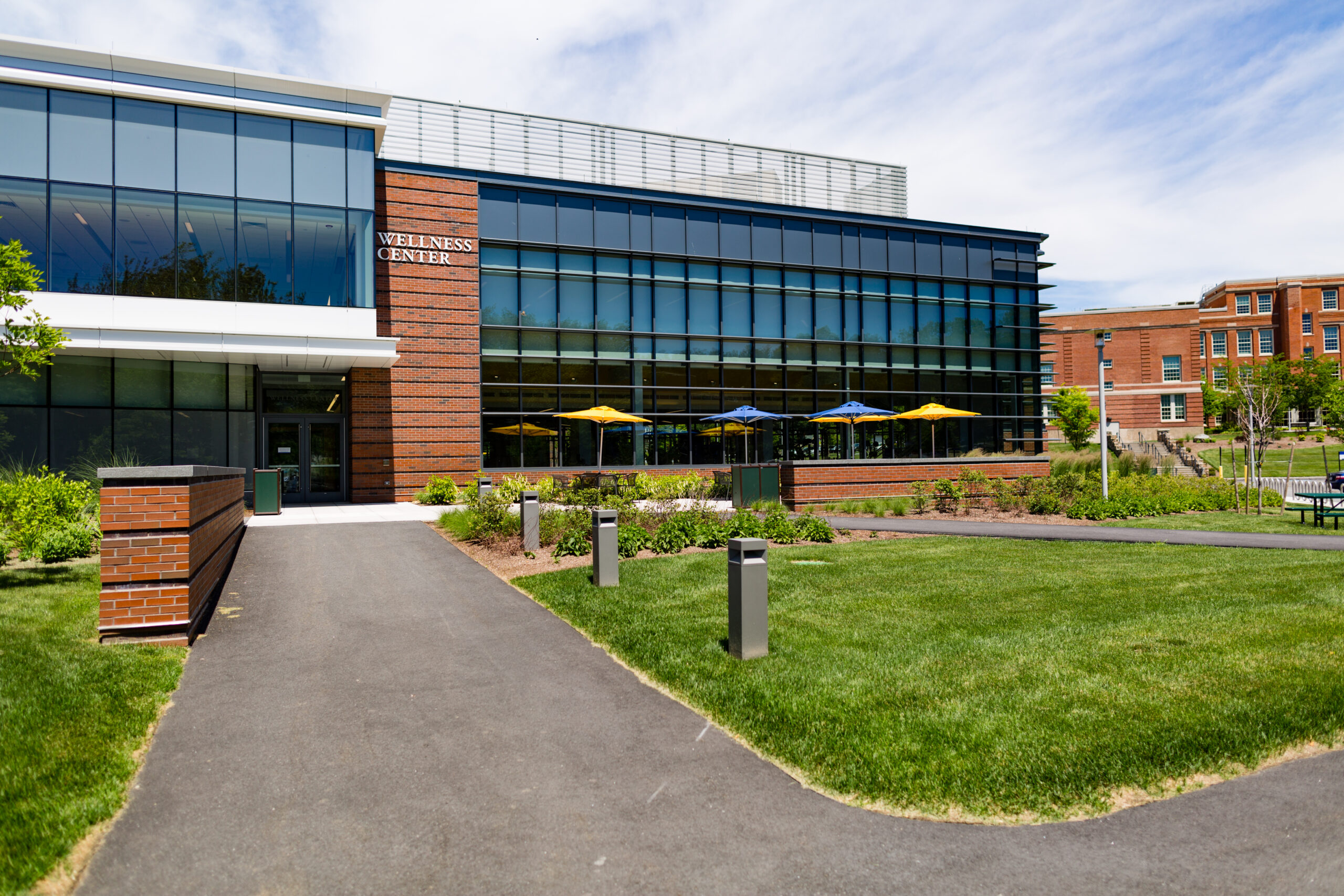 6:15pm - 7:30pm
Yoga Session
The word "yoga" means union, so this year we will close out Unity Day with a special yoga class meant to bring together all members of the community for gentle movement, meditation and belonging. Unity Day Yoga will be a trauma-informed, inclusive, and adaptive class suitable for all levels and those new to yoga. Co-taught by Worcester State's Deborah Alvarez O'Neil and Mary Fowler, the class will be offered both on the mat and from a chair/wheelchair. This class will include a gentle/slow flow, meditation and relaxation, and breathwork.

Registration is encouraged, but not required. Please see below to register.

Location: Wellness Center 207
Yoga session Registration
Unity Day Working Group
Guided by the Worcester State Office of Diversity, Inclusion & Equal Opportunity, the Unity Day planning group represents a diverse group of students, faculty, staff and administrators. If you have any questions about Unity Day, please email diversity@worcester.edu.
Alison Park, Brandol Ogando Saladin, Catilin Kincaid, Claudia Oliveira De Paiva, Dean Bowen, Deborah O'Neil,  Erika Briesacher, Eddie Harris, Edgar Moros, Frances Manocchio, Henry Theriault, Kelly Downs, Kristen Nelson, Kristie McNamara, Laxmi Bissoondial, Marilyn Cleary, Mary Dillon, Mary Fowler, Michael Mudd, Marc Wagoner, Nabin Malakar, Nancy Ramsdell, Omarthan Clarke, Rebecca Cross , Riley McGuire, Rachel Sinclair, Sonela Demirazi, Stacey Luster, Sarah Strout, Stephanie Teixeira, Tenere Taylor and Thomas Kelley.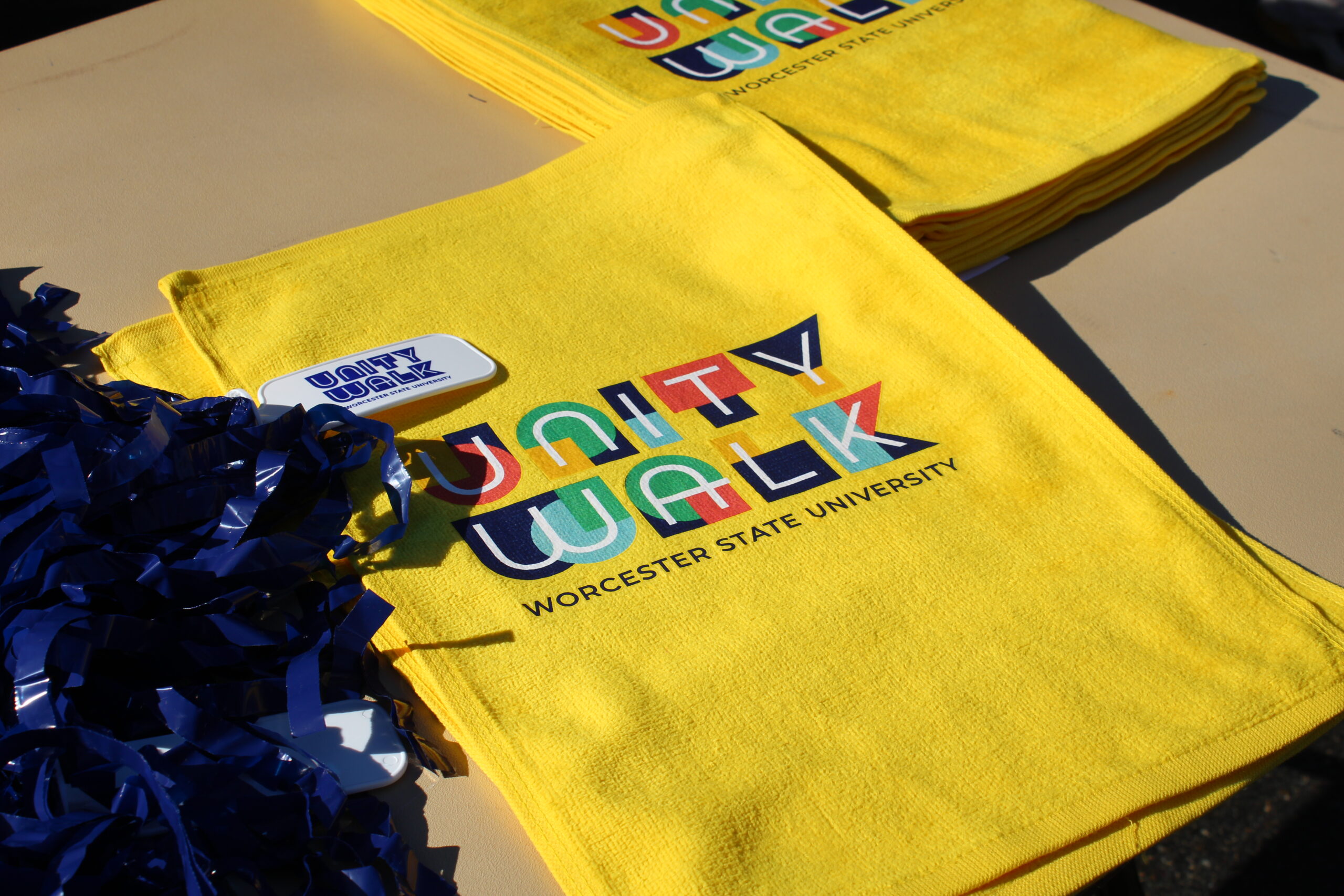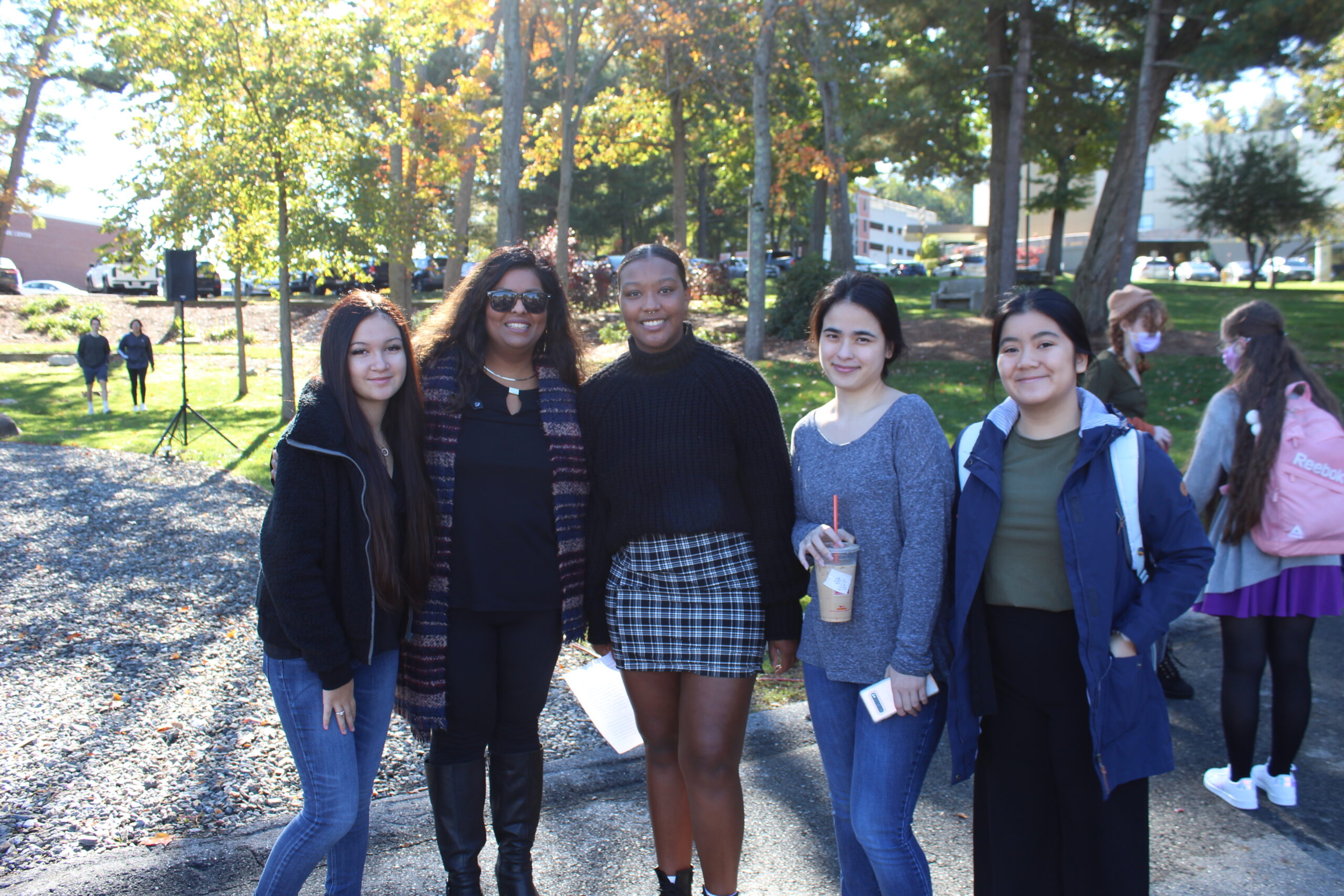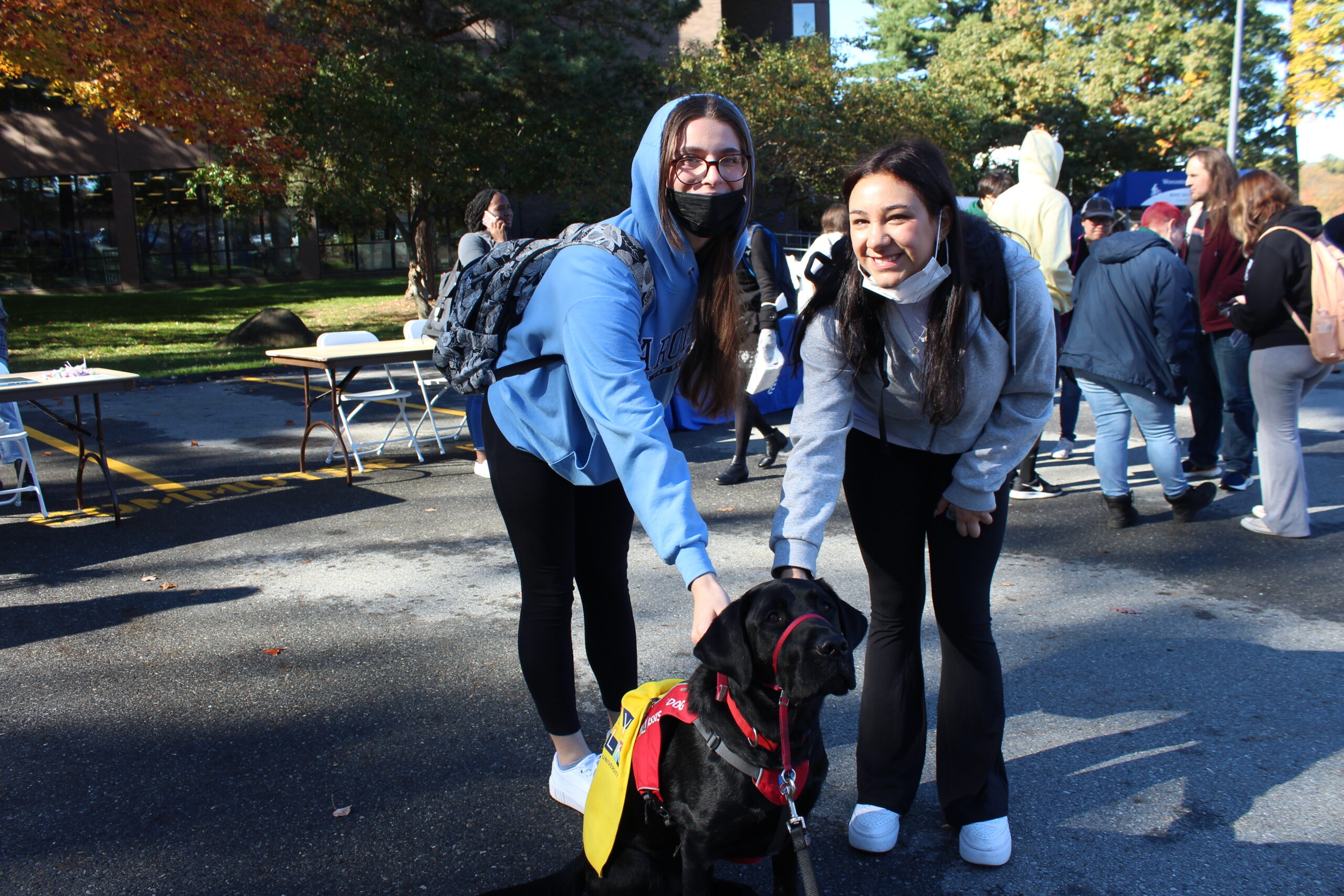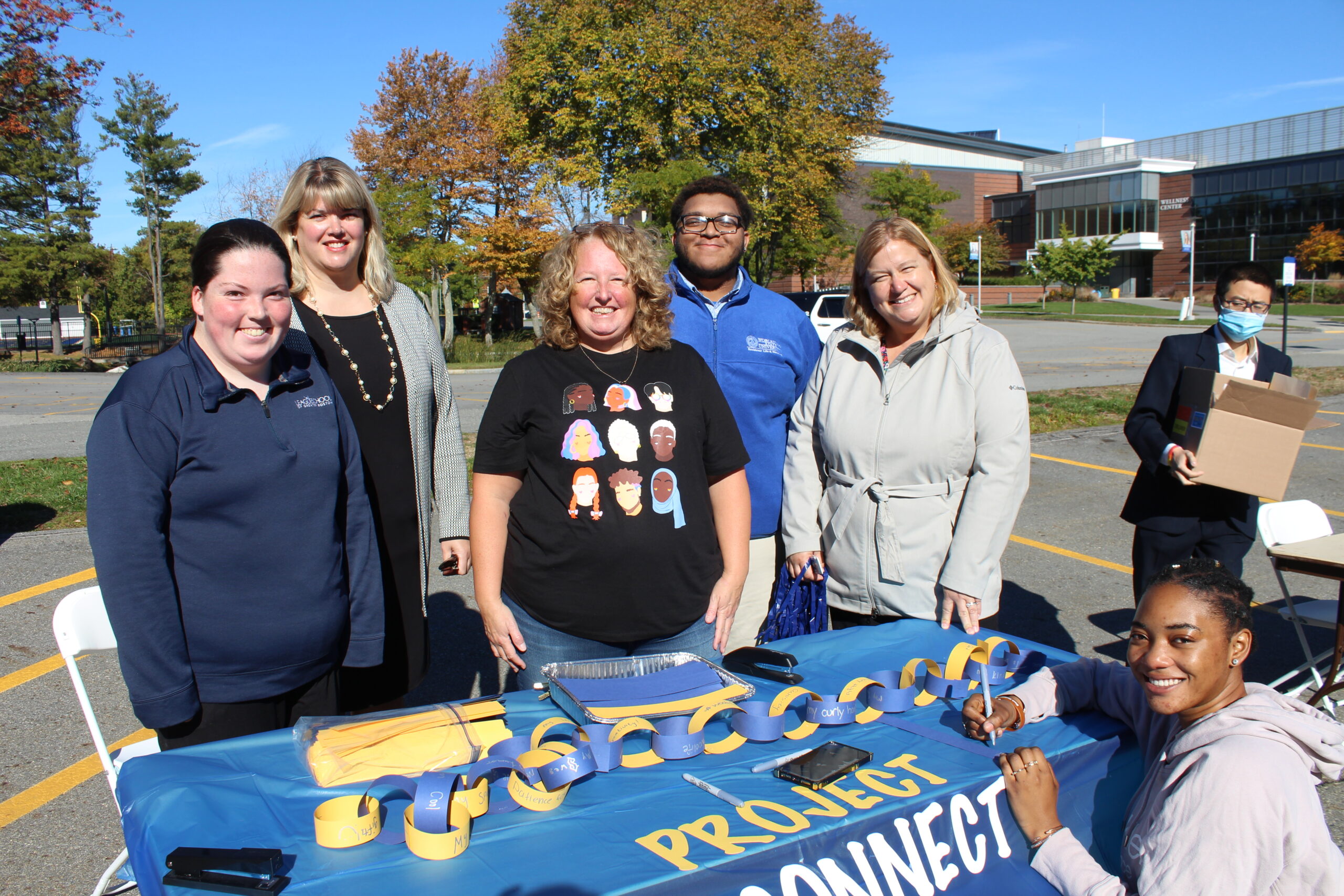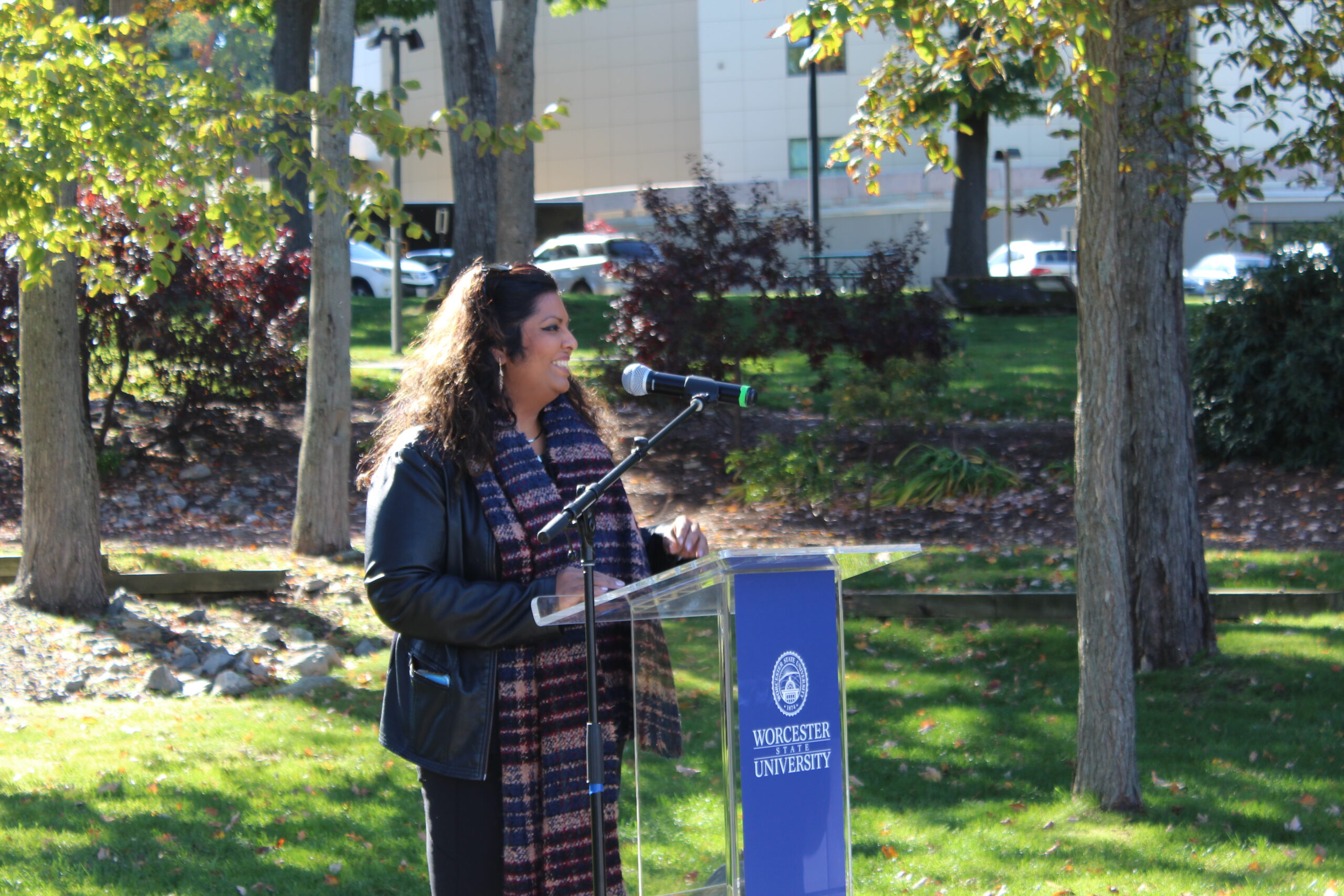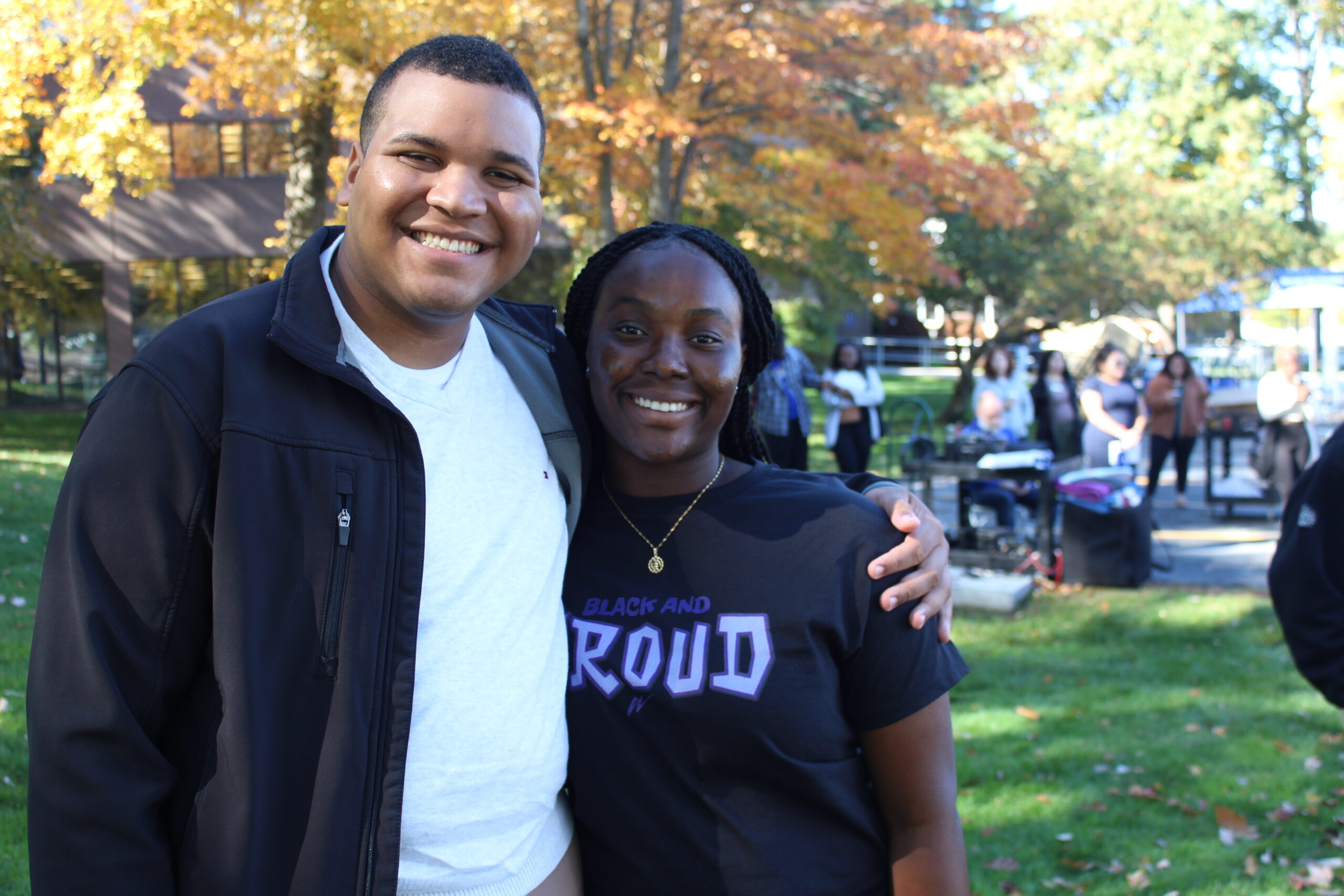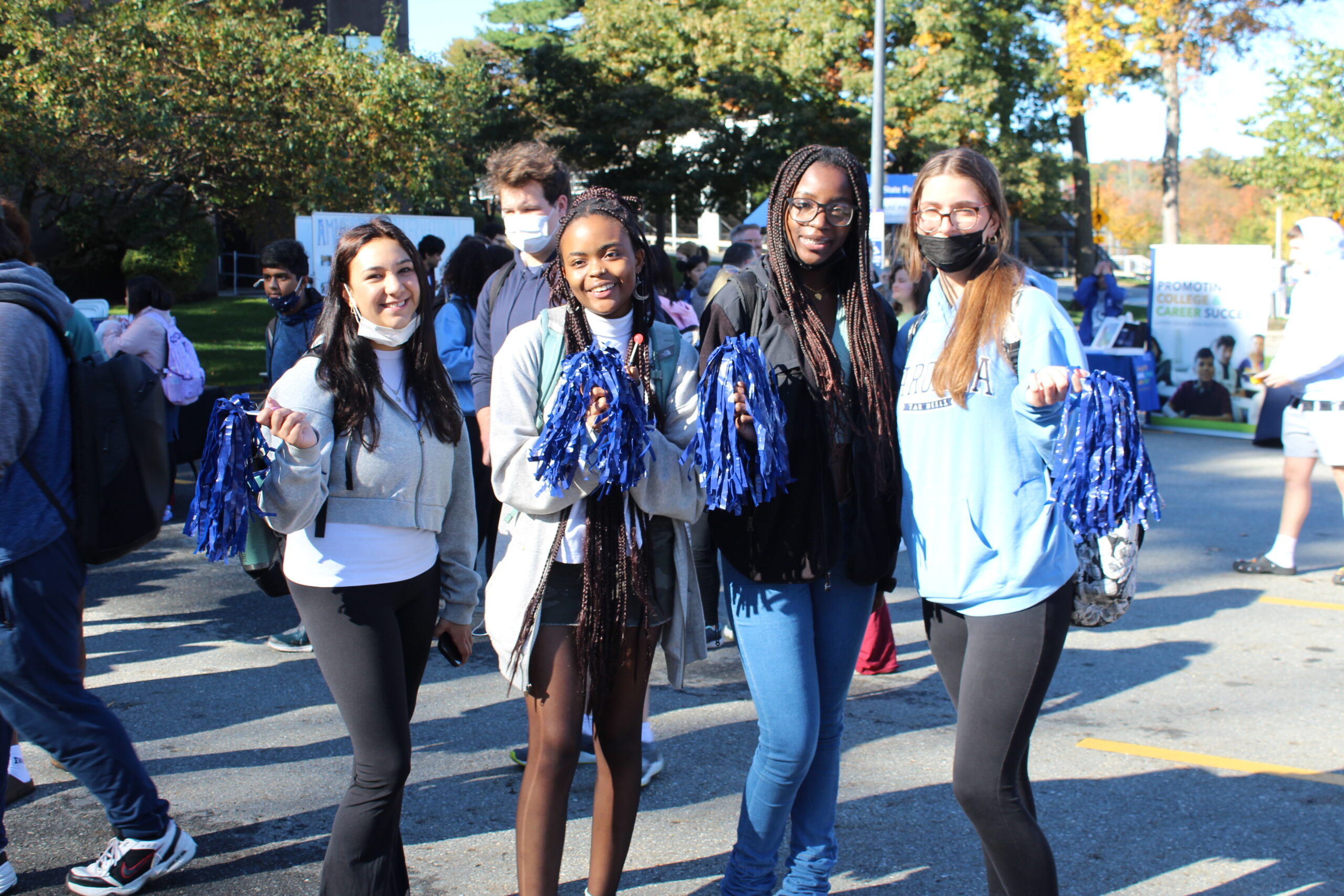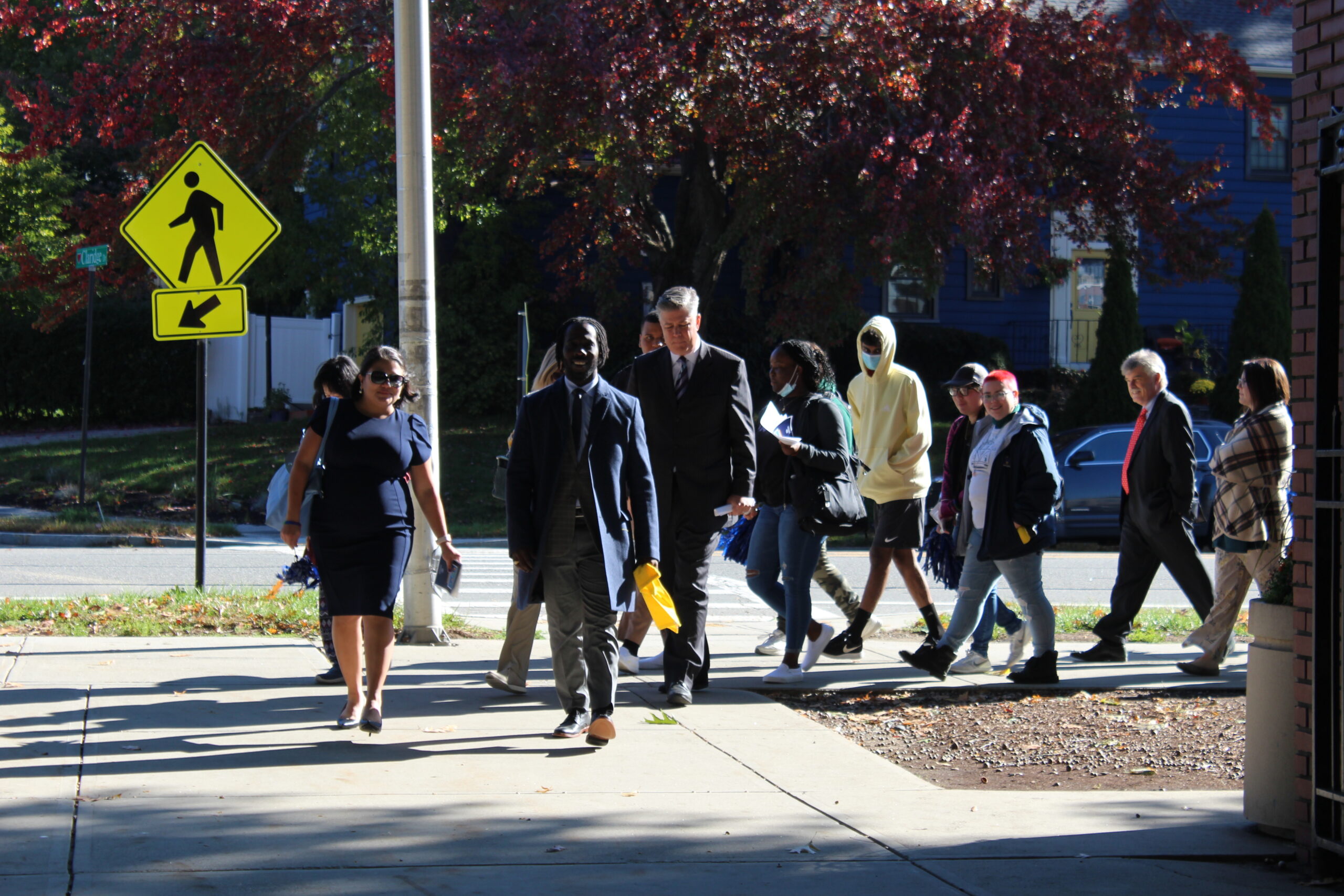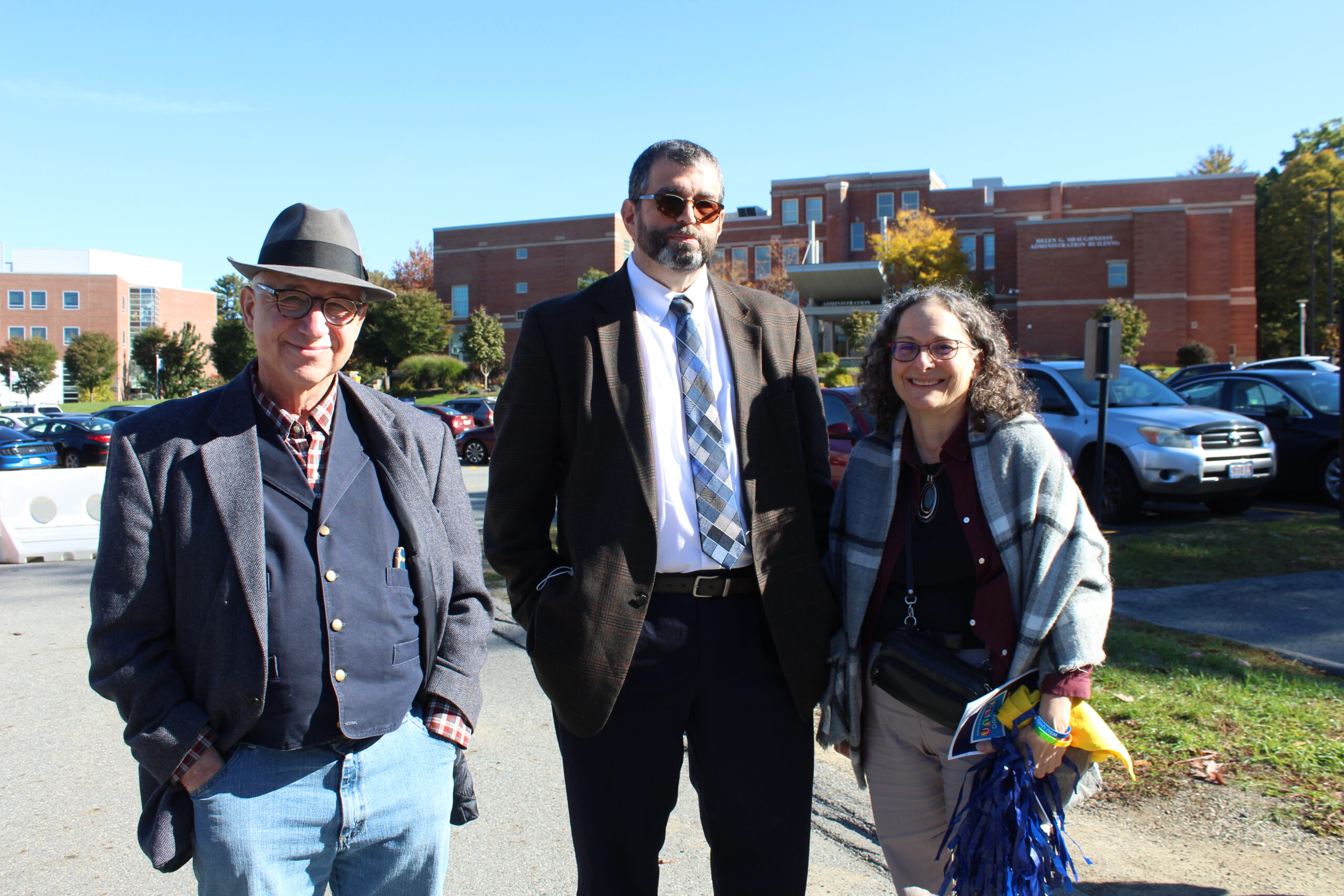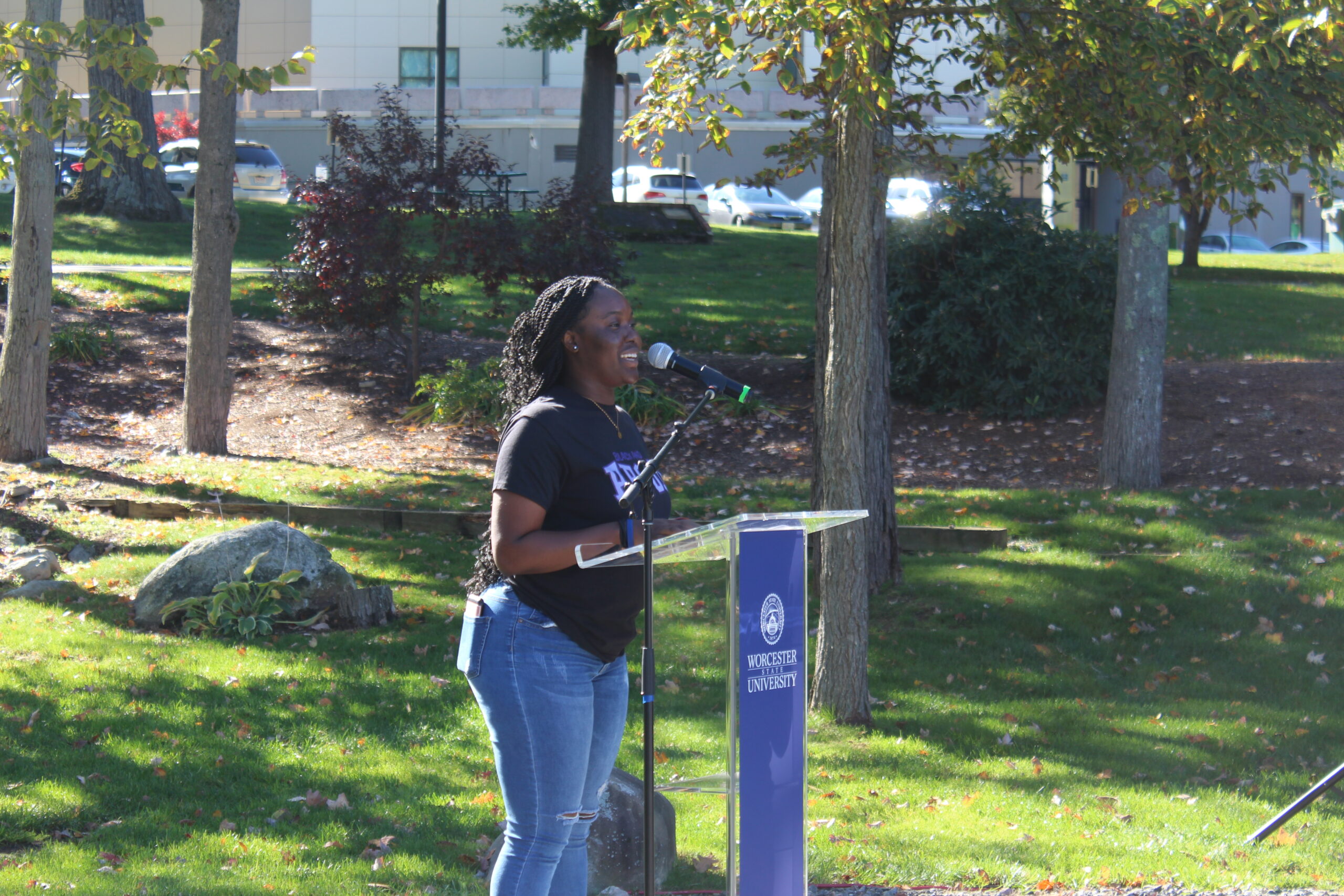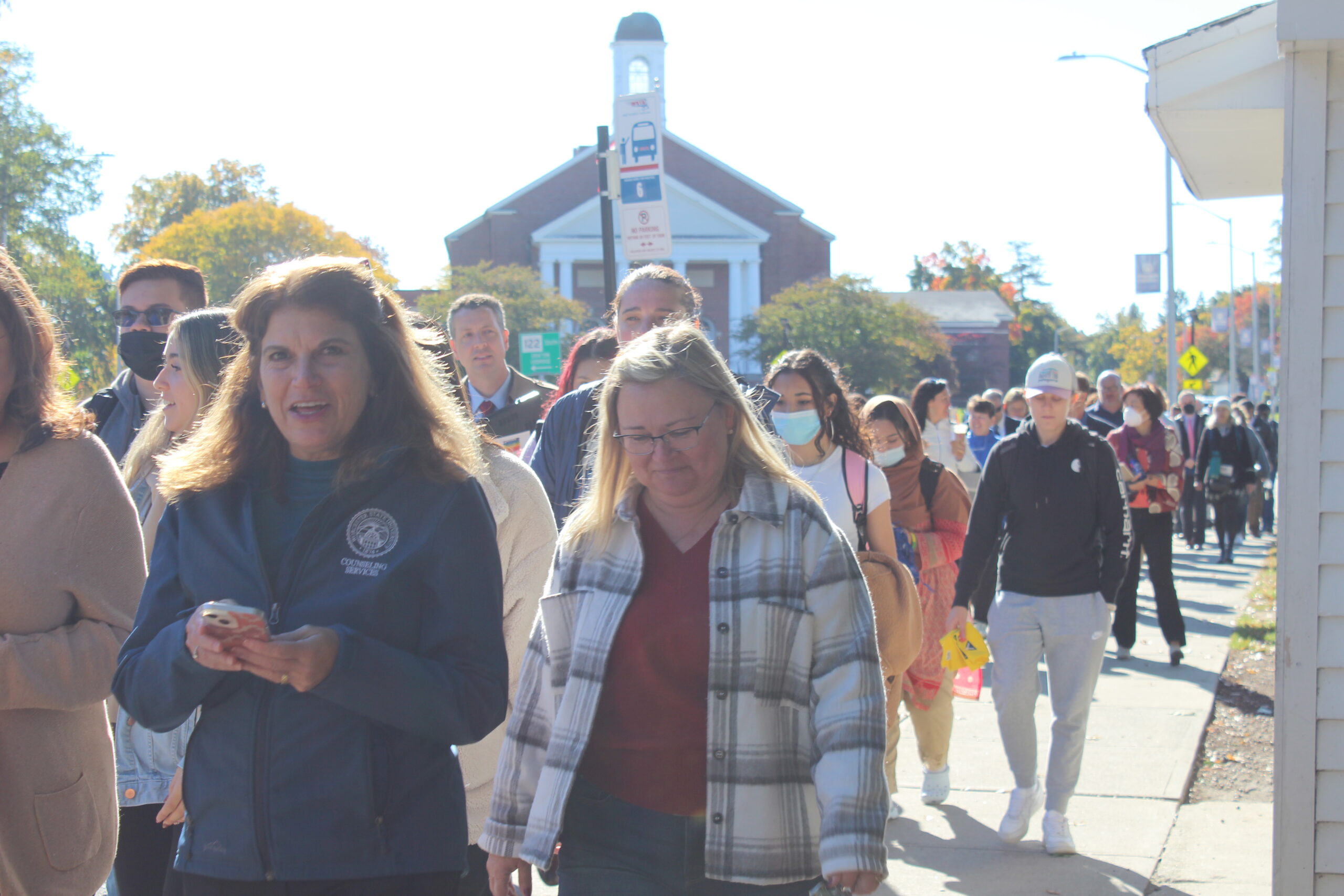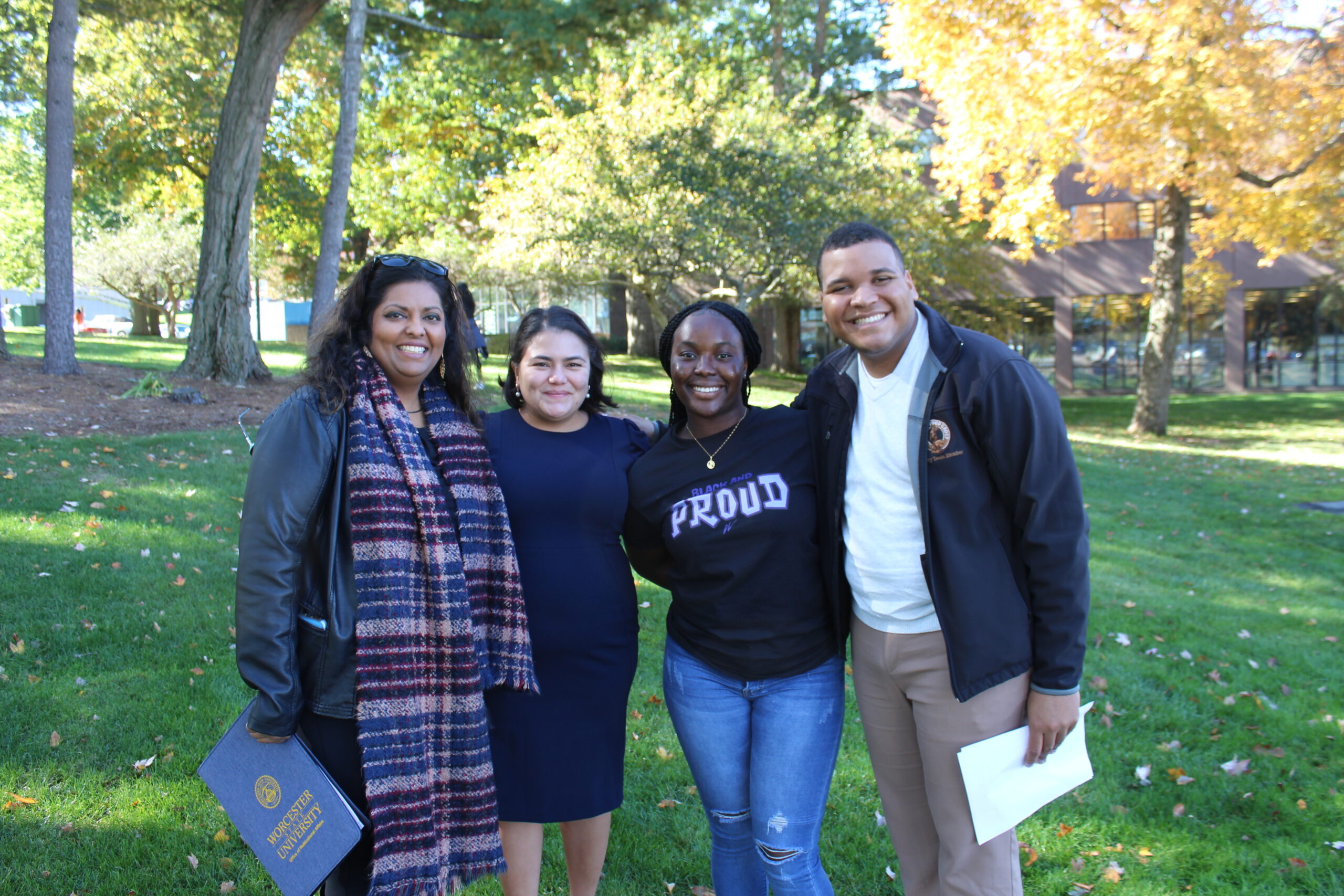 Drag to navigate
October 2022
Inaugural Unity Day
Past Unity Days
October 11, 2022, 9am—9pm

Time
Activity (Location)
9-10am
Unity Day Kick off (May Street)
10-10:30am
Unity Walk to the Common Ground
(featuring vocals by Caitlyn Costello)
10:30am-12pm
Common Ground Ceremony*

Black Lives Matter Flag Raising – sponsored by Third World Alliance (TWA)

Student Reflections – sponsored by Student Leaders

Project Connect – sponsored by Residence Life

RA Art Exhibit based on 'The Hate U Give' – sponsored by Residence Life (Student Center Exhibit Area, all day exhibition)

Resource Tables:

Career Services
Employee Services
Latino Education Institute
Office of Diversity, Inclusion & Equal Opportunity
Student Clubs

12-2pm
Concurrent Lunch and Learn Sessions

Lunch will be provided (limited to 30 participants per session, first come basis) No Registration required

Uplifting LGBTQ+ Voices – Panel of students, facilitated by Riley McGuire, Assistant Professor, English & Co-Chair LGBTQ+ Advisory Group (Sheehan Multipurpose)

This session will focus on fostering LGBTQ+ community and culture at Worcester State. It will include a showcase of diverse student work, a discussion of relevant resources, and a Q&A portion centered on education, the arts, and intersectionality.

Spiritual, Physical and Emotional Health – A Conversation with Kalvin Cummings and Zayda Vallejo (Fallon Room)

Join us for this conversation where we will explore how to decompress from stress, countering imposter syndrome, avoiding destructive behaviors, some spiritual practices common for college age adults, among others.

"In our shoes" – Sponsored by Student Accessibility Services, led by Frances Manocchio, Assistant Dean, Director   (Foster Room)

In Our Shoes, sponsored by Student Accessibility Services and Delta Alpha Pi Honor Society, is a student-led and moderated presentation. Student with disabilities share their experiences through spoken word, testimonials, and personal journeys.  Join us as we celebrate resilience and persistence and shatter myths and stereotypes!

2-6pm
Common Ground Celebration* (Rain Location: Blue Lounge, Student Center)

DJ
Dancing
Mascot
Games & Ice Cream

2-8pm
Faculty, Staff and Student Lead Sessions / Activities 

IELI, Internationalizing the Worcester State campus; Edgar Moros, Director Intensive English Language Institute. Sheehan Multipurpose Room, 2-3pm.

In this session, we will describe the different programs offered by IELI that further Worcester State's commitment to internationalizing the campus. You will hear from the program director, one of the program's instructors, and several former students who are now undergraduate or graduate students at Worcester State.

Upcoming World Cup, casual conversation facilitated by Kirsh Donis, Associate Director of Undergraduate Admissions. Sullivan Academic Center- 205, 3-3:45pm.

The 2022 World Cup will take place in the upcoming weeks and it is the most watched tournament in the world. Why will this World Cup be different from others? If you're an avid soccer fan or have an interest in learning more about the tournament, stop by for a casual discussion.

The Statistics of Proving Racial Profiling in Court; Mathematics Professor Mary Fowler. Sullivan Academic Center- 205, 4-4:45pm.

Racial profiling occurs when the decision to subject an individual to a police action depends of the race of the individual. Professor Fowler will present a framework for determining statistical evidence of racial profiling and will use landmark cases as clarifying examples.

The Territory, National Geographic documentary presented by Henry Theriault, Associate Vice President Academic Affairs.  Sullivan Academic Center- 125, 4-5:30pm.

The Territory is an award-winning 2022 film about the struggle of the Uru-eu-wau-wau people of Brazil to protect their traditional rain-forest territory from destruction by invading settlers.  It offers deep engagement with indigenous people as well as detailed interviews with settlers to present the full complex picture of the evolving situation.  The film has been shown to great acclaim in the United States, Brazil, and elsewhere across the world.

Community-based Participatory Research for Equity and Inclusion; Maria Juncos-Gautier, Executive Director Latino Education Institute and Caleb Encarnacion Rivera, Regional School District DEI Director (Norfolk, Wrentham, Plainville and King Philip). Sullivan Academic Center- 205, 5-5:45pm.

A discussion of why and how community-based participatory research is helping to promote equity, diversity, and inclusion in academia.

Alliance for Recruiting and Advancing early career underrepresented STEM Faculty; Biology Professor Daron Barnard. Sullivan Academic Center- 201, 5:30-6:15pm.

Worcester State, Framingham State, and Bridgewater State Universities are working together as an Alliance to develop and implement an equity-minded model for advancing early career STEM faculty who are members of AGEP populations: African Americans, Hispanic Americans, American Indians, Alaska Natives, Native Hawaiians, and Native Pacific Islanders. The overall goal of the project is to recruit and support these faculty through their early career pathways to tenure at teaching intensive comprehensive universities.

Change Nothing and Nothing Changes; Nicole Scott, Director Office of Grants and Sponsored Research. Sullivan Academic Center- 205; 6:15-7pm.

Reduce stress. Improve your resilience. Make better decisions. This session will focus on self-care and what it means to create, commit to, and sustain self-care practices.

Graduate Student Fireside Chat about Campus Climate at Worcester State; facilitated by Urban Studies Professor Shiko Gathuo. President's Conference Room, Administration Building; 6-7pm.

Guided conversation examining Worcester State campus climate through the lens of adult and graduate students.

Mindful movement session; facilitated by Urban Studies Chair and Associate Professor Tim Murphy. Seven Hills, Wasylean Hall; 7-8pm.

Mindfulness and Movement for Unity and Belonging. This session centers on mindfulness practices, including breathing and guided visualization. Be prepared to do some light stretching, no special clothes or tools required.

Embracing our Differences Paint Night Experience; sponsored by Residence Life.  Blue Lounge Student Center; 7-9pm.

Join us for a Paint and Sip event.  We hope to bring joy and unity to our Worcester State community through cultural expression.

Encanto Movie; Residence Life. Wasylean Hall Patio; 8-9:30pm

Join us to watch the animated film "Encanto", a story about a Colombian family, the Madrigals, blessed with a miracle, the Encanto, that keeps their family safe by giving them extraordinary abilities to serve their community.

3-7pm
Dialogue on Belonging (May Street Building)

* Dinner will be served. Pre-registration required (Worcester State email address required).

The Campus Dialogue on Belonging program, offered by the U.S. Department of Justice Community Relations Service (CRS), is an interactive, facilitated process that opens lines of communication and fosters mutual understanding by engaging Worcester State Students, Faculty and Staff, in identifying issues impacting the Worcester State community. The Dialogue on Belonging program convenes participants from as many parts of the community as possible to exchange information, share personal stories and experiences, honestly express perspectives, clarify viewpoints, and develop solutions that address community concerns. Dialogue emphasizes listening to deepen understanding and encourages participants to question and reevaluate their assumptions. Through this process, participants learn to work together to improve race relations and racial equality in their community.
Contact Diversity, Inclusion, Affirmative Action, & Equal Opportunity
Shaughnessy Administration Building
3rd Floor
Office 335