Bystander Intervention
---
You have a role in prevention
IN THIS SECTION
Contact Title IX
Contact Title IX
Jennifer Quinn M.Ed.
Title IX Coordinator
Asst. Dean of Student Affairs
Student Center
Office SC344
wsu_titleix@worcester.edu
Off-Campus Emergencies Worcester Police Department
We Speak Up Bystander Intervention
We Speak Up. Every person can have an impact in preventing sexual violence, relational violence, gender based discrimination or harassment, stalking or retaliation. Each of us can send a clear message that we as a community, will step up to prevent and intervene in incidents that may be harmful to an individual or our community.
Remember the 3Ds to bystander intervention:
Distract from the incident. Cause a diversion.
Delegate to other friends, faculty or a staff member to help.
Directly intervene by outreaching to the impacted individual for support, or to stop the individual engaging the problematic behavior or comments.
If you witness or experience any type of sexual or relational misconduct, or gender based discriminatory behavior, report it.
Together, we can create the type of community we want to be a part of.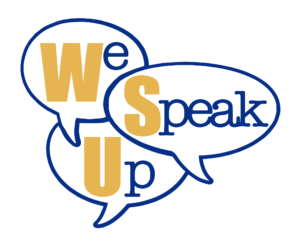 Learn More
Step Up- American University Video on the 3Ds
How to help a friend
Sexual Assault and Violence Education (SAVE)
President Maloney It's On Us
To schedule a classroom training
Contact Title IX
Contact Title IX
Jennifer Quinn M.Ed.
Title IX Coordinator
Asst. Dean of Student Affairs
Student Center
Office SC344
wsu_titleix@worcester.edu
Off-Campus Emergencies Worcester Police Department