IN THIS SECTION
Contact World Languages
Sullivan Academic Center
Suite S-303 and S-304
Honors Program Faculty Led Trip – Dominican Republic, May 2024
SP 401 History, Sustainability, and Biodiversity in the Dominican Republic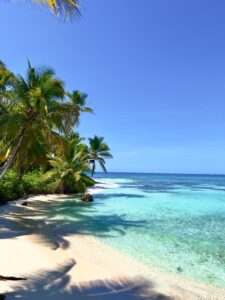 The 3-credit study abroad experience will be offered as the culminating course for Honors students completing a minor in Spanish (18 credits) or working towards a Spanish (double) major.
In order to meet the course prerequisites, students must have:
1. Successfully completed the Intermediate Level of Spanish
This can be achieved by:
a) completing SP 210 Intermediate Span I + SP 211 Intermediate Span II
b) scoring 64 or higher on the Spanish CLEP exam
c) having earned Spanish AP credit
d) having earned the Seal of Biliteracy for Spanish
AND
2. Completed ONE SP course at the 300-level
(SP 321 Spanish Composition I; SP 323 Adv. Spanish Conversation Through Film; SP 390 Spanish for Native/Heritage Speakers; SP 326 Spanish for the Professions, or other 300-level course of your interest.)
The course will include a Climate & Environment component. Besides being immersed in the rich History and culture of the Dominican Republic, students will have the opportunity to learn about climate change, ecosystems, rural & community economic development, and/or sustainable agriculture through different day field-trips and guided visits.
Some of the trip highlights include visits to:
The city of Santo Domingo- First town in the Americas
The city of Santiago de los Caballeros
The coastal city of Puerto Plata
Organic Cocoa plantation
Organic Coffee Plantation
Cigar factory
Brugal Rum distillery
Saona Island
Interested? Start planning now! Let your Honors Advisor know, and start taking the SP courses you need in Spring 2023, and Fall 2023.
Questions about the trip? Send an email to Dr. Pérez-Manrique aperezmanrique@worcester.edu
Contact World Languages
Sullivan Academic Center
Suite S-303 and S-304