First Year Orientation
---
Welcome First-Year Students!
IN THIS SECTION
Contact Us
Orientation
Student Center
Office SC-206

orientation@worcester.edu
We are thrilled that you are joining the Worcester State University community! One of the first steps in preparing for life as a college student at Worcester State University is participating in the First-Year Student Orientation program. The comprehensive two-part Orientation program is a great way to meet new people and get all of your questions answered before classes begin in the fall.
First-Year Orientation
The first part of your Orientation experience is attending a two-day on-campus program. First-Year Student Orientation will provide you the opportunity to meet other students, spend time getting familiar with campus, and engage with staff from various student services and campus resources.
2024 Program Dates
June 17-18
June 20-21
June 24-25
Registration will be open in April.
Online Orientation Module
Following the June two-day program, you will receive information about First-Year Orientation: Online. This online module will include information about various offices, resources, and supports that are available to you during your time as a student. Through videos and interactive links, you will be able to explore information about academic life, campus citizenship, student involvement, and more. This module is a valuable resource as you prepare for beginning classes in September.
Information for logging into the module will be sent to your Worcester State email in July. The deadline to complete First-Year Orientation: Online is Friday, August 18, 2023. This program is mandatory, and can be completed at your own pace; you may exit the module at any time and when you return you will be brought to the last page you visited.
Frequently Asked Questions
It is mandatory that you attend a a First-Year Student Orientation program. Not only is this a chance for you to make new friends and become familiar with campus, but you will also be spending a lot of time learning about your academic program and other facets of campus life.

Each day of your Orientation program includes important information about your time at Worcester State, and are equally important. You will also receive your OneCard ID at the end of the program on day two. We encourage you to take time now to plan your schedule so that you can get the most out of your program. Day two is scheduled to end by 3pm.

Each portion of your Orientation program includes vital information about your time at Worcester State, and are equally important. The online module portion is self-guided and can be completed according to your schedule.

The cost of Orientation is included in the fees that you pay as an incoming first-year student. The only additional fee is the $25 for the optional overnight, due at check-in for your session in June. Payment can be cash or check only.

If you are staying overnight during your Orientation program, check-in will be from 9:15 to 10:15am in Dowden Hall. If you are commuting to campus for each day of the program, check-in will be from 10:15-10:30am in the Wellness Center Lobby. The program will begin promptly at 10:30am in the Wellness Center Competition Gym.

Parking is available in Lot L, between the Wellness Center and the Administration Building, and accessed by either the North or South entrances of campus. Signage and Orientation Leaders will be available to help direct you to the correct lot. You can also view a campus map.

Yes. Day one of your program includes lunch, afternoon snack, dinner, and evening snack. Day two includes breakfast and lunch. All meals will be in the Sheehan Hall POD.

We can accommodate all dietary needs or other accommodations. Note any accommodations on your program registration. Certain accommodations will require you to get in touch with Student Accessibility Services.

The Orientation program is designed to be an immersive experience that requires active participation. Be prepared to participate in low-level icebreakers outside and walk around campus for program workshops. We recommend comfortable walking shoes and dressing for the weather. Please bring a form of ID and a form of payment if you would like to shop at the Bookstore. You will receive a drawstring backpack when you check in. We also recommend bringing a water bottle.

You will need to pack linens and a pillow for a twin bed, or a sleeping bag, a towel, any necessary toiletries, and a change of clothes. You may also choose to bring a fan if you would like; Dowden Hall is not air conditioned.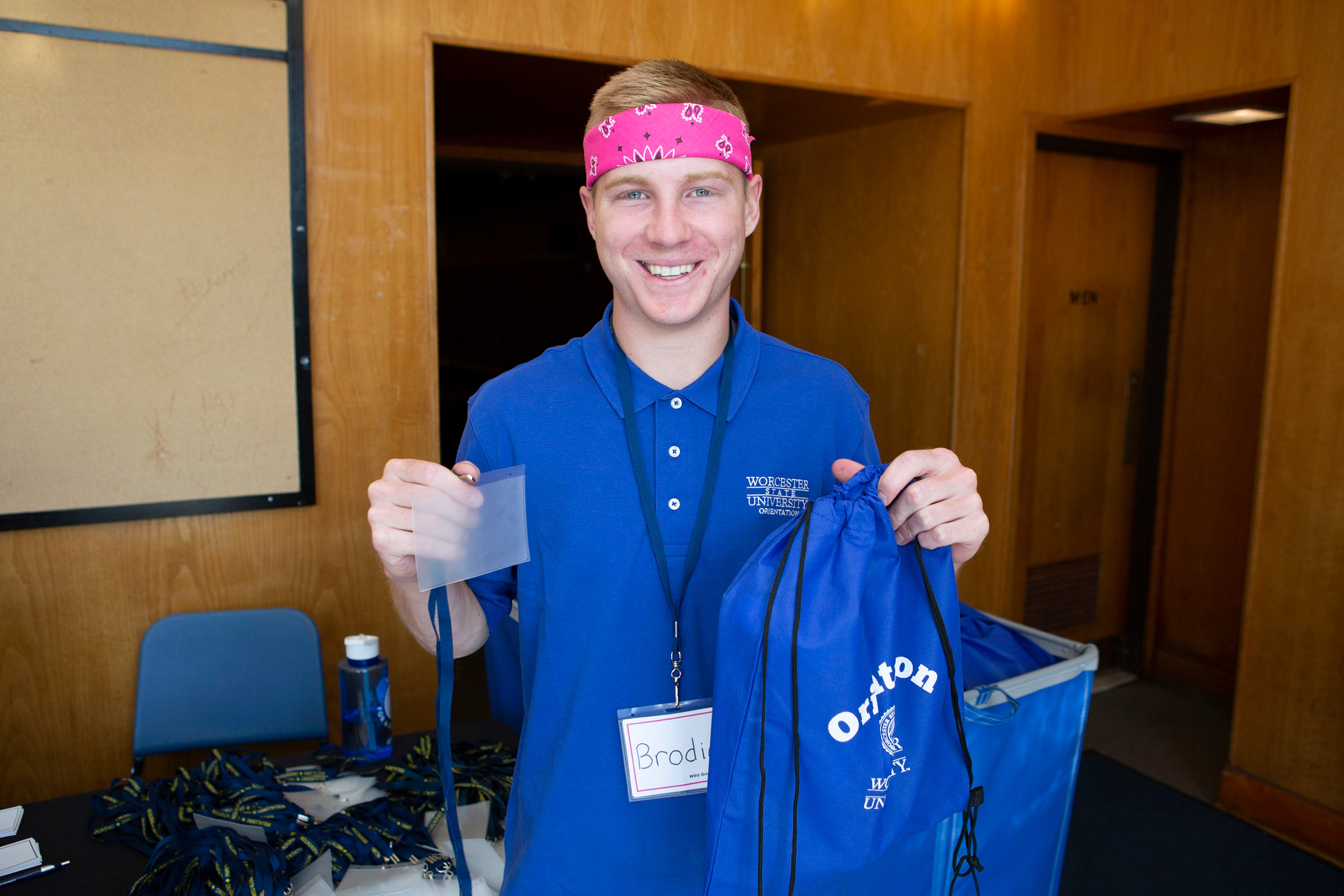 New Lancer Connect
Throughout the summer, weekly videos featuring your Orientation Leaders will highlight a variety of topics including campus involvement, leadership experiences, and resident and commuter life. Feel free to watch the videos that interest you most; our Orientation Leaders will share their experiences and give you valuable tips for being successful while at Worcester State.
Contact Us
Orientation
Student Center
Office SC-206

orientation@worcester.edu