Alternatives for Individual Development
---
IN THIS SECTION
Contact Us
Multicultural Affairs
Learning Resource Center
Suite L-136
MulticulturalAffairs@worcester.edu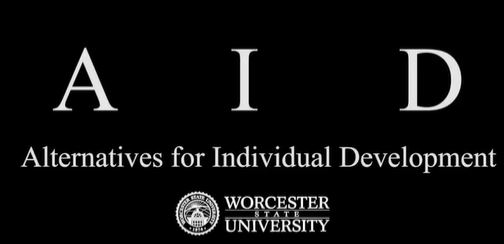 AID at Worcester State
The Alternatives for Individual Development (AID) Program is an alternative admissions program at Worcester State University which provides educational assistance for students who may require support services in order to succeed in college.
Participation in the program begins with six weeks in AID's Summer Bridge Program held in June and July. The primary focus of AID's programmatic efforts is during a student's first year. However, the program offers resources to students throughout their undergraduate experience, including academic assistance, individualized or group tutoring, assistance with budgeting/financial aid advising, and cultural enrichment.
A.I.D. Postcards Languages
Albanian
Arabic
English
Español
Português
Vietnamese
A.I.D. Information Sheets Languages
English
Español
Português
Vietnamese
Summer Bridge Program Admission Info Sessions
Learn more about how you can become eligible for the Summer Bridge Program, where you can earn up to 12 credits.
About the Program
The program actively recruits students who show motivation and desire to succeed in higher education. Included in this category are first generation, low income, and/or African American, Latine, Asian America, and Native American (ALANA) or Black, Indigenous, People of Color (BIPOC).
To be eligible, students must be incoming first year students. Additionally, they must meet minimal admissions requirements, be a Massachusetts resident, and be financial aid eligible.
When completing the Worcester State University application, students should answer "yes" to the question "I wish to be considered for admission to the Alternatives for Individual Development Program." This question can be found under the Enrollment section of the Undergraduate Application. Letters of recommendation from guidance counselors and high school teachers are encouraged to complete the application file. In some cases an interview may be required.
Summer Bridge Components
Students will take approximately 9-12 credits which fulfill their general Liberal Arts and Science Curriculum (LASC) graduation requirements. Students must receive a C or better on all coursework. Educational and transitional support is offered over the summer which includes small group skills building, financial aid advising, and academic advising.
To learn more about the program, please email us at emoracarrera@worcester.edu.
Academic Year Component Support Services
A.I.D. Learning Community
Peer mentorship
Monthly academic support network
Budget management and degree planning
Student-faculty mentorship
Individualized skills development
Course tutorials
Eligibility for Summer Vision Grant courses
To learn more about the program, please email us at emoracarrera@worcester.edu.
Contact Us
Multicultural Affairs
Learning Resource Center
Suite L-136
MulticulturalAffairs@worcester.edu