Multicultural Programming
---
IN THIS SECTION
Contact Us
Multicultural Affairs
Learning Resource Center
Suite L-136
MulticulturalAffairs@worcester.edu
Multicultural Programming
The Multicultural Programming Committee's Mission
The Multicultural Programming Committee's primary mission is to coordinate and implement comprehensive educational, cultural and social programs that celebrate diverse cultural contributions. These programmatic efforts are designed to promote dialogue while creating opportunity for students to develop and expand their cultural competencies. This knowledge combats biases, bigotry, and racism. The ultimate goal is to expose and educate all students to understand and appreciate racial and ethnic differences.
For more information on the co-curricular programs, please email lbissoondial@worcester.edu
Worcester State University Indigenous Peoples Heritage Month
Worcester State University celebrates Indigenous Peoples Heritage Month by creating awareness around Native culture, heritage and enhancing the visibility of our native community on campus and within the Worcester community. It is important that we understand the longstanding history that has brought us to reside on native land. It is our responsibility to seek to understand our place in history with it. The acknowledgement of whose land we stand on. Land Acknowledgements do not exists in the past tense or only in historical context. It needs to be a mindful, operational standpoint of our present participation. Let us acknowledge that we are all immigrants with exception noted on Indigenous Land.
One small step toward a more just society is acknowledging and naming the wrongs that have been done in the past and woven into our life together today, but are too often erased from our view. Therefore, with deep respect, we acknowledge that we are here today on the ancestral land of the Indigenous people of the Nipmuc and Wampanoag nations. We acknowledge the painful history of genocide, slavery, and forcible relocation onto reservations. We are an agent and ally to assist in the awareness and reclamation efforts.
History & Establishment of Indigenous Peoples Heritage
"One of the very [first] proponents of an American Indian Day was Dr. Arthur C. Parker, a Seneca Indian, who was the director of the Museum of Arts and Science in Rochester, N.Y. He persuaded the Boy Scouts of America to set aside a day for the "First Americans" and for three years they adopted such a day. In 1915, the annual Congress of the American Indian Association…directed its president, Rev. Sherman Coolidge, an Arapahoe, to …[declare] the second Saturday of each May as an American Indian Day and contained the first formal appeal for recognition of Indians as citizens. The first American Indian Day in a state was declared on the second Saturday in May 1916 by the governor of New York. Several states celebrate the fourth Friday in September. In 1990 President George H. W. Bush approved a joint resolution designating November 1990 "National American Indian Heritage Month." Similar proclamations, under variants on the name (including "Native American Heritage Month" and "National American Indian and Alaska Native Heritage Month") have been issued each year since 1994."
Library of Congress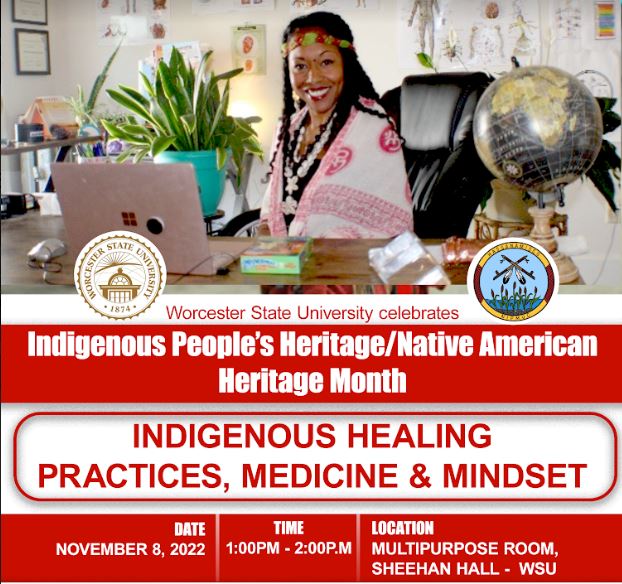 WSU Celebrates Indigenous People's Heritage Month
Indigenous Healing Practices, Medicine & Mindset
November 8, 2022 (1p.m., Multipurpose Room, Sheehan Hall)

Athena Callendar is a member of the Hassanamisco Nipmuc Tribe, Certified Holistic Lifestyle Consultant, and Worcester State University Upward Bound Alumn, She holds an Masters in Business Administration and is a licensed financial specialist.

For more information, please email tnguyen89@worcester.edu
Sponsored by the Office of Multicultural Affairs
Read more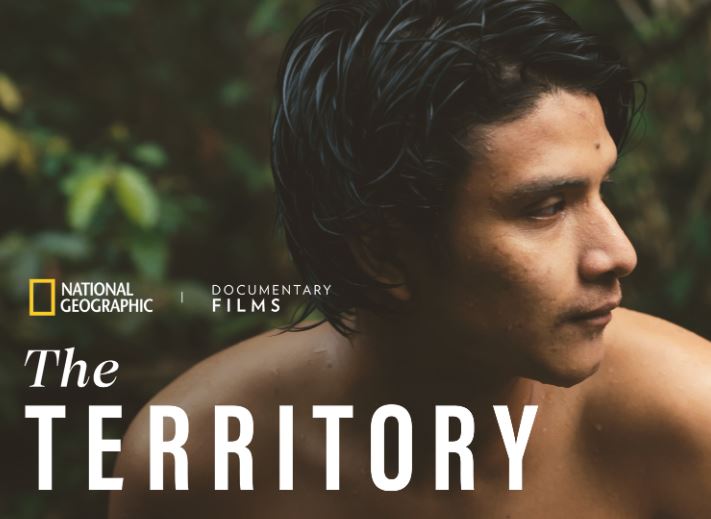 The Territory Film : View & Discuss
Join the Worcester State University Human Rights Center, the Philosophy Department, the Office of Multicultural Affairs, and PH 241 Genocide and Human Rights for a special showing of this internationally celebrated and award winning film.

Paula Moura is a climate and environment reporter at WBUR, the National Public Radio station based at Boston University. She was a field producer for the award-winning film The Territory. She holds a master's degree from the Craig Newmark Graduate School of Journalism of the City University of New York.

In-person screening and discussion:
Wednesday, November 16, 2022, 6:30 pm North-South Auditorium, Student Center, WSU
The Territory Poster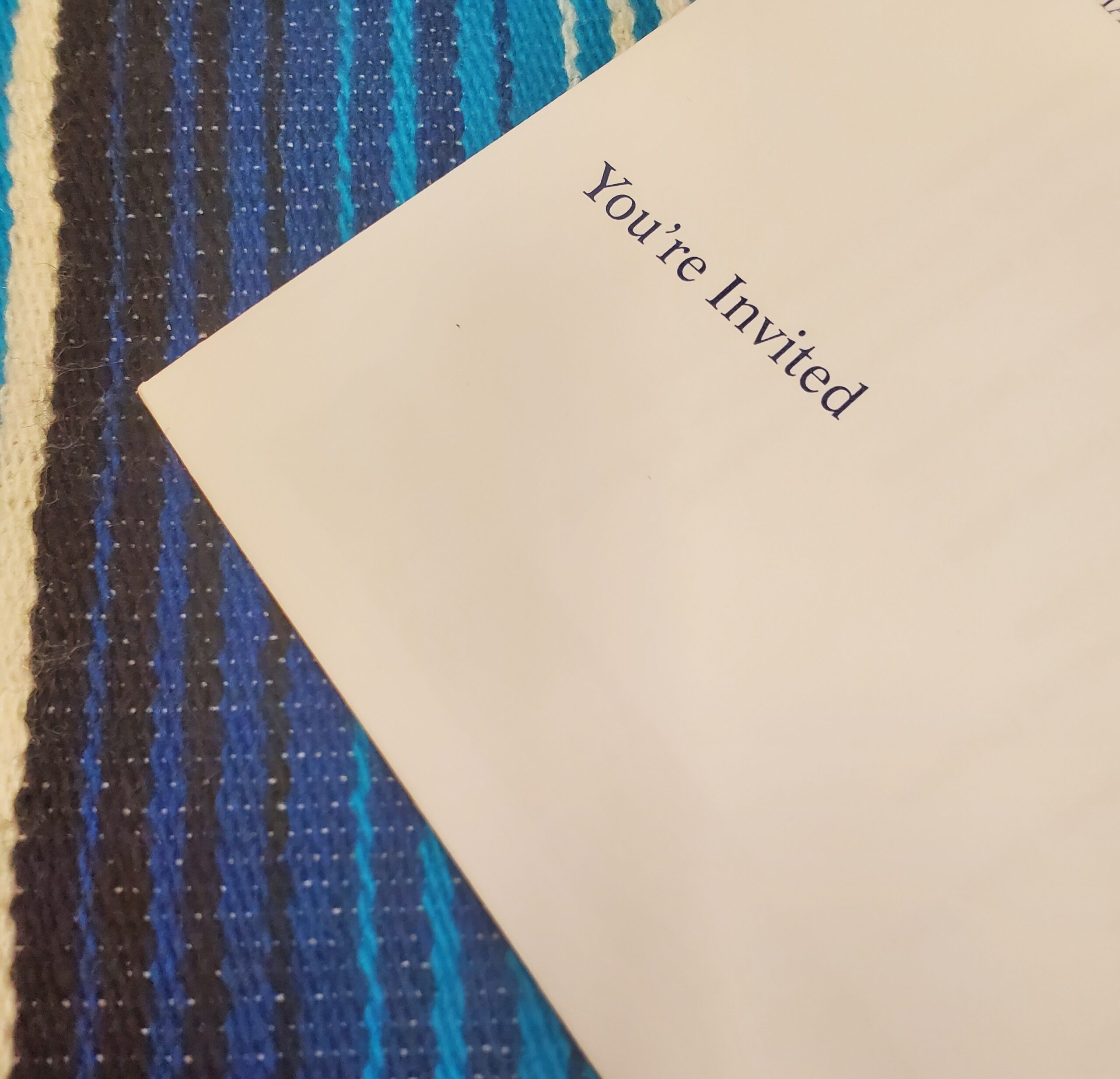 Multicultural Programming Calendar
The Multicultural Programming Committee Calendar is a calendar where you can enter events offered to students, WSU community, and Worcester community that are relevant to multiculturalism, diversity, equity, inclusion, affinity groups.
Multicultural Programming Calendar
Anti-Racism Resource: Explore, Read, Listen
The Antiracism subcommittee grew out of the work of the Multicultural Programming Committee and from the Anti-Black Racism Town Hall & Forum where students requested to see more programming on campus in response to cross-racial and cultural topics.
This newly formed subcommittee began meeting in the Spring 2022 semester with a purpose to be the bridge between the students, faculty, and administration regarding student service and support with intentionality around transparency, visibility, communication and giving voice to students' ideas and thoughts around cross racial and cultural topics for programming and workshops, with an explicit focus on issues of race.
Indigenous Peoples Heritage Focus:
Films:
Home From School: The Children of Carlisle
The National Museum of the American Indian's Native Cinema Showcase will be showing over 20 films during the festival on November 18-25, 2022
Buffy Sainte-Marie: Carry It On will show on PBS on November 22- the story of the Oscar-winning Indigenous artist from New York Greenwich Village folk music scene to her six decade ground-breaking career as a singer, song-writer, social activist, educator, and artist.
PBS presents 30 Stories in 30 Days of Native American and Alaska Native Heritage Month
Decolonizing The Arts: Native American & Latina(o) Media
The Untold History of Native American Enslavement
Educators and Native Leaders Recommend bringing Anti-Racism to the Thanksgiving Table
How Racism Against Native People is Normalized, From Mascots to Costumes
Latin Heritage Focus:
The Importance of Inclusive Language
Critical Pedagogy and Latinx Heritage Month
Latinx Therapy
A weekly podcast that discusses health topics related to Latinas, Latinos, and Latinx individuals in efforts to demystify myths and diagnoses.
The Brutal History of Anti-Latino Discrimination in America
The Forgotten History of 'Anti-Latino Violence in the U.S.'
A Conversation with Latinos on Race-OP ED
Building Support for Latino Families: A Research Review
Implicit Bias: A Guide to Reducing Excuses for Discrimination against Latinos and People of Color (2020)
System Justification: A Guide to Reducing Excuses for Discrimination against Latinos and People of Color
Moral Disengagement: A Guide to Reducing Excuses for Discrimination against Latinos and People of Color
Celebrating the Latinx Community – California Teachers Association
Laxmi Bissoondial, Director, Multicultural Affairs- Committee Chair
Eriberto Mora Carrera, Assistant Director, Multicultural Affairs
Thuong Nguyen, Clerk IV, Multicultural Affairs
Lordia Larbi-Asare, Staff Associate, Multicultural Affairs
Robert Jennings, Skills Development / Retention Coordinator, Multicultural Affairs
Dr. Tanya Mears, History & Political Science Department & Ethnic Studies
Professor Aldo Guevara-Garcia, History & Political Science Department
Professor Alison Okuda, History & Political Science Department
Professor Martin Fromm, History & Political Science Department
Professor Catriona Standfield, History & Political Science Department
Professor Naida Saavedra, World Languages
Professor Hardeep Sidhu, English Department
Professor Adam Saltsman, Urban Studies Department & Urban Action Institute, Director
Professor Kevin Kane, Sociology Department
Professor Lihua Wang, Sociology Department
Professor Weichu Xu, Chemistry Department
Professor Susan Monaghan, Education Department
Kirshner Donis, Associate Director, Undergraduate Admissions
Kristie McNamara, Director, Office of Student Involvement and Leadership Development
Maria Gariepy, Chief Diversity Officer, Diversity, Inclusion, Affirmative Action and Equal Opportunity
Omarthan Clarke, Assistant Director, Diversity, Inclusion, and Equal Opportunity Professional
Matt Bejune, Executive Director, Library
Dr. Nicole Scott, Office of Grant and Sponsored Research
Jodi Briggs-Pickett, Executive Director, Development
Kristen Nelson, Associate Director, Residence Life
Midaly Carrasquillo, Assistant Director, Urban Action Institute
Lucia Alfaro, Counseling Services
Brandol Ogando Saladin, Intercultural Student Alliance Student Organization
Kyram Pou, Intercultural Student Alliance Student Organization
Kathleen Flanagan, Intercultural Student Alliance Student Organization
Natalia Brooks, Intercultural Student Alliance Student Organization
Chantel Gonzalez, Intercultural Student Alliance Student Organization
Kristine Khuu, Intercultural Student Alliance Student Organization
Emma Elk, Asian Student Group
Jane Vongvirah, Asian Student Group
Contact Us
Multicultural Affairs
Learning Resource Center
Suite L-136
MulticulturalAffairs@worcester.edu
Copyright © 2022 Worcester State University