IN THIS SECTION
Contact Us
Diversity, Inclusion, Affirmative Action, & Equal Opportunity
Shaughnessy Administration Building
3rd Floor
Office 335
Worcester State's Strategic Plan outlines our aim to cultivate a vibrant campus life and a collaborative working and learning environment in which all members of our community feel welcomed, included, respected, empowered, and valued.
In support of LGBTQ+ students, faculty, and staff, we formed the Gender Identity working group which was tasked with identifying changes that could make us more inclusive. Today, the LGBTQ+ Advisory Group works to centralize resources being offered at the institution, state and national levels.
Message from President Barry Maloney
As Worcester State University strives to become one of the most accepting and inclusive campuses, we launch this web site providing information and resources not just for those who identify as LGBTQ+, but for everyone.
We established the Campus Climate Committee several years ago. Survey research the group undertook uncovered that we must do more to improve the experiences of all underrepresented groups, and, especially, those who identify as LGBTQ+. The Gender Identity working group (now the LGBTQ+ Advisory group) has since revamped our policies and procedures in areas such as data collection and campus records related to gender identity, chosen name, and pronouns.
Workshops and skill building sessions were held in academic year 2018-2019 to promote awareness and facilitate implementation of those changes. I appreciate the leadership the Gender Identity working group has demonstrated in moving us forward.
From this site, you can learn about resources available to, as well as the achievements and experiences of, our LGBTQ+ students, faculty, and staff. I ask you to explore it, and to do your part to make Worcester State University one of the most welcoming and inclusive campuses.
---
Campus Pride Index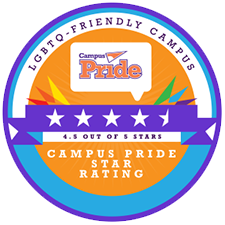 In the Spring of 2021, the Office of Diversity, Inclusion and Equal Opportunity, in collaboration with the LGBTQIA+ Advisory Group, participated in the Campus Pride Index initiative to evaluate the University's current environment and review recommended changes as well as a means of measuring future progress. The Campus Pride Index is an overall indicator of institutional commitment to LGBTQ-inclusive policies, programs and practices. Worcester State University is proud to receive a Campus Pride Index score of 4.5 out of 5. For more detailed information, please visit Worcester State's Campus Pride Index.
LGBTQ+ Spotlight Profiles
We appreciate and celebrate our LGBTQ+ faculty, staff, and students and their experiences – if you have a story to share through our spotlights, reach out to the Diversity, Inclusion, Affirmative Action, & Equal Opportunity Office.
What would you like students to know about the Worcester State University community?

In the many roles I have played at Worcester State over the years- first as an ESL student at IELI, then as a degree seeking student and now as an employee- I have always found the university to be a very welcoming space. When I was a student, I found my communities by joining Pride Alliance and by tutoring Spanish. This is a vibrant campus and we all, students, faculty, and staff, work together to create a learning environment where all can thrive and succeed.

What part of your identity are you most proud of and why?

As a member of the LGBTQ+ community and an immigrant (I was born in Spain), I am reminded to never make assumptions about others and I am constantly analyzing the world around me. Because I am part of these two communities, I have learned to not live under the tyranny of the "I should" but the power of the "I can," and that is something of which to be proud.

Can you share a piece of your coming out story at Worcester State?

In many ways, those of us who are part of the LGBTQ+ community are constantly coming out, so I cannot recall the first time I came out at Worcester State. I have a picture of my wedding day on the windowsill of my office and that is the first thing you see as you enter the space. For me it is a way of showing my family and to offer a small piece of who I am to those who come to meet with me. As an advisor, students can sometimes tell me very personal information and this is a small way for me to open up as well.

What do you love about working/teaching at Worcester State?

I am very happy to be part of a welcoming and open community whose main focus is student success. When I was a student, I realized that faculty and staff would go the extra mile to help you out, even if it was not part of their responsibilities. They wanted to see you succeed. Now as an advisor for non-matriculated and adult students I can continue that work. At the Division of Graduate and Continuing Education (DGCE) we are all devoted to assisting students. Since I started working at DGCE, I have been encouraged to join and be an active part of different initiatives to better serve our LGBTQ+ community. I feel honored to be part of such a supportive division!

What is your favorite part about working/teaching at Worcester State?

My favorite part about working at Worcester State University is to be able to help others achieve their goals and to play a part in continuing to make Worcester State University a welcoming and supportive institution. I can recall an instance in which a student walked by my office and after seeing the Safe Space sticker on my door blurted: "Very cool, that is very cool." It made my day! It is small moments like those that make me appreciate being a part of the Worcester State community.

Do you have any advice for those that have faced adversity and how to overcome it?

Ask for help and don't convince yourself you are alone in what you are going through. Sometimes when we are struggling we isolate ourselves because we think it is the safest option. This is hardly ever a viable solution to whatever we are going through and it only prolongs our suffering. By asking for help we are reaching out to our community, allowing those who can help us to enter our lives and share our experiences with others going through similar difficulties or struggles. Once you feel you have overcome the challenge, help others do the same. It is rewarding and every small action makes a difference.

What is your favorite inspirational quote and why?

RuPaul always ends his show with this statement: "If you don't love yourself, how are you going to love anybody else?" I believe it reveals a great reality, that only by accepting who you are will you be able to connect with others. In a society that sometimes is very quick to point out our flaws, it is important to remember and celebrate who we are as individuals and bring that love to our communities.
Contact Us
Diversity, Inclusion, Affirmative Action, & Equal Opportunity
Shaughnessy Administration Building
3rd Floor
Office 335