IN THIS SECTION
Contact us!
Assessment & Planning
Shaughnessy Administration Building
3rd Floor
Suite A-352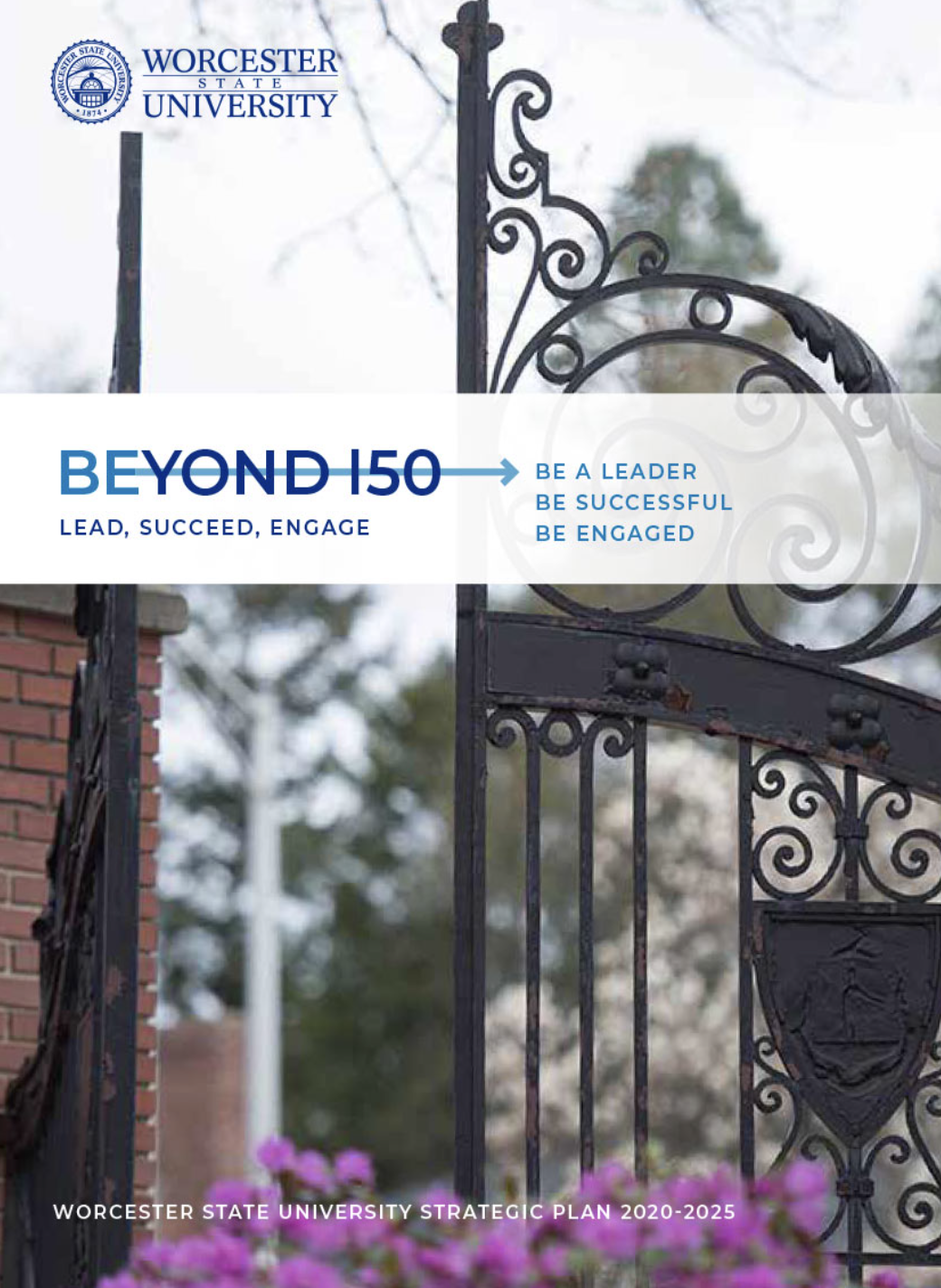 Strategic Plan 2020-2025
The 2020-2025 Strategic Plan builds upon the previous five-year plan and establishes quantitative measures for success. In reviewing the 2015-2020 plan, significant progress was made in retention and graduation rates, stronger academic programming and faculty investment, and engagement of students both inside and outside the classroom. The new plan builds upon that foundation by incorporating lessons learned during the rapid pivot to all-remote learning in the spring of 2020, and reaffirms our commitment to equity, so that all areas of our community can embrace it as their own responsibility.
2020-2025 Strategic Plan Process
With the formation of the Strategic Planning Steering Committee, President Maloney has charged the committee to oversee the strategic planning process this year, while sharing the president's commitment to ensuring it will be an inclusive and transparent plan that promotes broad participation across campus throughout the year. Input from members of the Worcester State community, on and off campus, will help ensure the strategic plan will reflect a shared vision, common goals, and actionable strategies to guide Worcester State in the years to come.
September 25, 2019

Dear Colleagues,

As I indicated at our Academic Year kickoff meeting, we have a busy year ahead of us. We are completing our current strategic plan and will begin developing our next one, even as we begin to implement the RASE Plan. As we look to the future, we are fortunate to be able to build on important work already completed or underway, impressive progress toward the goals of the current strategic plan, and the stabilization of the University's finances. For this and many other reasons, I am confident the next round of strategic planning will set an inspirational course for Worcester State University's future and position us to capitalize on opportunities to further distinguish ourselves from other universities in the northeastern region of the U.S.

Provost Lois Wims and I are in the process of forming a 16- to 19-member Strategic Planning Steering Committee (SPSC). Its members will be representative of the University community and will oversee an inclusive process. The SPSC will be charged with preparing and recommending a plan that will help us achieve a widely shared vision for the University in 2025. I'm asking any bargaining unit member who is interested in serving on the SPSC to contact your union representative as soon as possible, who will forward names to me by October 1, as follows: APA, Maribeth Wrobel; AFSCME, Russell Kinell or Joanne Harder; MSCA, Donald Bullens.

The planning process will be coordinated by Assistant Vice President for Assessment and Planning Sarah Strout, Ph.D., and guided by the SPSC. They will receive expert support and guidance throughout the process from Linda Campanella of SOS Consulting Group, LLC. Prior to starting her consulting practice in 2001, Linda served as chief administrative officer and senior vice-president for operations and planning at Trinity College. In addition to being experienced and knowledgeable about both higher education and strategic planning, Linda also knows our University well, having facilitated our last round of planning as well as several other key projects over recent years. In addition to her work with Worcester State, she recently facilitated strategic planning processes at several sister institutions in Massachusetts.

June 2020 is the target for completion of a draft strategic plan for our Board of Trustees to consider, and Fall 2020 is the target to bring it before the Massachusetts Board of Higher Education. In keeping with the strong tradition of shared governance at Worcester State, the work of constructing the plan will offer many opportunities for community input on the university's goals, goals, and strategies. as well as opportunities for feedback on drafts as the process unfolds.

We will be developing the strategic plan in the context of the Department of Higher Education's priorities for public higher education in the Commonwealth. At our September 3rd Academic Year Kickoff Meeting, Commissioner Santiago outlined some of the key challenges facing higher education and indicated the central importance the DHE attaches to its Equity Agenda — which all 29 public campuses will pursue in the coming years, and an initiative that I am pleased to support as a member of its statewide advisory board.

Please take advantage of every opportunity to become engaged in our strategic planning process. We want to consider as many views and voices as possible. This input will help us begin to get a sense of the key issues and themes, as well as hopes and dreams, that will shape a shared vision for the future.

Information about future opportunities to engage and updates will be posted periodically on the Worcester State Strategic Planning website. I look forward both to the lively discussion and debate that will occur during the building of the plan and to the subsequent work of achieving its goals. Thank you in advance for participating in this important work.

Barry M. Maloney, President

The Committee's Task

The Strategic Planning Steering Committee (SPSC) is charged with guiding and overseeing a process that broadly and effectively engages the Worcester State community in developing the University's next strategic plan.

Strategic Planning Steering Committee Membership

Co-Chairs

Julie D. Frechette, Professor, Department of Communication
Edgar A. Moros, Director, Intensive English Language Institute

Committee Members

Thomas E. Conroy, Associate Professor, Department of Urban Studies
Margaret E. Kerr, Professor, Department of Chemistry
Stephen A. Morreale, Professor, Department of Criminal Justice
Rodney Oudan, Professor, Department of Business Administration & Economics
Emily Soltano, Professor, Department of Psychology
Tanya Trudell, Instructor, Department of Occupational Therapy
Susan Mitroka Batsford, Associate Professor, Chemistry
Adam Zahler, Professor, Department of Visual & Performing Arts
Mary Dillon, Clerk IV, Department of Occupational Therapy
Thomas Kelley, Director, Retention
John W. Meany, Associate Director, Athletics
Katey C. Palumbo, Director, International Programs
Linda S. Larrivee, Dean, School of Science, Technology, and Health
Russ Pottle, Dean, School of Humanities & Social Sciences
Stacey A. Luster, Assistant Vice President, Human Resources, Payroll & Affirmative Action
Maribel Mateo, SGA President
Michael J. Mills, Alumni Association representative
David Tuttle, Board of Trustees representative

Sarah Strout (ex-officio), Provost's Office
Linda Campanella, Planning Consultant (SOS Consulting Group LLC)

Meeting Minutes

As meeting minutes are made available, they will be posted to MyWooState for review by internal audiences.

Contact

To reach the Strategic Planning Steering Committee at any time you may send email to spsc@worcester.edu.

Below is a tentative schedule of opportunities for members of the Worcester State community to engage in the planning process. Others likely will be added as the process evolves. Please check the Announcements and Updates link for the most up-to-date/current information about specific opportunities to provide input and otherwise be involved.

| Objective | Time-line |
| --- | --- |
| Academic Kick-Off Day with opportunity to submit thoughts about strategic issues or challenges Worcester State "must" address in this round of strategic planning | September 3 |
| Invitation from President Maloney to all faculty and staff to share input via anonymous online survey | September 25 |
| Community forums on current strategic plan and current environment | late October TBA |
| Survey key groups re: critical issues, opportunities, and goals | October/November |
| Outreach to external stakeholders (elected officials, other key city/community leaders and partners) | November |
| Student forum on student success and satisfaction | November |
| President's Open Meetings | November |
| SPSC mini-retreat re: situation analysis, emerging vision and goals | early December |
| Briefing/consultations with key leadership groups: Deans and department chairs/grad coordinators, Executive Cabinet | before winter break |
| Consultations with constituent groups (e.g., faculty, AUC) to get feedback on "Framework for Planning" document (vision statement, goals to underpin strategic plan) | late January/early February |
| All-campus planning meeting – facilitated brainstorming around key institutional goals and critical issues (to generate ideas/fodder for planning task forces); all constituencies invited | mid February |
| Consultations/discussions with key campus groups, convened by task forces focused on strategic plan goals | mid- through late February |
| Multi-constituent task forces at work creating goal-focused mini strategic plan drafts (proposed strategies, actions) | February/March |
| Brown-bag lunch consultations/discussions with key campus groups, probably convened by goal task forces | mid/late March |
| First draft of comprehensive strategic plan document (mission, values, vision, goals, strategies and actions in support of each goal) | by mid April |
| Draft plan disseminated to the campus community and trustees | late April |
| Possible all-campus meeting to seek feedback on strategies and input on priorities | early May |
| SPSC develops its final recommendations regarding strategies and actions in support of goals as well as implementation priorities for Year One (FY21). Steering Committee meeting with the President and Executive Cabinet to present recommendations. Steering Committee presents/discusses recommendations at all-faculty meeting | by mid May |
| Final draft integrated plan prepared with accompanying financial analysis that indicates FY21 budgetary impact and provides preliminary multi-year outlook (operating and capital budgets) | late May |
| Draft plan mailed to the Board with cover memo from Pres. Maloney | late May |
| Board meeting | June 2 |
Planning Process Timeline
September - December
Understanding "What"
Assessment, Reflection, Visioning, Goal setting
January - March
Identifying "How"
Strategic development, Action planning, Plan formulation
Apri - August
Establishing "How Much" and "What First"
Cost analysis and resource planning, Priority setting, Plan finalization, Fundraising goal setting
Contact us!
Assessment & Planning
Shaughnessy Administration Building
3rd Floor
Suite A-352