Brotherhood & Sisterhood Leadership Conference
---
IN THIS SECTION
Contact Us
Multicultural Affairs
Learning Resource Center
Suite L-136

MulticulturalAffairs@worcester.edu
The Brotherhood & Sisterhood Conference 2023 has been rescheduled to March 25, 2023.
Our Mission and Vision
Our mission is to uplift and empower our high school students, college students, professionals, educators, and community leaders by affirming their experiences, engaging in team building workshops, building upon their own identity and knowledge of self, and enhancing their connection to a network of first generation and/or ALANA/BIPOC community.
Our overall goal is to increase our network to assist in access, retention, and graduation of our first-generation, low income, and/or ALANA/BIPOC students in their journey to higher learning.
Together we can examine, model, and transform this experience into a stronger brotherhood and sisterhood of excellence.
Save the Date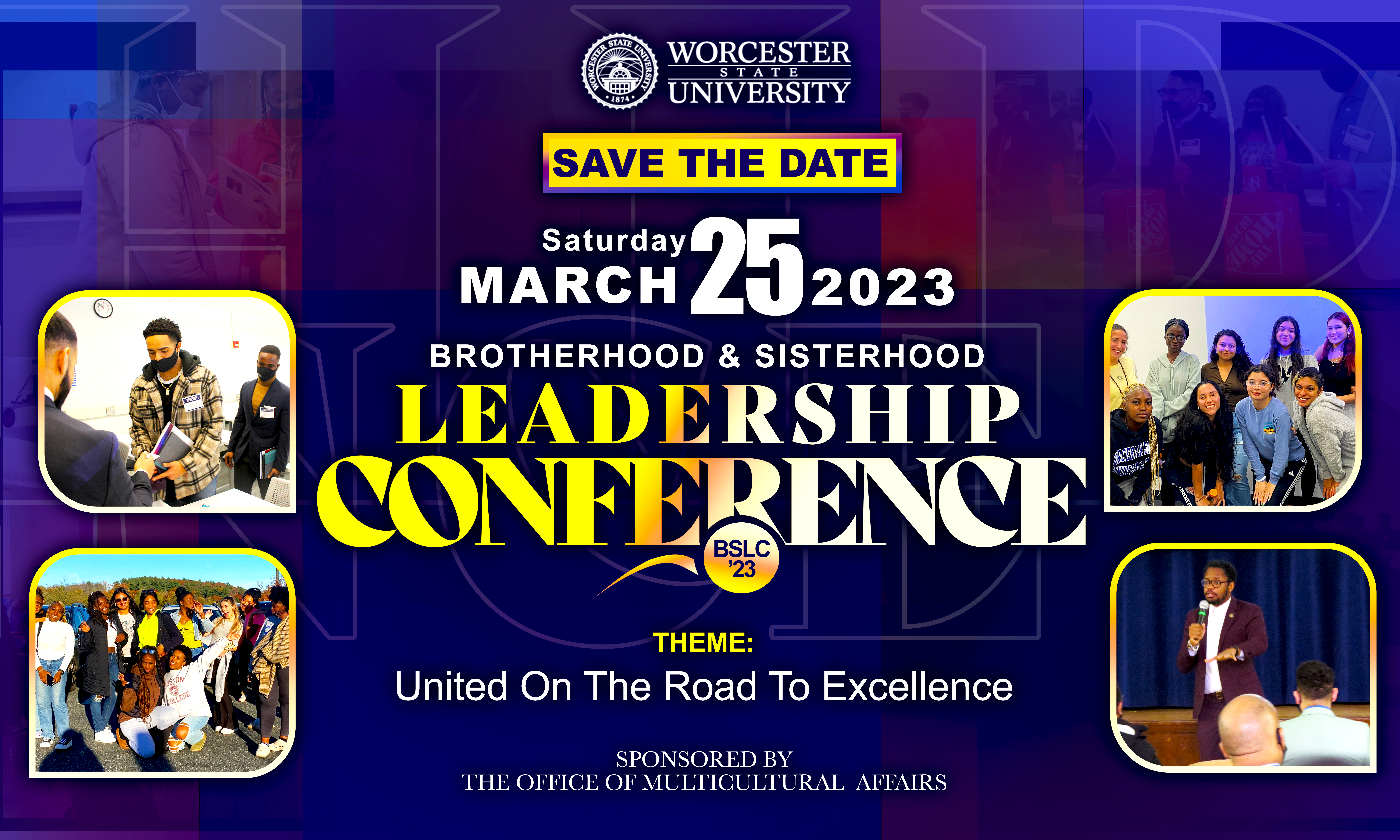 The Worcester State University Brotherhood & Sisterhood Leadership Conference at Worcester State University campus was postponed due to weather and reschedule to March 25, 2023.
Conference Request For Proposals
Every year, the Conference Committee accepts proposals for 60 minute workshops, presentations, panels, and roundtables aligned with the overall conference focus:
Brotherhood & Sisterhood
Our target audience are:
Pipeline Students (high school)
College/University Students
Professionals/Faculty/Staff
Proposal applications are closed for 2023 Conference.
Participants' Registration is closing soon!
Have a question regarding the conference, please email emoracarrera@worcester.edu, rjennings@worcester.edu and/or llarbiasare@worcester.edu.
Previous Event(s)
March 5, 2022 – 9:00am – 3:00pm

On March 5, 2022, Worcester State University will be hosting the "Brotherhood Leadership Conference" for ALANA/BIPOC men in our greater community.
Worcester State University is excited to host its first Brotherhood Leadership Conference. Its goal is to cultivate leadership among our first generation and/or BIPOC/ALANA students, and especially among the men who are attending the Massachusetts State Universities to acquired the knowledge and skills to aid their personal growth and success at the Brotherhood Leadership Conference.
Download the Brotherhood Leadership Conference Program
Contact Us
Multicultural Affairs
Learning Resource Center
Suite L-136

MulticulturalAffairs@worcester.edu