IN THIS SECTION
Contact Us
LGBTQIA+ Resource Center
Student Center
3rd Floor
C-336
An on-campus, safe space dedicated to advocating for the needs of LGBTQIA+ students and their allies
The Worcester State University LGBTQIA+ Resource Center works to create an open and inclusive environment for all students, faculty and staff. The center aims to affirm all sexual orientations, and gender identities through advocacy, education, and events.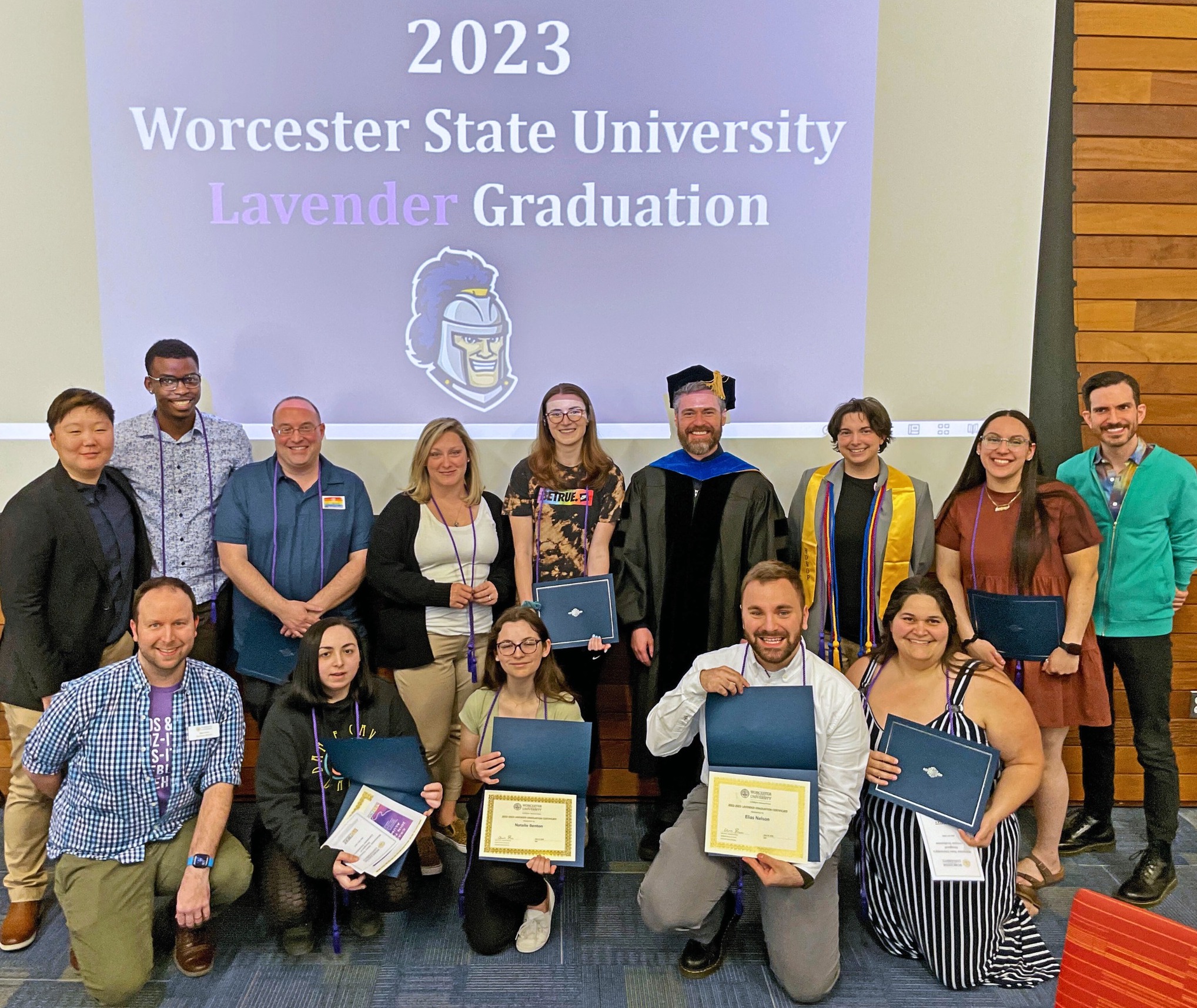 Lavender Celebration
The LGBTQIA+ Resource Center celebrates our amazing LGBTQIA+ and Ally graduates each Spring. All are welcome, including families and friends of undergraduate and graduate students to this celebration as the center honors all the accomplishments of the students graduating who identify within the LGBTQIA+ community, including Allies.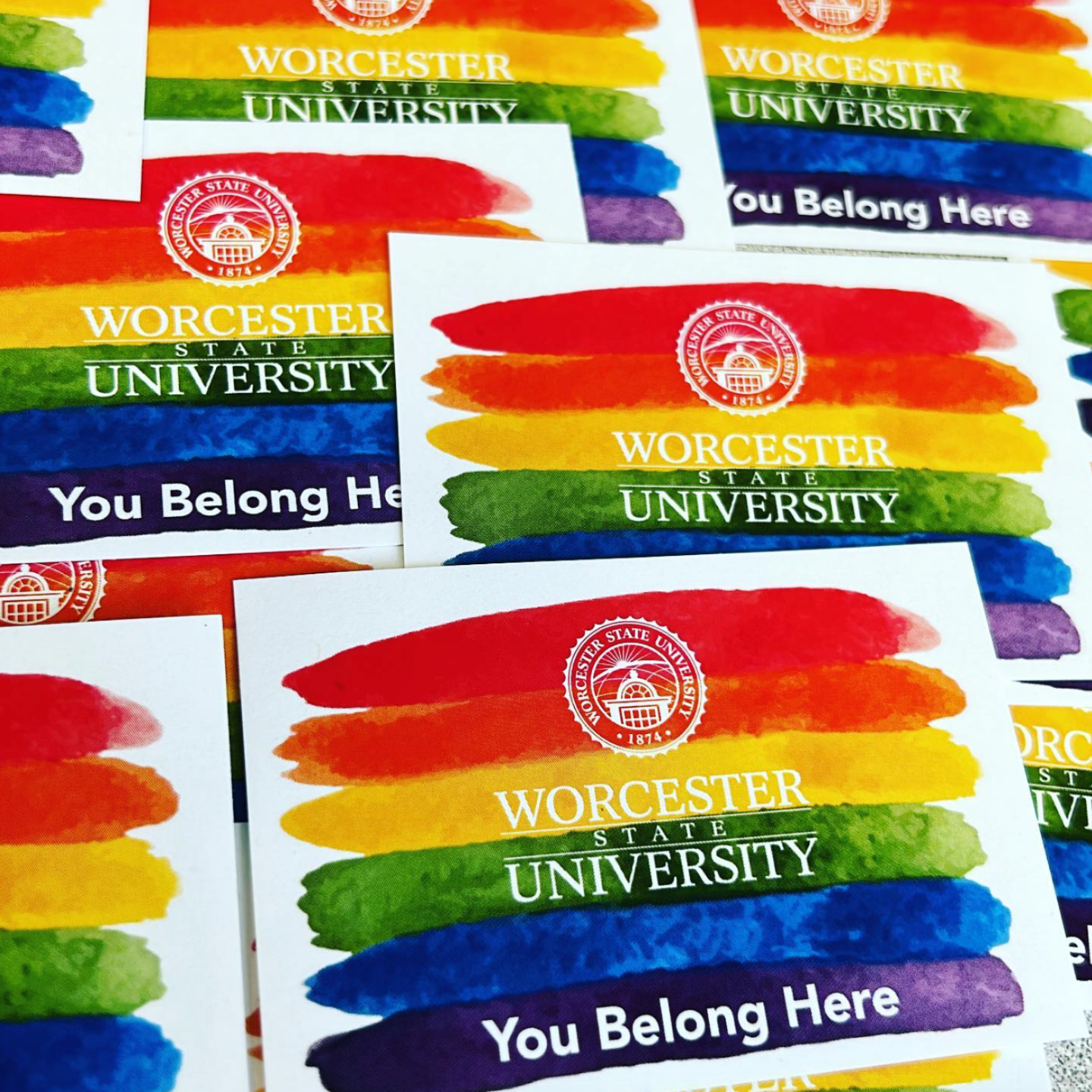 Beginning of the Year Social
The LGBTQIA+ Resource Center is proud to sponsor the beginning of the year social to gather the WSU LGBTIA+ community. Get to know the LGBTQIA+ Resource Center staff and mingle with your peers! Light refreshments will be served along with plenty of games, crafts, and giveaways!
Workshops and Trainings
If you would like to have a workshop and training for your group, organization, or department please reach out to LGBTQIA@worcester.edu
SafeZone and Bravespace Training
Learn how to make inclusive, open, and safe environments for the LGBTQIA+ community and why brave spaces prove to be essential.
LGBTQIA+ 101 Training
Get a general overview on LGBTQIA+ history, terms and definitions, and best practices to support our WSU LGBTQIA+ community.
Pronouns 101 Training
Get an overview on how to use pronouns, learn why pronouns are important for the LGBTQIA+ community and terms and definitions.
Out and Ally List
The Worcester State University Out and Ally list is a resource provided by the WSU LGBTQIA+ Resource Center. By agreeing to be part of the Out and Ally list, you are helping to promote LGBTQIA+ awareness and visibility on campus and the Worcester State community.
The Out and Ally List is to serve as a resource for WSU LGBTQIA+ students seeking guidance, academic and non-academic support and all WSU community members wishing to connect.
| Ally | Email Address | Self-Identifies | Department |
| --- | --- | --- | --- |
| Melissa Alvarez | malves2@worcester.edu |   | Director, Career Services |
| Jeremy Andreatta | jandreatta@worcester.edu | 🏳️‍🌈 | Associate Professor, Chemistry |
| Annie Armstrong | aarmstrong3@worcester.edu  |   | Assistant Professor, Human Geography |
| Julie Boisselle | jboisselle@worcester.edu |   | Faculty Development Specialist, Center for Teaching & Learning |
| Drew Goins | agoins@worcester.edu | 🏳️‍🌈 | Counselor, Counseling Services |
| Vicki Gruzynski | vgruzynski@worcester.edu | 🏳️‍🌈 | Associate Librarian, Teaching & Learning |
| Fran Manocchio | fmanocchio@worcester.edu | 🏳️‍🌈 | Assistant Dean and Director, Student Accessibility Services |
| Riley McGuire | rmcguire@worcester.edu | 🏳️‍🌈 | Assistant Professor, English/School of Humanities |
| Rita Mookerjee | rmookerjee@worcester.edu | 🏳️‍🌈 | Assistant Professor, Interdisciplinary Studies |
| Edgar Moros | emoros@worcester.edu |   | Director, Intensive English Language Institute |
| Gabrielle Noe | gnoe@worcester.edu | 🏳️‍🌈 | Staff Assistant, Employee Services |
| Alison Park | apark1@worcester.edu | 🏳️‍🌈 | Assistant Director, LGBTQIA+ Resource Center |
| Jen Quinn | jquinn@worcester.edu |   | Assistant Dean, Student Affairs Compliance & Education/ Title IX Coordinator |
| Kathleen Rogan | krogan@worcester.edu |   | Early Collage Director, Enrollment Management |
| Nicole Rosa | nrosa@worcester.edu |   | Associate Professor, Psychology |
| Elizabeth Siler | esiler@worcester.edu |   | Professor, Business Administration & Economics |
| Tammy Tebo | ttebo1@worcester.edu |   | Assistant Dean, Academic Success Center |
| Sarah Valois | svalois@worcester.edu  |   | Assistant Director/Counselor, Counseling Services |
| Lois Wims | lwims@worcester.edu |   | Provost & Vice President |
If you are interested in joining the Worcester State Out and Ally list, please click on the link below
Resources
For additional resources for LGBTQ+ faculty, staff, and students, including a list of Single-Use Restrooms, the Chosen Name Form, the Gender Inclusive Housing Policy, and much more, please visit our LGBTQ+ Resources Page
Follow us on Social
@LGBTIQA_WSU
Contact Us
LGBTQIA+ Resource Center
Student Center
3rd Floor
C-336