LGBTQIA+ Resource Center
---
Awareness, Education, and Advocacy for All
IN THIS SECTION
Contact Us
LGBTQIA+ Resource Center
Student Center
2nd Floor
C-209A
An on-campus, safe space dedicated to advocating for the needs of LGBTQIA+ students and their allies
The Worcester State University LGBTQIA+ Resource Center works to create an open and inclusive environment for all students, faculty and staff. The center aims to affirm all sexual orientations, forms of gender expression, and gender identities through advocacy, education, and events.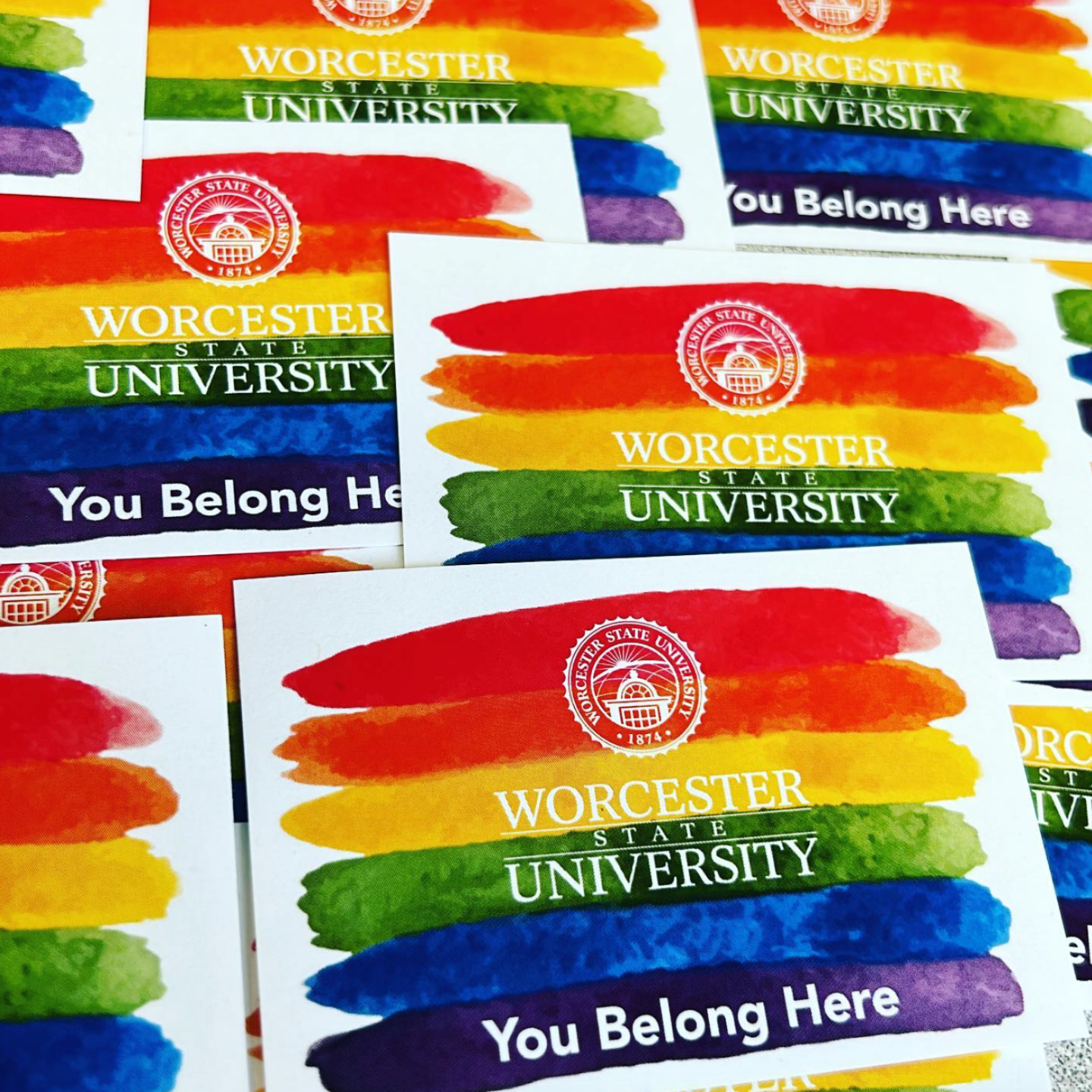 Big Queer Lunch
The LGBTQIA+ Resource Center sponsors a beginning of the year social event in the fall a part of Welcome Week with the Office of Student Involvement and Leadership Development for the Worcester State University LGBTQIA+ community, including allies and alumni. Get to know the LGBTQIA+ Resource Center staff and mingle with your peers. All are welcome. Free lunch and refreshments will be served. Fall 2024 date TBD.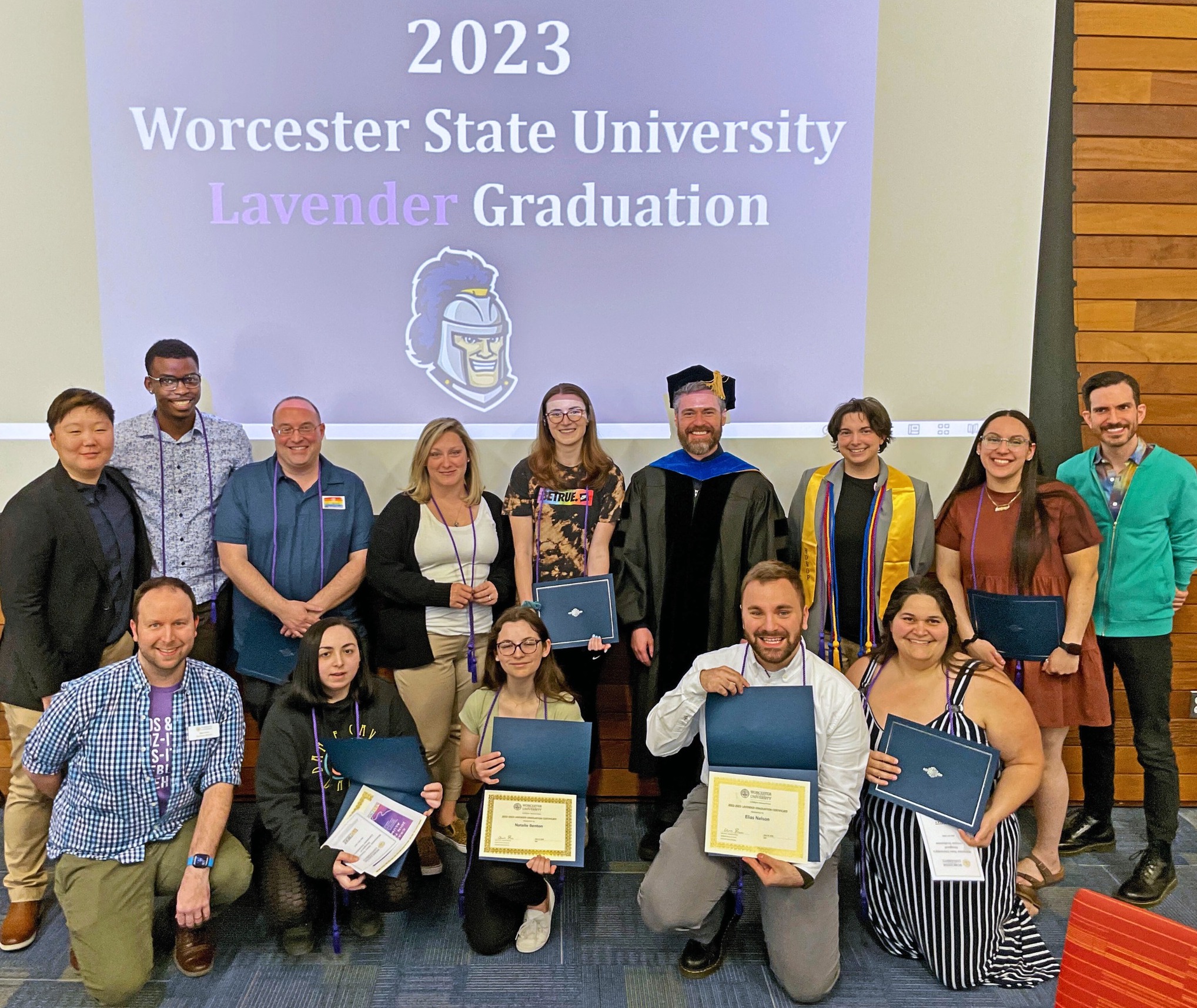 Lavender Celebration
The LGBTQIA+ Resource Center celebrates our amazing LGBTQIA+ and ally graduates each Spring. All are welcome, including families and friends of undergraduate and graduate students to this celebration as the center honors all the accomplishments of the students graduating who identify within the LGBTQIA+ community, including allies. Graduating 2023 Fall and 2024 Spring Worcester State University graduates will be able to partake in the ceremony. All are welcome, sign up for the 2024 Lavender Graduation through the link https://tinyurl.com/lavgrad2024
Workshops and Trainings
If you would like to have a workshop and training for your group, organization, or department please reach out to LGBTQIA@worcester.edu
Beyond the Binary Training
Beyond the Binary training covers LGBTQIA+ best practices, inclusive language including core vocabulary and terminology, stressors and concerns at WSU, and mental health resources  pertaining to the LGBTQIA+ community, allies, and beyond.
Allyship Workshop and Training
Join our Allyship workshop and training which promotes dialogue for those interested in Allyship and numerous things Allies can do to stand with the marginalized LGBTQIA+ community by discussing best practices, lived experiences, and tangible actions to create brave spaces for our WSU LGBTQIA+ community.
Pronouns 101 Training
Get an overview on using pronouns, gender pronoun terms and definitions, and the importance of pronoun usage for our WSU LGBTQIA+ community.
Out and Ally List
The Worcester State University Out and Ally list is a resource provided by the WSU LGBTQIA+ Resource Center. By agreeing to be part of the Out and Ally list, you are helping to promote LGBTQIA+ awareness and visibility on campus and the Worcester State community.
The Out and Ally List is to serve as a resource for WSU LGBTQIA+ students seeking guidance, academic and non-academic support and all WSU community members wishing to connect.
| Ally | Email Address | Self-Identifies | Department |
| --- | --- | --- | --- |
| Deborah Alvarez O'Neil | doneil2@worcester.edu |   | Director of Communications, Communications/Marketing |
| Jeremy Andreatta | jandreatta@worcester.edu | 🏳️‍🌈 | Associate Professor, Chemistry |
| Laxmi Bissoondial | lbissoondial@worcester.edu |   | Director, Office of Multicultural Affairs |
| Erika Briesacher | ebriesacher@worcester.edu |   | Professor, History and Political Science |
| Andrew Burkhardt | aburkhardt@worcester.edu |   | Assistant Professor, Department of Earth, Environment, and Physics |
| Tiana Carrasquillo | tcarrasquillo@worcester.edu |   | Associate Director of Admissions, Admissions Office |
| Kim Carrell | kcarrell@worcester.edu |   | Theatre Faculty, Visual and Performing Arts |
| Laura Caswell | lcaswell@worcester.edu |   | Assistant Director Administrative Computing, Information Technology |
| Darlene Danielson | ddanielson@worcester.edu |   | Clerk, Residence Life and Housing |
| Mary Flibbert | mflibbert@worcester.edu |   | Clerk, History, Political Science & Philosophy |
| Kathryn Frazier | kfrazier@worcester.edu |   | Associate Professor, Psychology |
| Jenna Glazer | jglazer@worcester.edu |   | Associate Director, New Student Advising, Academic Success Center |
| Julie Glovin | jglovin@worcester.edu |   | Assistant Director, Counseling |
| Drew Goins | agoins@worcester.edu | 🏳️‍🌈 | Counselor, Counseling Services |
| Rachel Graddy | rgraddy@worcester.edu |   | Associate Director, Student Accessibility Services |
| Aleel Grennan | agrennan@worcester.edu |   | Associate Professor, Biology |
| Julie Habjan Boisselle | jboisselle@worcester.edu |   | Center for Teaching & Learning/Academic Affairs |
| Charlotte Haller | challer1@worcester.edu |   | Professor and Chair, Department of History and Political Science |
| Tiffany Hexter | thexter@worcester.edu |   | Academic Advisor, Academic Success Center |
| Karly Kwasigroch | kkwasigroch@worcester.edu | 🏳️‍🌈 | Professor of Nursing, Department of Nursing |
| Bobbi Kyle | rkyle@worcester.edu |   | Associate Vice President, Continuing Education/ Dean, Graduate Studies |
| Fran Manocchio | fmanocchio@worcester.edu | 🏳️‍🌈 | Assistant Dean and Director, Student Accessibility Services |
| Ben McElroy | bmcelroy@worcester.edu |   | Coordinator, Transfer Admissions/Undergraduate Admissions Office |
| Sandra Medina-Vazquez | smedinavazquez@worcester.edu |   | Clerk IV, Department of Graduate and Continuing Education/Intensive English Language Institute |
| Kym Meyer | kym.meyer@worcester.edu |   | Assistant professor, Communication Sciences & Disorders |
| Rita Mookerjee | rmookerjee@worcester.edu | 🏳️‍🌈 | Assistant Professor, Interdisciplinary Studies |
| Edgar Moros | emoros@worcester.edu |   | Director, Intensive English Language Institute |
| Eric Nichols | enichols@worcester.edu |   | Assistant Professor, Communication |
| Gabrielle Noe | gnoe@worcester.edu | 🏳️‍🌈 | Staff Assistant, Coordinator for Non-Benefited Hiring, Employee Services/Human Resources |
| Katey Palumbo | kpalumbo2@worcester.edu |   | Director, IPO |
| Alison Park | apark1@worcester.edu |   | Asst. Director, LGBTQIA+ Resource Center & Deputy Title IX Coordinator |
| Sarah Potrikus | spotrikus@worcester.edu |   | Assistant Director, Office of Student and Leadership Development |
| Nancy Ramsdell | nramsdell@worcester.edu |   | Director, Operations and Planning Support Services Facilities |
| Kathleen Rogan | krogan@worcester.edu |   | Early College Director, Enrollment Management |
| Nicole Rosa | nrosa@worcester.edu |   | Associate Professor, Psychology |
| Joan Safford | jsafford4@worcester.edu |   | Clerk V, Registrar's Office |
| Noa Shaindlinger | nshaindlinger@worcester.edu | 🏳️‍🌈 | Assistant Professor, History and Political Science |
| Shay Shuler | sshuler@worcester.edu | 🏳️‍🌈 | Assistant Professor, Health Sciences |
| Elizabeth Siler | esiler@worcester.edu |   | Professor, Business Administration and Economics Department |
| Amanda Taylor | ataylor9@worcester.edu |   | Faculty, Health Sciences |
| Tammy Tebo | ttebo1@worcester.edu |   | Assistant Dean, Academic Success Center |
| Stephanie Teixeira | steixeira1@worcester.edu | 🏳️‍🌈 | Director, Military Affairs & Veteran Services; Deputy Title IX Coordinator |
| Lynn Thompson | lthompson6@worcester.edu |   | Jumpstart Site Manager, Jumpstart |
| Allison Vickstrom | avickstrom1@worcester.edu |   | Staff Assistant, Enrollment Management |
| Lori Williams | lwilliams1@worcester.edu |   | Nurse Practitioner, Student Health Services |
| Lois Wims | lwims@worcester.edu |   | Provost & Vice President |
If you are interested in joining the Worcester State Out and Ally list, please click on the link below
Resources
For additional resources for LGBTQ+ faculty, staff, and students, including a list of Single-Use Restrooms, the Chosen Name Form, the Gender Inclusive Housing Policy, and much more, please visit our LGBTQ+ Resources Page
Follow us on Social Media (Instagram)
@LGBTIQA_WSU
Contact Us
LGBTQIA+ Resource Center
Student Center
2nd Floor
C-209A