Student Center
---
Make yourself at home.
IN THIS SECTION
Contact Us
Office of Student Involvement & Leadership
Student Center
2nd Floor
C-214A
studentinvolvement@worcester.edu
The Student Center
The Student Center at Worcester State University is more than just a place where you can hang out between classes—it is the hub of campus life. Vast amenities, extensive services, and a central location make the center an ideal place to meet up, socialize, relax, work, study, attend events, or get something to eat or drink. It is the hearth and the living room of our university community. We look forward to seeing you there soon.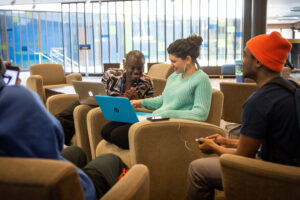 Information Desk (508-929-8731)—info and tickets for campus events, discount movie tickets, ticket sales for trips and events, and cap and gown sales
Student Organization Resource Room (508-929-8518)—quick copy, poster printing, and supplies for student organizations
Worcester State's Bookstore (508-929-8591)—all required textbooks, Worcester State memorabilia, and everyday essentials
Food Court—A variety of food options as well as salad bar, to-go items, snacks, soft drinks, and much more (open during the school year)
Meeting & Event Space—The Blue Lounge, Lancer Landing, North Room, and South Room are the main programming areas on the first floor

The Living Room (Charter Business TV Lounge)—couches, flat-screen LCD televisions, billiards and ping-pong tables, video games, refrigerator, microwave, and more—perfect for hanging out between classes
WSUR Radio Station
Commuter Activities Board Office
Games Club Office
Administrative Offices—Commuter Services, Conference & Event Services, Orientation, and Student Involvement & Leadership Development
Consider working at the Student Center.

The Student Center employs over 25 students every year to assist with their daily operations. Student Center student employees assist with:

Running the building
Providing office support monitoring the Living Room
Working at the Information Desk
Helping with Conference and Event Services

If you are interested, please explore the open Student Center positions that are posted on the Careers at Worcester State University page.
Contact the Student Center staff.
Contact Us
Office of Student Involvement & Leadership
Student Center
2nd Floor
C-214A
studentinvolvement@worcester.edu